Sep 26, 2016 Cheap Eats
Click here for the 2018 Top 50 Cheap Eats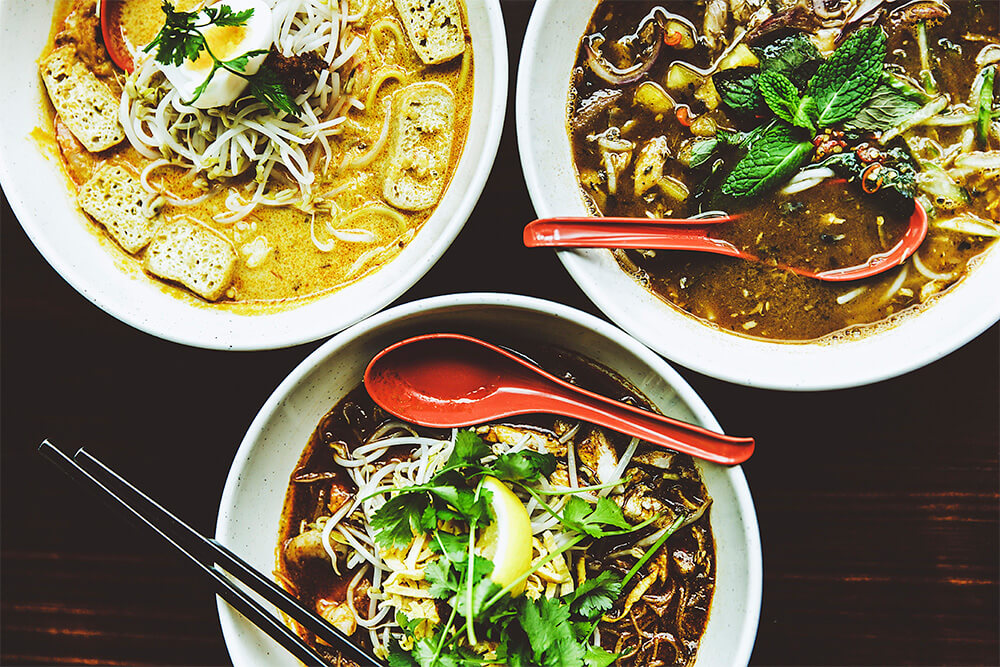 The best places serving dinner in Auckland for $20 or less.
You've found an overly ambitious recipe for the perfect laksa/pizza/pho and steeled yourself to scurry to the super-market in a cloud of rain, only to spend $50 on ingredients you inevitably overcook.
On nights when it's just so bloody cold and miserable, the realisation that your ideal self — the one whose fridge is full of pre-prepared homemade stocks and pizza dough — can wait to be realised another day is one of the best things about living in Auckland. We can eat out for under $20. Remarkably well.
In compiling Metro's Top 100 Cheap Eats for 2016, our panel of 14 judges considered the merits of almost 400 restaurants: that's 90 more than last year. We were scrupulous. We wrestled with gut feelings in the face of damning facts — we so badly wanted more restaurants in South Auckland to blow us away, for Fish Fish to do to fish what Burger Burger has done for burgers, for Nanam to be just that bit cheaper so that we could rave once more about how fantastic it is. But rules are rules.
<!– –>
We were particularly strict on the $20 or under per head (without drinks) policy, noting previous years' feedback about how relative the term "cheap" is. So with heavy hearts (but heavier pockets) we lost KK Malaysian, Nanam and Conch, among others.
The pop-up food scene is booming but by its very nature is inconsistent. Some of the street-food vendors we included in last year's Top 100 have now matured into restaurants, like Tiger Burger. We've acknowledged that fluctuation this year by extracting food trucks and pop-ups from the Top 100 and naming the best among them instead.
As always, there were no quotas for types of cuisine or geographic areas, which means as many fish and chip shops are mentioned as South Indian restaurants, but unfortunately fewer Cheap Eats made the cut from the east and south than central, north and west. We particularly mourn the lack of good, cheap Vietnamese restaurants in 2016 (we want mountains of fresh herbs, not scant leaves). The incredible diversity of Chinese cuisine is represented, in a small way, by this year's list. A notable new entry in the Top 100 — so notable, it scored in the top 10 — is Chongqing Cuisine, named after both the city and the branch of Sichuan cuisine known for being really spicy. Take it from us, the Somerville version is lip-smackingly good.
Watch: Barilla Dumpling
For the judges, one of the coolest things about researching this Top 100 has been meeting more of the people who cook the food, run the restaurants and own the joints.
The transformative process of opening an eatery, whether it involves leaving a Metro Top 50 restaurant to start your own fish and chip shop, as at Titirangi's delightful Fish and Friends, or starting life afresh in a new country, can be profound. The dedication to representing one cuisine, dish or specialty is astounding, when you consider the effort and cost involved.
Here are 100 restaurants each worthy of a pilgrimage, regardless of the contents of your fridge.
Judging the Cheap Eats Top 100
To be considered for this list, an outlet had to be open for dinner and offer a reasonable range of options for $20 per person (or less), excluding drinks.
The judging process began with a list of all the places we knew might have a chance to make the cut, or were new and needed inspection. We then debated the merits of these places at length at a big judges' meeting, whittling down the list by almost half. Next, we went out and ate. As always, we visited anonymously and paid for our meals. A final meeting consolidated the list, and the crucial Top 10.
The Metro judges
Our judges are food writers, cooks and bloggers with expertise ranging over many types of cuisine. Most of them write regularly online about food in Auckland.
William Chen, williamchendesign.blogspot.co.nz
Connie Clarkson
Simon Farrell-Green, eatherenow.co.nz
Alice Galletly
Michal Haines
Alice Harbourne, Food editor Metro and Paperboy, chair of the judging panel.
Lynn Huhtala, cheapeats.co.nz
Anna King Shahab, eatsbyanna.com
Delaney Mes, delaneymes.com
Courteney Peters, gatherandhunt.co.nz
Kate Richards
Alexia Santamaria, cheapeats.co.nz
Susannah Walker, Metro editor
Simon Wilson, Metro editor-at-large
The top 100 by suburb
Eden Terrace/Mt Eden/Dominion Rd
Epsom/Greenlane/Newmarket/Remuera/Royal Oak
Grey Lynn/Herne Bay/K'Rd precinct/Ponsonby
Henderson/Mt Albert/Sandringham
Somerville/Mission Bay/Waiheke
Mt Roskill/New Lynn/Blockhouse Bay/Titirangi
Mt Wellington/Pakuranga/Panmure
The top 100 by cuisine
Top 100 A-Z
@Bangkok 438 New North Rd, Kingsland
Angie's Kitchen 17 Mount St, central city
Bamboo House 9 Commerce St, central city
Banzai 583 Dominion Rd, Balmoral
Barilla Dumpling 571 Dominion Rd, Balmoral
Bawarchi 519 Sandringham Rd, Sandringham
Bian Sushi 183 Symonds St, Eden Terrace
Big J's Takeaways 4/1 Melton Rd, Mt Wellington
Bikanervala 214 Universal Drive, Henderson
Bird on a Wire Ponsonby Central, 136 Ponsonby Rd, Ponsonby
Biwon Korean BBQ 29 Link Drive, Wairau Valley
Boy & Bird 222 Ponsonby Rd, Ponsonby
Burger Burger Ponsonby Central, 4 Brown St entrance, Ponsonby
Cafe Abyssinia Tulja Centre, 190 Stoddard Rd, Mt Roskill
Chinoiserie 4 Owairaka Ave, Mt Albert
Chongquing Cuisine Shop 7/Unit 6 119 Meadowlands Drive, Somerville
Cinta Malaysian 454 Dominion Rd, Balmoral
Curry Corner Food City, 6-10 Kilham Ave, Northcote
Dak Hanmari 490 Queen St, central city
Dragonfired Pizza Little Oneroa Beach, Waiheke
Eden Noodles 105 Dominion Rd, Mt Eden
Epolito's 166 Richmond Rd, Grey Lynn
Fish and Friends 414 Titirangi Rd, Titirangi
FishSmith 200 Jervois Rd, Herne Bay
GoGo Music Cafe 559 Dominion Rd, Balmoral
Golden Barbecue Noodle House 296D Dominion Rd, Mt Eden
Greenwoods Fresh Catch 1 Pah Rd, Epsom
Gu xiang Malaysian 102 Pakuranga Rd, Pakuranga
Happy Japanese 3113 Great North Rd, New Lynn
Il Buco 113 Ponsonby Rd, Ponsonby
Jai Jalaram Khaman 39 Boundary Rd, Blockhouse Bay
Jimmy the Cook at Grey Lynn RSA 1 Francis St, Grey Lynn
Jiuzhou BBQ 660 Dominion Rd, Balmoral
Jolin Shanghai 248 Dominion Rd, Mt Eden
Kiss Kiss 1A Rocklands Ave, Balmoral
Lucky Lucky Dumplings 339 Karangahape Rd, K'Rd precinct
Madang 23 Wellesley St West, central city
Mamak Chancery Sq, Kitchener St, central city
Mamak 6 Huron St, Takapuna
Mama Rich 205 Great South Rd, Greenlane
Master Bowl 27 Cross St, K'Rd precinct
Master Chinese 150 Queens Rd, Panmure
Mt Eden Village Fish Shop 438 Mt Eden Rd, Mt Eden
Mr Zhou's Dumplings 3130 Great North Rd, New Lynn
Mumbai Chaat 1A Kitchener Rd, Sandringham
New Flavour 541 Dominion Rd, Balmoral
Ngopi 79 Anzac Ave, central city
No 1 Pancake Cnr Lorne and Wellesley Sts, central city
O-Cha 251 Dominion Rd, Mt Eden
Paasha 3120 Great North Rd, New Lynn
Panda Noodle Express 463 Dominion Rd, Mt Eden
Paradise Indian Food 519 Sandringham Rd, Sandringham
Petra Shawarma 482 New North Rd, Kingsland
Pizzeria Rosso Pomodoro 356 Great North Rd, Grey Lynn
Pokpok 261 Karangahape Rd, K'Rd precinct
Queen Chef Unit 10, 20 Link Drive, Wairau Valley
Queens Court 368 Queen St, central city
Ramen Do 167 Symonds St, Eden Terrace
Ramen Takara 4 Anzac Rd, Browns Bay
Ras Vatika 596 Dominion Rd, Balmoral
Rotti Hut Tulja Centre, 190 Stoddard Rd, Mt Roskill
Royal Dumpling 776 Manukau Rd, Royal Oak
Sake Bar Nippon 415 Manukau Rd, Epsom
Santhiya 's 1270 Dominion Rd, Mt Roskill
Satya 17 Great North Rd, Grey Lynn
Selera 487 Khyber Pass Rd, Newmarket
Settebello 3/1 Rata St, New Lynn
7 Siri Taste of Sri Lanka 580 Sandringham Rd, Sandringham
Shaolin Kung Fu Noodle 636 Dominion Rd, Balmoral
Sha Xian Snack 285 Dominion Rd, Mt Eden
Shubh Restaurant and Takeaways 524 Sandringham Rd, Sandringham
Som Tum Mercury Plaza, 23-31 Mercury Lane, K'Rd precinct
Spicy House 557 Dominion Rd, Balmoral
Sri Pinang 356 Karangahape Rd, K'Rd precinct
Stumpy's Pizza 702 Dominion Rd, Balmoral
Sunflower Vegetarian 6/50 High St, central city
Tandoori Hut 164 Stoddard Rd, Mt Roskill
Tanpopo Ramen 13 Anzac Ave, central city
Tan's Kitchen 59 Queens Rd, Panmure
Tasty Noodles 919 Dominion Rd, Mt Roskill
Thai Street 3/12 Jellicoe St, central city
The Fish Pot cafe 99 Tamaki Drive, Mission Bay
The Flaming Onion 1 Lydia Ave, Northcote
The Store 22 The Promenade, Takapuna
Tianze Dumpling House 695 Sandringham Rd, Sandringham
Tiger Burger 549 Great North Rd, Grey Lynn
Top Cafe Dumpling House 22A Cross St, K'Rd precinct
Top Ten Thai 235B Balmoral Rd, Mt Eden
Totó Pizza 53 Nelson St, central city
Treasure Kitchen 2/392 Great North Rd, Henderson
Tree 21/319 Remuera Rd, Remuera
Uncle Man 277 Karangahape Rd, K'Rd precinct
Venky's 535 Sandringham Rd, Sandringham
Viet Kitchen 342 Dominion Rd, Mt Eden
Wang Wang Spring Pancake 704 Dominion Rd, Balmoral
Xi'an Food Bar 11 Anzac Ave, central city
Yokoso 241 Dominion Rd, Mt Eden
Yummy Korean BBQ 23 Mokoia Rd, Birkenhead
Zheng Kee 1238 Dominion Rd, Mt Roskill
Zool Zool 405 Mt Eden Rd, Mt Eden