Feb 12, 2020 Restaurants
Metro visits Khu Khu Eatery on Ponsonby's main road and finds the Thai food is full of flavour, and, though vegan, undeniably Thai.

Thai food without the fish sauce. I shuddered to imagine it. Fish sauce is responsible for that bassy umami flavour in your pad thai, the seafood saltiness in your larb. Luckily – likely with some help from mushroom and/or miso – Khu Khu's plant-based food managed to replicate an understated version of the tasty meal-helper which didn't take away from the fact the food is, undeniably, Thai. Auckland has one other vegan Thai restaurant (Sunflower Thai), but I found the food at Khu Khu even better.
Most of us – and not only vegans and vegetarians – are eating less meat now. It could be for animal welfare or climate change reasons (yes, adopting plant-based diets does help cut down on carbon emissions) or health reasons, but whatever the reason, it's undeniable. I think the shift invites restaurants to experiment with a wider variety of more interesting food, so I'm into it.
Khu Khu is tiny, seating up to 20 people inside and maybe four, if that, on an outside table. Luckily they take bookings, which is likely essential on most nights. We're greeted almost immediately and warmly, given short and concise menus and looked after throughout the night with similar attentiveness. The perk of dining in such a small restaurant.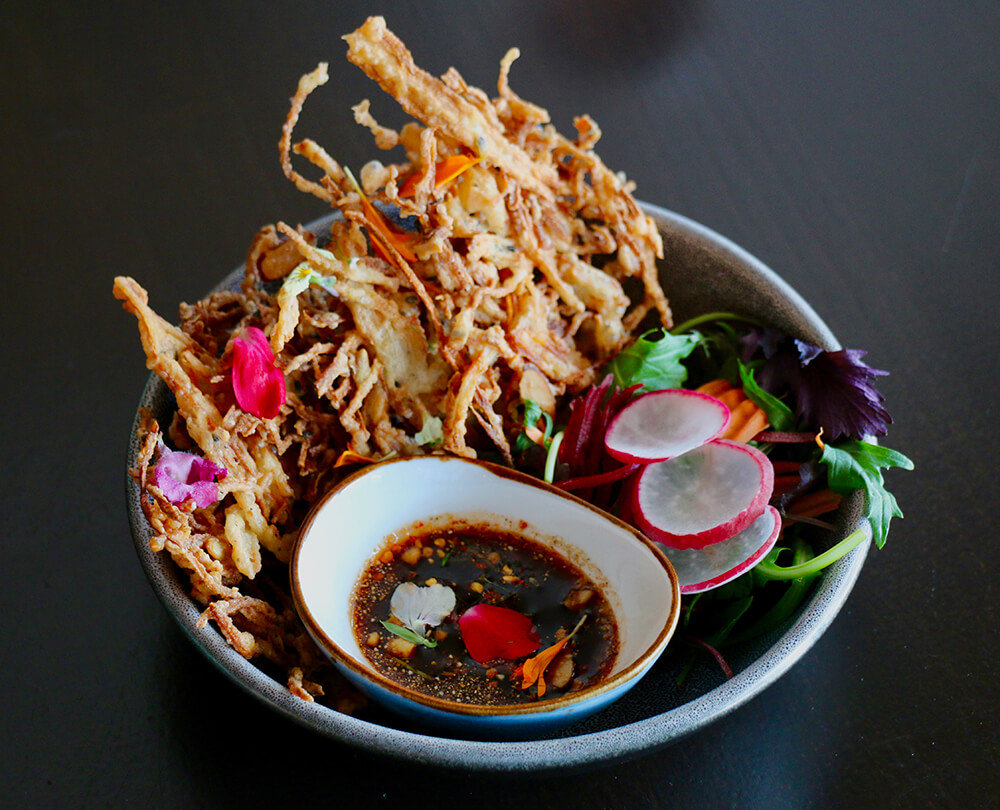 Food came out scarily fast, in quick succession – bam, bam, bam. Though I didn't mind it much – honestly, the future will see no distinction between entrees and mains – spacing "smalls" and "bigs" out a little bit between would be a good idea; there was a point where some of the crowded dishes came scarily close to the table's edge.
Although only open a little more than two weeks when I visited, a small dish of crispy sliced daikon had already emerged as a crowd favourite at Khu Khu. We had to order it – it reminded me, funnily, of soft-shell crab, or a prawn cake, the fried bits all spindly and giving away to a soft centre. It was accompanied by a tamarind sauce, which I could have sworn had fish sauce in it. It doesn't (presumably). The kumara spring rolls were fine, eating like deep-fried kumara chips without much other flavour.
I did miss the usual fish sauce and dried shrimp in a refreshing green papaya salad (som tum), but enjoyed that slightly tough bite from the unripe papaya – I hate sad, wilted salads – and wish I'd ordered it spicier, to make up for the subtler flavour. It needed to be more sour, with a couple of little red chillies in there.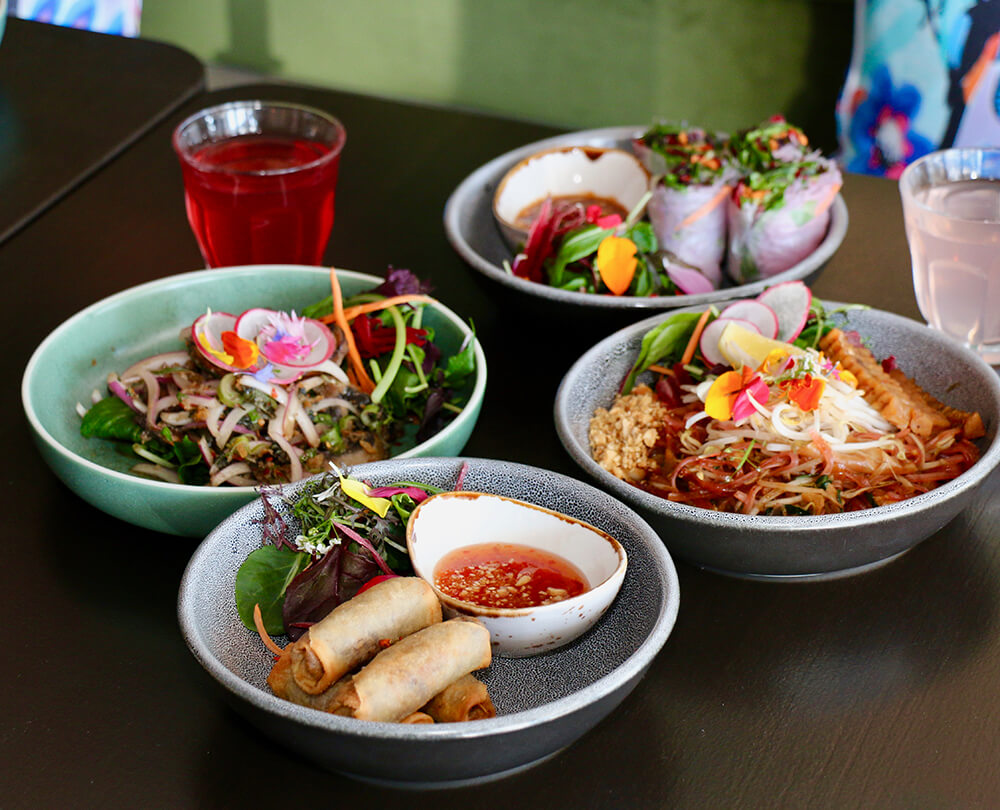 The Panang curry, however, was easily the dish of the night. It came with little cubes of fried tofu which had been mixed through with taro, giving the tofu a firmer texture, and flavouring up otherwise-flavourless tofu with taro's nuttiness. Some people might complain there's not enough variety – just the taro-tofu and lotus root – but I liked that; it gave the dish focus and heroed the protein (just like with meat). They could just do away with the fresh salad garnish on the side and pour in more sauce – I'd practically licked the bowl of that medium-spice, coconut-milky curry, it was so delicious. A bowl of tempeh Pad Thai was surprisingly tasty. Pad Thai usually loses me in its sugary heavy-handedness, but Khu Khu's holds back a little: it's less sweet, and a little less salty, than the ones usually found in Auckland's Thai restaurants. A squeeze of lemon freshened the dish up, though I yearned for obscenely expensive lime.
There was a lack of fresh herbs in each of the dishes, which seems to be an Auckland-wide problem. They let you choose your spice level on most dishes and my experience was the spicier the better – the flavours are enhanced tenfold. If you can handle it, do it. At the moment, Khu Khu's limited menu has smartly been focused on veganising Thai classics we already know and love, and I hope they're given more scope soon to do more than that. But it feels good to eat here – you sense the positive intentions of the staff and their mission, and the fact we left the restaurant pretty stuffed but only paying a little over $20pp helps.
At the end, I realised I didn't miss the meat. If the flavours are good, then you have me on the hook.
?
Khu Khu Eatery?
171A Ponsonby Rd, Ponsonby
Ph: 09-360 1992
Hours: Tuesday-Sunday 5-9pm; Wednesday-Sunday 12-2pm
Dinner bill: Small $9.90-$11.90; Big $15.90-$19.90
1 spoon – We'd eat here if we had to
2 spoons – Good, but really should be better
3 spoons – Very good
4 spoons – Extremely good
5 spoons – Superb: Among the very best of its kind