Nov 2, 2019 Bars
Where to go and what to drink at the third annual Eastern Imperial Gin Jubilee in Auckland.
The weather's warming up, the days are getting longer, and there are few things more refreshing on a summer afternoon than a well-made gin and tonic. Well, Auckland's gin lovers are in luck, because right now the city is overflowing with great gin cocktails and exciting events, thanks to the return of the East Imperial Gin Jubilee.
A celebration of all things gin, the Jubilee is back for a third year, with more than 50 bars and restaurants around the city offering special drinks and events over its 15-day run.
We're now a week into festivities, which wrap up on November 9, but don't worry if you haven't popped along to any of this year's events yet – there are plenty more to come! Check below for a round-up of what's on, including masterclasses, tastings and degustation pairings.
If a quick cocktail is more up your alley, the Jubilee's got you covered too. 18 gin brands have taken over some of Auckland's best bars and restaurants, creating bespoke cocktails made especially for the Jubilee – like Metro Top 50 restaurant and bar Madame George 's Botanicana, a perfectly balanced and unbelievably refreshing blend of Lighthouse gin, East Imperial tonic, bergamot liqueur, and a house-made syrup with notes of almond, pineapple, lime and cassia bark. It's the drink you dream of when you're sweating on a hot summer's day and best of all: it's only $10! Metro recommends getting a Goat Punch while you're in too. Made with gin and separated goat's milk (they only use the whey), the unique cocktail features savoury notes of basil. lt smells like pesto and tastes like the best and freshest gimlet you've ever sipped on.
Lighthouse Gin's Rachel Hall came up from Martinborough especially for the Jubilee. She's been taking part in events and bar takeovers at venues including Madame George, Satya and Gerome, each of which heroes Lighthouse in its special Jubilee cocktail.
You can check out all participating bar's cocktail offerings on the Eastern Imperial Gin Jubilee's website, and if you find one you particularly enjoy, don't forget to vote in the competition for best cocktail, by taking a photo and posting it to Instagram with the hashtag #ginjubilee2019. The winner with the highest number of votes will be announced at a grand finale event at the Lula Inn on November 9, with the winner receiving the silver tankard for Auckland's Best Gin Jubilee Cocktail, and an all-expenses-paid trip to LA.
READ MORE: Madame George has Guts, heart and bloody good food?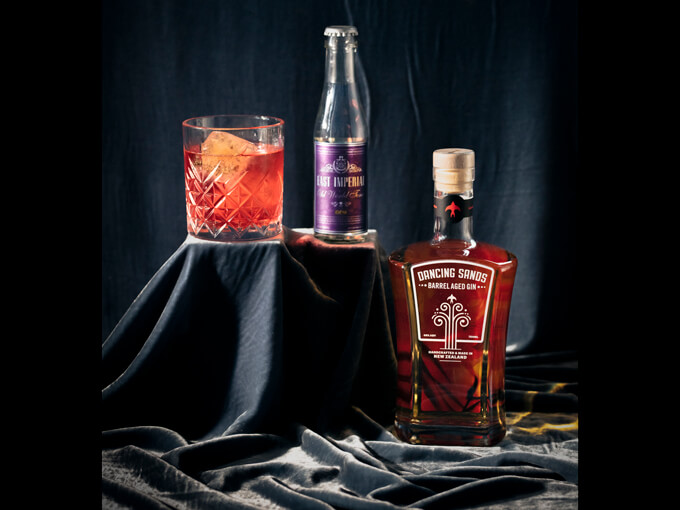 PARASOL & SWING x THE BOTANIST GIN
Kick off your Friday night sampling one of Scotland's finest gins. Bar manager Gina Nicholls will guide you through what makes The Botanist Gin so special and why you should pair it with East Imperial. There'll also be an interactive garnish station where you can build your own G&T for $5 per drink!
Friday November 1, 4-6pm | 7/204 Quay Street, Auckland Viaduct

LOVEBUCKET x HALLERTAU BREWERY x RUTTE GIN
Hallertau brewery will be welcoming one of K'Road's favourite bars Lovebucket for a gin and tonic takeover. For one day only, Hallertau's beer-loving patrons will get a taste of Lovebucket's East Imperial Gin Jubilee cocktail "Dear Doris" made with Rutte Gin. Come and enjoy the fun.
Sunday November 3 from 3pm | 1171 Coatesville-Riverhead Hwy, Riverhead
This super-exclusive dinner has only 20 spots available so enquire quickly. Roll home after this delicious six-course degustation paired with six The Source gin cocktails – get ready for a degustation like no other.
Plus, East Imperial head mixologist Mikey Ball can show you how to make a mean cocktail with just 4 simple ingredients. Degustation gin pairing, $100 p/p.
Wednesday 6 November from 5pm |166 Jervois Rd, Herne Bay, Auckland
Chapel Bar and Blush Gin will be putting on a party for the public, with guests invited to take part in gin and food matching evening. Chris From Blush and Robb from Chapel Bar will guide you through a gin masterclass, finishing with Boysenberry Gin Affogatos!
Thursday 7 November 7pm-8.30pm | 147 Ponsonby Rd, Ponsonby, Auckland
Azabu , Ostro, SEVEN, Fukuko and The Wreck with Savor Group
Join some of New Zealand's top bars and restaurants for a dinner featuring a range of special Gin Jubilee Cocktails created by our bartenders from some of the city's best bars and restaurants.

Thursday 7 November – bookings essential | Akai Doa (Las Vegas Club 339 Karangahape Rd, Auckland CBD)
Come along to this special cocktail degustation where 1919 will take you through an amazing flight of carefully crafted cocktails. Inspired by Akira from Masu , light nibbles will be served. This will be an intimate but casual event with Master Distiller Soren Crabb guiding you through all 4 cocktails. $36 for 4 cocktails
Friday 8 November from 4pm | 90 Federal St, Auckland CBD
the ultimate finale party at Lula's WILL celebrate all things gin and crown the winner of the "Best Gin Jubilee Cocktail". DJs will perform from 4-9pm, followed by the announcement of the winner of the East Imperial Gin Jubilee announced. A live band will play from 10pm.
Saturday 9 November from 4pm | 149 Quay St, Auckland CBD
Metro was the guest of the Eastern Imperial Gin Jubilee at Madame George.