Jul 11, 2019 Restaurants
Metro ?food director Simon Farrell-Green visits Madame George and finds that this very good bar also serves food deserving of your attention.
You probably know Madame George as a bar, and it's a very good one — summer or winter, Thursday to Saturday the pavement outside the place is crowded with people drinking wine from the short but accomplished wine list or perhaps the city's best pisco sour. In a sense, it's a successor to Golden Dawn: there's a distressed vintage vibe, sarked timber walls, bare tables and beaten-up school chairs.
But what you might not be aware of is that it's also an exceptional place to eat, serving the kind of food you'd expect from a much fancier place, at a fraction of the price, but with a level of service you also might not expect from what is, essentially, a bar.
I like this. Auckland has many excellent cooks but a distinct lack of decent waiters — and increasingly I want to eat less and less in restaurants with carpet, and more in places with guts and heart and bloody good food.
Madame George has all that, and more. Owner Pablo Arrasco Paz is an architect who moonlights in hospitality: he hails from Peru, though he's spent most of his adult life in Auckland. After a few chefs and changes in direction, the place now bills itself as modern Peruvian. He has a way of bustling past you with a plate of food or a glass of wine, touching you on the shoulder in a friendly sort of way to assure you he'll be back shortly, and then he is, crouching down beside your table and talking you through the menu.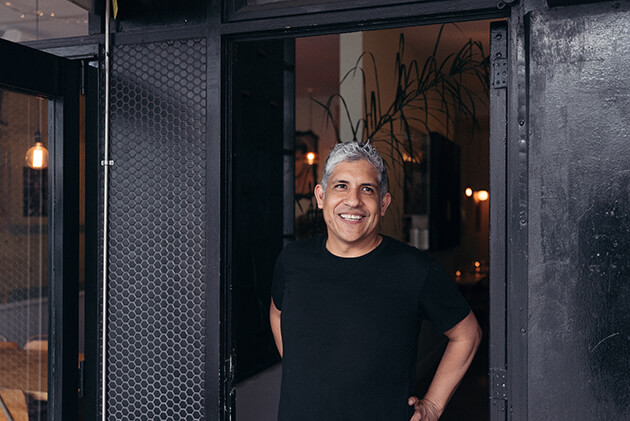 The food — by Patrick Schmitt — comes on lumpy ceramic plates, with impeccably rustic styling. The colours are bright; the flavours range from smoky to citrus. There's something faintly indefinable about the food: it's as if it was cooked in the sweltering heat in an open kitchen above a charcoal brazier, everything infused with smoke, except the techniques are polished and clever. It's this tension that makes eating at Madame George such a pleasure.
There's a dish of grilled fish on meltingly tender lima beans, where the skin is perfectly grilled and the fish cooked only just so. And next time you're there for a drink, be sure you order the "karate chicken", tender little bits coated in quinoa and fried until crunchy. Seems healthy; probably isn't.
Not everything is perfect — the cassava chips are starchy, although I am very fond of the huancaina they come with, which is a hot and smoky cheese sauce. On a recent visit, too many things we ate seemed to consist of smoky starchy things — kumara, potato, cassava — and two dishes had broccoli on them.
The best way to ensure this doesn't happen is to order the set menu. It costs $65 and features five nuanced courses; even with drinks matching, it only costs $99. $99!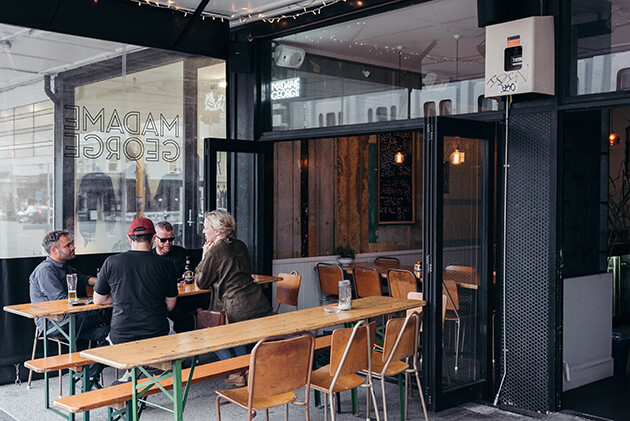 Not so long ago, we started with little arancini balls with a smoked tomato puree, the balls barely held together by their breadcrumbs; the sauce had a perfect balance between smoke and zest. It also comes with a dark aniseedy little pisco sour — an excellent announcement of intent.
There's possibly the city's best ceviche — the other week, it was line-caught hapuku, and it came with radishes and little slivers of kumara; it was at once fresh and earthy, and with a bit of fire to it too, which I liked very much. And there's the burnt potato, which is a mix of Maori potatoes, steamed then cooked over charcoal and smashed, served with a tofu emulsion, which arrived at the same time as the anticucho, grilled beef heart with a paprika rub, grilled and tender and served with a simple glass of yellow lager. It's how they drink it on the streets of Lima, they explained, and you can see why.
And there was a sublime dish of grilled lamb rump, served on a bright green parsley and spinach sauce, and a big glass of a malbec that was earthy and mushroomy, rather than big and brassy.
We finished with a mandarin brulee and a frappe, an icy slush with a couple of drops of bitters — so fresh, so simple. And there was a digestif of cocoa nibs soaked in red vermouth and sprinkled with grapefruit oil, which promised to be dark and chocolatey but was light and citrusy.
It takes a leisurely couple of hours, but it doesn't feel like a chore. One night, an old friend was walking past the restaurant, so he sat down and drank chardonnay while we ate. Because it was a bar, none of this felt awkward in the slightest.

490 Karangahape Rd.
Ph: 308-9039
madamegeorge.co.nz
Hours: Tue-Thu, 5pm–11pm; Fri-Sat, 5pm–2am.
Dinner bill: Snacks $7-$15; small plates $11-$19; large plates $27-$29; desserts $7-$11.
This piece originally appeared in the July-August 2019 issue of Metro magazine with the headline 'Like Lima'.