Dec 14, 2015 Bars

Above: Katie Cramphorn at Coley & Punch.
Presenting Metro's annual list of the best bars in Auckland.
Words by Alice Harbourne and Delaney Mes. Photos: Ken Downie. This article was first published in the December 2015 issue of Metro.
The Melbourne Cocktail Craze Set To Transform Auckland. Hopes and eyebrows rise in unison: can our bar scene ever rival that of our Antipodean cousins?
Trend predictions are fun to read, and no doubt fun to write, but more often than not they're optimistic rather than realistic. This year, Auckland's bars have embraced house-made sodas, tea-infused syrups and drinks with big, hand-cut rocks of ice instead of little cubes.
There's been a proliferation of low-alcohol session beers, more craft beer taps and — hooray — another rooftop bar. But the sour beers and molecular cocktails? They're out there, but still as nascent as nitro coffee.
What we have seen this year is a move towards specialisation. Opened in November, Nourish Group's new waterfront bar Coley & Punch boasts a "library" of more than 150 whiskies. Rockefeller Champagne & Oyster Bar in Fanshawe St offers more than 45 varieties of champagne and Vulcan Lane's The Gin Room has more than 30 types of — you guessed it — gin.
Provenance is becoming as important to mixologists as it is to chefs, says Tim Martin, co-owner of Mea Culpa on Ponsonby Rd. "We've started focusing on organic and biodynamic wines," he explains, "as well as trying to grow produce ourselves, like edible flowers and interesting herbs like chocolate mint and apple mint."
Cocktails have stepped up their game this year. New restaurants know the importance of a strong drinks menu, like Britomart's Beirut, whose menu of shrubs (the vinegar-based drink) complements Middle Eastern flavours perfectly. Wellington export Matterhorn's cocktail menu was designed by its award-winning mixologist Riki Carter, and it's one of the most sophisticated in the city.
Yet the key to making it onto our Top 50 list is often simplicity. Interesting wines available by the glass combined with the charming service of bars like Apéro and Dilecta turn one-off customers into regulars. Proximity to home always helps, of course, though the Waiheke wineries on this year's list, and breweries like Leigh Sawmill, are pilgrimage-worthy. Listed alphabetically (and also by location on page 76), Auckland's Top 50 bars are worth visiting again and again because they're timeless, innovative and sometimes, magically, a mixture
of both.
Top 50 bars, listed A-Z
16 Tun
10/26 Jellicoe St, Wynyard Quarter
Wynyard Quarter has so much potential as a drinking destination, so thank goodness for free house 16 Tun. One of Auckland's few great craft beer bars. Both tap and bottle options seem endless.
Apéro
280 Karangahape Rd, K'rd precinct
Ex- Baduzzi and The Grove sous chef Leslie Hottiaux and her maître d' partner Ismo "Mo" Koski bring French aperitif culture to K' Rd at this adorable wee wine bar. Both experts in their fields, trust them to curate your wine and food choices at lunch, dinner and Apéro o'clock.
The Bar on Kohi
3 Averill Ave, Kohimarama
Walk the eastern bays at sunset before stopping for a glass of New Zealand wine at The Bar on Kohi. A provenance-focused menu (even the gins are listed by country of origin) and sleek marble interior make it a respectably cheesy endeavour.
Basque Kitchen & Bar
61 Davis Cres, Newmarket
This little Spanish corner of Newmarket provides authentic tapas and larger plates to go with its very Spanish wine list. If you're not yet an expert on your riojas or your albariños, it's a great place to be educated.
Bedford Soda & Liquor
4 Brown St, Ponsonby
Even when it's jam-packed on a Friday night (as it often is), the staff here are still happy to whip up their nitro-iced, house-infused, toasted marshmallow-topped cocktails, designed by nationally acclaimed mixologist Jason Clark. Soda-based Daisies and Cobblers are a big deal here too.
Beirut
85 Fort St, Britomart
This four-spoon Middle Eastern restaurant excels as a bar too, with handmade "shrubs", naturally preserved with fresh and dried fruit, vegetables, vinegar and herbs and served with house spirits. A leafy, bright, covered atrium makes it a good spot for a rainy-day drink.
Bellota
91 Federal St, central city
Consistently recognised as one of the best spots in Auckland for a first date, Bellota is a gem. There's a refreshingly authentic tapas bar, which helps if things progress to dinner. Especially good when there's live music.
Brothers Beer
Shed 3D, City Works Depot , 90 Wellesley St west, central city
Large, light and furnished with retro couches and toys, Brothers feels less like a bar and more like a mate's pepped-up garage. The 18 taps and huge bottled range can make decisions difficult, so let the friendly beer geeks behind the bar guide you.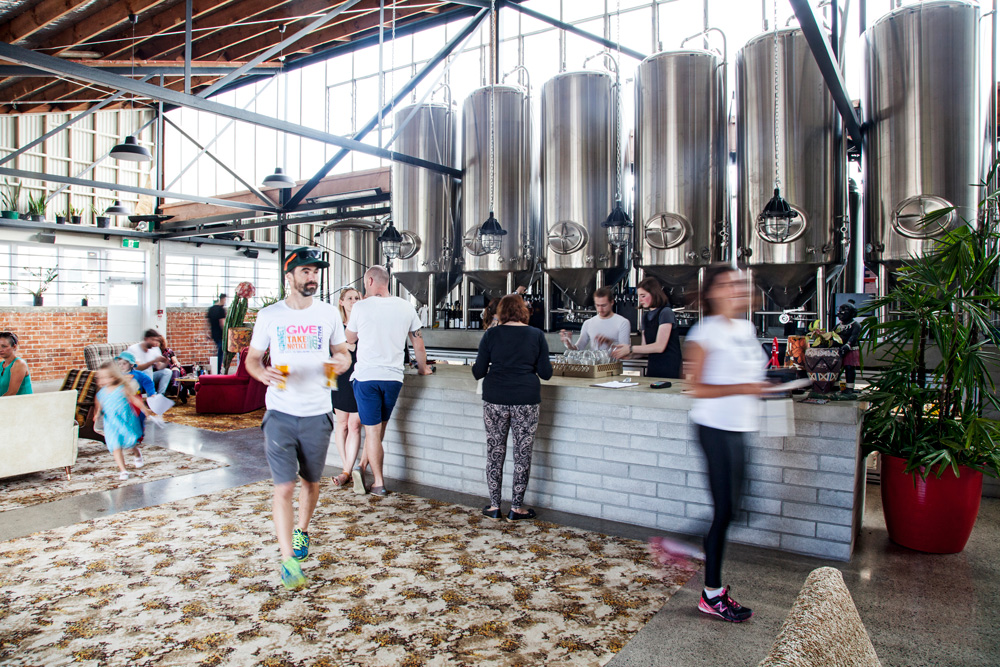 Cable Bay
12 Nick Johnstone Drive, Oneroa, Waiheke
Worth a day trip to Waiheke for the view alone: the sight of the city from this vineyard is something to behold. Add a beanbag and a glass of rosé for a dream summer afternoon.
Brothers Beer
Shed 3D, City Works Depot, 90 Wellesley St West, central city
Large, light and furnished with retro couches and toy, Brothers feels less like a bar and more like a mate's pepped-up garage. The 18 taps and huge bottled range can make decisions difficult, so let the friendly beer geeks behind the bar guide you.
5 Fort Lane, central city
Amazing cocktails and a great beer and wine menu aside, Cassia has a list dedicated completely to gin. And they are all exemplary. With modern Indian food to match, this is a top spot for a tipple.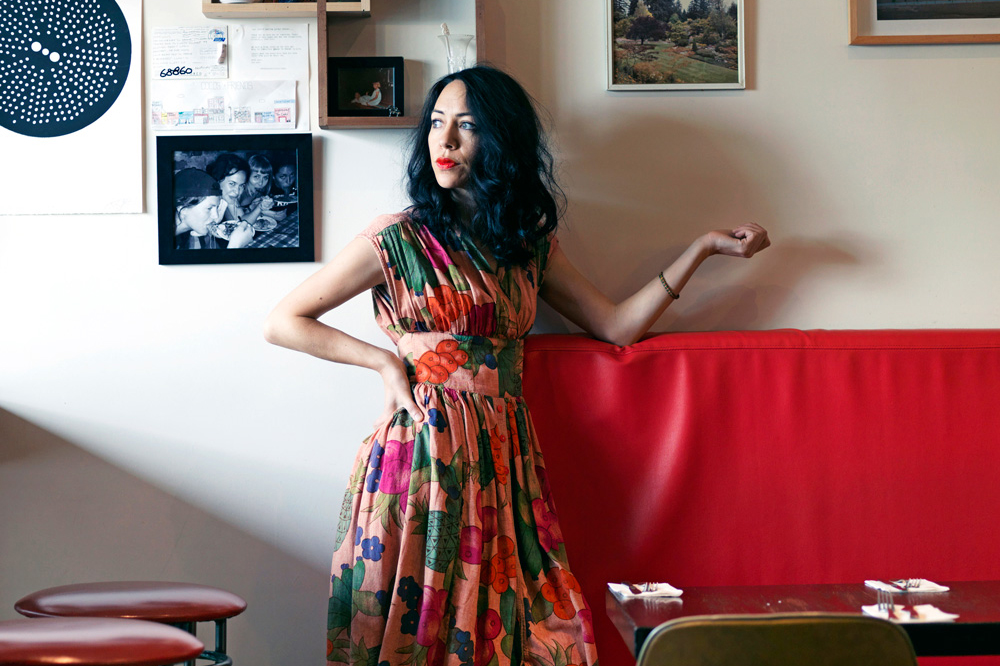 376 Karangahape Rd, K' Rd precinct
The gingham heart of K' Rd, whether you're sitting on the pavement or in "pash alley", sisters Renee and Damaris Coulter and bartender Petaia Unoi ensure you feel part of a fun, warm community, the kind found in sitcoms. No visit is complete without a coupe of prosecco.
Conch
115A Ponsonby Rd, Ponsonby
Few bars can claim to have started as a market stall in Aotea Square, but these days Conch is known more for its credentials as a restaurant and bar than its vinyl-selling. There's a focus on organic New Zealand wines, an impressive range of local craft beer on tap, and of course, non-shit music.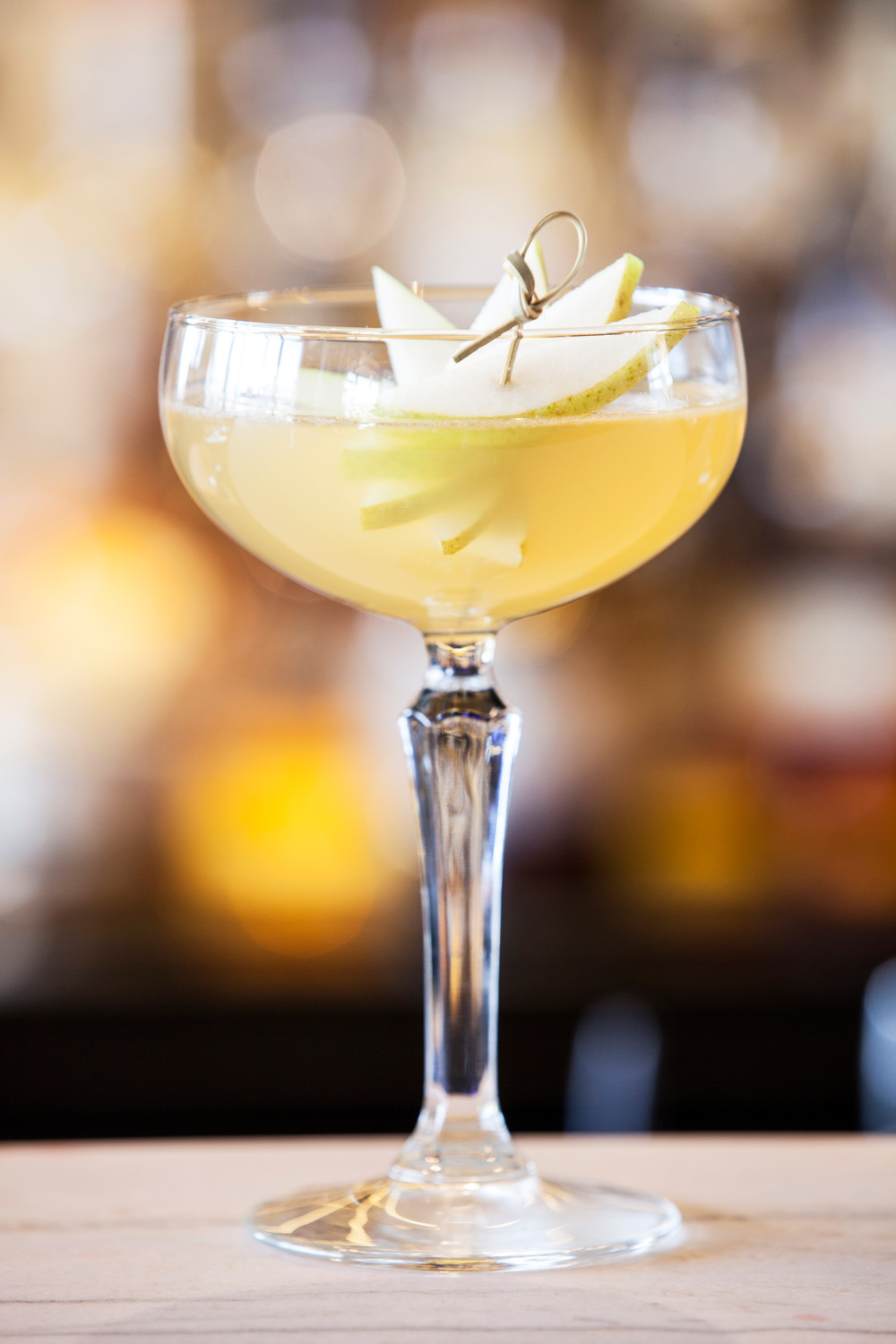 Coley & Punch
Shed 22, Princes Wharf, Viaduct
With an alphabetised list of more than 250 whiskies, classic cocktails and a coveted spot on the waterfront, C&P's appeal is as timeless as the bartending legend it's named after, Ada "Coley" Coleman.
The Corner Store
25 Mt Eden Rd, Eden Terrace
There's been a bar in this spot for more than 20 years. The Spark family bought it just over a decade ago and have been running it independently ever since, which means there's a stellar wine list.
Dilecta
549 Great North Rd, Grey Lynn
A shining light in the Grey Lynn shops, Dilecta is a great little local, with plenty of interesting wines by the glass. We also love the courtyard out the back.
Everybody's
7 Fort St, central city
One of the most charming spaces in Auckland, Everybody's takes its name from the 100-year-old theatre its building used to house. The heritage interior has a roomy split-level layout, making it ideal for large groups.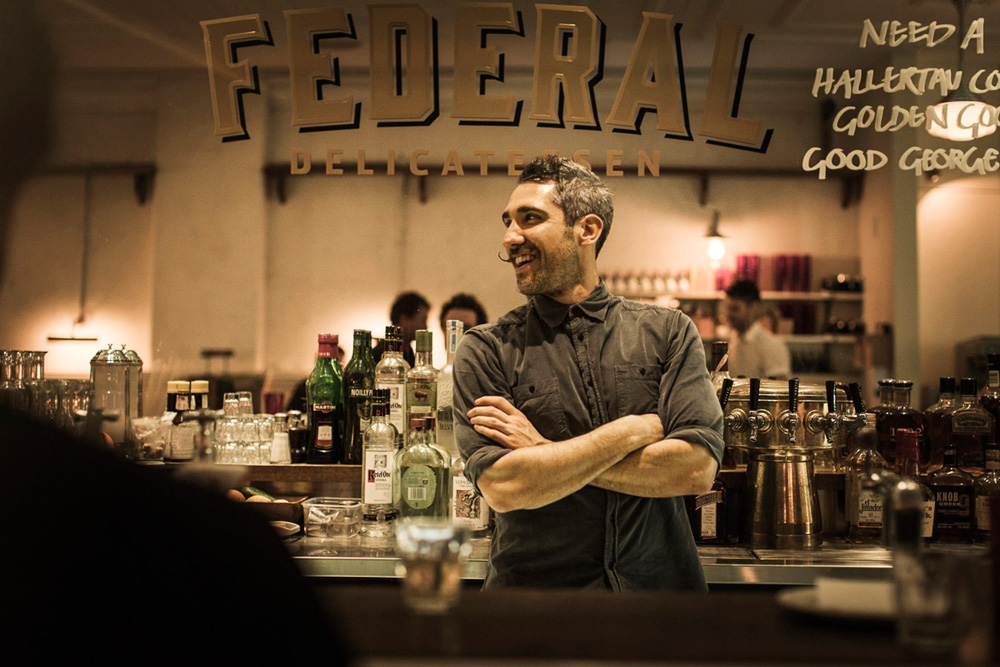 Federal Delicatessen
86 Federal St, central city
The Jewish NYC deli-inspired Fed has a "late shift" on Fridays and Saturdays (11pm-1am), when spiked Cherry Colas and Old Fashioneds flow. You can still get poutine and pie too. Return the next morning for a life-restoring pickled Deli Mary.
440 Richmond Rd, Grey Lynn
A bohemian little bolthole with a fabulous wine list. A dormant piano is never quiet for long and spare chairs hang like an invitation on butchers' hooks left over from the building's former life. Accept it.
Fukuko
43 Tyler St, Britomart
The jars of honey, amber and scarlet-hued liquid lining Fukuko's back bar aren't just for decoration. Shochu is a Japanese spirit that Fukuko specialises in infusing, and then combining in punchy cocktail-flavour combinations.
2 Mt Eden Rd, Eden Terrace
A true alehouse — patterned carpet included — Galbraith's was a free house before craft beer became cool. With solid pub food and a stellar line-up of beers rotating on tap, it's a perfect place for a pint.
The Gin Room
12 Vulcan Lane, central city
Decked out like a traditional 1920s gin parlour, this botanical haven above the old Queen's Ferry Hotel in Vulcan Lane is truly transporting. Gin aside, talented bartender James Millar makes a mean negroni.
The Glass Goose
78 Federal St, central city
Auckland doesn't quite have the same penchant for rooftop bars as Melbourne, so the Glass Goose is a rare and welcome bird, and one of the city's liveliest new bars. You can be sure of a buzz on weekends.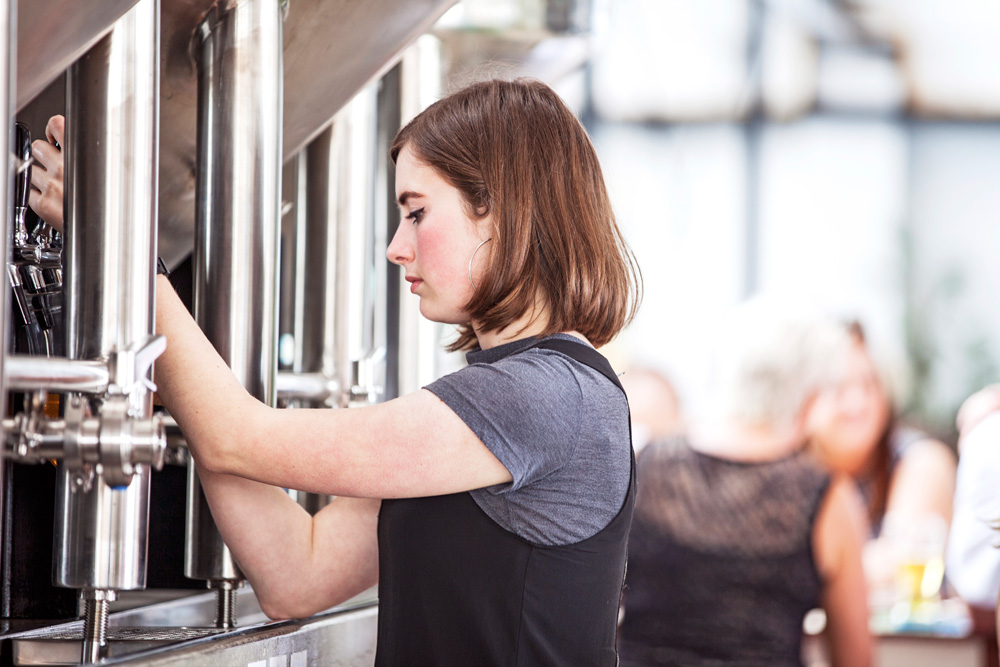 Golden Dawn
134 Ponsonby Rd, Ponsonby
Golden Dawn was meant to be a pop-up when it opened in 2010. A collective of taste-makers designed it with strong principles: a completely independent wine list, unique bar food and crazy-good music. It's not going anywhere (we hope).
Gyspy Tearoom
455 Richmond Rd, Grey Lynn
Open seven days, Gypsy Tearoom never seems to be empty. The bartenders are masters of unforced banter, know the wine list inside out and won't mind if your dog joins you outside. The model local.
1171 Coatesville-Riverhead Hwy, Riverhead
A family-friendly restaurant and bar inside the brewery of this successful local beer brand. With the full range on tap, one-off brews and an unpretentious food menu, it's worth planning a west coast trip around it.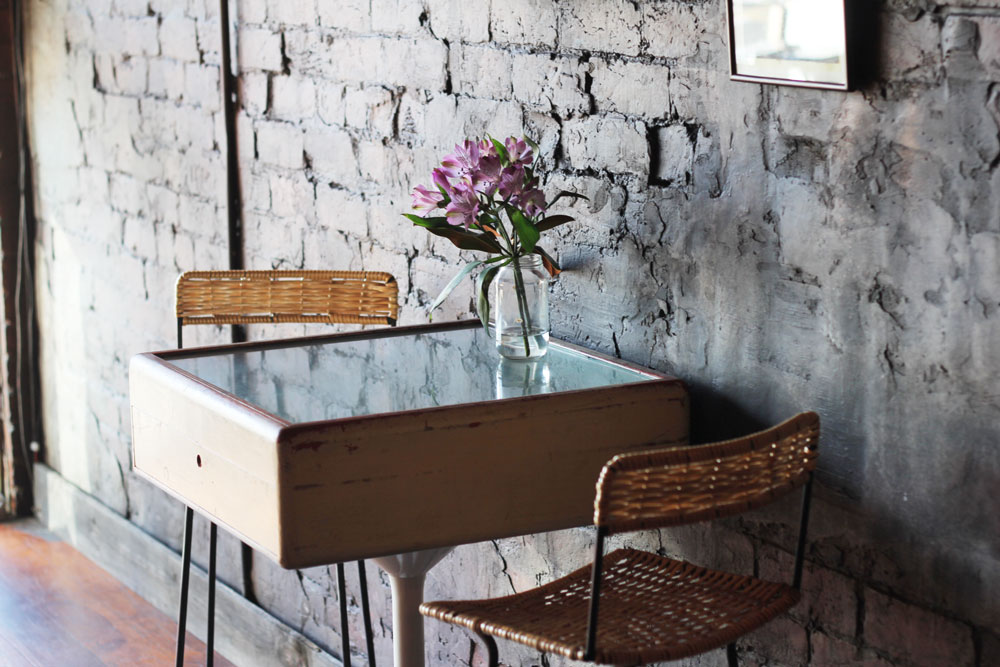 Harry & George
155 Ponsonby Rd, Ponsonby
Events producer Ella Mizrahi and actor Oliver Driver didn't know anything about bars before they opened one, and now they have two, both named after their dogs. It's restored a sense of organic, messy fun to Ponsonby Rd.
Hotel DeBrett House Bar
Level 1, 2 High St, central city
It's such a great find in the CBD that we almost hesitate to tell anyone about it. The lush furnishings and knowledgable staff help you almost to feel you could be anywhere in the world. Lucky us.
7 Fort Lane, central city
We've wanted a good and proper whiskey bar for a while and the new kid on Fort Lane thankfully delivers. An excellent whiskey selection and the requisite dark interior make this a late-night favourite.
Juke Joint
5 Akiraho St, Mt Eden
The second Brothers Beer bar is a brewery with a kids' sandpit — parents rejoice! Rejoice again at the range of hearty American barbecue food on offer, the suntrap of a courtyard and selection of fresh craft beers brewed on site.
Leigh Sawmill
142 Pakiri Rd, Leigh
Even though we can now get their great beer by the can in town, it's worth a trip north to enjoy the stuff at its source, the place of many an excellent live music gig. It has a huge courtyard outside, and you can even make a weekend of it and stay over.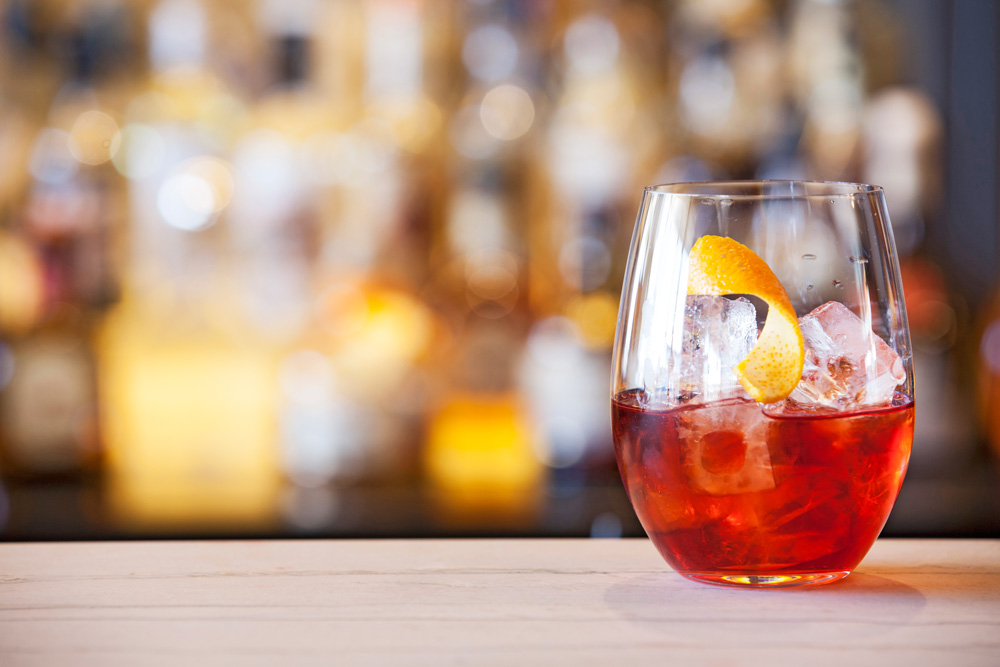 Matterhorn
Victoria Park Market, 37 Drake St, central city
With a drinks list curated by sommelier Gary Olasz and champion mixologist Riki Carter, and a sultry candlelit interior, when the live music starts playing, it's easy to forget you're in Auckland.
Mea Culpa
3/175 Ponsonby Rd, Ponsonby
Small and perfectly formed, six-year-old Mea Culpa is still one of the best dive bars around. Owners Tim Martin and Kate Rose follow the seasons with a new cocktail menu each week, using homegrown ingredients from their Matakana garden where possible.
Meadow
20 St Johns Rd, Meadowbank
A trustworthy all-day eatery, Meadow wears evenings particularly well, with a cosy outdoor fire, expansive courtyard and wine list of heavy hitters balanced with boutique labels. The cocktails are good, too.
Mexico
164 Ponsonby Rd, Ponsonby
Mexico takes tequila seriously with more than 70 premium varieties on offer. Good cheap eats, margarita carafes and informal service make this an easy choice for group celebrations. Also in Britomart and Takapuna.
Mo's
5 Federal St, central city
Between office buildings and a main road, Mo's is a cocktail bar worth stumbling upon. Over its 20 years in operation, it has become quite the institution. It's tiny and we love it.
Mudbrick
126 Church Bay Rd, Oneroa, Waiheke
Cobbled walkways and a sprawling creeping garden mean an afternoon at Waiheke's Mudbrick has a certain Tuscan feel about it. This vineyard restaurant has one of the best wine-drinking views in Auckland, too.
Non Solo Pizza
259 Parnell Rd, Parnell
An Italian haven in the heart of Parnell, the walkway to the courtyard of this Auckland institution transports you from the busy main strip. If great Italian food is a must when imbibing, this is the place for you.
Northcote Tavern
37 Queen St, Northcote
Beer served in pint glasses, clan crest wall shields and tartan carpet would make Northcote Tavern feel like a Scottish pub if it weren't for the friendly service and oft-sunny outdoor area.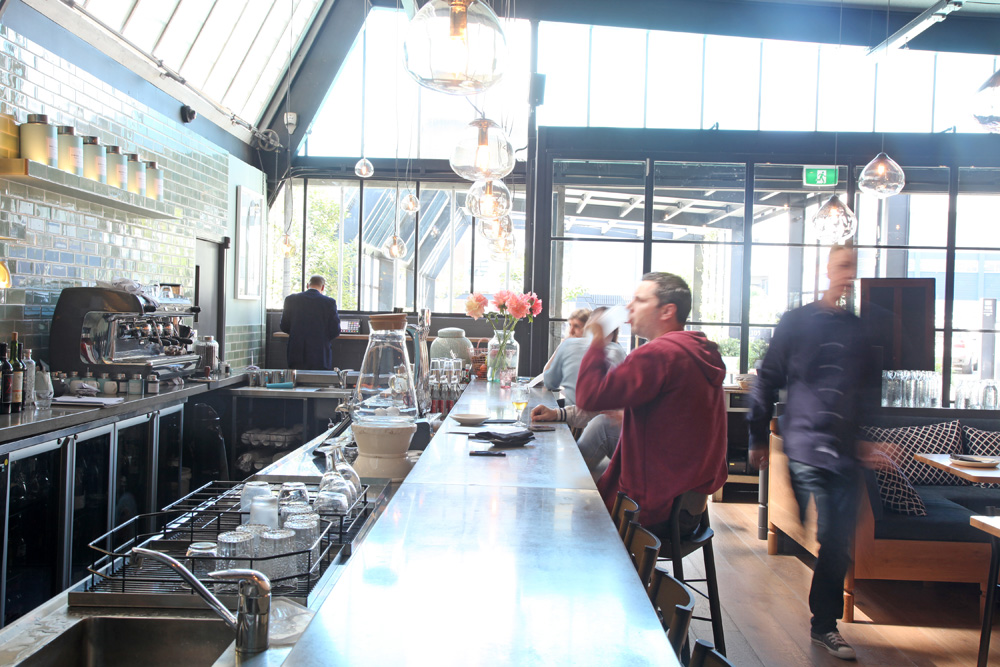 Odettes Eatery , Auckland" width="493" height="329" data-mce-src="https://www.metromag.co.nz/images/uploads/e90dfb44-77d3-4572-bbed-01a370cf2296-IMG_5425.jpg">
Odettes
Shed 5, City Works Depot, 90 Wellesley St West, central city
One of the best spots in the city for after-work drinks, thanks to its sunny aspect, low-alcohol options and interesting small plates to tide you over until dinner. Order the pork belly dumplings.
Ostro
52 Tyler St, Britomart
We sometimes forget about Ostro as a pre-dinner drink spot, but we shouldn't — its fitout and view are just two reasons to love it. An Aperol Spritz on either of the impressive balconies is just what we want for summer.
124 Oceanview Rd, Oneroa, Waiheke
Whether it's a Bloody Mary on a Sunday or a crisp chardy as the sun goes down, the Oyster Inn, with its view over Oneroa, is one of our favourite Waiheke drinking spots.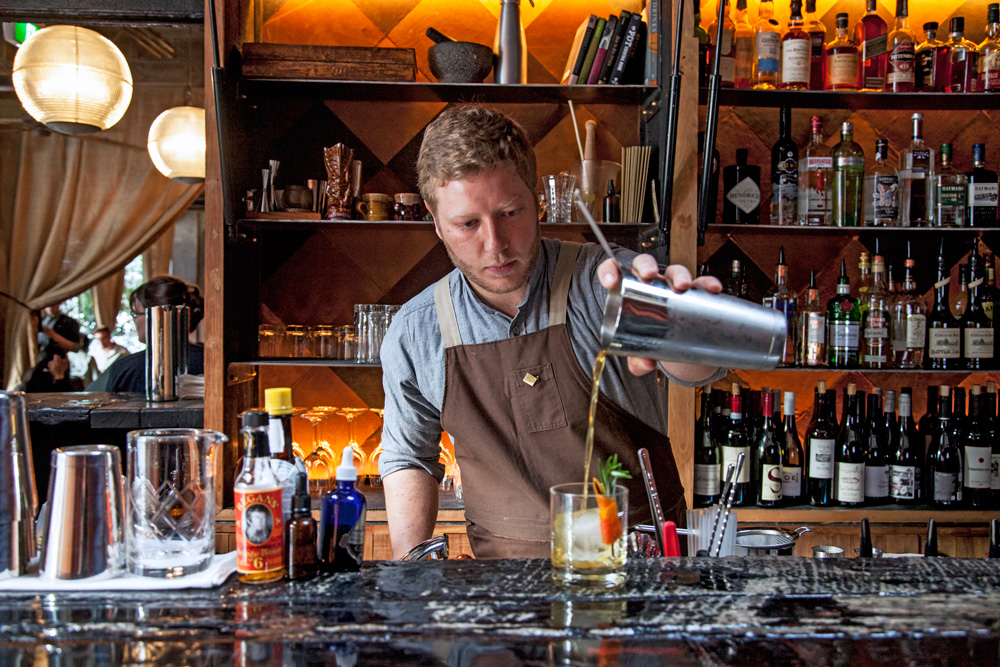 352 Karangahape Rd, K' Rd precinct
Peach Pit evolved from its grungy predecessor, D.O.C, with a brighter paint job and an excellent Southern-inspired menu. It's still full of art students and a great casual spot for a drink on K' Rd.
Portland Public House
463 New North Rd, Kingsland
Portland Public House feels like a Kingsland house party; it's rough around the edges but the great atmosphere and live music make it a really fun local.
Puhoi Pub Hotel & Stables
5 Saleyards Rd, Puhoi
Any road trip north is improved by a beer at the historic Puhoi Pub. Pub grub rules here — think fish and chips and mussel fritters. Have a wander around ye olde town, too.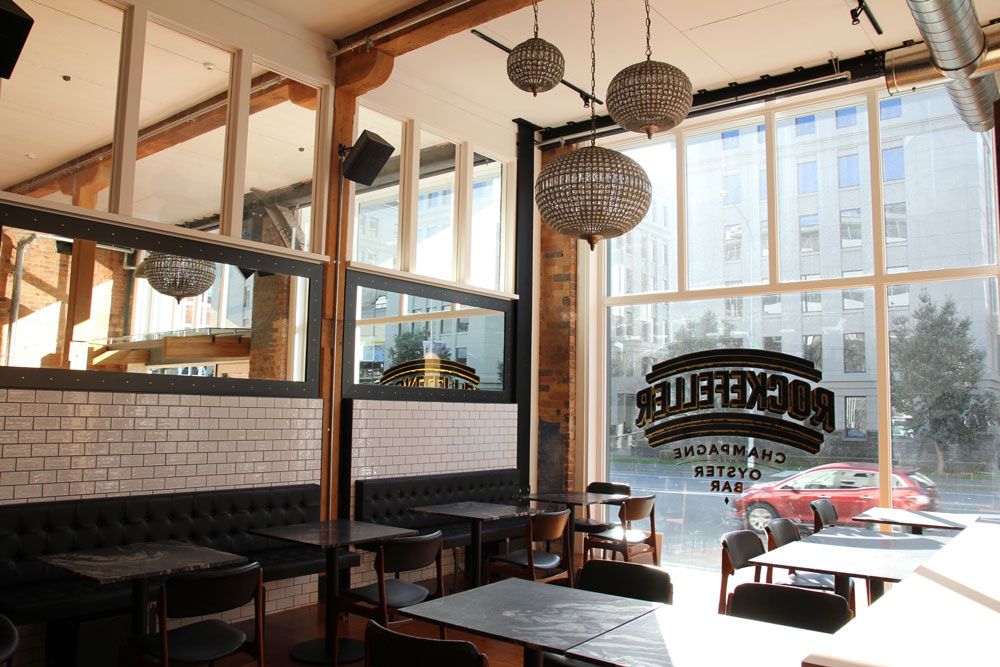 Rockefeller Champagne & Oyster Bar
104 Fanshawe St, central city
Tim Arnold invited DJ Camilla Martin out for oysters and champagne in 2012. They didn't imagine then that three years later they'd open a chic bar dedicated to serving them, but we're stoked they did. More than 45 champagne varieties, and the freshest oysters available.
Soul Bar & Bistro
Viaduct harbour, Viaduct
A stalwart of Auckland's Viaduct Harbour, there's more on offer at Soul than champagne and oysters (although they are highly recommended if budget allows). Almost worth it for the people-watching alone, it's also great for dinner.
SPQR
150 Ponsonby Rd, Ponsonby
Monthly wine specials and some of the best service in town, whether it's before, during or after dinner. The espresso Martinis are especially excellent.
Vulture's Lane
10 Vulcan Lane, central city
Craft beer lovers unite at Vulture's Lane , with regular special brewery releases and events for the craft beer community. If you can grab a spot outside in the lane with your pint, then all the better.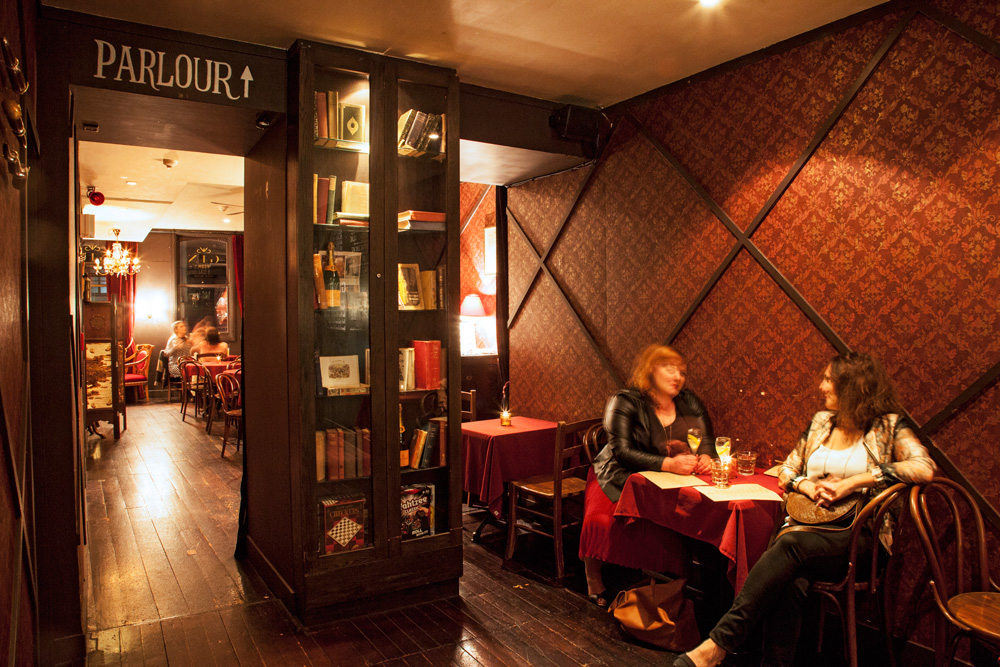 183 Karangahape Rd, K' Rd precinct
If you're worried Auckland is becoming slick and soulless, head down the steps of St Kevin's Arcade and have your faith restored by down-to-earth bartenders and punters who are there for the live music. Grab a feijoa cider and embrace the grungy fun of it.
Xuxu
Cnr Galway & Commerce Sts, Britomart
Nestled in greenery, Xuxu offers cocktails produced with care that are a joy to behold. Delightfully unpredictable combos — think coriander, lychee and lemongrass — and the scrumptious dumplings keep us coming back for more.