Gochu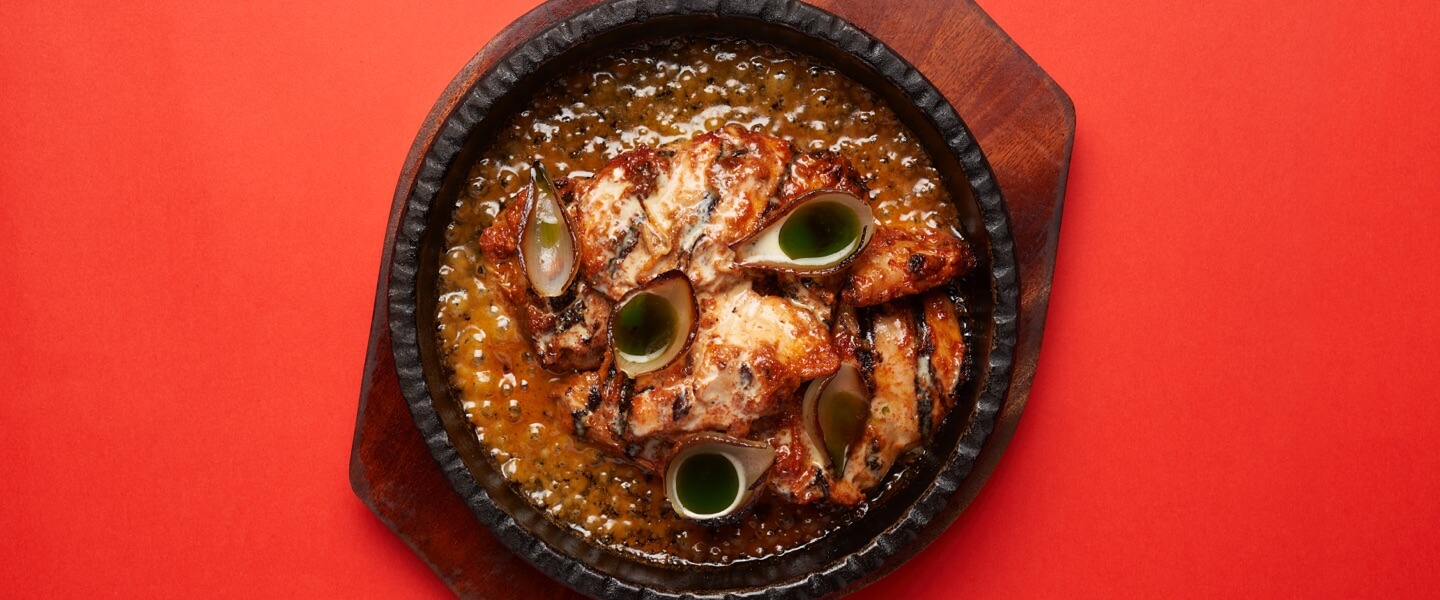 Gochu
02 109 052396
gochugotyou.co.nz
Metro Favourites
Milk bun, Grilled cabbage
Awards
Winner — Best Casual Restaurant: Central city
Winner — Best Dish
Finalist — The Produce Company Best Chef: Jason Kim
Finalist — Best New Restaurant
Metro Favourites
Milk bun, Grilled cabbage
Awards
Winner — Best Casual Restaurant: Central city
Winner — Best Dish
Finalist — The Produce Company Best Chef: Jason Kim
Finalist — Best New Restaurant
Serving up some of Auckland's best Korean food in the middle of a mall, Gochu is a must-visit if you find yourself downtown.
Despite being located in downtown Commercial Bay alongside several other food operators, Gochu manages to carve out a space all of its own, with a fantastic view overlooking the handsome Ferry Building. And, to be honest, the mall thing is barely a slight, because after spending some time as the head chef at Sidart, Gochu head chef Jason Kim is now cooking the food he wants to cook, and it shows.
You know you're on to something special when even the cabbage is incredibly delicious. Gochu shows a great understanding of flavour, with bombastic dishes that push hard but are always balanced so things never get overwhelming (the gochujang-charred chicken with healthy lashings of Comté cheese, for example, comes with a savoury leek oil). It also has a great understanding of its audience, slinging out craveable food that's already on a one-way ticket to becoming iconic-in-Auckland (the bouncy, bronzed milk bun served with beurre blanc comes to mind).
If you're wanting to experience something a little different, Gochu also runs test kitchens every month, stretching its legs and experimenting beyond the menu. A recent night saw smoked eel soup, squid with Korean mustard, and pāua and water chestnut all make an appearance.
Near Gochu
Filters
Metro Top 50

Restaurant

Bar

Cafe

Eats under $25
Avondale

2

Balmoral

2

Blockhouse Bay

1

Britomart

5

Burswood

1

Central city

47

Devonport

2

Eastern Beach

1

Eden Terrace

9

Ellerslie

1

Epsom

1

Freemans Bay

1

Glen Eden

2

Grafton

1

Greenlane

1

Grey Lynn

8

Henderson

4

Herne Bay

2

Highland Park

1

Hillcrest

1

Hobsonville

1

Howick

1

Karangahape Rd Precinct

23

Kingsland

3

Manuwera

1

Morningside

3

Mt Albert

5

Mt Eden

22

Mt Roskill

6

New Lynn

2

New Windsor

1

Newmarket

8

North Shore

8

Northcote

2

Northcote Point

1

Onehunga

4

Ōrākei

2

Ōtara

1

Ōtāhuhu

2

Panmure

3

Parnell

6

Penrose

1

Ponsonby

17

Pt Chevalier

1

Remuera

1

Riverhead

1

Rosedale

1

Sandringham

5

Takapuna

4

Te Atatū Peninsula

1

Waiheke

7

Waterfront

4

Westhaven

1

Westmere

2

Wynyard Quarter

1
A la carte

61

Afghani

1

All-day eatery

6

Allpress coffee

21

Altezano Brothers coffee

2

Ark coffee

1

Asian Fusion

2

Atomic coffee

5

Bakery

13

Bar

59

Be Specialty coffee

7

Breakfast

16

Brew Bar

7

Burgers

6

Cabinet food

91

Cakes

5

Camper coffee

2

Casual

69

Charcuterie

1

Cheap Eats

100

Cheese

3

Chef counter dining

1

Chinese

35

Coffee Supreme

16

Cook Island

1

Courtyard

2

Degustation

1

Degustation dining

12

Deli

5

Dine-in menu

64

Dine-menu

2

Dinner

7

Eightthirty coffee

9

Espresso Workshop coffee

2

Filipino

4

Fine dining

13

Fixed-price meals

1

Flight coffee

10

French

8

Game meat

1

Good for dogs

8

Good for kids

36

Good seating outside

18

Guilin

4

Gujarati

1

Handpicked coffee

1

Himalayan

2

Indian

11

Indonesian

4

Italian

15

Jamaican

2

Japanese

23

Jiangsu

2

Korean

17

Kōkako coffee

9

L'affare coffee

3

Lanzhou

2

Lebanese

3

Licensed

4

Malaysian

12

Malaysian-Indian

2

Mediterranean

2

Mexican

3

Middle Eastern

3

Nashville

1

Neighbourhood

7

Neo-bistro

2

Nikkei

2

Odettes blend

2

Open Late

4

Open Mondays

31

Opens Mondays

2

Outdoor dining

27

Ozone Coffee

4

Pacific

1

Pacific Island

1

Pastries only

4

Peoples coffee

4

Peruvian

2

Pies

2

Private dining area

3

Private room

16

Ramen

7

Raw

2

Red Rabbit coffee

2

Rich coffee

1

Rocket coffee

5

Rotating guest filter brews

4

Sandwiches

7

Sashimi

1

Set menu

33

Shaanxi

2

Shanghainese

2

Shared-plate options

82

Sichuan

8

Sicilian

1

Smart

29

Society coffee

2

South Indian

1

Spanish

4

Specialty coffee

10

Sri Lankan

1

Sunday lunch

4

Taiwanese

1

Takes large bookings

26

Takes large groups

49

Thai

5

Turkish

2

Udon

1

Under25

93

Uyghur

1

Vegan

4

Vegan friendly

18

Vegan menu available

2

Vegetarian

7

Vegetarian menu

2

Vietnamese

8

Vineyard

2

Vivace coffee

1

Wi-Fi

15

Wifi

7

Wine bar

14

Yum cha

3


Load More