Mar 10, 2020 Restaurants
From the makers of Freaky cafe comes Beau, Wine Bar, another (welcome) addition to the spate of millennial owned wine bar/restaurants taking over Auckland.
When Diva Giles and Logan Birch heard that Grey Lynn wine bar Lilian, had opened late last year, they were over the moon. Even though, on the face of it, their new Three Lamps venue, Beau, and Lilian are quite similar. They're both pared-back wine bars with sharing plates and emphasis on a great drop. For Giles and Birch, who aren't into seeing their fellow wine-bar-owning millennials as competition, Lilian, Clay, and Celeste are proof-of-concept for the wine bar the pair had always dreamed of owning. Beau's owners have created their wine bar and restaurant because it's the kind of place they themselves would like to go, so when the others took off, it showed them that Auckland was, to put it lightly, really rather into wine bars.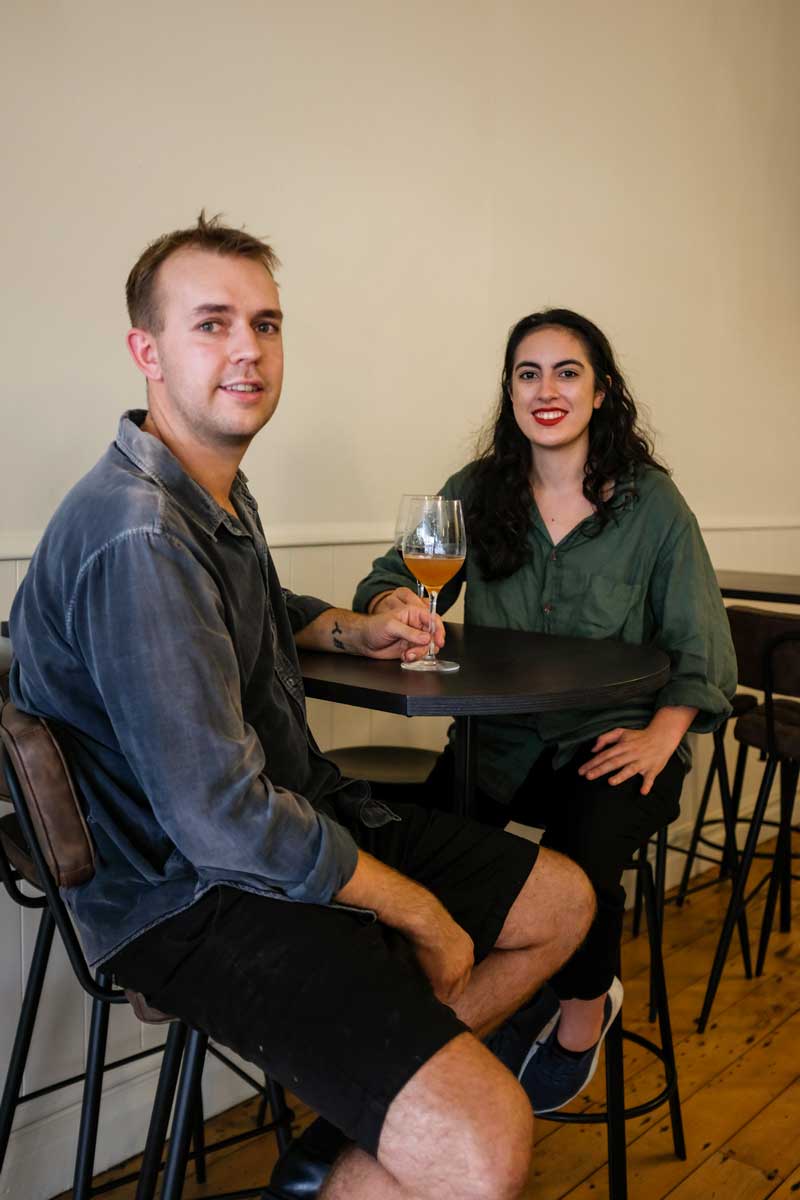 The two friends have been thinking about the project for three years, since before they ran Freaky, a hole-in-the-wall coffee shop (which opened in June 2018 and closed late in 2019) on Wakefield street near Auckland uni. The cafe was their first foray into owning a hospitality business and served as a crash course for all the admin and management involved in a restaurant. When this Ponsonby road-front spot came up, they jumped at the chance to lease it. Though initially picturing themselves on K' Road, they love the sense of community down the busy little Three Lamps end of Ponsonby.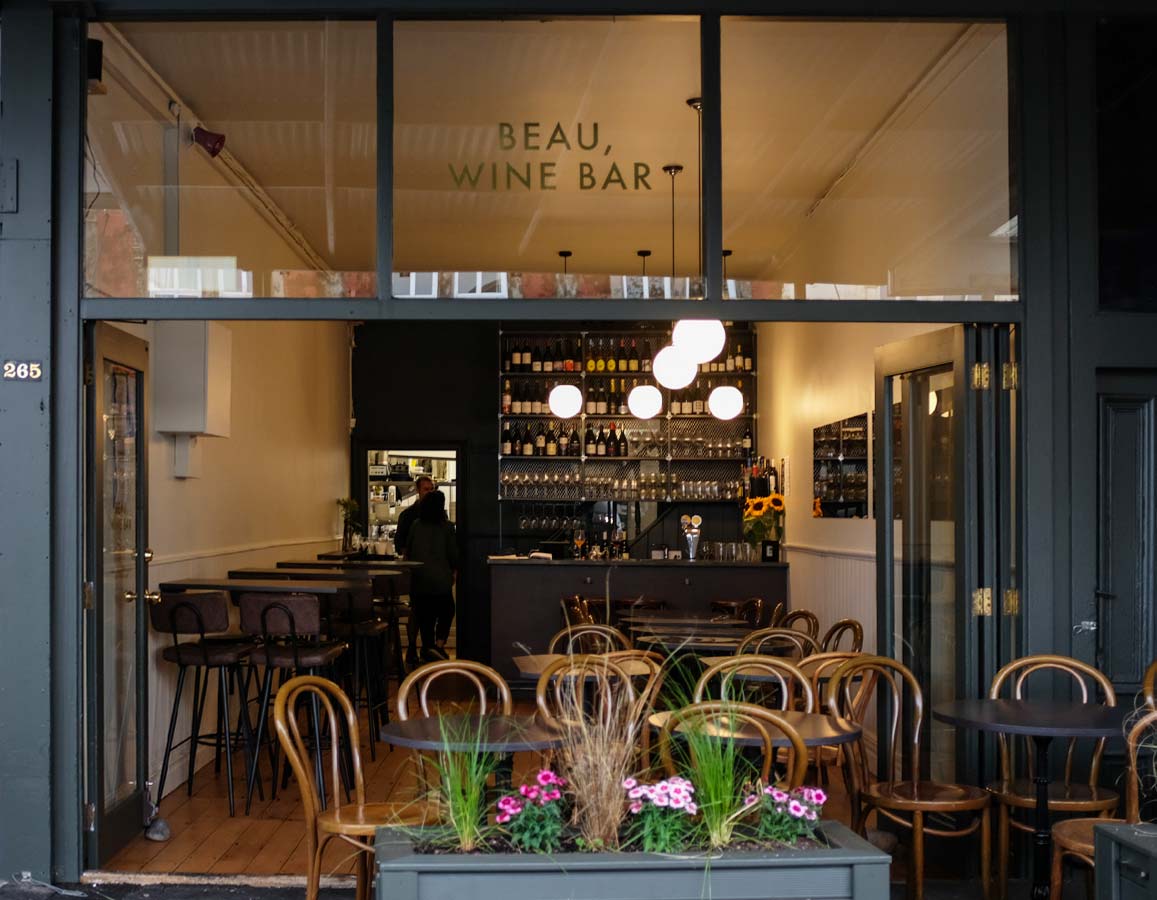 And it is a story of community – Beau is decked out in flowers from Ponsonby Flowers across the road, they use the soap from the nearby Triumph and Disaster, and before opening the pair enlisted the help of friends and family to paint walls and varnish tables. They used the chairs and the bases of the tables that came with the space 'inherited' from La Garde-Manger, the French creperie which came before Beau. They didn't tell anyone when they soft opened last week; just left the door open to curious eyes while they were setting up and if anyone peeped in, Birch ran out, greeted them and gave them a tour.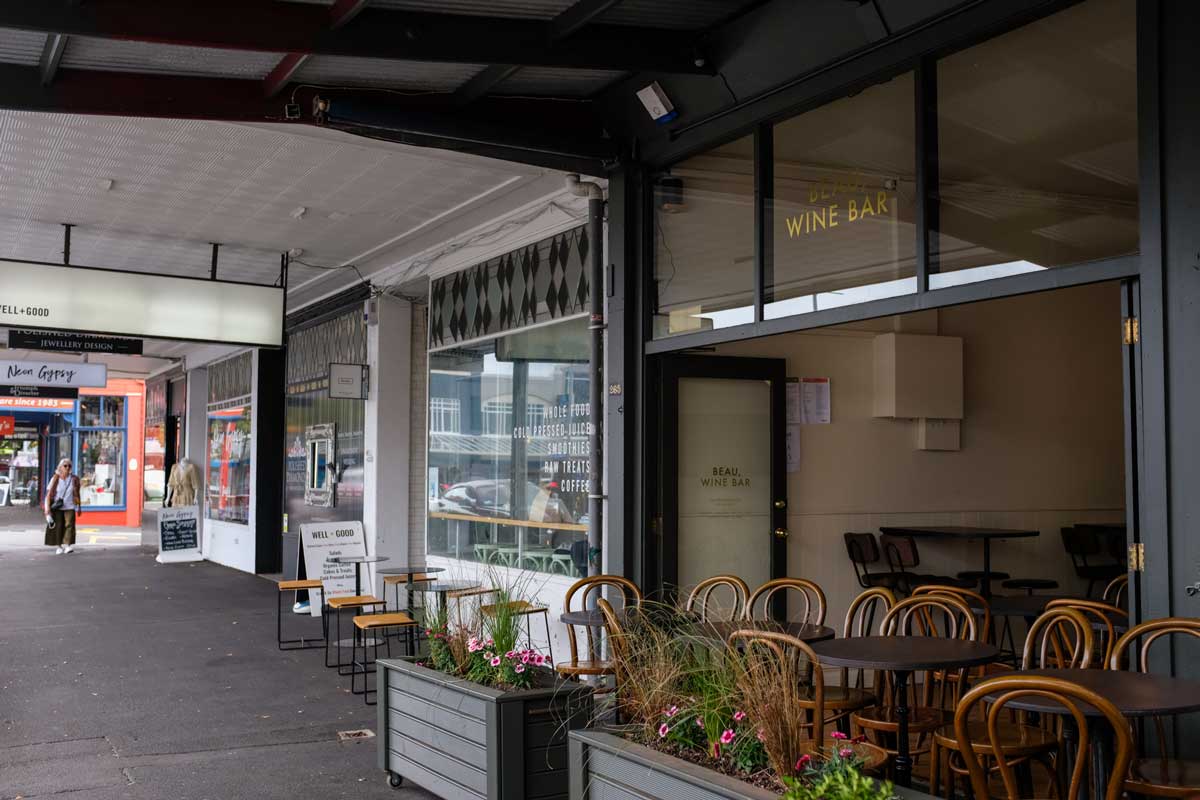 The restaurants' big open front (while inviting to passers-by who want a peek) also serves as a people-watching window into Ponsonby. Sitting in the restaurant, sipping a wine and watching people rush by while it's raining feels like sanctuary. The cream walls, warm lighting and gold lettering make Beau's décor simple in a way that highlights the brick villa's character. Giles jokes that they didn't want it to be new and flash, which was convenient because while decorating, they couldn't afford new and flash – as a result, the space has a vintage soothing calm to it.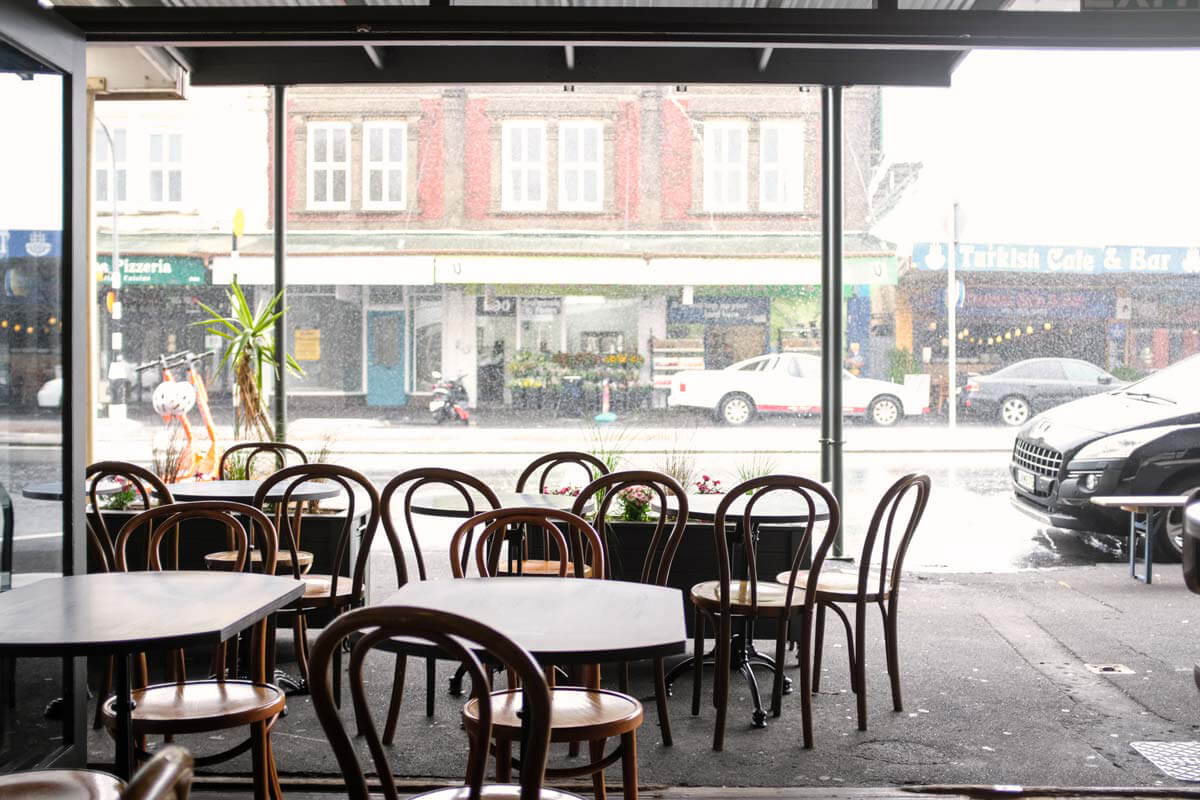 The wine list is a selection of Giles and Birch's favourites from the pair's time in hospitality (they met while working at Prego and worked at The Dairy when they lived in London). They have placed their emphasis on choosing wines from wineries "trying their best" with sustainability, acknowledging that change toward eco-friendly is hard and slow, but worth doing. Rose's on-trend as they've found since opening (Domaine De Pennautier is the dry, flinty mineral best-seller so far), and they love a funky wine (Jumpin' Juice Yellow Yellow is Giles' pick for a "buzzy" drop) but they also have plenty of classic crowd-pleasers for a more traditional palate (Cristina Ascheri Gavi del Comune di Gavi is the mild, pear-tasting white wine go-to recommendation if someone isn't sure what to order). If you aren't after a wine, Beau is also proud to have Behemoth on tap and a selection of craft beers.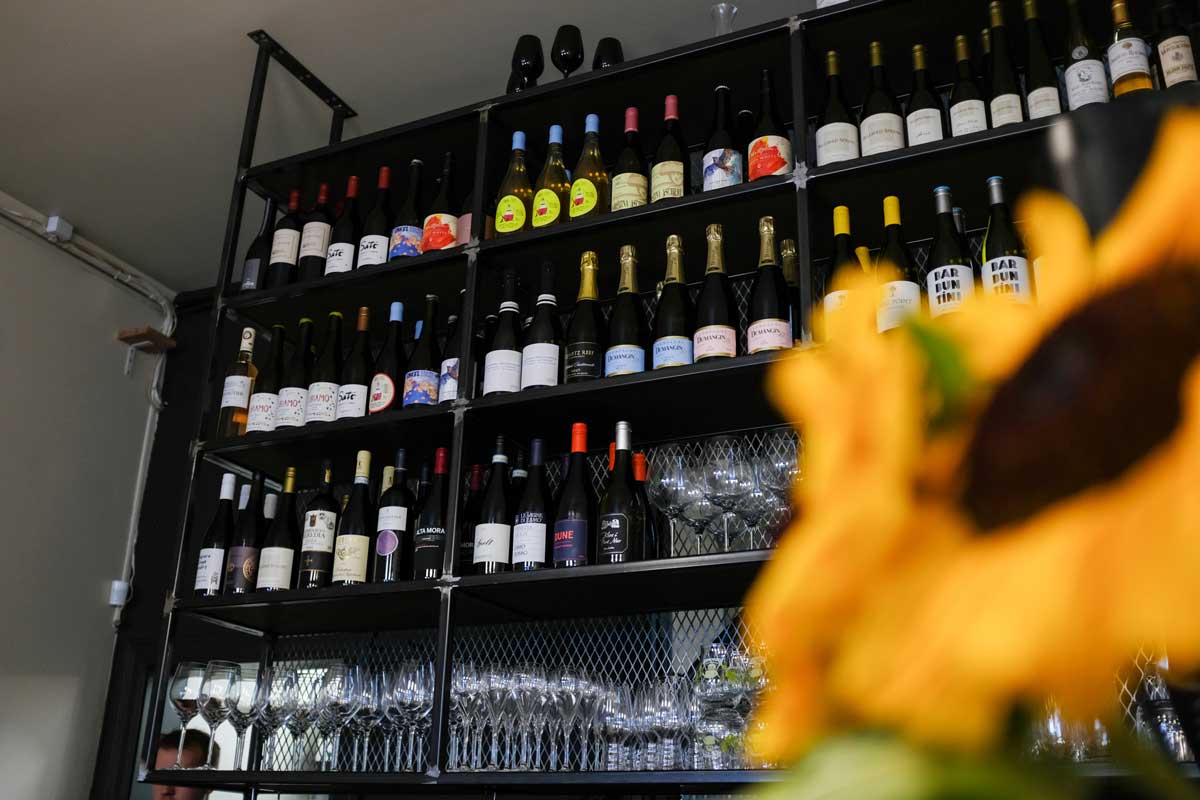 The food is simple sharing dishes with oomph. Birch is in charge of food and has unpretentious but memorable down; the spiced almonds are tangy (and so moreish that I dare you not to eat the whole bowl in the first two minutes), the mix of olives they serve are juicy and pack a punch. The pan-fried snapper in brown butter and hollandaise falls apart in your mouth and is buttery, sweet and creamy.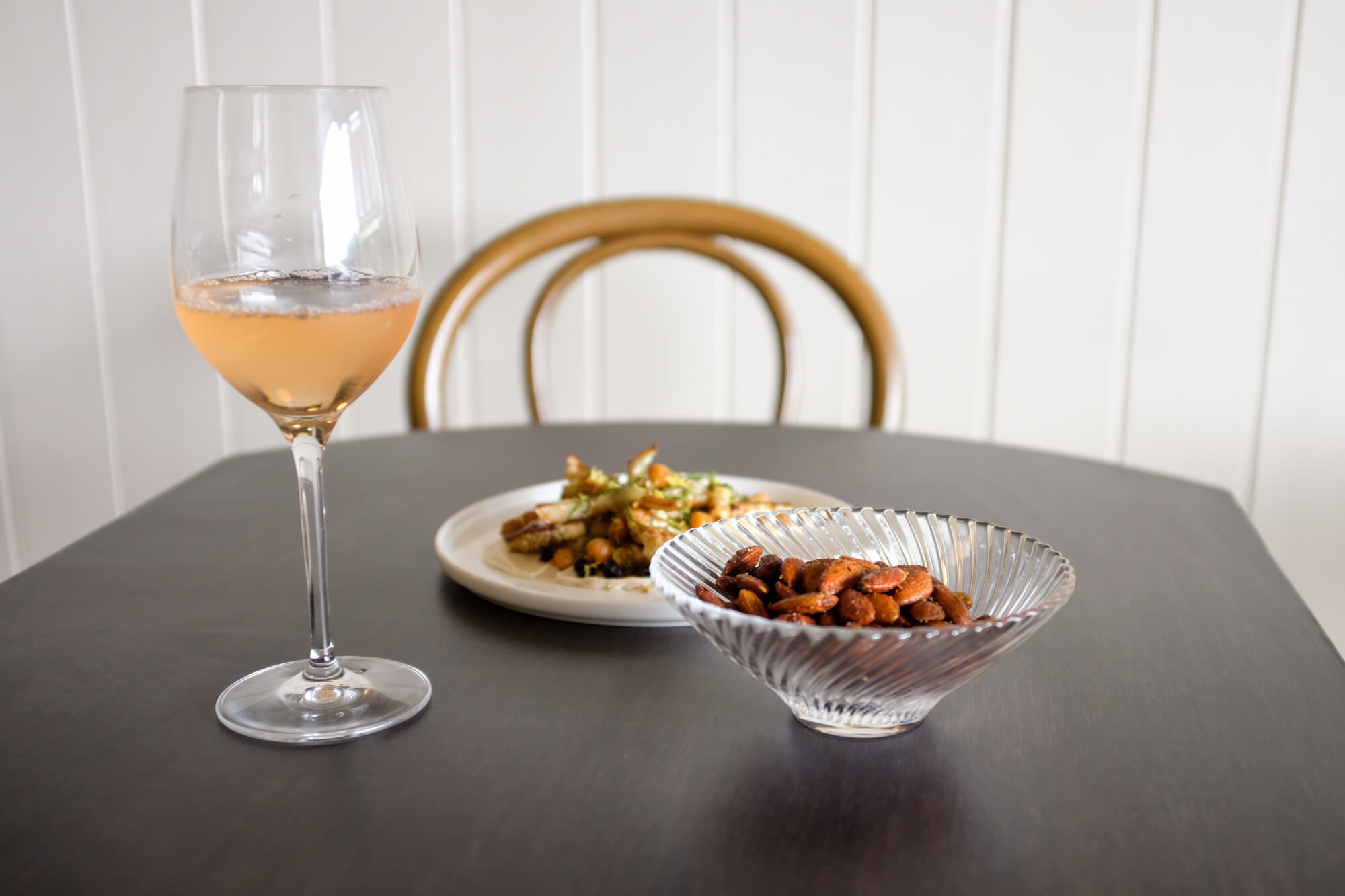 Curiously, as is becoming the calling card of Auckland wine bars, they do heirloom tomatoes and burrata too. Why all of these places have a version of the dish might be the same reason we're seeing more wine bars popping up generally: it's clearly a formula which works.