Oct 12, 2018 Restaurants
We're always dazzled on arrival at the rustic yet gleaming Amano, where moody lighting, chunky ceramics, exposed beams, mother of pearl – and plenty more besides – somehow come gloriously together in the cavernous space. Busy and buzzing, there are always plenty of staff on the floor, and this sense of abundance extends to often deceptively simple food, such as a generous autumnal bruschetta of shiitake, oyster and enoki mushrooms, and chargrilled lamb rump with courgette, olive and feta. Don't be fooled by the casual atmosphere – it belies a fierce commitment to seasonality as well as sustainable and local produce, celebrated in a menu updated twice every day.
What it offers Shared-plate options / Good for vegetarians / Free-range chicken and/or pork / Bar / Craft beer selection
A favourite dish Tortellini filled with crayfish, fennel soffritto and preserved lemon
Awards Finalist for Best Wine List
Price $$
Seats 120
Chef Jo Pearson, group executive chef; Andrew Hanson, executive chef
amano.nz
66-68 Tyler St, Britomart
Ph 394-1416
Read more: Auckland's best restaurants by cuisine | Best bars in Auckland | Best cheap eats in Auckland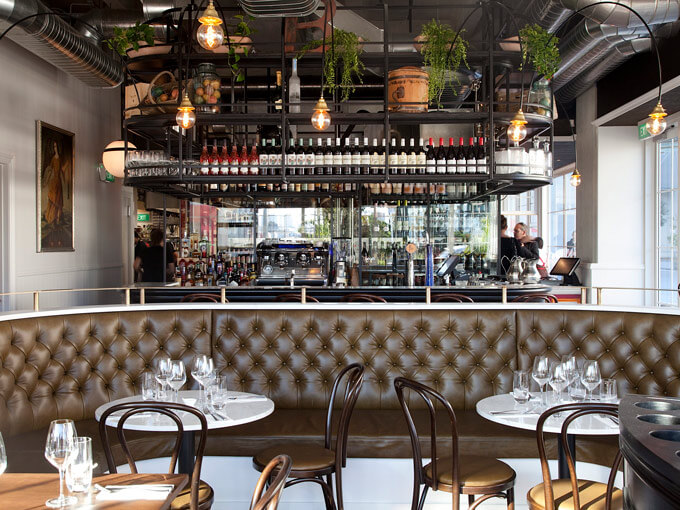 In a city sometimes defined by the latest food trends, we love restaurants that continue to go their own way. Things rarely change at Baduzzi, and what a refreshing stance that is. Italy by way of New York, the menu here runs the gamut from juicy wild-deer polpette and wood-fired seafood finished with fresh lemon to satiny, moreish pastas. An extensive range of hard-to-find Italian wines are conveniently listed by price – many are exceptional value at under $50 a bottle – and there are dedicated children's, vegetarian and Chinese-language menus. The constant buzz in this slick, Paul Izzard-designed dining room makes Baduzzi an especially fun place to eat, even more so when combined with the charming efficiency of host, Michael Dearth.
What it offers Shared-plate options / Fixed-price meals / Good for vegetarians / Good seating outside / Free-range chicken and/or pork / Takes large groups / Good for kids
A favourite dish Beetroot pappardelle with shaved paua, oyster mushroom and soft quail egg
Awards Finalist, Best Wine List
Hours Lunch and dinner 7 days
Price $$
Chef Ben Bayly, executive chef; Glen File, head chef
Seats 120
Bookings Yes, for lunch; limited evening bookings
Cnr Jellicoe St & Fish Lane, North Wharf, Wynyard Quarter
Ph 309-9339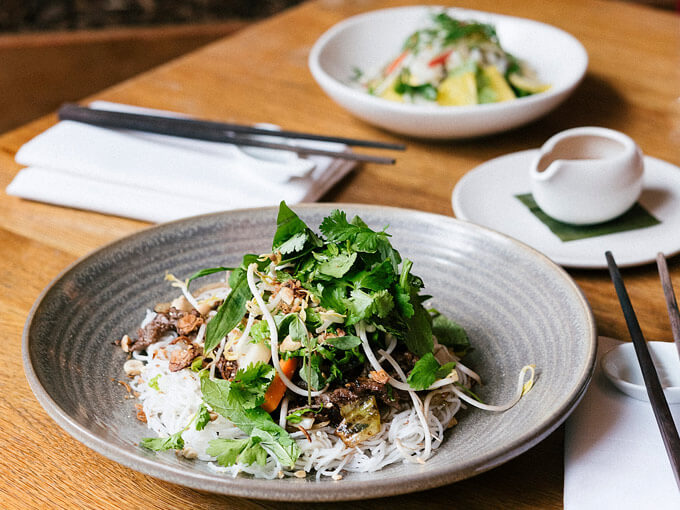 Metro Top 50 2018 Britomart restaurant Cafe Hanoi offers a contemporary northern Vietnamese menu.
Chatter bounces off the walls of this popular dining room in one of the first restaurants to make its home in Britomart's fashionable downtown dining precinct. The industrial, airy space still looks as current as it did on opening day, and Krishna Botica, now in her 30th year on Auckland's hospo circuit, is always the consummate host. The contemporary northern Vietnamese menu features fresh, stimulating dishes beautifully executed by chef Nathan Houpapa who transforms simple ingredients with generous handfuls of fragrant herbs, perfumed aromatics and fiery chilli. The tea menu is a winner.
What it offers Shared-plate options / Fixed-price meals / Good for vegetarians / Free-range chicken and/or pork / Takes large groups / Private room for up to 30 guests / Craft beer selection / Good for kids
A favourite dish Wild-caught Queensland black tiger prawns with hot and sour tamarind, shredded green papaya and fresh herbs.
Hours Lunch Mon-Sat, Dinner 7 days
Price $
Seats 85
Chef Nathan Houpapa
Bookings Lunch only; dinner, private dining room for groups
Excelsior Building
Cnr Galway and Commerce Sts, Britomart
Ph 302-3478
See here for all of Metro's Top 50 Auckland restaurants for 2018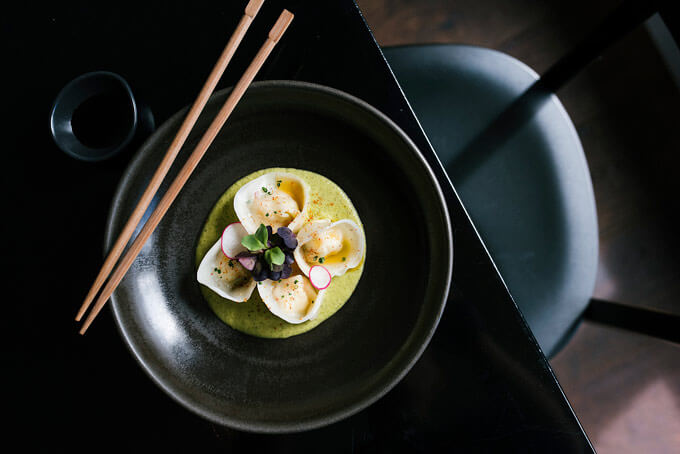 Metro Top 50 2018 restaurant Ebisu in Britomart flawlessly executes smart Japanese food.
Inky, moody Ebisu, with its flawlessly executed food, is as good a place for a lunch meeting as it is for a date or a family dinner. The long izakaya-style menu has broad appeal and is also incredible value, especially if you opt for the set dinner (15 shared dishes for $75pp). Vegetarian and vegan diners are well catered for, and raw-fish enthusiasts will be wowed by the fresh-off-the-boat sashimi platters. We love the miso-glazed eggplant, the karaage chicken, and when in season, the asparagus with citrusy yuzu hollandaise. There's an extensive sake list, which the knowledgeable waitstaff will happily talk you through.
What it offers Shared-plate options / Good for vegetarians / Set menu options / Dégustation option / Bar / Takes large groups / Good for kids
A favourite dish Asparagus with yuzu hollandaise and shichimi crumble.
Hours Lunch Mon-Fri, Dinner 7 days
Bookings Yes
Price $$
Seats 120
Chef Fred Wong
View menu and reserve table

116-118 Quay St, Britomart
Ph 300-5271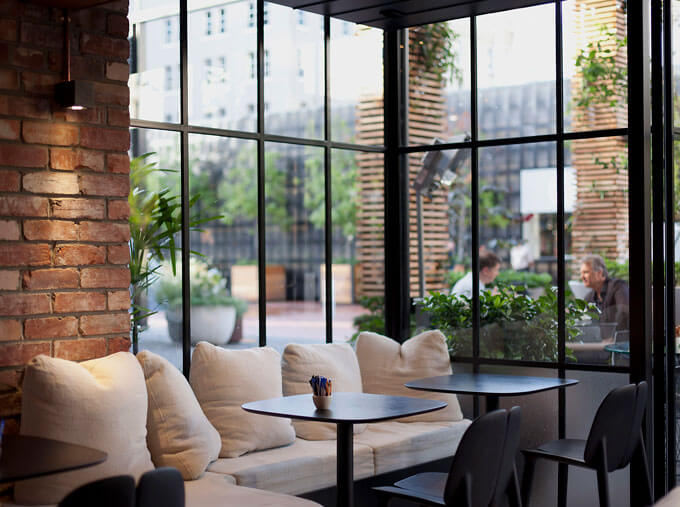 Ortolana restaurant review
Metro Top 50 2018 restaurant Ortolana in Britomart is an Italian/New Zealand bistro on Tyler Street.
Ortolana, which means "market gardener" in Italian, remains one of the most reliably enjoyable dining experiences in the central city. The word "reliable" sells it short, though, because this lightbox of a restaurant is a delightful place to dine at any time of year, and is at its best on balmy summer nights when guests can sit outdoors among the lush potted plants. In keeping with the Hip Group's market-garden ideals, the menu is fiercely local and fresh, and although it changes regularly, you can always rely on the fresh pasta to be silky and delicate, the protein well executed, and the drinks list to provide a seasonal surprise. The vibrancy of all those farm-fresh ingredients on the plate is also a reminder of just how far Auckland's culinary daring has come in recent years, thanks to pioneering restaurants like this one.
What it offers Shared-plate options / Free-range chicken and/or pork / Good for vegetarians / Good seating outside / Craft beer selection
A favourite dish Tagliatelle with clams, chilli and olives
Price $$
Seats 90
Hours Breakfast, lunch and dinner 7 days
Bookings Not for peak times
Chef Jo Pearson, executive chef; Kevin Puyat, head chef
ortolana.co.nz
33 Tyler St, Britomart
Ph 368-9487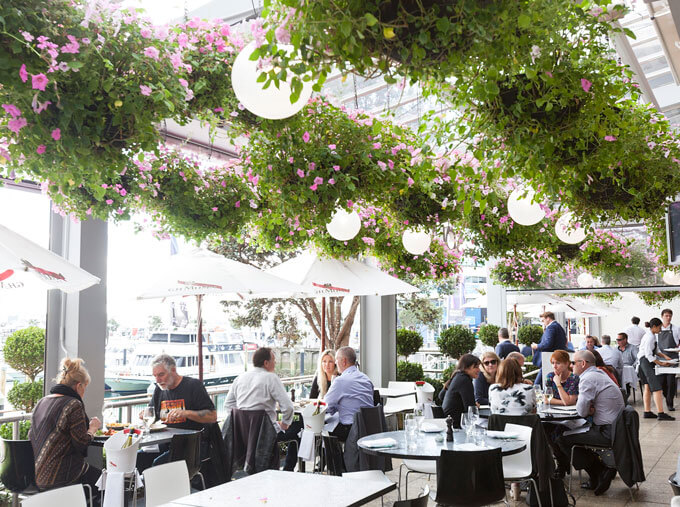 Commanding a prime position at the Viaduct for the best part of two decades, Soul is old-school in the best of ways – consistent and efficient, with unobtrusive service. The menu, which favours fish and seafood, offers gentle, well-executed twists on classics such as battered tarakihi, served here with Persian-style Russian potato salad, rather than pushing culinary boundaries. While the restaurant's sleek monochrome interior is inviting, on a sunny day the wide terrace – where a celebratory air often prevails – is still one of our favourite places in the central city, ideal for watching the passing parade and observing comings and goings at the marina. Where better to feast, when in season, on delicate West Coast whitebait fritters bathed in lemon-butter sauce, or in autumn on crème brûlée with feijoa, lime, apple crumble and feijoa sorbet?
What it offers Shared-plate options / Fixed-price meals / Free-range chicken and/or pork / Good for vegetarians / Good seating outside / Takes large groups / Bar / Craft beer selection
A favourite dish Roasted hapuku with crayfish ravioli and truffle dressing
Bookings Yes
Hours Lunch and dinner 7 days
Price $$
Seats 200 lunch, 120 dinner
Chef Gavin Doyle, executive chef; Josh Hazel, head chef

Viaduct Harbour, Corner of Lower Hobson Street and Customs Street West
Ph 356-7249
Read more: Auckland's best restaurants by cuisine | All of the Metro Top 50 Auckland restaurants for 2018 | Best bars in Auckland | Best cheap eats in Auckland