Nov 30, 2018 Restaurants
Saint Alice is a new bar from the same owners as Dr Rudi's, and has a Chinese bar and eatery inside.
Head up the escalator to Dr Rudi's and turn left instead of right and you'll find yourself in Saint Alice. The white-walled, spacious bar and eatery, which has taken over the old Kermadec site, has the same sunset and people-watching combo view of the Viaduct.
The relaxed sunny-afternoon vibe has been brought over from Rudi's and the light and bright bar also has the same owners as its neighbour: Callum O'Brien, Andrew Roborgh and Kristian Lloydd.
Unlike Rudi's, there's no bowling alley or any other novelty activity but there's plenty going on. An old shell of a piano has been painted up by Margarita Vovna, ready to be used as a pop-up flower shop and the lantern-lit outdoor area is split up into three or so smaller areas.
Oh, and there's a Chinese bar and eatery – Bang Bang China Cafe – within Saint Alice.
Read more: A new Auckland burger joint you'll want to try, plus more food news
Inside, the walls are two-toned turquoise with a gold stripe and the blonde wood bar (made by Cutting Innovations) has the kind of character detailing you might expect to find in a villa. The floor of the entrance and bar area is covered in Twin-Peaks-esque black and white chequers leading out onto the whitewashed floors of the deck.
"It's a new bar but we've put in a lot of effort to make it look like an old bar," laughs O'Brien. Saint Alice is smaller than Rudi's, with a capacity of around 150 with a sit-down, eat and chill-out vibe.
Head chef Maia Atvars, formerly of Depot , is excited to start serving "simple food that packs a lot of flavour."
One of his recommended highlights is the tempura and brioche "oyster McMuffin" made with bread from Amano Britomart restaurant review: Metro Top 50 2018" href="/food/food-restaurants/amano-britomart-restaurant-review-metro-top-50-2018" data-id="92232" data-mce-href="/food/food-restaurants/amano-britomart-restaurant-review-metro-top-50-2018">Amano's former head baker, The Dusty Apron aka Paul Leaming. Atvars also recommends the Rudi's wash raclette: cheese washed with Rudi's beer and melted over steak. The sous chefs are highly qualified too: Joe Vasiloff is the ex-head chef from Waiheke's Tantalus Estate and before that, he worked with Thomas Keller of The French Laundry in California.
The other sous chef is Shannon Lee who worked at Culprit and Depot before becoming part of Saint Alice's team. By the beer taps, there is also a "raw bar", with a selection of oysters, clams and other seafood kept chilled and ready to eat.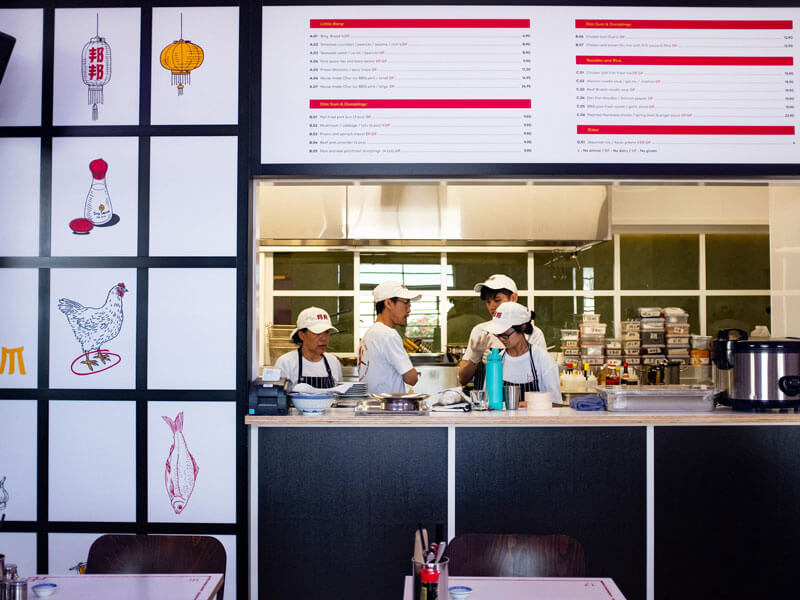 Not-quite hidden out of the way is Bang Bang China Cafe, a bar and restaurant within a bar and restaurant. The decor is quite different from Saint Alice with neon light monochrome panels and graphic cartoons by the same man who did Bang Bang's branding, Guy Brock.
The walls feature his dumplings and noodle graphics as well as a large, red cartoon octopus, hinting at the seafood-lover menu. Other than seafood, O'Brien says the Char-siu BBQ pork is "the most amazing thing you'll ever taste." And of course being from the same minds as Dr Rudi's, there's an activity: Karaoke from 10pm ("or earlier if people want," says O'Brien).
Saint Alice is more grown-up than Dr Rudi's; it's more a bar-eatery than Rudi's pub vibe and it's less about beer than Rudi's is, and is set up for families to come in and have dinner and a wine.
But as O'Brien points out, "with the sun beaming in, it's still a bit about beer."
Level 2, Corner Quay & Hobson St
Viaduct Harbour
@saint_alice