Sep 21, 2018 Cafes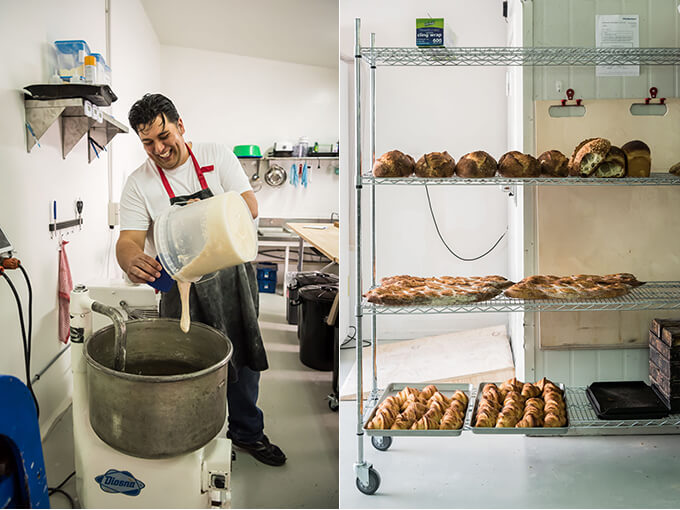 Amano's former head baker Paul Leaming perfects his craft at his new business, The Dusty Apron.
Paul Leaming's, aka Dusty's, work day is ruled by three white plastic timers, stuck neatly in a row on magnetic backs above the old-school second hand bread mixer in his bakery. Their intermittent beeping indicates what needs doing – is the bread ready to come out of the oven, has the dough finished mixing, or has it rested for long enough. Sometimes they're all going off at once and none of them are labelled. In my mind, that would be very confusing. But not for Leaming.
His workshop is a backdoor operation, found in a converted storage unit in industrial Saint Johns, he uses a cosmetic razor blade stuck on the end of a chopstick to score his bread, and the retarder he's using came from a supermarket that was closing down. The fit-out's nothing flash, but the former head baker at Amano is hyper in tune with his dough. He only started his business The Dusty Apron recently, and already has a list of restaurants and local pop-ups wanting him to supply them with bread. There's no retail arm to his bakery, so visiting one of the businesses he supplies is the only way you'll be able to get your hands on his loaves, for now. 
Read more: The rise of the tiniest bread shop in Raglan | Where to find the best bread in Auckland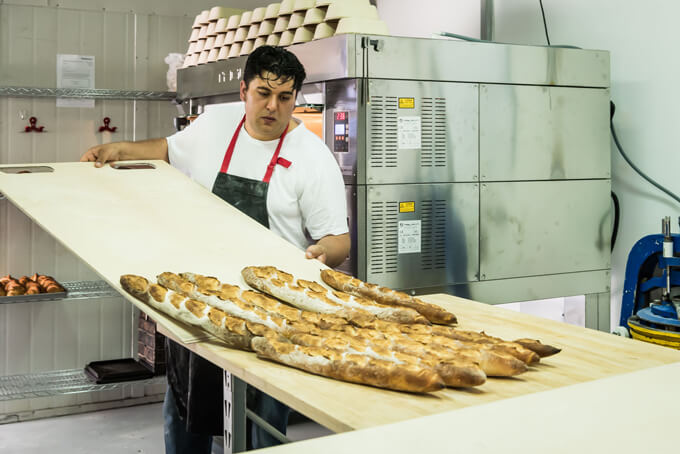 He's always loved food, but Leaming hasn't always been a baker. Actually, he used to be a car mechanic. When business slowed during the 2008 recession, he took the chance to retrain under Ralf Schmidt at the Manukau Institute of Technology (MIT); when he asked himself what he was truly passionate about, food was always the answer. From there, Leaming spent three months overseas learning in the spiritual home of sourdough, San Francisco, at highly regarded culinary academy the San Francisco Baking Institute. When he returned to Auckland, he began working at Amano. "I like New Zealand, it's home for me," Leaming explains.
The secret to good sourdough, he goes on to say, is care. And while he can see why people might be up in arms about a $9 loaf of bread, when you consider the time and effort that's gone into making it, and the complexity of the end flavour, Leaming says it's worth it. As someone who's made the switch from supermarket bread to sourdough, I'm inclined to agree.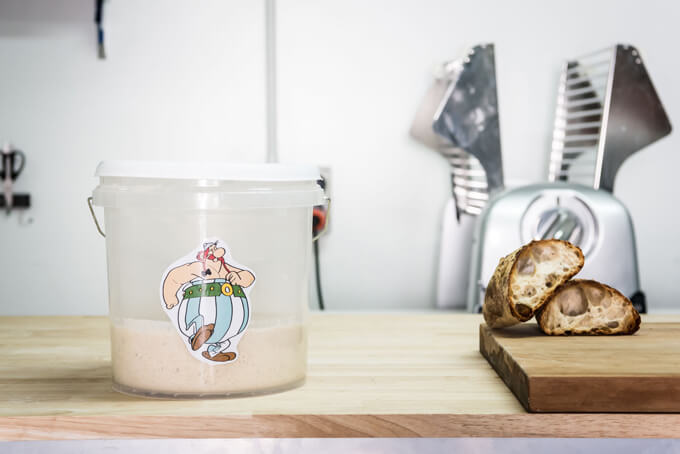 Leaming doesn't have any formal staff, only his starter Obelix, named after a character from the popular French comic book Asterix. He encourages novice bakers to name their starters because he thinks if they do, they're more likely to take care of and respect them. "Obelix is strong and vigorous," Leaming says, "he likes to eat and sleep." So he's relatable, as well as helping Leaming to make some impressive looking loaves.
So what's it been like going from the million-dollar kitchen at Amano with all the high tech equipment you could imagine, to a tiny patchwork shop? "A big change," says the characteristically chill Leaming, as one of those timers starts to beep in the background. "That mixer," he says, pointing at it, "I like to say I imported it from a German baker who had it handed down from his grandfather, but it actually just came from my mate's garage." The moral of the story? It's the care that counts.
Follow Dusty on Instagram @thedustyapron