Jul 6, 2016 Restaurants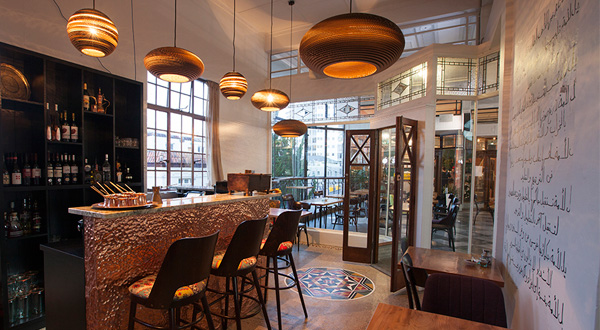 Sit down, relax, and ask the waiter simply to "bring". That's how ordering at a restaurant works in Lebanon: diners utter the Arabic word "jeeb", and a feast is gradually presented.
When Dunedin-born chef Samir Allen travelled to Lebanon with his brother in 2014, the cuisine of his childhood – matrilineally inherited since his family's emigration to New Zealand from Lebanon 128 years ago – could be viewed for the first time in this context. He relished the opportunity to work in kitchens while there, supplementing five years' experience alongside Ben Bayly at Auckland's The Grove . He resolved to open his own Lebanese restaurant in Auckland eventually, but the opportunity presented itself much earlier than anticipated late last year, fast-tracking his five-year-plan by four years.
The result is Lebanese restaurant Gemmayze St , the final jewel in newly refurbished St Kevins Arcade's crown. Sharing the park-side atrium of the iconic building with recently opened cafe Bestie , Allen and his mother Liane Farry have worked hard to make the space their own without imposing on the minimal Bestie aesthetic, while also meeting the challenges of making an arcade feel intimate by night. They've done so by-way of impressive torch-like indoor heaters, candles and low-hanging, hand-blown glass pendants. Two former retail spaces have been converted into the kitchen/bar area, which has been decorated traditionally, adorned with Lebanese ornaments, family portraits and hammered copper paneling, hand-beated by Allen himself ("It was the perfect thing to do after phone calls with the council.")
Named after Beirut's vibrant dining street, guests at Gemmayze St are encouraged to order the Lebanese way. A set price of $50 per person entails a selection of small and larger plates and dessert, each dish a reflection of Allen's Kiwi/Lebanese upbringing. The kibbeh bil sayneyeh – a rustic baked lamb dish with pomegranate molasses, mint and pinenuts – for example, is not only Lebanon's national dish, but something Allen's mother, grandmother and aunties would all cook. His family originally hails from Bsharri, a mountain village where meaty, comforting dishes were logically favoured over seafood and salad. Meanwhile family staples like baba ghanoush, hummus, falafel have all been given the smart-dining finesse typical of The Grove, be it the use of pickled turnip in the falafel or Allen's miraculous ability to present hummus elegantly. Distinct layers of flavour are detectable in each dish, with the secret element to comfortable feasting – sourness – rightfully appreciated.
Unlike too many Auckland restaurants, dessert here isn't an afterthought. Traditional Lebanese dessert knefe is a must-order, shredded filo encases a warm, sweet cheese filling, which is topped with gooey orange blossom jam, it's a party in your mouth. Allen scoured Auckland for importers of Lebanese wine, too, reminding diners of the region's historical ties with wine growing (which predates the French), resulting in a concise but fascinating list of varieties. Lebanese beer, coffee and homemade soda syrups are also on offer, in addition to Lebanese-inspired cocktails.
With Farry heading the front of house team, chef couple Claudia Long and Ryan Pearce supporting Allen in the kitchen, his partner Saru Krishnasamy on the floor, and of course the constructive criticism of aunts, cousins and grandparents in the kitchen, Gemmayze St is very much a family affair. The resulting warmth is palpable the minute you happen upon this lively corner of K'Rd. It's pretty magical.
Gemmayze St
Shop 15-16
St Kevins Arcade
183 Karangahape Road
Gemmayze St on Facebook.
Open:
For lunch and dinner: Wednesday – Friday
Dinner only: Monday, Saturday and Sunday
Closed Tuesdays