Sep 19, 2019 Restaurants
In 2017, Metro Top 50 restaurant Coco's Cantina banned restaurant reviewers. In honour of their 10th birthday, Jean Teng decided to risk a trespass notice and review the iconic K' Rd restaurant anyway.
At the table next to us, an Auckland local has brought his out-of-towner friends to Coco's Cantina . "Wow, dude," an American imparts sagely, as his eyes rove past a painting of Sophia Loren and settle on a saintly depiction of Nick Cave, rendered in stained glass-style. "This place is so cool."
It's a sentiment I can relate to. As a teenager, when I started to regularly venture into the city from suburban North Shore, Coco's Cantina was symbolic of everything cool and worldly. I would walk past their carafe-laden gingham tables in the summer and dart my eyes toward the beautiful twenty-somethings, sunglasses perched on top of shiny hair, canvas tote bags spilling out at their feet. I quickly figured out Coco's Cantina was the artsy, DIY equivalent to SPQR in Ponsonby, where punters went to people-watch and be watched by people, and every so often someone would leap from their seat to hug a passer-by. More than that, it was a touchpoint for the Karangahape Rd scene, queer-friendly and community-driven, with sisters Damaris and Renee Coulter vocally sticking up for independent eateries in their battles against the council, big restaurant groups and, famously, food reviewers.
Coco's Cantina "banned" reviewers in 2017, following a Peter Calder review of Cazador for the Herald, in which he began by saying he didn't like venison. Coco's fired back in an angry social media post, which included the hashtags #celebratedonthate, #trepassnotice, and #cocosforlife. Since then, Coco's has seemingly softened their stance (and Damaris has left to run the independent restaurant app The Realness). The posts have come down, the negative reviews which used to decorate their website like badges of honour have disappeared, and their manager replied very politely to a bad review on TripAdvisor, offering a refund. I still very pointedly left the camera and notepad at home on my recent visit, snapping phone photos at the fastest speed I've ever attempted. There are many blurry pictures.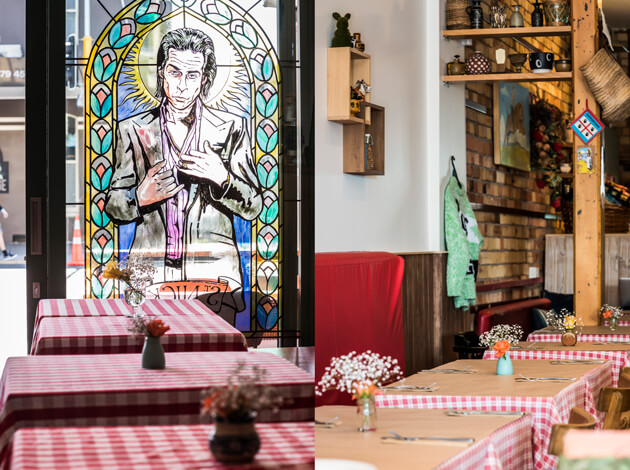 Back when I was in university, I hooned it from my last lectures of the day to make it in time for happy hour (4-7pm) drinks and, later, happy-hour pastas, or came in for after-9pm bites of polenta chips and arancini balls, the only things I could afford on my ever-dwindling student budget. I liked them all – the polenta chips remain fluffy blocks of happiness – but, more than that, I liked feeling as if I was part of the Auckland story. That was the allure of the Coco's Cantina identity. However, in recent days, my adolescent crush has faded – I no longer think of it as a place to exert my Aucklandness, and I've discovered other places on the road; Gemmayze Street, Uncle Man's, Peach Pit and Satya Chai Lounge among them. So, on their 10th anniversary, I wondered: Would I still be into Coco's?
The inside is dim and kitsch and Italian-ish, with a generous dollop of Karangahape Rd shabby chic, with its chalked blackboards and fading floors. I like it. Despite the relatively high prices, it doesn't feel elitist or pretentious, and never feels exclusionary, a constant worry I have in too-cool places. My baseline for this is: Could I take my 61-year-old Asian immigrant dad here without him feeling out of place? And I think I could. The warm, personality-first service helps.
First, I want a drink. My body physically rejects red wine, so I wish their white-wine list was better – only six by the glass (two of which are Italian), from which I get a very crisp Vermentino. Alternatively, you could, and should, start with a spritz.
On to the food. We begin the night with mixed results. A starter of silky chicken liver parfait with sourdough is perfect paired with jammy strands of sweet-and-sour onions. However, the bagna cauda is not nearly as pungent or oily as I want it; it's blitzed creamy and smooth like hummus with not enough anchovy.
The spaghetti and meatballs is Coco's Cantina's signature dish, and has been around about as long as the restaurant. It's about the only pasta mainstay on the menu (the others are seasonal). Digging in, the dish makes me think of communal potluck dinners, where the centrepiece is a huge humble pot of spaghetti, slurped up on a sunny veranda with loud, buzzing chatter around you. And if you'd been eating this for the last ten years, using it to mark birthdays and anniversaries and new friendships, I can see its nostalgic appeal: simple, thankfully non-sweet, with a thin tomato sauce which clings to the strands. But I'm underwhelmed. The pork-and-beef meatballs are fist-sized and mostly dry (I'd love more than two, and smaller, and, uh, juicier). The aforementioned thin sauce, slightly sour and light in spice and herbs, lacks the moreish comfort I'm craving with a carb-heavy plate of pasta. It's boring. Better is their daily risotto, served today with clams; indulgent and creamy with grains of rice hiding in the shells and hugging the fleshy meat. We're sharing pastas, but I want this one all for myself.
And their dessert? God, that tiramisu. Soaked through with coffee leaking out onto my tongue. You can taste every element, including the rich chocolate, and it reminds me of how bad some of the tiramisus I've had in recent times have been, all muddled and unnecessarily fancied up with crisp shells. This is the real deal.
As the night winds down, buoyed by that great tiramisu, I decide I'm still into Coco's. But I'm not sure how much of it is down to the food – it lacks excitement, and life, and, for the most part, feels stuck in time. The rest of the menu, including their scotch fillet, reflects this. Sometimes that works (the tiramisu, the still-delicious polenta chips), and sometimes it doesn't. I like the atmosphere. I love the service. And a restaurant is always more than its food. But I'd rather be having a drink at Peach Pit just a few doors down (oh, their white wine list!) and eating at Satya Chai Lounge further along the strip, or just across it at Cotto .
When I try to settle my bill, I discover our server has input my name as "Choggi". I have no idea why or how; the person at the counter is similarly baffled; we laugh it off. This speaks to the vibe here: they might not always get everything right, but you still like them anyway.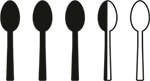 Coco's Cantina
376 Karangahape Rd, Auckland CBD
Hours: Mon-Sun 4pm-late
Dinner bill: Antipasti $6-$30; Primi $13-21; Pasta $28-$31