Nov 5, 2018 Restaurants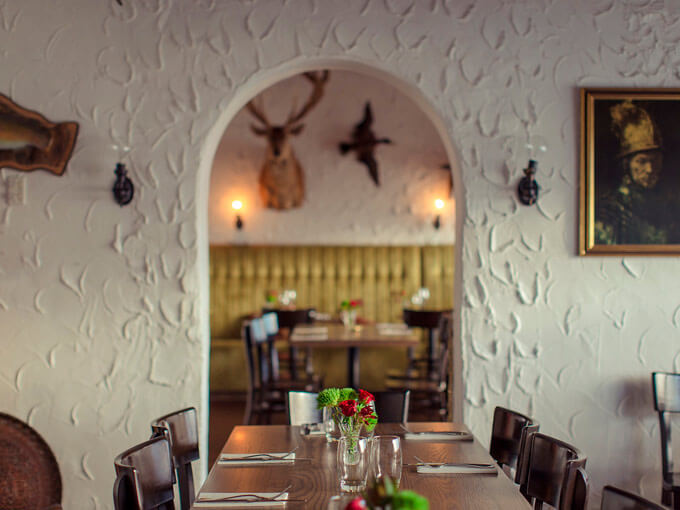 There's a story behind every dish on the menu at Cazador, where game animals meet the flavours of Persia and the southern Mediterranean. Chef and co-owner Dariush Lolaiy draws inspiration from his travels as well as his hunting background; right now, a slow-cooked octopus is Lolaiy's homage to the pulpo a la gallega he enjoyed recently in Mexico. But you'll most likely hear things like this from Lolaiy himself as he delivers a dish here and there and stops for a chat with guests, many of whom have been coming since the late 80s, when his folks opened the restaurant. Lolaiy's wife, co-owner Rebecca Smidt, runs the floor and bar with laid-back charm and she and her well-trained team are masters at convincing diners to try new dishes featuring unusual cuts of meat, all of which is hunted, or sourced, and then butchered by Lolaiy himself.
What it offers Shared-plate options / Set menus / Free-range chicken and/or pork (wild) / Good seating outside / Takes large groups / Bar / Craft beer selection
A favourite dish Rare-roasted saddle of hare with ajo blanco.
Awards Winner, Best Neighbourhood Bistro; Finalist, Supreme Award; Finalist, Best Chef: Dariush Lolaiy; Finalist, Food for Good
Hours Dinner Tue-Sat
Price $$
Seats 45
Chef Dariush Lolaiy
cazador.co.nz
854 Dominion Rd, Balmoral
Ph 620-8730
Read more: 50 great Auckland restaurants where you can eat well for less than $50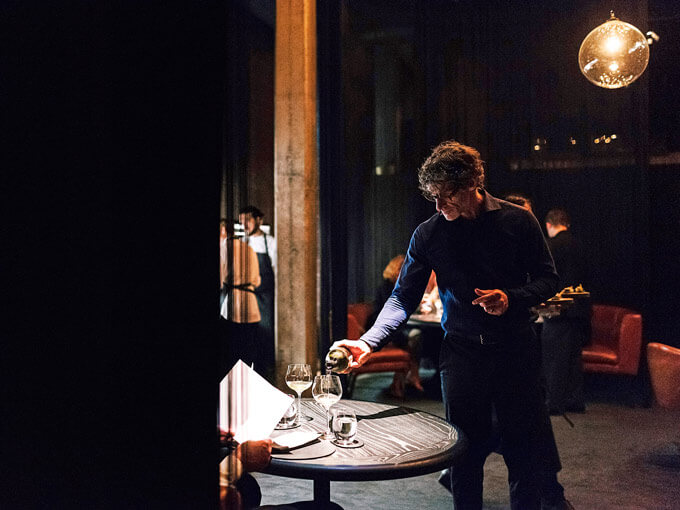 Clooney
Owner Tony Stewart has bounced back from the much-publicised departure of chef Jacob Kear last year, having had a change of heart about initial plans to close the restaurant. He's brought on board highly regarded Taipei-born, Tokyo-raised Nobu Lee, formerly of Australia's Marque and Vue de Monde, who is creating some exquisite dishes with exclusively New Zealand ingredients – think bull horn pepper, kiwano (horned melon) and harissa, or Auckland Island langoustine and anglaise with leek and Matapouri banana. An à la carte option is now offered as well as the seven-course-plus-canapés dégustation. With spotlit tables and dramatic black-string curtains, the ambience remains moody and intense; the drinks list is excellent and the service is as polished and knowledgeable as ever.
What it offers Dégustation options / Good for vegetarians / Tea and non-alcoholic pairings / Free-range chicken and/or pork / Craft beer selection / Private dining room / Takes large groups
A favourite dish Tortellini with a light gnocchi dough, mushroom farce, pine nuts and truffle
Bookings Yes
Hours Dinner Tue-Sun
Price $$$
Seats 80
Chef Nobu Lee
clooney.co.nz
33 Sale St, Freemans Bay
Ph 358-1702
See here for all of Metro's Top 50 Auckland restaurants for 2018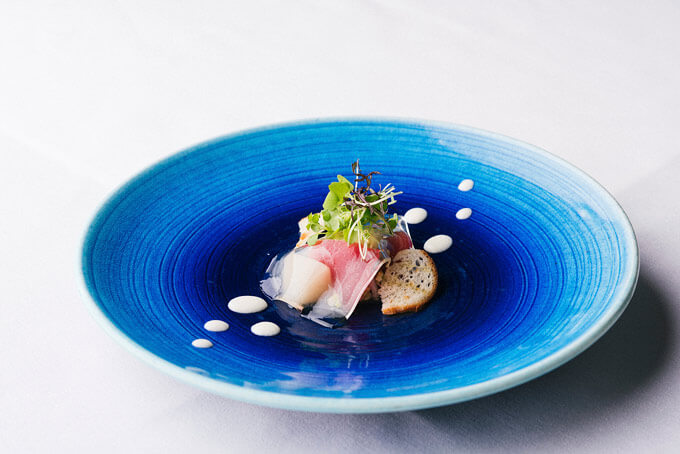 White-gloved waiters, earnest yet personable service and all the finery you'd expect if this were a Michelin-starred restaurant make Kazuya the perfect treat. Executive chef and owner Kazuya Yamauchi combines classic European cooking techniques with pared-back Japanese style. Take the octopus – braised and served in the bottom of a thick-rimmed glass, it's topped with yellow capsicum reduced to goo, and light-as-a-cloud fennel foam. It sounds overworked but makes so much sense to eat. The wine list is an education in French vinification, and the sake list is one of the best in the city.
What it offers Fixed-price meals / Good for vegetarians / Dégustation options / Craft beer selection /
Express lunch (Friday only) / Takes large groups (up to 12 people)
A favourite dish Octopus with yellow capsicum and fennel.
Awards Finalist, Best Drinks List
Hours Lunch Fri, Dinner Tue-Sat
Bookings Yes
Price $$$
Seats 25
Chef Kazuya Yamauchi
kazuya.co.nz
193 Symonds St, Eden Terrace
Ph 377-8537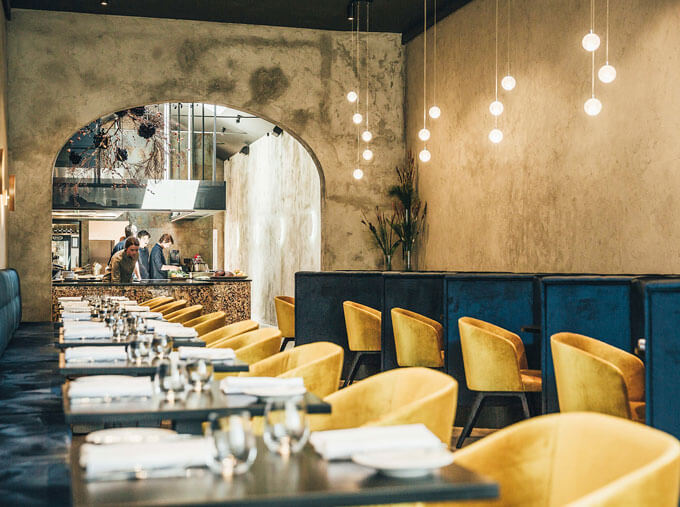 It's a perfectionist's dream at the city's newest fine diner, positioned just around the corner from The French Café. Every dish on Lillius's three- and five-course menus is the product of minute attention to detail, a quiet commitment that resonates through every aspect of the experience here, down to the scrupulously clean amenities. In the open kitchen at the far end of the long, booth-lined dining room, Fraser McCarthy (ex- The Grove and Merediths) favours whole beasts and using plants from root to tip, taking pride in serving such surprises as wild venison with pickled mushrooms, smoked egg and leeks, while his partner, fellow chef and co-owner Shannon Vandy – also formerly of The Grove – takes charge of the careful service out front.
What it offers Fixed-price meals / Dégustation options / Takes large groups / Good for vegetarians / Free-range chicken and/or pork / Craft beer selection
A favourite dish Goats' cheese croquettes with Kamahi honey
Awards Finalist, Best New Fit-out
Bookings Yes
Price $$$
Seats 35
Hours Lunch Fri-Sun, Dinner Wed-Sun
Chef Fraser McCarthy
?
View menu and reserve table?
19 Khyber Pass Rd, Grafton
Ph 217-4069
See here for all of Metro's Top 50 Auckland restaurants for 2018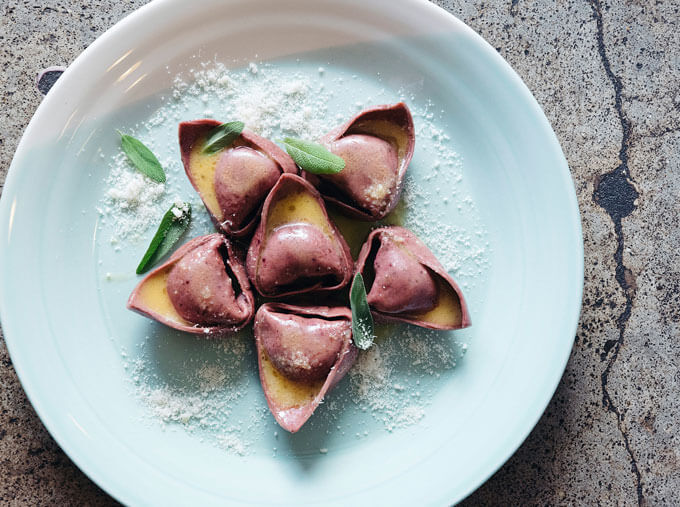 Pasta and Cuore
Dining at this Mt Eden pastificio may make you question every Italian meal you've had, because owner and executive chef Stefania Ugolini's knack for sourcing the purest and fruitiest olive oils, the ripest produce – some of which is grown on site – and the best Italian wines is unmatched in the city. Ugolini grew up in Bologna and has been cooking since she was five; her years of experience and eye for quality, combined with knowledgeable staff and the enchanting courtyard setting (which is heated in winter), mean you're in for a delightful dining experience. This is a special little local, and you'll leave with a warm glow of satisfaction.
What it offers Fixed-price meals / Good for vegetarians / Good seating outside / Good for kids / Free-range chicken and/or pork
A favourite dish Potato gnocchi with free-range spicy chicken ragout and porcini mushrooms
Awards Runner-up, Best Wine List; Finalist, Best Chef: Stefania Ugolini
Hours Lunch Tue-Sun, Dinner Tue-Sat (kitchen closes 8.30pm)
Bookings Yes
Price $
Seats 50
Chef Stefania Ugolini
pastaecuore.co.nz
Mt Eden
409 Mt Eden Rd
Ph 630-9130
See here for all of Metro's Top 50 Auckland restaurants for 2018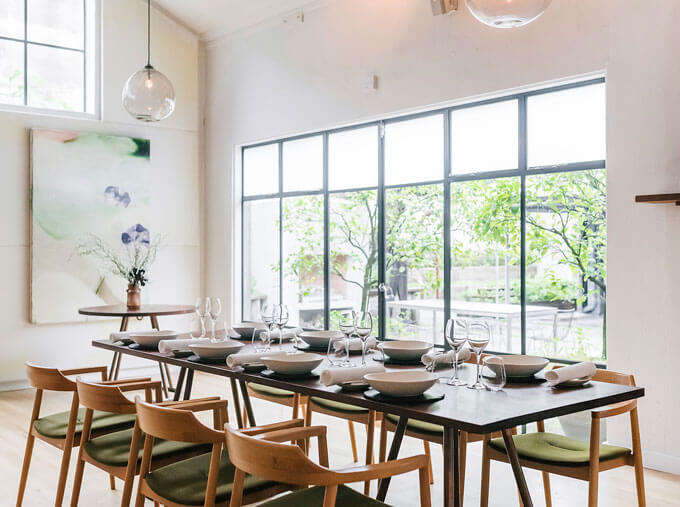 Note: The French Café has changed ownership since publication of this review. It is now Sid at The French Café.
Everything about a night out at The French Café is polished, crisp and considered down to the finest detail. In its 35 years of operation it has survived and thrived in Auckland's fickle dining scene, and since 1999 has maintained a wonderful sense of occasion under the management of Creghan Molloy-Wright and Simon Wright. The staff, in uniforms tailored by Helen Cherry and Crane Brothers, are confident and engaging as they assist in navigating the lengthy wine list, school you on the origins of Kurobuta pork, and interpret your needs without hovering. On the menu, classics such as beetroot tart with goats' cheese and figs remain, but it's Wright's more playful dishes, like buttermilk-fried quail and the crispy, creamy, sweet toffee-apple parfait, which will no doubt ensure another generation of diners continues to walk through the doors.
What it offers Free-range chicken and/or pork / Good for vegetarians / Good seating outside / Takes large groups (two private dining rooms available) / Craft beer selection
A favourite dish Butter-poached crayfish, sweetcorn, bacon dashi and seaweed
Awards Runner-up, Best Service; Finalist, Best Wine List
Hours Lunch Fri, Dinner Tue-Sat
Bookings Yes
Price $$$
Seats 70
Chef Simon Wright, executive chef; Gideon Landman, head chef
View menu and reserve table
210 Symonds St, Eden Terrace
Ph 377-1911
See here for all of Metro's Top 50 Auckland restaurants for 2018