Jun 27, 2019 Restaurants
Welcome to the second helping of Rosbif; a pop-up restaurant run by an Auckland hospitality duo where the food's so good Sid Sahrawat licks the plate.
If you want to know how to pronounce Rosbif correctly, it's "roz-beef"— a play on how French people say roast beef, who have issues pronouncing the "st". It's also their slang to refer to Brits (derogatorily, of course).
Sophie Beaton and Alfie Ingham, the British transplants behind Rosbif, a dinner pop-up running for the second and third times in late July, have heard all the possible pronunciation permutations: It's a mix-and-match free-for-all of "roz," "rose," and "ross," paired with "beef" and "biff".
They know the name sets an expectation there will be roast beef on the menu each time they run Rosbif, and so far, they've made good on that promise: A Wagyu rump cap from First Light was the star of last July's six-course tasting menu, and this time around they're stepping things up: The menu will feature dry-aged grass-fed slabs of Wagyu from a farm in Waimauku.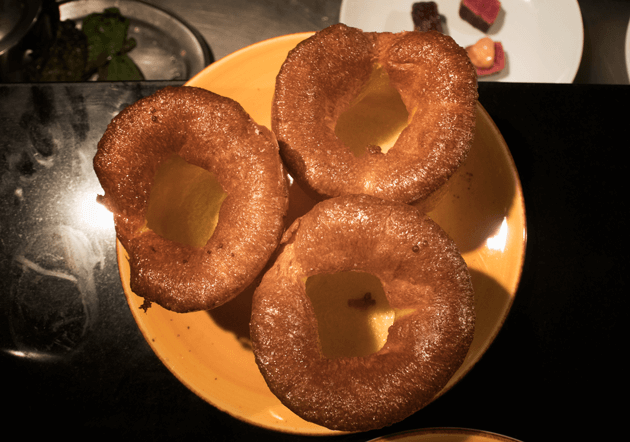 As both Beaton and Ingham are from the northern districts of England, you can expect Yorkshire puddings bigger than your fists, and gravy so delicious that during the last pop-up, I caught Sid Sahrawat (yes, Sid of Sidart , Auckland's hospitality king and Beaton's boss) sticking his finger onto his plate, swirling it, and sucking the accrued bordelaise sauce off.
Last year's pop-up was very much an in-the-know event: Only those in the industry were aware of its existence, including many of Beaton and Ingham's friends from the hospitality industry. Since moving to New Zealand seven years ago and working at Francesca's Italian Restaurant in Wanaka, between them they can count Cassia , Merediths, Depot , and Clooney on their CVs, as well as Sidart where Beaton is restaurant manager, and Hugo's Bistro where Ingham is head chef.
Rosbif is a departure from the couple's fine dining roots, borne in part from Ingham's restlessness while temping with a hospitality agency — as much as he liked getting compliments on his scones at retirement homes, he was going stir crazy.
This time around, the couple are looking forward to casting their net wider — the first pop-up was mainly attended by friends, with only one or two tables filled by unknown guests. Though, given Sundays are the one night a week most restaurants are closed, and how entrenched the Rosbif pair are in the hospo community, it wouldn't be unlikely for top Auckland chefs and waiters to snatch tickets up for both pop-up events.
This time, Rosbif is running as a ticketed event (a change to avoid wasting empty seats) as part of Eat Drink Love Ponsonby (Ponsonby's answer to Heart of the City's Restaurant Month), running from July 15 – August 16.
Called A Feast by Rosbif, the event is running on Sunday 21 and Sunday 28 of July from 6pm. For the price of $90 you will certainly feast: The roast beef (served with the aforementioned shotput-sized Yorkshire puddings, and potatoes) will be the main course of many planned. Four or five entrées are still to be decided, with Ingham is currently considering truffle cheese on toast and anchovy onion tarts. These will be followed by a main course and at least one dessert, followed by – it may be worth planning an outfit with a little give.
Rosbif is going to be simpler this time around, now Ingham and Beaton have learned a few things from their first pop-up foray. For instance, even though Ingham's been doing triple breakfast/lunch/dinner shifts at Hugo's, he has put aside whole Saturdays to do prep in his own kitchen, as opposed to the haphazard borrowing of other kitchens, like he did for last year's pop-up.
Rosbif was last held at Monzù (formerly Merediths, where Ingham once worked), which has a notoriously small kitchen, no ice machine, and none of the front of house staff (all friends from Cassia and Sidart) knew where anything was, such that a new table numbering system was invented only an hour before the first guests arrived.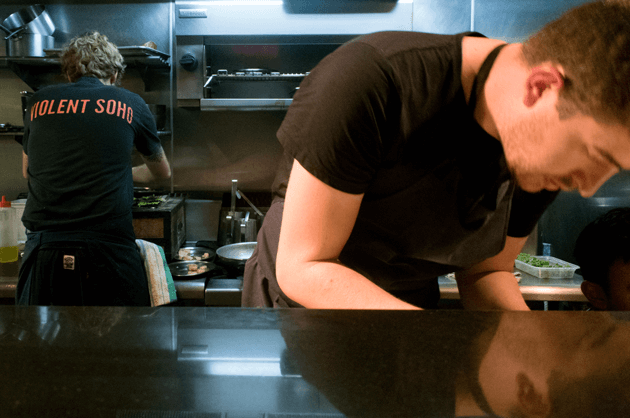 This July, Rosbif will be serving at Sidart, an obviously setting familiar for the duo. But don't expect the same revering hush usually found at Sidart; Rosbif is causal, a departure from the pair's fine-dining background. Beaton promises to turn up the music (her own playlist, including The Pharcyde's 'Passin' Me By', Lou Reed's 'Charlie's Girl' and some Fleetwood Mac) and is intent on creating a party atmosphere — they're "trying to get a big of energy in the room" by combining hip hop and soul with rock and roll.
When I spoke to the Rosbif duo before they ran their first pop-up, Ingham said his ideal restaurant would be a place where "You get a plate of food, and go 'fuck, that's delicious,' along with a glass of wine that's smashable". Smashable wines, as it were, are something Rosbif will have down pat — thanks to Beaton's wine connections. Last year, there was an inadvertent natural wine focus ("I swear I didn't try for that," Beaton joked when she was introducing them to the servers), but this July you'll be more likely to see some "classical big O.G.s" — think Tuscans and Bordeaux (Beaton's partial to the Saint-Émilion appellation). Beaton also hopes to include an English sparkling wine by the glass too; Brits all the way.
A Feast by Rosbif is on Sunday 21 and 28 July at Sidart, with sittings from 6pm onwards. Tickets are $90, drinks additional. Book by phone 021 061 3719 or email sophie@sidart.co.nz.
Eat Drink Love Ponsonby is part of Elemental AKL Festival, a month-long winter festival with more than 50 free and ticketed events.