Mar 8, 2019 Food
What is sustainable food? And how do Auckland chefs define it? Metro's Jean Teng talks to four of the best to hear their takes on the issue.
I don't know what sustainable food is. It's an elusive concept which gets bandied about in small-type restaurant menus, and it never used to mean much more to me than the fact that my impending meal was about to cost at least double my hourly wage.
When I ask three of the restaurants participating in this Sunday's Kelmarna Gardens Harvest Festival what "sustainable food" is, I get different – but related – answers.
Nick Honeyman of Paris Butter tells me sustainable food is, "just being conscious".
Dariush Lolaiy from Cazador has a more extensive definition: "Sustainable food is grown and harvested in a way that ensures the ongoing health of the environment in which the food is produced, and I would extend that concept to creating a profitable, equitable local food industry for New Zealanders to work in. For us, pushing the boundaries of sustainability is focusing on cooking wild protein, on using the whole animal, on working with small suppliers."
Kyle Street at Culprit contextualises it within his own restaurant, saying, "Our focus is on striving to utilise the lesser knowns and unloved ingredients – that could be using the lamb belly which the butchers find hard to sell, or utilising monkfish and lesser-known fish species, that if done right, trump more familiar fish."
Kelmarna Gardens Harvest Festival
Kelmarna Gardens is a dreamy inner-city idyll bordered by affluent suburbia; a community-orientated city farm that promotes sustainable living. Honeyman calls it a "massive jungle of goodness", and his restaurant utilises its produce every day. "Whatever they've got dictates what we're gonna use," he says. It's people like Kelmarna, Lolaiy adds, who prove organic food can be grown in cities for the local population, by the local population.
This Sunday 11 March, they invite you to bring your picnic blankets for a free (!) community celebration of the land and the food it's produced, with live music, gardening workshops and farm activities for the kids.
Although this is the fifth year that the Kelmarna Gardens have held their annual festival, it's the first year Honeyman, Lolaiy and Street have joined in with Tom Hishon of Orphans Kitchen . They'll be stoking organic chickens, lamb, corn and a selection of vegetables harvested from the gardens over the open fire barbeque – vegan included. (Street is doing an update on his "Street Corn" with paprika-spiced popcorn and soured cream. What a dream.) Preparing for the festival has been a team effort, with the chefs blending pesto and making lovage butter in its lead up.
Taking part in this was a "no-brainer" for Honeyman, and it seems to be the same for Lolaiy and Street, who strive to work with like-minded people and educate the public on close-to-their-heart issues.

Relationships between restaurants and local producers like Kelmarna Gardens seem to be a key component of what "sustainability" is, at least in this context. "We make sure we support producers that value sustainability," Lolaiy says. To Honeyman, that's the easiest way to get on the train – choosing your suppliers and knowing where your product comes from.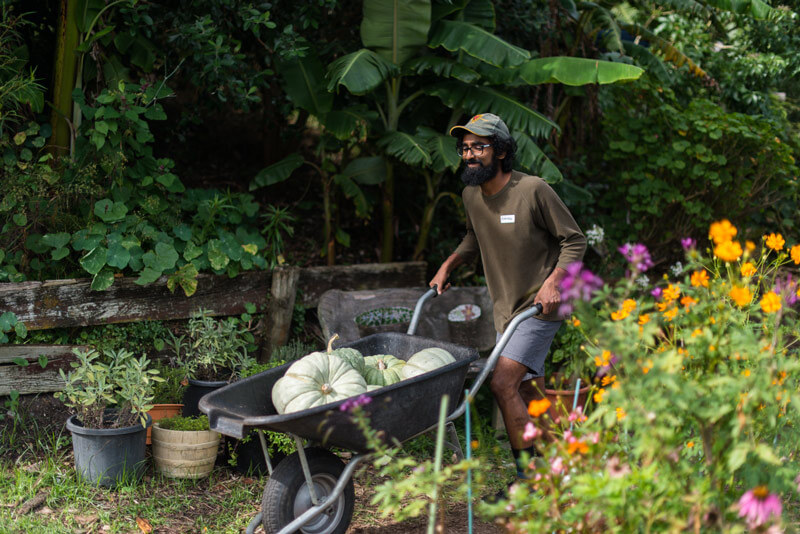 Whose responsibility is it to be sustainable?
As consumers, we make deliberate choices when we eat out – most of the time that's dictated by the current restaurant du jour, or our insane cravings for dumplings. But should sustainability factor into this? Or at the end of the day, is it all up to the restaurants to make the change?
Lolaiy says that it's "important that we lead the way. It's a shame those who are big enough to make a real difference drag their heels on this – look at McDonald's on free range eggs and chicken."
Being consciously sustainable is hard work, especially in a small business where, Honeyman says, "best-case scenario, 8-10% profit. The easier route is to not be sustainable. At the end of the day, it's going to cost somebody some money. I've only recently come across Gravity Fishing, who are awesome. And it's definitely a premium product. Is the diner going to understand when it comes out on a plate?"
Lolaiy adds, "It's a two-way street. It's our responsibility as restaurants to lead by example… but it's up to the diner to make their own decision about who they wish to support – whether it's a company that uses proteins from factory farms, one that uses imported ingredients, one that looks after their staff, and one that keeps profits in New Zealand. That's up to the consumer to decide if those things are important to them. For many it's not, and that's fine."
But there are always more perspectives to consider. Do we expect restaurants slinging out $12 bowls of noodles – price-points dictated by the market – to make an effort with sustainability? Current trends, and what we value in our highly saturated food media world, demand it. We fawn over foraging chefs (and rightly so – it's pretty badass), but how do we copy in a hugely forgotten, but hugely enormous, sector of Auckland dining?
Perhaps it's a beast to tackle another time. As Honeyman puts it, "I wish there was a magic answer, but I think the answer is we've just gotta keep cracking away at it."
Is meat sustainable?
Honeyman readily confesses to the gaps in his knowledge. When I ask about meat consumption and veganism, for example, he says, "To be honest, I don't know much about it. I know that food is a huge part of my life – I really enjoy it. We're about to have our first child, and I would like to have that child be able to grow up with everything that we have."
Lolaiy, on the other hand, is keen to clear up the perception that game-meat restaurant Cazador is 'meat-heavy'. "We don't serve more meat than your standard bistro… but the difference in Cazador is how we source our protein. Meat should be raised and used more sustainably, which is why at Cazador we focus on wild meat and using the whole animal. Wild meat has the lowest impact on the environment. Indeed, hunting is necessary to manage the wild populations of introduced pests like rabbit, thar and deer, which if they become prolific are devastating to native flora and fauna." His thoughts on a meat-free life? "I see that as an extreme position. I am in favour of limiting meat consumption – it's not for every meal, not even for everyday eating."
Kelmarna Gardens Harvest Festival
10 March, 10am-3pm
Kelmarna Gardens
12 Hukanui Cres, Herne Bay
Follow Metro on Twitter, Facebook, Instagram and sign up to the? weekly email for more news.