Oct 10, 2019 Food
Belinda and Jarrad McKay of beloved food truck Puha & Pakeha are part of StreetArtDego, a one-night-only micro food-and-art festival featuring a line-up of food trucks and vendors riffing on the theme "Climate Changed". Here's what the duo bringing Maori-inspired food to Auckland eat when they're not serving up tuatua fritters.
There is a perception that working in a food business means that you are a foodie through and through, cooking up beautiful culinary delights every night of the week or out enjoying the amazing restaurant scene Auckland has to offer. While we love food and are passionate about taking the kai of Aotearoa to the people of Aotearoa, in reality, we are a busy family household and really eat just like any other average kiwi family. This week is not a completely normal week for us as I (Belinda) have been away for a few days in Taupo for the school holidays.
Thursday
I always start every day with a poached egg on Vogel's. I like my Vogel's crunchy so it always takes a few gos in the toaster to get just right and my eggs must be runny. And coffee, I can't do without my coffee in the morning and at lunch daily.
I love Thursday as it is one of the nights that the kids cook so I'm off duty. We want our children to be self sufficient when it comes to cooking their own food, and for them to know how to make healthy choices, so they each have a night cooking. The only rules that we have when it's their night to cook is that it has to be a balanced meal (that includes veges) and wherever possible make sauces etc. from scratch. Tonight is Jarrad's 15-year-old son Levi's night to cook and I'm impressed that he has decided to branch out from his usual go-to's to cook up Mexican fish tacos with slaw, and avocado and green chilli sauce from one of the foodie magazines I have. There is no shortage of foodie magazines around our house – I have them all and love the inspiration they provide and I always like to try new recipes. With a little bit of guidance we have a light delicious meal.
While I'm at home with the kids Jarrad is hosting a Kai & Korero evening at our headquarters in Grey Lynn and grabbing some fried chicken leftovers after a busy service.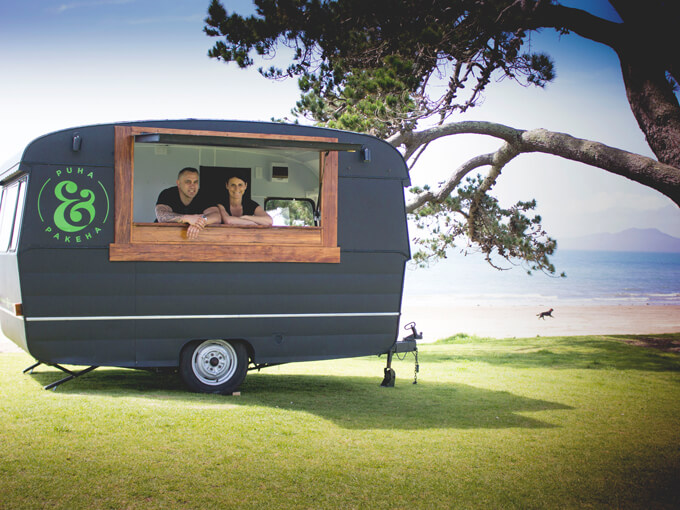 Friday
We start the day with porridge for breakfast with our five-year-old son Harlem before he and the older boys head to school.
Then we are off to work on the food truck for lunch at Britomart. Working on the truck means you're lucky to eat a proper meal at mealtime. Usually you grab what's left after a busy service while packing down. Today wasn't much different: I grab a Horopito piri piri chicken salad with crushed peanuts and a coriander and lime dressing from the truck at 2pm as I leave for school pick up, eating my salad on my walk to the car. Jarrad does a swap with another vendor and has a bacon burger from Bacon Bro's. One thing that is nice about our foodie family is the swapping of meals – we always get to try some of the other amazing street food on offer in Auckland.
As the days have been a bit warmer we have been making a few smoothies after school. Harlem and I make a smoothie, my favourite combo at the moment is mango, avocado, banana, mint and coconut yoghurt.
For dinner, we have cauliflower falafel with tahini sauce and beetroot relish alongside a green salad. It's delicious and another recipe I have picked up from one of the foodie magazines. Another addition to my salads that I'm loving at the moment is roasted nuts. I just roast up a selection of whatever I have in the pantry with some spices. We don't do diets as I'm a great believer of everything in moderation (the moderation is the hardest part sometimes) but we are trying to increase our intake of veges, both by increasing the ratio of veges at each meal and having at least one vegetarian meal a week, and hopefully decrease our waistlines in the process.
The meal is enjoyed with a glass of Pinot Noir, and a craft beer for Jarrad. Pinot Noir is my favourite wine and I will drink it with everything, although I do branch out for some more conscious wine and food matching from time to time. Jarrad is always trying a new and different craft beer.
READ MORE: Stop the truck! Puha & Pakeha gets a new Grey Lynn home

READ MORE: The 6 best food trucks in Auckland
Saturday
The weekends are always reserved for pancakes with the kids for breakfast. This morning we only have one kid in the house (and a young adult that doesn't emerge until after lunch). Having a blended family means the vibe of the house fluctuates from one kid to four regularly.
Lunch is leftovers from the day before so it's tuatua fritters with kina, chilli chive mayo and green salad. This is one of my favourite combos at the moment so I'm always secretly hoping that there will be some fritter mix leftover from service on the truck.
At night we are catering a wedding in Clevedon so once again serving our lovely guests takes priority. When we are catering we always take some extra serves to feed ourselves and our staff. Our service time is earlier tonight so we are lucky to eat our dinner after service at a 7.30pm (still a reasonable time) rather than 9 or 9.30pm. Tonight it's a few pieces of fried chicken with watercress sauce and horopito piri piri mayo (very hard to pass up whenever we are on the truck because who doesn't love fried chicken), followed by an Aotearoa Reuben sandwich.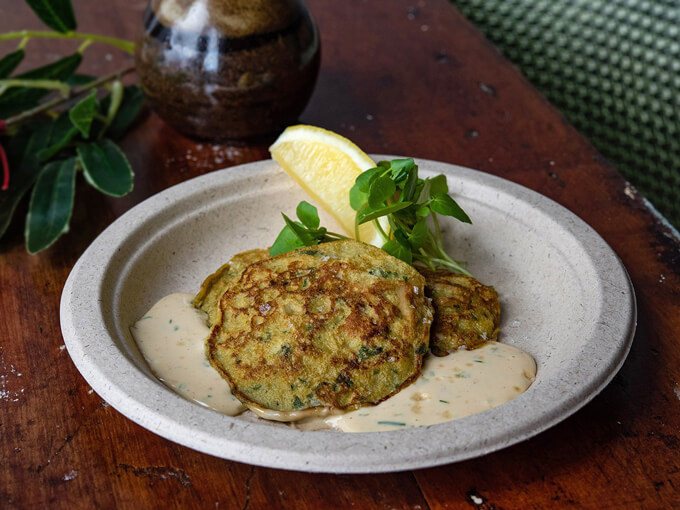 Sunday
Today I'm travelling to my hometown of Taupo with Harlem for a few days away for the school holidays. Jarrad is holding the fort, working back in Auckland. We stop in Whatawhata at The Village Café. A great halfway spot and there is a playground so Harlem can have a run around while I sat back and enjoy a yummy roast vege salad and coffee.
For dinner, my mum cooks up a delicious prawn and smoked salmon risotto and I enjoy it with a glass of Pinot Noir.
Jarrad is back in Auckland eating leftovers from the past couple of days – tuatua fritters and cauliflower falafel. There's not much that goes to waste in our house as we are all (including the kids) big fans of eating leftovers the next day. The early bird gets the worm as the best leftovers usually get devoured at breakfast which means I will often miss out – although I love leftovers, I can't quite bring myself to have them for breakfast.
Monday
While in Taupo, a poached egg and coffee is still my staple, it's simple and makes the perfect breakfast. Lunch is leftover risotto with a kiwi favourite – chips and dip – while back at home in Auckland Jarrad enjoys a break from paperwork with sushi at the beach in Brown's Bay.
For dinner, mum has some pork belly so into the oven it goes with milk to keep it nice and tender. I make up a salad of tomato, chilli and coconut that I have seen in a magazine, and we have broccoli and snow peas fresh from the garden with some boiled new potatoes.
At home, Jarrad decides to have a cleanout of the freezer and has baked potato and mouse traps for dinner.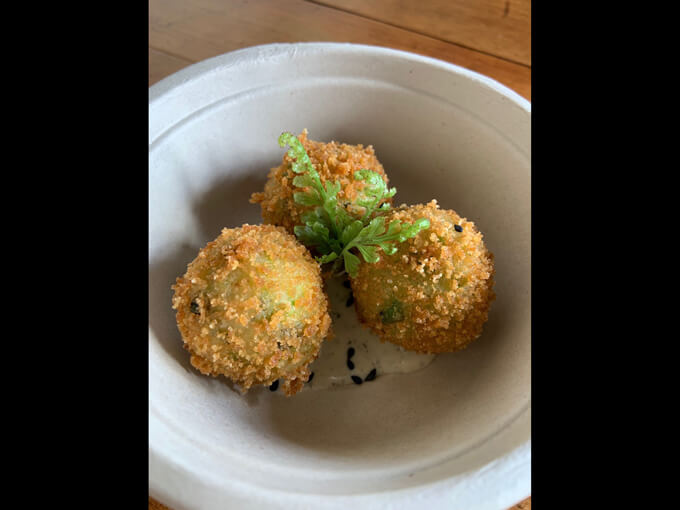 Tuesday
Tuesday brings another poached egg and coffee for breakfast. Lunch is a mix of leftovers and antipasto-style nibbles with toasted Turkish bread. For dinner, I enjoy wild venison sausages with a side of mash and slaw. The venison was caught by a family friend.
Back in Auckland, Jarrad is having focaccia with toppings for lunch, something light and easy, and treating himself to Burger Fuel for a quick dinner.
Wednesday
Wednesday is spent at the mountain, so lunch was a simple bacon & egg pie on the go along with a quick coffee to maximize our time playing out in the snow. We have a delicious lamb roast for dinner, with roast veges, green beans, mint sauce and gravy, complemented with a Pinot Noir (I did say I drink it with everything!).
Jarrad spent another day holding the fort and working, so he had a homemade toasted ham sandwich for lunch and then leftovers of a pulled pork and slaw slider, and piko piko and edamame bites with tahini sauce at our headquarters after a busy service hosting another Kai & Koreo evening.
Last time: What I Ate, with actress Lisa Chappell
The Puha & Pakeha food truck comes to StreetArtDego on 15 Oct as part of Artweek Auckland 12 – 20 October