Oct 18, 2018 Cheap Eats
The Kiwiana theme is everywhere as Puha & Pakeha find a permanent home to complement their food truck.
Belinda and Jarrad McKay, founders of popular food truck Puha & Pakeha, have invented what promises to be the most divisive milkshake flavour since lime (the worst shake flavour of all time – am I right?!)
There's a chocolate and Marmite drink on the menu at their new restaurant, and it's all yours for a measly $7. Money well spent I say, if only for the laughs.
But fear not if Marmite's not your thing. In these ex-shop owner's lodgings, next to the now-closed Surrey Dairy on Surrey Crescent, there are less experimental things happening too.
In fact, the whole reason the McKays started Puha & Pakeha in 2014, was to do their part to revive traditional Maori cooking techniques and flavours in a non-confronting way.
Since their entry into the night market circuit four years ago, demand for their food – a modern interpretation of Maori cuisine – has been insatiable, leading them to quit their 9-5 jobs in 2016 to run the food truck full time.
This bricks and mortar restaurant will also function as a production kitchen for the truck, allowing them to expand the menu.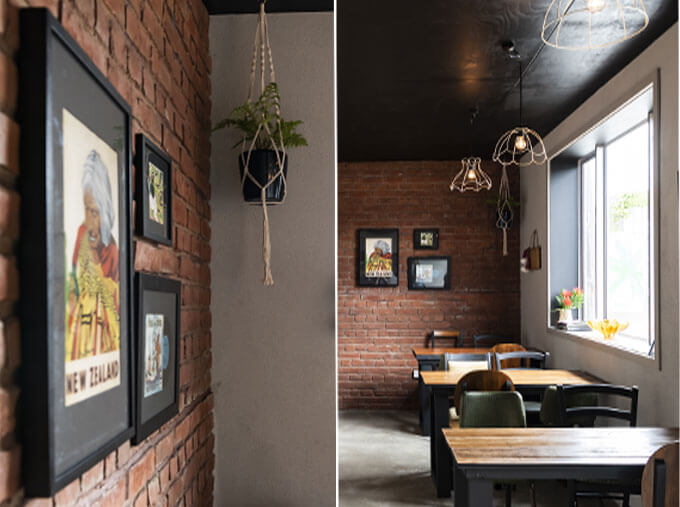 The fitout recalls an old-school batch, with purposefully mismatched furniture, Kiwiana relics and a battered guitar in the corner, which people are invited by a sign to play. The wood used to make the tables, pass and counter is all reclaimed native timber – Kauri, Rimu, Matai – which Belinda and Jarrad have shaped, sanded and varnished to give a new lease of life.
Some was taken from to-be-demolished homes, some was gifted. The lampshade above the counter was made by Belinda's dad in the 70s. It used to hang above her dining room table.
Fans of Belinda and Jarrad's food will be pleased to know that this larger kitchen means, as well as offering more from the food truck, they've devised a comprehensive restaurant menu. So while you can order stalwarts like kumara and coconut bites, you'll also be able to get your mits on dishes space and resources wouldn't allow to be made in a food truck; Jarrad predicts the fry bread ice cream sandwiches will be a big seller. While the restaurant food is more technique-heavy, there's still a market vibe to it – plates are small and affordable so you can try a few things – which suits the casualness of the space.
If you're craving hangi flavours but aren't about to dig up your back garden to lay one down, try the Aotearoa Rueben with hangi-cooked pastrami, or a smoky pumpkin salad which uses the same underground cooking method.
Follow that with rewana bread trifle and juicy new season strawberries, Manuka honey custard and jelly. Then, if you're game, wash it all down with a chocolate-Marmite shake, and write us a letter to let us know what you think.
Puha & Pakeha
108 Surrey Cres
puhaandpakeha.co.nz