Dec 12, 2016 Cafes
DIZENGOFF
256 PONSONBY RD, PONSONBY
Customer loyalty is increasingly hard to come by in a cafe scene obsessed with newness, but the simplicity of Dizengoff 's proposition shrugs off faddy competition. Pastrami, chopped liver and labaneh are just some of the Jewish influences scattered through an otherwise conventional — but consistently well-executed — cafe menu.
BEST FOR: Unfussy Jewish cafe food in a hip location.
Allpress coffee
EIGHTHIRTY HIGH ST
GROUND FLOOR, 35 HIGH ST, CENTRAL CITY
Walk to the rear of the dark art deco building and you'll find a study in contrasts at Eighthirty, its white open space infused with light. Being boutique coffee roasters, they're serious about their caffeine and it shows — choose batch, brew or siphon, from $3.80. The food in the small counter-top cabinet — granola and coconut yoghurt with fruit compote, bacon and egg brioche, bagels, slices and so on — is consistently good (our raspberry, coconut and rhubarb muffin was moist and a little tart — the antithesis of the airport variety). The retro soundtrack deserves a special mention — it's a long time since we heard "Maneater".
BEST FOR: Coffee (of course).
Eighthirty coffee
FORT GREENE
22 ST KEVINS ARCADE, K'RD, K'RD PRECINCT
Liam Fox and Andrea Mulhausen don't do things by halves at sandwich shop Fort Greene . They craft their own pillow-like ciabatta, smoke their own kahawai and pickle their own piccalilli. Sometimes they make meatball subs, sometimes they throw together the perfect reuben. On Wednesdays, they make sugary brioche donuts and pile them on a plate beside the espresso machine and they disappear almost instantly.
BEST FOR: Takeaway sandwiches to eat in nearby Myers Park.
Peoples coffee
GREEDY GUTS
44 WELLESLEY ST WEST, CENTRAL CITY
Wooden planks fold out from the side of the building onto the pavement as make-shift tables and chairs outside Greedy Guts. Owners Sam Richardson and Lili Deng, ex-Cereal Killa, are resourceful, you see. They pull off culinary miracles daily from their minuscule kitchen, like their avo toast, which is elevated by perfectly grilled sourdough, chilli, pistachio and lemon. Daily baking and mean toasties prove a good cafe doesn't need to be big, just imaginative.
BEST CAFE WITH 20 SEATS OR FEWER
Atomic coffee
GOOD DAY
3/78 COATES AVE, ORAKEI
The owners of Good Day , Dan Shaw and Jacqui Crichton, have created a perfect storm of local good vibes at this sunny cafe in Orakei. The coffee is made with care, the homemade bread is delightful, and the steady stream of cheerful regulars makes you want to move into the neighbourhood. Good Day's menu, like itself, is small and perfectly formed — quality bread with fresh, flavourful toppings, lovely little baked eggs, seasonal porridge and a great cabinet selection of sandwiches and sweet treats.
BEST FOR: Good coffee in suburbia.
Coffee Supreme
HOMESTEAD
72 HILLSBOROUGH RD, HILLSBOROUGH
The grand old estate on the hill got a much-needed update this year when millennial slashie chef/writer/actor Sam Mannering teamed up with the boys from Ceremony (Connor Nestor and Charles Williams) and took over the kitchen at Pah Homestead. They run it, clad in linen aprons, with casual precision. The menu, sourced locally, changes seasonally with new takes on old trads like oxtail in winter and lamb confit in spring. Blessedly, home-made crumpets are a constant. Coffee is Flight but there's something about being seated out on the veranda that calls for a deep glass from the wine list, the perfect prep for viewing the art gallery inside.
BEST DESTINATION CAFE
Flight coffee
Top 50 Cafes
Listed alphabetically
ATOMIC ROASTERY
420C NEW NORTH RD, KINGSLAND
Pioneering roastery cafe Atomic got a makeover this year: impressive brass fittings have taken the place a little more upmarket. They've also got a takeout window, for those in a hurry to catch the bus. Still with the sunny morning seats out front, the roomy interior that's so good for working, meeting or just kicking back, the choice of espresso and single-origin filter options, and a small but enticing lineup of counter cakes, sandwiches and kitchen food.
BEST FOR: Morning sunshine with great coffee.
Atomic coffee
BAMBINA
268 PONSONBY RD, PONSONBY
Bambina has been quietly commanding its spot on cut-throat Ponsonby Rd for years, for good reason. The communal table has magazines you actually want to read, with not a dog-ear in sight. The flavours are as fresh and bright as the fit-out, from the ricotta hotcakes to the salmon ginger noodles. And who else will pour you a Campari, ruby grapefruit and mint?
BEST FOR: A solo date with a magazine.
Allpress coffee
BESTIE
ST KEVINS ARCADE, 183 KARANGAHAPE RD, K'RD PRECINCT
Situated next to a huge floor-to-ceiling window looking onto Myers Park, Emma Lyell and Tane Williams' sun-filled cafe has breathed new life into recently refurbished St Kevins Arcade. Eighthirty espresso is served from a sunshine-yellow La Marzocco by equally sunny staff (filter's also available), alongside a bountiful cabinet of homebaked cakes and pastries. Order from the menu for the full Bestie experience (now with table service): comforting, homely classics like fluffy hotcakes and toasties get a classy remake at the hands of head chef Nicola Standage.
BEST FOR: Breakfast with an excellent view of the city.
Eighthirty coffee
BEST UGLY BAGELS
CITY WORKS DEPOT, 90 WELLESLEY ST, (also 3A York St, Newmarket)
Do one thing and do it well, that's the philosophy Al Brown's bagel empire is built on. Their two city stores are built for spectacle: an open kitchen is a stage for a vocal production line of bagel-makers, who roll, cut, simmer and fire the Montreal-style dough delicacies by hand. Choose from a range of signature artisan toppings that vary with the seasons and enjoy with a cup of Havana coffee.
BEST FOR: Fire-side eating in the winter, takeaway brunch on the way to the beach in summer.
Havana coffee
BLIND BASKET
38-40 BARRYS POINT RD, TAKAPUNA
The outlook on unalluring Barrys Point Rd changed for the better in February with the opening of Blind Basket (obscure barista-speak, check). The staff are welcoming and the place is a spacious, happy jumble of mismatched furniture. A fusion menu offers mostly Japanese and Korean-inspired dishes — bento boxes, miso, sushi, soups and noodles — and a substantial cabinet selection. Go for these rather than the Western options.
BEST FOR: Time out from the dubious delights of Barrys Point Rd.
Coffee Supreme
BOLAVEN
597 MT EDEN RD, MT EDEN
A bundle of wicker-basket lampshades hangs over a communal table in the centre of Bolaven's dining room, beside a wall of neatly arranged jars. It's as though owner Sip Mounlath returned from an idyllic trip to the market and filled the room and the menu with the spoils. We can't go past the warm coconut sago pudding; like much of the menu, it's inspired by a traditional dish from Laos and is sweet, crunchy and comforting.
BEST FOR: Classic egg breakfasts made less ordinary with the flavours of Lao cuisine.
Eighthirty coffee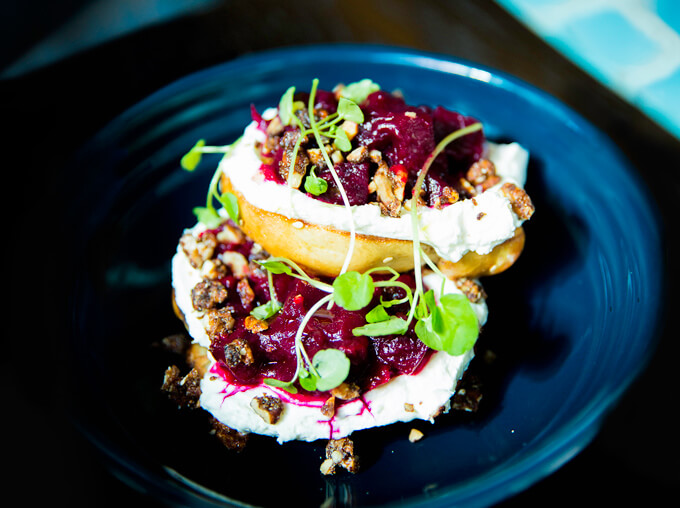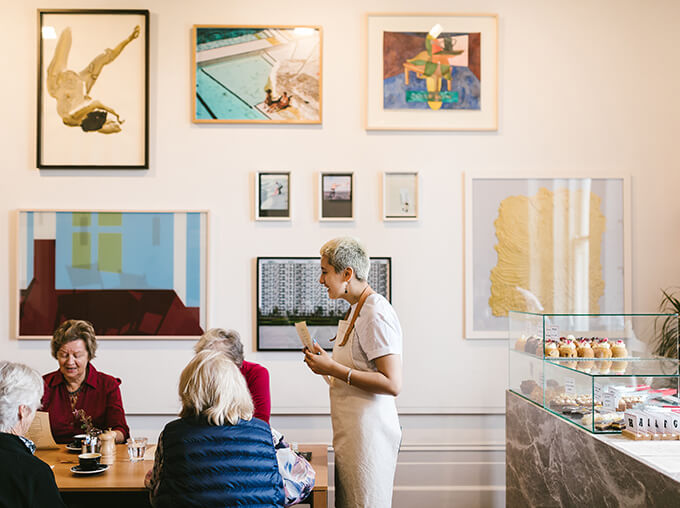 The Top 10
FEDERAL DELICATESSEN
86 FEDERAL ST, CENTRAL CITY
The long tradition of the New York Jewish delicatessen has been honoured at The Fed, Al Brown's Auckland homage. You'll find matzo ball soup, house pastrami, reubens and latkes, but there's also glorious Montreal poutine, lemon meringue pie and damn fine cherry colas. We love the seamless, smiling service and the soothing background hum of chefs at work, audible from the open kitchen. Cosy wool blankets make pavement dining possible year-round.
BEST SERVICE WINNER
Havana or Coffee Supreme
CATROUX
129 WEST END RD, WESTMERE
Catroux owner Adele Jenner has worked in restaurants here and in London, as well as three years cheffing on superyachts. Catroux is the culmination of her international experience tailored to Aucklanders' desires. Seasonal salads are loaded with nutrition and big flavour, and everything — including the outstanding baking — is made on site. This bright, white, inviting space is somewhere you want to return to, soon.
BEST FOR: Exceptional cabinet food.
Eighthirty coffee
THE LUNCHROOM
LEVEL 1, 45 QUEEN ST
The inner city is hardly a place of calm or tranquility, but even when it's busy, The Lunchroom always manages to fill you with a sense of both — it must have something to do with the quality of sunlight filtering through the huge windows, and the sheer expanse of space. Owner and chef JJ Holland crafts bistro-style dishes that look like works of art and serves them with fresh juice or lovingly made Kokako coffee. Best of all, you get to enjoy the fruits of his labour with a satisfying view of all the very busy running about on Queen St.
BEST FOR: A smart lunch in an oasis of inner-city calm.
Kokako coffee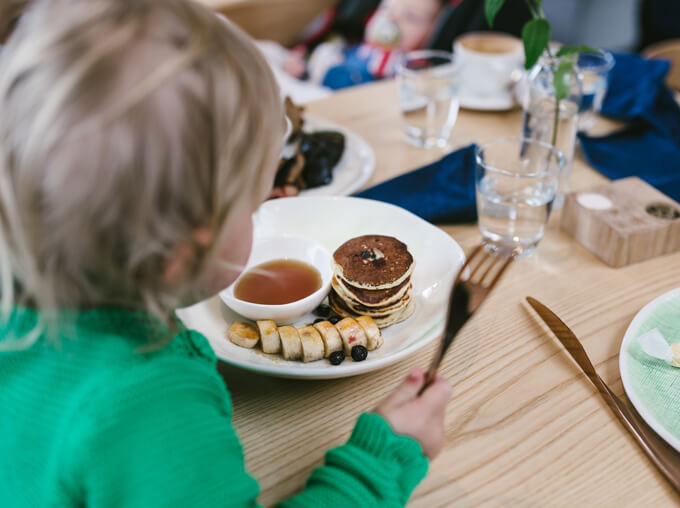 ?Auckland's best bars | Auckland's best restaurants | Auckland's best cheap eats
Click here for Metro's Top 50 cafes 2018
The cafes Metro's judges deemed the best out of a list of more than 300 are pretty diverse. Yes, some of them look the same, with butchers tiles and Edison bulbs used in budget-friendly frequency, but there are pint-sized, 15-seater cafes as well as giant, canteen-like dining rooms. There are places like Bestie and Were Bros, where you'll likely be served by the owner, and others like Takapuna Beach Cafe and Odettes, where systems are so well oiled that the experience is lovely for a different reason. There's formula and there's heart, and they're not always mutually exclusive. Our task was to find the very best cafes Auckland has to offer.
There were more than 20 cafes we were very sad to exclude — that's how tight this year's list was. Some have simply lost their spark. Sometimes a cafe scored as highly on food, service, coffee and comfort as another, but lost out when it came to the question, "How badly do we want to go back?" We celebrated cafes that make us love our city, that we're proud to take visitors to. And when you're sitting in that sunny window with the excellent city view or walking along the beach with an excellent takeaway lunch, we hope you'll agree.
MEADOW
20 ST JOHNS RD, MEADOWBANK
There's a relaxed elegance about Meadow and the airy covered courtyard here is a lovely place to while away the best part of a weekend morning. Table service adds to the calm, and as well as plenty of egg dishes, we love their little pizza list, especially the Korean-esque pulled beef cheek with fermented chilli and sesame, which also comes with lovely cubes of pink pickled daikon.
BEST FOR: Taking your in-laws, before swooping down to Tamaki Dr to sightsee.
Allpress coffee
MISTERS
12 WYNDHAM ST, CENTRAL CITY
A kitchen using no dairy, gluten or refined sugar could be considered a fun-free zone, but not Misters. The current lunch menu includes Japanese, Turkish, Thai, Chilean and Danish "bowls", which all feature a different base — rice noodles, quinoa, cauliflower tabbouleh, potato, rice — and different topping options, from glazed wagyu beef brisket to nori and black sesame crumbed tofu. Flavour is well to the fore, as is fresh seasonal produce.
BEST FOR: Vegetarian food that excites.
Misters coffee
MONDAYS
503 NEW NORTH RD, KINGSLAND
In autumn, ruby-red vine leaves cover this hidden cottage of an all-day eatery. In summer, it's almost completely camouflaged in bright green. The menu changes with the foliage, with almond oatmeal (which we recently declared was the best in Auckland) in winter, and nourishing, gluten- and dairy-free summer salad bowls in the warmer months. While Supreme Boxer blend is available in the cup, so too are interesting caffeine-light alternatives, such as Aztec hot chocolates and turmeric, matcha and herbal lattes.
BEST FOR: Tasty, nutritious wholefoods and a peaceful moment in a serene setting.
Coffee Supreme
OLAF'S ARTISAN BAKERY CAFE
1 STOKES RD, MT EDEN
It's hard not to go straight for the counter at Olaf's, we know — one of those lovely grainy salads or a hearty sandwich made with Olaf's excellent sourdough, followed by a rich, glossy fruit-topped tart. Add one of their nice robust coffees and contentment is easily reached. But if you can avert your eyes from the display for a minute, you'll find a menu that's extensive, with generous portions. Schnitzel with slaw, looking up to beautiful Maungawhau — just lovely.
BEST FOR: Pretending you just need to buy some good bread but then sitting down for lunch as well.
Coffee Supreme
ORPHANS KITCHEN
118 PONSONBY RD
What a joy it is to breakfast at Orphans Kitchen . We're constantly impressed by the inventiveness of dishes such as barley congee, spinach with smoked macadamia (great with an egg) and smashed avo with karengo and harakeke. By the time you go, however, these dishes may have gone. The menu changes constantly and staff are happy to decode any unknown ingredients. They'll help pick a wine (or cocktail) to match, too. Go early, get a table outside and settle into what could end up being a very boozy brunch. There's Supreme coffee with buffalo milk and a rotating selection of single-origin filter pours.
BEST FOR: Getting to know unusual New Zealand ingredients.
Coffee Supreme
ORTOLANA
THE PAVILIONS, 31 TYLER ST, BRITOMART
It's the kind of place your mum would swoon over: all that linen, those big cushions, sparkling water on tap and hand-blown glass. Ortolana means "market gardener" in Italian, and we love their farm-to-table ethos. The food changes with the seasons but expect silky pastas, bright fish dishes and lesser-used cuts of meat. It's also great for vegetarians. Fresh juices and well-made salads complete the picture, and there's a neat little wine list.
BEST FOR: Downtown people-watching.
Allpress coffee
PINTU
80 MACKELVIE ST, PONSONBY
We're officially jealous of Ponsonby's office workers, who get to pick up lunch at Pintu. This gourmet salad, sandwich and smoothie joint is busy but slick — rather than join a queue to assemble a made-to-order salad from the ceramic bowls at the counter, grab a clipboard from the side bench and tick off what you want. The sandwiches are spot on, too. (We can personally vouch for the Angus beef sandwich as an effective hangover cure.)
BEST FOR: A tasty break from the office.
Mojo coffee
THE RETURN OF RAD
397 MT EDEN RD, MT EDEN
The filled rolls at Rad are so good. Crunchy baguettes, generously filled, the best one being grandma's banh mi — Viet-style pork, pickled veg and a thick swipe of chicken cognac pâté. We recently ate beef cheeks, just falling apart, and a delicious dish of smoked kahawai and peas topped with a runny poached egg. The little touches, like water laced with chamomile and really good Rocket coffee, are what make Rad so special.
BEST FOR: Breakfast after a hike up Mt Eden.
Rocket coffee
RICHMOND RD CAFE
318 RICHMOND RD, GREY LYNN
Located up the hill from a pet shop, Richmond Rd Cafe doesn't have the advantage of some of its more romantically situated Hipgroup siblings, but its unassuming exterior belies a quiet brilliance. Portions are restrained but deceptively filling, the menu designed by the group's executive chef, Jo Pearson, to typical seasonality-worshipping standards. The lived-in interior is getting a refresh in the coming months to match the sparkling service.
BEST FOR: Seasonal, all-day dining on a sunny outdoor deck.
Allpress coffee
SPILT MILK
1197 GREAT NORTH RD, PT CHEVALIER
Pt Chev locals rejoiced when Okra's owners opened this compact, bright, cheerful space this year, serving Velo coffee and an array of cafe classics with a Vietnamese twist (good eating options have been limited around here over recent years). You can grab something from the cabinet but we suggest their sit-in menu; we crave their banh mi-style sandwich served in a warm, fresh, soft pretzel roll rather than a baguette.
BEST FOR: Brunch before a Pt Chev beach walk.
Velo coffee
TAKAPUNA BEACH CAFE
22 THE PROMENADE, TAKAPUNA
The beach is ridiculously pretty, isn't it? And the menu is ridiculously inviting, too (gnocchi with smoked fish, peas and a poached egg; pancakes with apple, lavender syrup and mascarpone, and yes, you can add bacon). Score a table here, in the sunshine on the deck or in the bustling but elegant interior, and that magic cafe thing is very likely to overwhelm you: for the moment, everything will be right with the world.
BEST DOG FRIENDLY CAFE
Allpress coffee
THE MIDNIGHT BAKER
218 DOMINION RD, MT EDEN
Some folk we know have visited The Midnight Baker almost every day since it opened. Everything on the menu is served on owner/revolutionary baker Yeshe Dawa's Freedom Loaf (original herbed or cinnamon chai for the sweeter dishes). You might think this menu is potentially monotonous but, in fact, each dish sings with its own wonderful flavour and texture and for a moment, balance is restored in the world. There are even a few options especially for the kids, and everything is priced so affordably that it's no wonder The Midnight Baker is attracting those who duck inside each and every day.
BEST TOAST
eighthirty coffee
VANIYE
1/7 WINDSOR ST, PARNELL
Sonia and Laurent Haumonte know the secret to baking macarons, croissants and baguettes to French perfection in the face of Auckland's humidity. It was one of the biggest challenges they encountered upon moving to Auckland from Paris five years ago, but they refused to give in to importing frozen equivalents. They fitted out their simple but sophisticated Parnell pâtisserie themselves and the main attraction is a cabinet of Cordon Bleu-trained Sonia's magnificent gateaux.
BEST FOR: Fresh French pastries and artful desserts.
Kokako coffee
WERE BROS
480 RICHMOND RD, GREY LYNN
Black coffee and posh toast are Carter Were's signature offerings. Were bakes her delicious loaves out of a tiny Grey Lynn shop, even supplying some of Auckland's major restaurants. Go for the pea and sheep feta number: peas and salty feta piled high on top of her ever-popular seeded sourdough. The chewy chocolate cookies are a great post-toast snack, and there are pickles, chutneys and flowers by Muck Floral to take away.
BEST FOR: Toast and a gift to go.
Coffee Supreme
Read more
The Metro Top coffee specialists in Auckland
This was first published in the December issue of Metro.
Follow Metro on Twitter, Facebook, Instagram and sign up to the weekly e-mail
THE BOTANIST
CITY WORKS DEPOT, 90 WELLESLEY ST, CENTRAL CITY
It's tucked into a concrete bunker and looks out on a car park, but overcoming problems like that is what turns the ordinary into the special. The Botanist is popular for breakfast, lunch and functions (and as a bar). Chef Sara Simpson covers the bases with an inventive and frequently changing menu (special favourite: chorizo, ham hock and chipotle braised beans with fried egg and sourdough), while florist Eden Hessel offers her beautiful arrangements right there in the shop.
BEST FOR: Original brunch food with easy parking.
Three Beans coffee
BREAD & BUTTER
34 WESTMORELAND ST, GREY LYNN (also at Ponsonby Central, Kitchener Rd, Milford)
The flagship cafe of Isabel Pasch's organic bakery has timeless appeal thanks to a lengthy, crowd-pleasing menu of well-executed cafe classics, which revolve around her additive-free loaves. The baking-themed dining room is large enough to satisfy huge demand.
BEST FOR: Hearty, crowd-pleasing cafe food with a strong organic focus.
Five Elements Espresso
CEREMONY
7 PARK RD, GRAFTON
Connor Nestor and Charles Williams started Ceremony so they could commune with likeminded musos and creatives, but their big, slobbery sandwiches appeal to all. They developed the perfect brioche bun with Il Forno bakery to contain their signature fillings, like a homemade pork and fennel sausage coupled with an over-easy egg, and their spiced vege patty with feta. A fortnightly mystery sandwich keeps the tiny kitchen on its toes.
BEST HANGOVER CURE (PORK AND FENNEL SAUSAGE WITH OVER-EASY EGG)
Flight coffee
CHARLIE & GEORGE
4/40 STONEFIELDS AVE, MT WELLINGTON
Alongside the mandatory (v)s for vegetarian and (gf) for gluten free, you'll notice lots of (k)s littered throughout the menu at Charlie & George, because kids are the kings here, and they're catered to with smaller portion sizes. There's also hopscotch, a board displaying children's artwork (colouring pencils on request) and Karma Cola spiders to drink. For the adults? Much-needed Kokako coffee (espresso, cold brew and chemex) and treat-yo-self buttermilk pancakes, blueberry waffles and bacon butties.
BEST FOR KIDS
Kokako coffee
CHUFFED
43 HIGH ST, CENTRAL CITY
Chuffed is a comfy cafe down a corridor, but it started life as a roastery, and cold-drip and batch-brew options proudly complement the espresso. The busy kitchen produces one of the best arrays of baked goods in the inner city — blood orange and rhubarb cake? Yes, please. And the menu is strong on specials. The seating is in a covered courtyard: quite a surprise when you thought you were entering the atrium of an office tower.
BEST FOR: Inner-city meetings.
Chuffed coffee
IMA
53 FORT ST, CENTRAL CITY
Yael Shochat has closed her cafe/restaurant at 57 Fort St and now operates out of larger premises a couple of doors along. There's lots of Israeli and other Middle Eastern deli food in the counter displays and chillers, and a welcoming main seating area at rear. Yael introduced Auckland to shakshuka, and her version of this baked egg and spicy tomato breakfast is still a wonder. The rest of the menu is pretty fine, too.
BEST FOR: Brilliant comfort food downtown.
Be.Specialty coffee
KISS KISS
1 ROCKLANDS AVE, MT EDEN
A Metro Top 100 cheap eat by night, when the kitchen is headed by Panawat "Erk" Chotamungsa, Thai influences flow onto Jasper and Ludo Maignot's daytime menu, with coconut, nashi pear, sticky rice and kaffir lime making regular appearances. A spacious, canteen-like dining room is also soundproofed, making breakfast and lunch a serene affair, even when it's busy.
BEST ROOM
Atomic coffee
L'ATELIER DU FROMAGE
5 McCOLL ST, NEWMARKET
The cheese alone is worth the trip to Newmarket: part of Maison Vauron , this gem continues to sell some of the finest French food and wine in Auckland. Grab a bottle of Vouvray and a cheese board to start. Follow that by ordering from chef Gilles Papst's menu: enjoy escargot in red wine, Toulouse sausage, or just a quiche from the cabinet or some very fine pâtisserie.
BEST FOR: Wine, cheese, terrine.
Allpress coffee
LITTLE BIRD UNBAKERY
1A SUMMER ST, PONSONBY.
(Also at 385 New North Rd, Kingsland, and 14 Customs St East, Britomart)
Pretty much every single item at Megan May and Jeremy Barnett's three raw-food outlets is… So. Damn. Tasty. How on earth do they do it? Actually, it starts with good earth: May's family helped to pioneer the organic movement in New Zealand. Her upbringing, combined with an environmental science degree and formal chef training, has informed her relationship with "the good dirt", resulting in raw food that's reached its sophisticated pinnacle. From tangy raw "cheesecakes" (which use nuts as a foundation) to satisfying "lettuce bun" kimchi burgers and thick, nutritious smoothies, her and Barnett's philosophy that food should taste as good as it is for your body is demonstrated with deliciousness rather than merely talked about.
BEST VEGETARIAN
Kokako coffee
LITTLE & FRIDAY
42 DOUGLAS ST, PONSONBY.
(Also at Belmont, Durham Lane in the central city, and Newmarket)
With three outlets across the city, Kim Evans' baking empire is no longer little, but her philosophy of serving generously portioned cakes and pastries fresh from the oven hasn't changed. Eyes will always be hungrier than stomachs here — a seductive cabinet of beautifully decorated cakes makes it impossible to choose. A short menu of six homely breakfast and lunch dishes, and the sunny Douglas St interior, makes eating in a pleasure, too.
BEST CAKES IN AUCKLAND
Coffee Supreme
MARY'S
13 ST MARYS RD, ST MARYS BAY
Come here when you just want eggs, cooked perfectly, on good-quality toast. That's not all they do, of course, but in 2016, the lack of artisan crockery and single-origin soft brew almost feels like a breath of fresh air. Mary's provides a satisfying sense of nostalgia, which is arguably why it goes down so well with the locals, often to be found drinking lattes in the courtyard. Reliable, busy, with quality food, friendly people and good Allpress coffee.
BEST FOR: Good ole eggs on toast.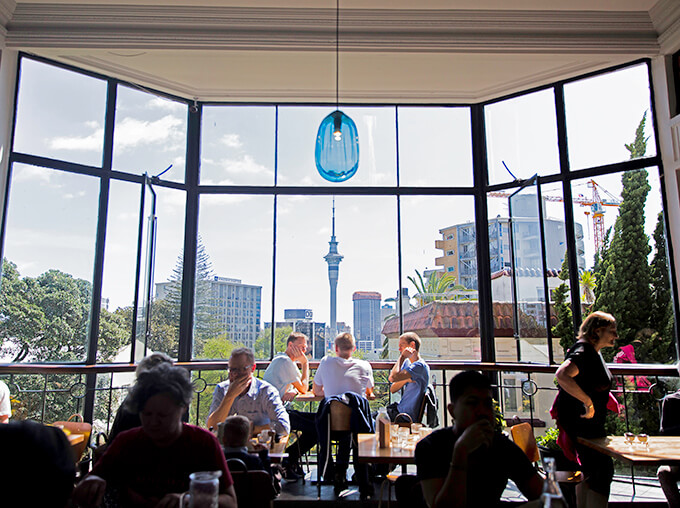 MAJOR SPROUT
21 GRAHAM ST, CENTRAL CITY
Serial cafe entrepreneur David Lee achieved a new level of brilliance when he opened this breezy, design-focused cafe this year. Hipgroup alumni work the kitchen and the floor — signature swift service and artistic swipes of colourful purées on the plate give them away. Lee's Korean heritage is celebrated with dishes like the beautifully fresh bibimbap with 62-degree egg and kimchi krepes. An emphasis on inclusion means your gluten-intolerant dining companion can order alongside your refined-sugar-averse pal without causing a fuss. The cakes are exceptional.
BEST FOR: Inventive cuisine at both ends of the healthy-eating spectrum.
Flight coffee
OAKEN
130 QUAY ST, CENTRAL CITY
It's one of the smartest dining rooms around and unlike many all-day joints, the design comfortably transitions. Remarkably, they manage to put up wonderfully inventive dishes at a competitive price point, which makes you feel all big-city cosmopolitan. There's a lot of egg on the breakfast menu but thankfully it's joined by star touches such as wagyu bresaola, aged ricotta or perfectly seasoned minced mushrooms, and your choice of sourdough or
seven-grain bread. At lunch you can order crispy battered piper — hallelujah for interesting fish options.
BEST FOR: Lunch meetings on your own dime.
Allpress, Eighthirty or Peoples coffee
ROSEBANK KITCHEN
UNIT 1, 2 JOMAC PLACE, AVONDALE
This is not the cafe you expect to find somewhere industrial like Rosebank Rd. The fitout is sleek and modern, with food to match. Jono Clarke and Carlos Cumberbatch enjoyed long success at The Luscious Food Store in Te Atatu and this is their new joint venture. With an ex-Ostro chef at the helm, an ex-Little & Friday baker on the ovens plus Atomic coffee made to perfection, what's not to love?
BEST FOR: A swanky lunch out west.
Atomic coffee
TRUE FOOD & YOGA
19 TAMAKI DRIVE, ORAKEI
Nic and Kelly Watt always dreamed of opening a yoga studio, but no one knew how big that dream was until they opened True Food & Yoga, taking on the iconic but dated Tamaki Drive building that was formerly Hammer-heads and transforming it into an airy, clean space for nourishing the body and mind. Nic Watt's daytime menu is delicious and inventive, replete with super foods, but never at the expense of flavour — the green omelette with kale chlorophyll and linseed lavosh sounds like a science experiment but shouldn't be missed. You can order an Allpress coffee here, but it's much more fitting to get a matcha or golden latte, or to sip on one of the specially formulated tonics crafted by the Tonic Room.
BEST NEW OPENING
Allpress coffee
WELCOME EATERY
181 GRAFTON RD, GRAFTON
This weekday wonder continues to offer one of the best daytime restaurant experiences in the city, mostly for the benefit of the lucky folk who work in the building above. Despite losing two founding front-of-house stars to Europe this year, the crew at Welcome have managed to maintain a consistent level of charm and skill that keeps you coming back for more. The coffee is brewed masterfully and the menu, still crafted by chef Mark McAllister, always manages to find the balance between exciting and just plain yum.
BEST FOR: Meetings
Coffee Supreme
KOKAKO
RUNNER-UP, BEST CAFE
We admire the fact that Kokako — thanks to owner Mike Murphy's tireless commitment — busts a gut to lead on two fronts: it's often the first to bring new techniques and trends in coffee to Auckland and encourages us to learn more, but it also cuts a serious track in the jungle of often-conflicting information and opinion about fair/direct trade. We also love Kokako for giving us one of the most seasonally sharp menus (that also happens to be completely vegetarian) of any eatery in town.
537 GREAT NORTH RD, GREY LYNN
Kokako coffee
ODETTES
SUPREME WINNER- BEST CAFE
Plants flourish in giant concrete planters outside the former bus depot that houses Odettes. They set the tone for an interior that is in deliberate contrast with its shell. Comfortable, sofa-like seats line the edges of the room. Light streams in from the generous glass frontage during the day, making hand-blown glass lampshades seem fanciful rather than functional, while blond wood panelling adds another comforting textural dimension. Odettes is a grown-up bubble of escapism.
Shortly after Clare and Joost van den Berg opened the all-day eatery in 2014, Clare went on maternity leave, entrusting the day-to-day management of the business to Poi Eruera. With the assistance of Lauren Fitzpatrick, Eruera runs a tight ship, drawing on a wealth of hospitality experience to oversee 55 staff and a variety of services.
Head chef Josh Kucharick, a Québécois who has worked in kitchens around the world, has also been with Odettes from the start. He expresses his passion for travel on the plate with highly original dishes that borrow from global cuisines. His four daytime menus (morning, noon, afternoon, brunch) are all pitched perfectly to the occasion, in portion size and level of indulgence.
The herbed scramble with grilled halloumi, date leather and apricot salsa, served with a slice of The Midnight Baker's Freedom loaf, is one of the best egg dishes in the city; the balance between silky and chewy, salty and sweet is just right. The Tongan vanilla crêpe is naturally the most Instagrammed: light-as-air layers of sweet batter are gently heaped like a fallen parachute. At lunch, everything's designed to share, from tender, wood-fired Hawke's Bay lamb shoulder with ginger yoghurt and nuts, to colourful plates of garden greens made rich with porcini powders, gorgonzola buttermilks and truffle vinaigarettes. Homemade sodas and teas round off the garden-to-table experience, and in summer, lunch on the concrete patio demands a glass from the well-selected wine list, or a Honeyed Highball, a Chamomile Southside or simply a G&T, served with ribbons of cucumber.
At Auckland's best cafe, they remember your name. That's a big achievement for a cafe of this scale, and it's down to tricks like storing the coffee orders (their own blend) of surrounding office workers on an iPad at the front desk. And magically, that very contrived act doesn't feel contrived, because Eruera's jokey mantra "one team, one dream" results in staff who visibly enjoy what they're doing.
Coffee, Odettes blend
CITY WORKS DEPOT, 90 WELLESLEY ST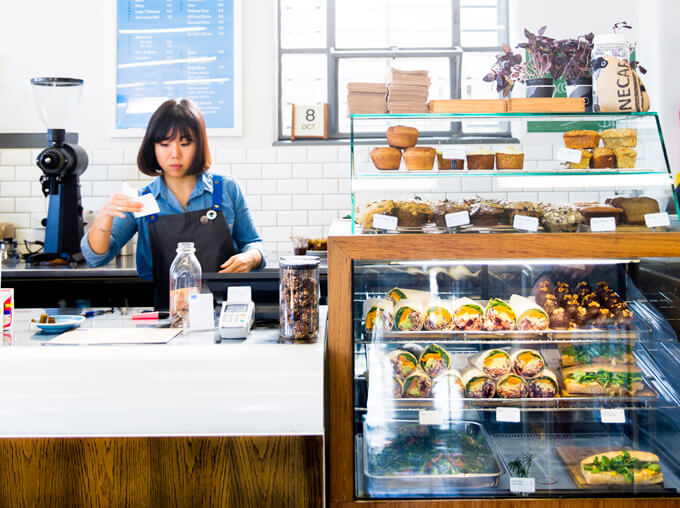 ROSIE
82 GLADSTONE RD, PARNELL
Rosie strikes the perfect balance of just about everything — sharp, friendly waitstaff, a relaxed buzz in smart surrounds and chef Mike de Vries' menu packs in plenty of wholesomeness built around good-quality filling proteins. Much of the produce used comes from Hipgroup's own farm, and meat is butchered at their Matua Valley site, so they offer interesting cuts you won't readily find elsewhere, as well as their own charcuterie.
BEST FOR: Spring lunch followed by a fragrant walk through the Rose Gardens across the road.
Allpress coffee
ST HELIERS BAY CAFE & BISTRO
387 TAMAKI DRIVE, ST HELIERS
There was an outcry when the building that houses this cafe was erected. Didn't fit the suburb, the locals said. But look at it now. The cafe is always full — largely of locals — and the restrained modernist elegance feels like the very epitome of this beach suburb's upmarket appeal. It's a Hipgroup joint, so the food is great and the service attentive, and the view through pohutukawa to Rangitoto is as lovely as they come.
BEST FOR: Lunch away from the city.
Allpress coffee
SCRATCH HEADQUARTERS
5 GRAHAM ST, CENTRAL CITY
Theirs is the first cabinet to be filled each day with Scratch's signature tarts, pies, brioches and doughnuts before orders are met across the city. The roomy, comfy cafe is a dangerous place to find yourself with a 3pm sugar craving, which must be a daily battle for workers in the densely populated corporate buildings that surround it. Order from the menu if you have time and be pleasantly surprised by originality that changes with the seasons.
BEST FOR: An indulgent morning tea.
Three Beans coffee