Jan 6, 2016 Cafes
Click here for the best cafes in Auckland 2018
The ideal weekend morning involves one of two options. An early-morning trip to the markets for bread you can't resist eating a chunk of, fresh eggs, avocado, fruit and coffee beans ground right there.
Then all whipped up into breakfast enjoyed in bed, on the sofa, around the table or in the garden. Maximum admin, but with the added perk of being able to instantly indulge, during the soporific aftermath, in a nap.
The second option is to sleep in until an unrespectable hour, walk to a cafe and find your vision suddenly clear with the first welcome sip of espresso/cold brew/filter coffee. After agonising over which adventurous dish to order from an original and thoughtful menu, you take a moment to sit in companionable, hungry quiet with a newspaper. The chairs have backrests, the acoustics are soft and the music is at just the right volume. Food is served by friendly staff who get a vicarious kick out of presenting perfect dishes and who balance pride with demonstrable gratitude for your custom. They get it: you could be eating at home right now, or at the cafe two doors or two suburbs down, but you've returned to your local to be charmed once more. There's no sense of being rushed out the door. More drinks are suggested and the conversation seamlessly evolves from sleepy to lively. The day has started in a way weekdays can never compete with
The job of a good cafe is to make the second option forever more appealing than the first, and to be the ideal choice on weekdays and at lunchtime too. Our judges have spent months whittling down a list of more than 200 Best Cafe contenders to just 50. We've learned a lot.
Mondays, Kingsland.
In 2015, Auckland's cafes have gone the way of this year's new movies — lots of sequels but few original blockbusters. Harbour Bridge phobics rejoiced when Little & Friday took over Good One on Douglas St, and opened a tinier-than-tiny Tuck Shop on Durham Lane; doughnuts are no longer a bridge too far. Meanwhile, the owners of 2014 Top 50 cafe Zomer expanded to the City Works Depot with all-day eatery Odettes, taking the whole complex on holiday to the Mediterranean in the process. The Hip Group's empire-building has slowed, however, and this year a notable absentee from our list is Richmond Road Cafe. The food is still good, but Hip Group can do better than uninspiring décor and too-often-soggy cabinet sandwiches.
A top 50 cafe should be good irrespective of location: it may be the best of a bad bunch in a suburb, but it doesn't get on the top 50 list just because it's the only stylish cafe in, say, Titirangi. You'll note Deco Eatery, Little King and The Tannery didn't make the grade this year. We so badly wanted their suburbs to have truly excellent cafes — they deserve them — but there's no excusing poor service and dull menus in a year defined by innovation.
That's not to say a good cafe requires a constantly changing menu, but it has to excel consistently. That's the case for L'Oeuf and Dizengoff , whose dishes were fit for purpose from day one. We're very glad the egg dish The Nest is still ready for its Instagram close-up in Mt Albert, and that Dizengoff's mushrooms on toast are maintaining equilibrium on Ponsonby Rd.
This year, we realised what we wanted from a great cafe coincided a great deal with what we wanted from a great restaurant. Our supreme winner will take some by surprise, but we're absolutely ready to justify it.
Outstanding service makes a good cafe. Federal Delicatessen are the masters of training staff to have personality without an alienating layer of attitude. This results in an experience that always feels personalised which, given some of your responses to Metro's recent tweet (10 cafe trends that need to die), really is the crux of the matter.
So, here it is: the places where we think you'll get all your breakfast, lunch and coffee needs fulfilled. And then some.
Atomic Roastery
420C New North Rd, Kingsland
Atomic still sets the pace for industrial chic: a big open room with polished concrete, steel and glass, offset by school-style furniture that is big enough to sit comfortably at, and with a long row of seats outside in the sun. The menu is short and smart, but it's the counter food that shines. As for the coffee: whatever you like, they do an excellent version of it. Also in Shortland St in the city.
Must-try: Caneles: crunchy caramelised pastries with a custardy centre.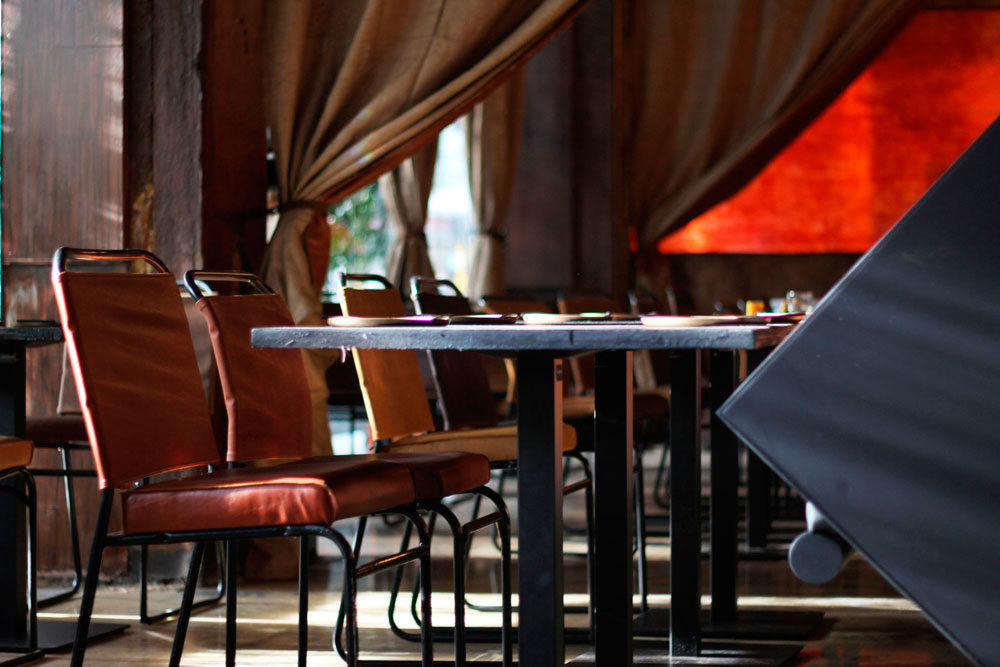 Beirut
85 Fort St, central city
It's a popular new restaurant by night, but in the morning Beirut opens for breakfast with a delectable array of sweet and savoury treats from the Levant: watermelon and orange-blossom salad; flatbreads with sausage or soft-boiled eggs; the cigar pastries called borek, filled with haloumi and mushroom… They have herbal and fruit teas, coffee by eighthirty and their wonderful "shrub" fruit cocktails. Sans alcohol, of course.
Must-try: Freekeh: caramelised lavender porridge with baklava flakes & plum.
Bluebell's Cakery
67B Frances St South, Eden Terrace
Beware the chocolate-and-coconut-flake-covered cupcake; you think lamington but you get full-on heavy chocolate heaven. Baking queen Karla Goodwin's new and pastelly pretty flagship cafe offers a gorgeous array of cakes, slices and sandwiches, just over the road and yet somehow on a completely different planet from the Kings Arms. Also in Hillsborough.
Must-try: Banana and salted caramel cupcake.
Best Ugly Bagels
City Works Depot, 90 Wellesley st, central city
A vocal production line of lively staff bring theatre to hand-rolled Montreal-style bagels at Al Brown's first dedicated store. Attention to detail is there in every item on the menu, including the Havana coffee, which is unbeatable in the hands of Best Ugly's excellent baristas. Seating at this converted workshop is mostly semi-outdoor, meaning the roaring open fire is welcome in winter.
Must-try: The Yodi: pastrami, habanero mustard, Swiss cheese & pickle.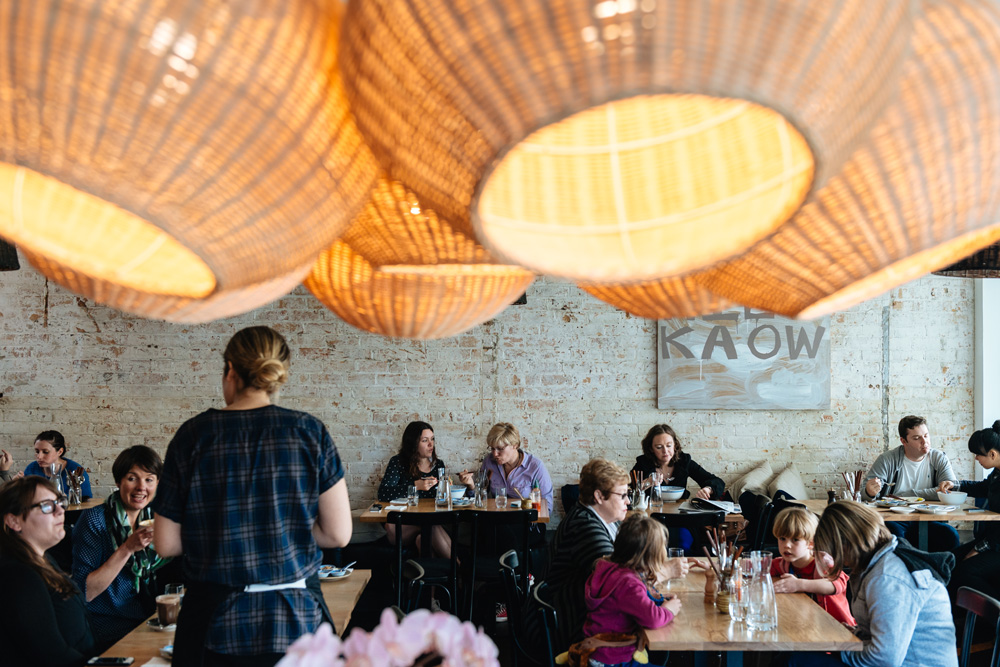 Bolaven
597 Mt Eden Rd, Mt Eden
The fact that Bolaven, with its smart plywood and dark floors, has the best Lao food in the city (owner Sip Mouanlath's parents emigrated in the 70s) is almost beside the point. There are fresh juices and brilliant coffee, along with one of the city's best phos and a fantastic dish of fried eggs and sticky rice, served with chilli, sticky soy and Lao tomato chutney: it's Sip's kids' favourite, and best eaten with your hands.
Must-try: Pho, beef or vegetarian.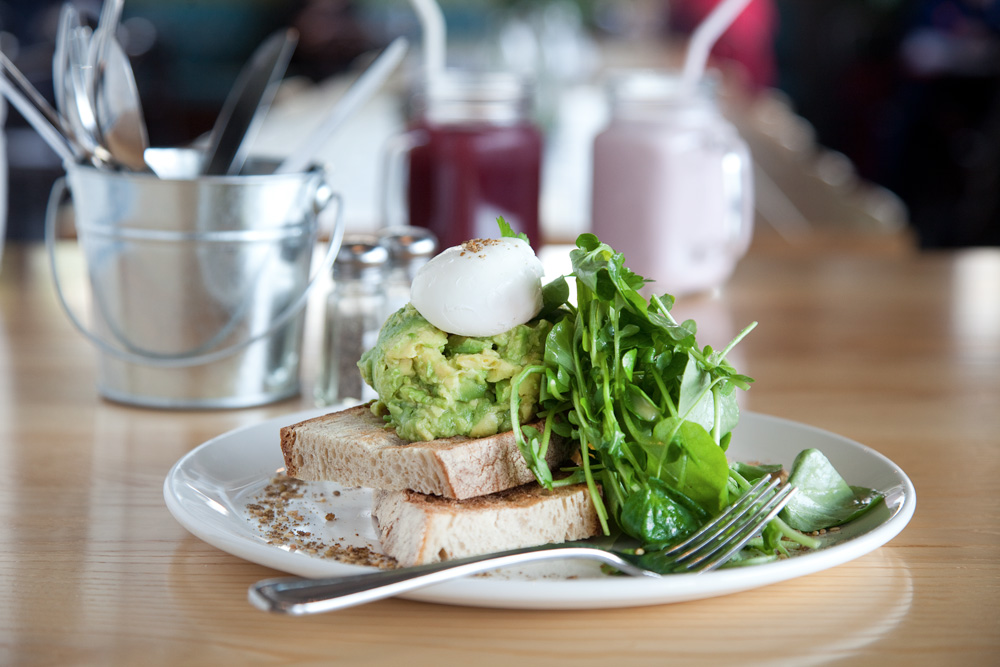 Bread & Butter
34 Westmoreland St, Grey Lynn
When Isabel Pasch moved to Auckland, she felt the only thing missing from her new life was good German sourdough, and so, with no baking experience, she started Bread & Butter Bakery. The Grey Lynn flagship is a huge airy space, with a cabinet filled with freshly baked organic bread and a lengthy menu of family favourites from waffles to stone-oven pizzas.
Must-try: Eggs on toast with bratwurst.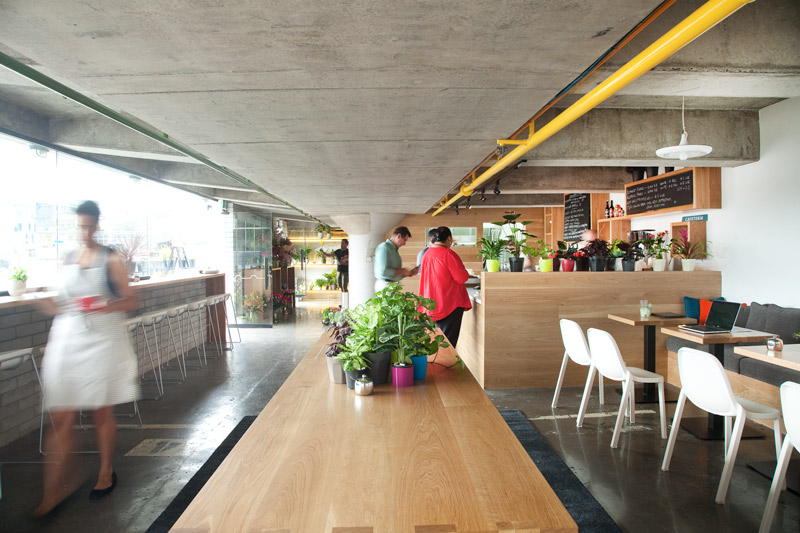 The Botanist
City Works Depot, 90 Wellesley St, central city
The salads are big and bursting with flavour; they do a mean reuben and their bowl of meatballs in sauce is justifiably famous. The coffee's great, and the staff are chosen only after many hours of selection designed to ensure they're really nice, and really good at looking after you. And though it's in a car park, you can lift your eyes, because there's a very nice view of the plane trees of Victoria Park.
Must-try: Rueben sandwich.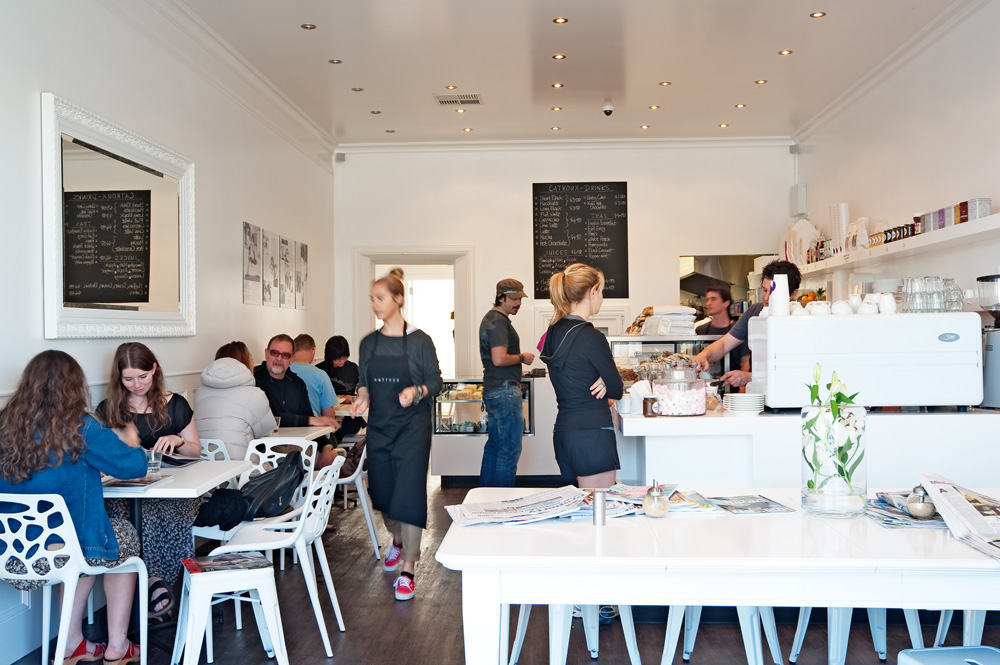 Catroux " width="654" height="435" data-mce-src="https://www.metromag.co.nz/images/uploads/ff5a422e-d5b9-4bda-b844-f1bc7da077e0-MT1011Food-DSC_3049.jpg">
Catroux
29 West End Rd, Westmere
What Catroux misses out on, not having either a view or sunshine, it brilliantly makes up for with the food and the warm, welcoming atmosphere. Adele Jenner serves big bowls of vigorously fresh salad, delectable cakes with an obvious commitment to gluten-free options like almond and orange, and eggs done every which way. The place is light, white and very child friendly.
Must-try: Scrambled eggs with ham & gruyère.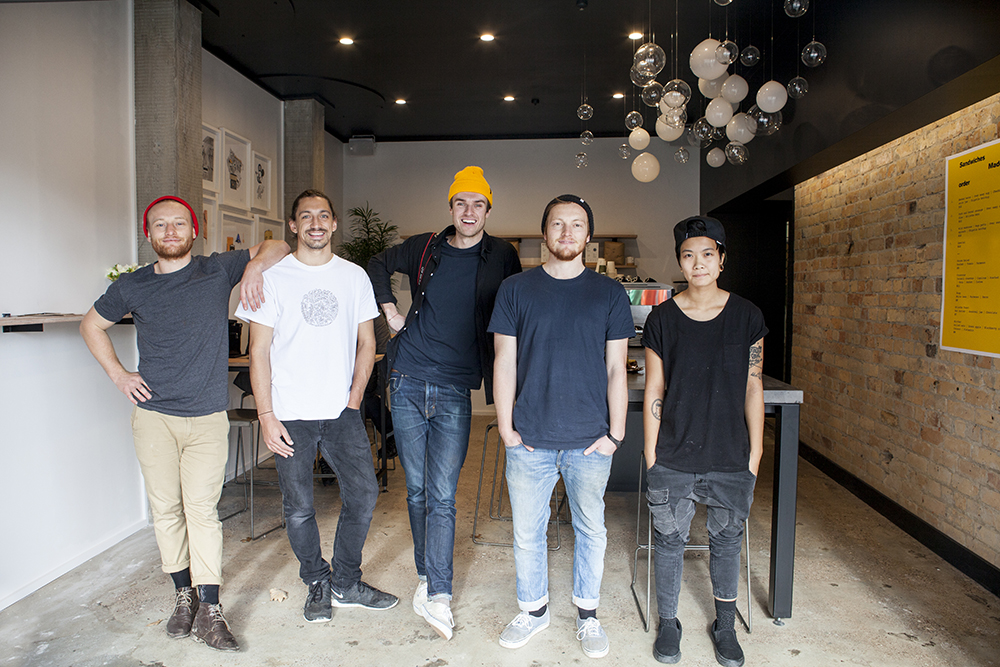 Ceremony
7 Park Rd, Grafton
There are custom mugs for your single-origin filter and an effusive welcome from co-owner Connor Nestor, and they like their guests to choose which vinyl to put on the record player. There's a tiny kitchen, from which come genius buns: the sausage bun comes with pork-and-fennel sausage and a fried egg. Grafton residents and anyone who works at the hospital will feel blessed.
Must-try: Pork & fennel sausage sandwich.crambled eggs with ham & gruyère.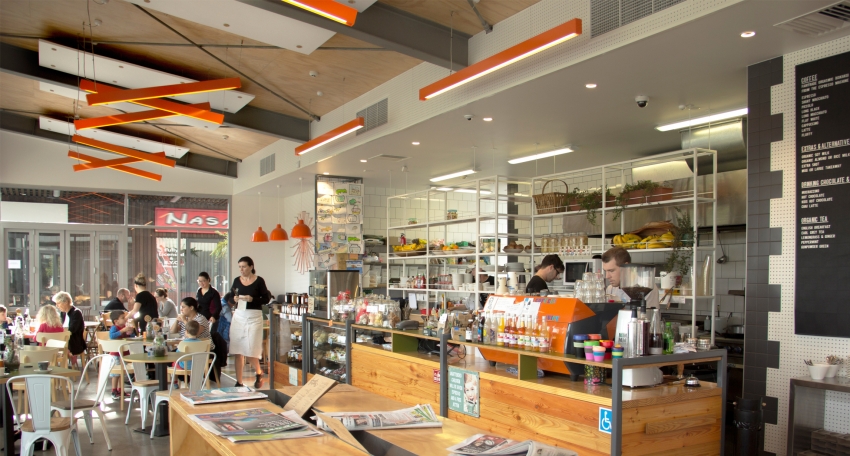 Charlie & George
38-60 Stonefields Ave, Mt Wellington
Tempting organic treats abound in the cabinet at this suburban cafe, perfect for rewarding a workout on the netball courts down the road, alongside hearty full breakfasts. The banoffee smoothie is one for the kids but the delicious Caffeinator —cold brew coffee, LSA and honey, topped up with caramel and avocado — is for you and you alone.
Must-try: Buttermilk pancakes with tamari honeycomb butter, banana & maple syrup.
Chuffed -11.jpg" data-mce-href="https://www.metromag.co.nz/images/uploads/81c070ac-5c1d-4ee0-85fe-42c1695261a3-Chuffed-11.jpg">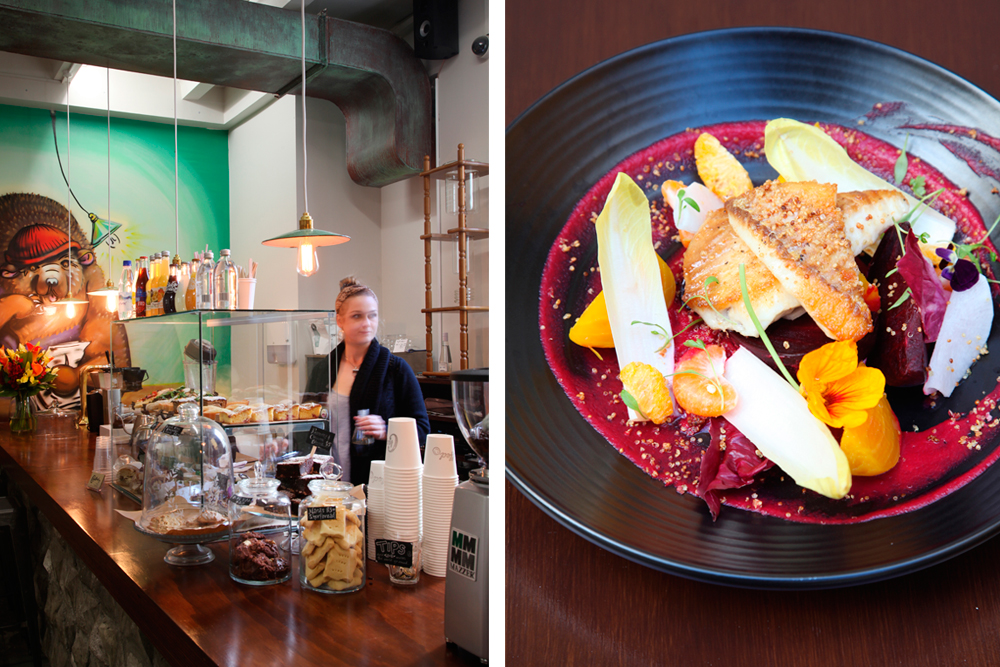 Chuffed
43 High St, central city
Down in the heart of the city it's not as easy to find a great cafe as you might think. So we're extra chuffed about this place, haha. Entered from a long, narrow foyer, with most of the seating in a big covered courtyard out the back, it's folksily informal, but with an unwavering commitment to good food.
Must try: Charred brussels sprouts with anchovies, eggs, almond & raclette.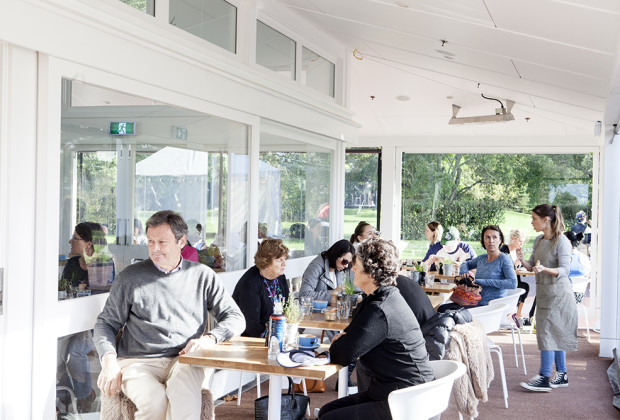 Pohutukawa Drive, Epsom
The primary draw is the location, which is spectacular, the cafe enveloped by the manicured greens and majestic trees of the park. Chef James Kenny's menu is surprising, seasonal and well priced. It's family friendly, particularly in the warmer months when the ice-cream truck outside becomes a fixture. A word of warning though: a worthy cafe in this location is so overdue that it's often too busy for its own good.
Must-try: Black pudding with egg, peas & watercress.
Dizengoff
256 Ponsonby Rd, Ponsonby
Dizengoff is remarkable both in its longevity and its consistency and that's why it works: the flat whites still come in little glasses, the coffee is still excellent and the menu is loosely Jewish, from the puffy white bagels to the salmon eggs. Pole position remains one of the tables outside on the footpath, with a long black.
Must-try: Mushrooms with pesto on toasted sourdough.
eighthirty
Ground floor, 35 High St, central city.
Boutique coffee roaster eighthirty's new flagship store resides in the back of a beautiful 1920s building on High St. The interior is refreshingly unique (goodbye German beer hall tables!), with bright pink and white patterns by artist Yolunda Hickman spanning the walls and upholstery. The real star of the show is a luminous La Marzocco, at the hands of some of Auckland's best baristas. Go for the coffee, stay for the décor (and on weekends, Liège waffles by Waffle Supreme.)
Must-try: Espresso & tonic.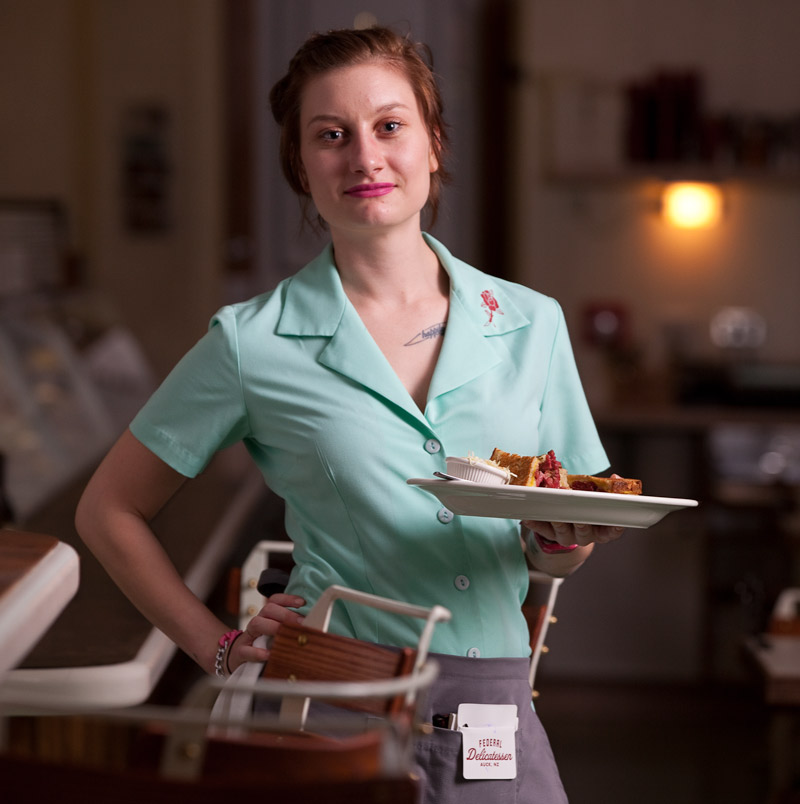 Federal Delicatessen
86 Federal St, central city
No one here will judge you for ordering the same thing as your friend (the chicken sandwich with dipping gravy), even if there are 10 of you. Over-order on the poutine, squeeze in the baked cheesecake, and you'll roll out the door in true Fed Deli style. Testing the limits of your greed, you will return again and again at breakfast, lunch and dinner, for the outstanding service, the New York deli fit-out and the life-restoring Deli Marys.
Must-try: Chicken salad sandwich with chicken skin "crackling" and dipping gravy.
Coffee Supreme (no espresso)
3/78 Coates Ave, Orakei
Owned and operated by Dan Shaw and Jacqui Crichton, previously of Dizengoff, it's clear Good Day knows how to look after its regulars. You'll often find them sitting here, Macbooks open, drinking Coffee Supreme filter from Temuka mugs and nibbling smashed avocado on five-grain, or the latest special.
Must-try: Sardines on toast.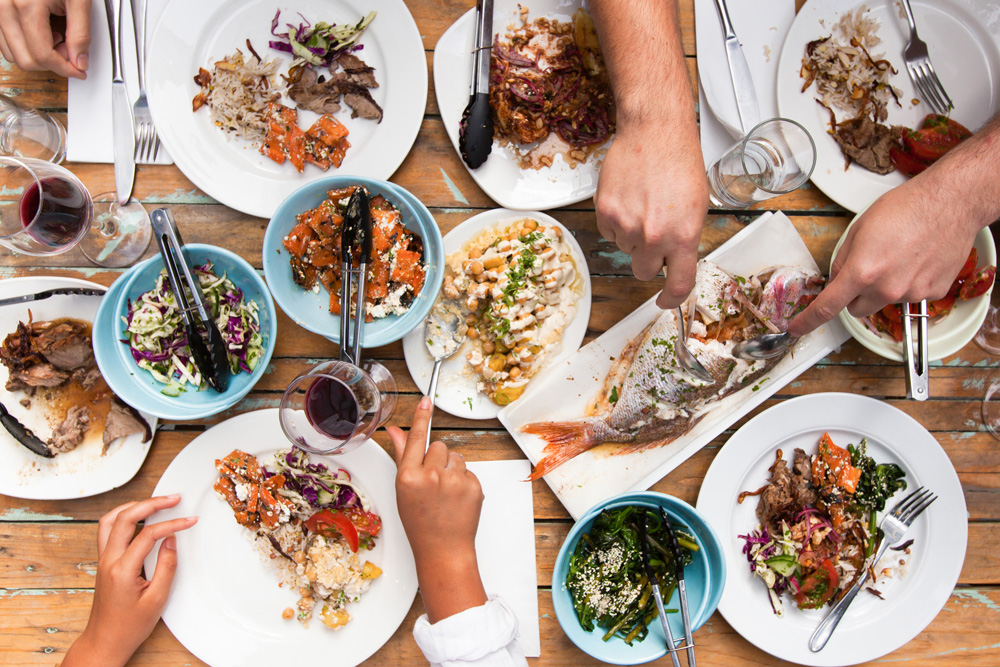 57 Fort St, central city
Yael Shochat opened this place just a couple of doors along from Ima restaurant, and now she has closed the restaurant to focus on the deli. The food is homestyle in the purest, love-filled way — assuming the home you grew up had a kitchen run by a Jewish mama who knew the best way to keep you wholesome and honest and entranced with the world was to feed you well. But because most of us, here at least, didn't have that, we have Shochat instead. The deli is bigger and bolder than the old place, with cabinets full of goodies, and it's all the more delightful for it.
Must-try: Shakshuka baked eggs.
Jam Organic Cafe
33-45 Hurstmere Rd, Takapuna
First, walk the beach, then order any combination of free-range eggs/salmon/bacon/smashed avocado, house-made raita on sourdough or five-grain toast, twinned with freshly juiced spinach, kale, cucumber, apple and lemon. Portions are big. You may have to walk the beach twice.
Must-try: Jam-style eggs.
Kohi beach cafe
2/237 Tamaki Drive, Kohimarama
There are disappointingly few good cafes on the Auckland beachfront, which is all the more reason to give praise for this one. Gorgeous food, great on-their-toes and super-friendly staff, and look, there's Rangitoto, just beyond the pohutukawa, right in front of you. So lovely.
Must-try: Beetroot, ricotta insalata, hazelnut & cress.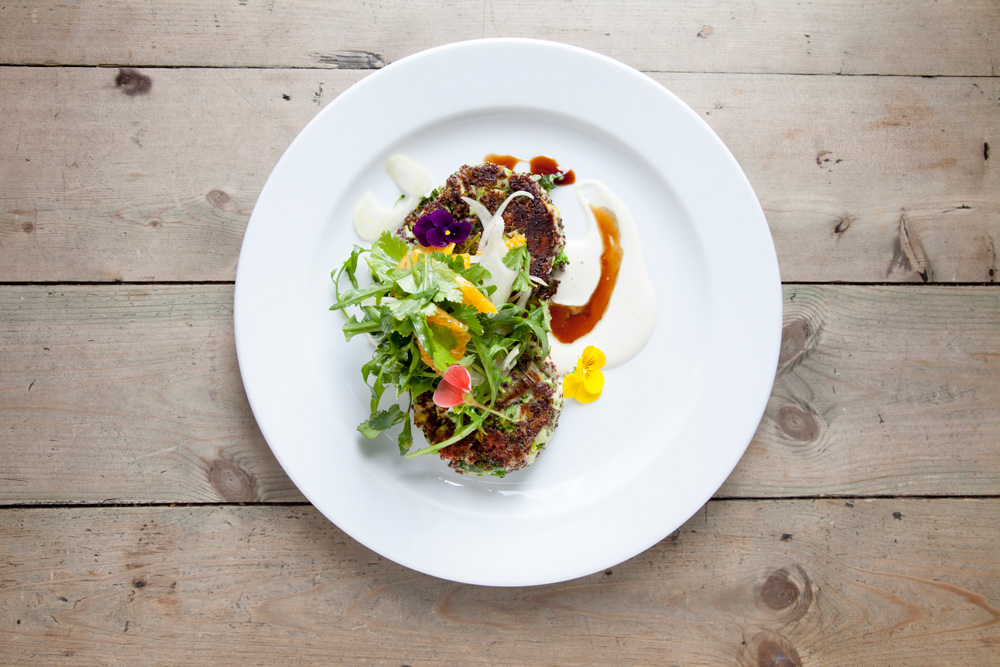 Kokako
537 Great North Rd, Grey Lynn
Skip the cabinet food and eat from the seasonal menu for substantial vegetarian food that's flavourful enough for bacon cravings to quickly be erased. The roaster of this ethical coffee company was moved from the flagship cafe last year, so there are now more places to sit and enjoy single-origin brews in a thoughtfully repurposed ex-post office.
Must-try: Mushroom ragout with herb risotto cake & parmesan.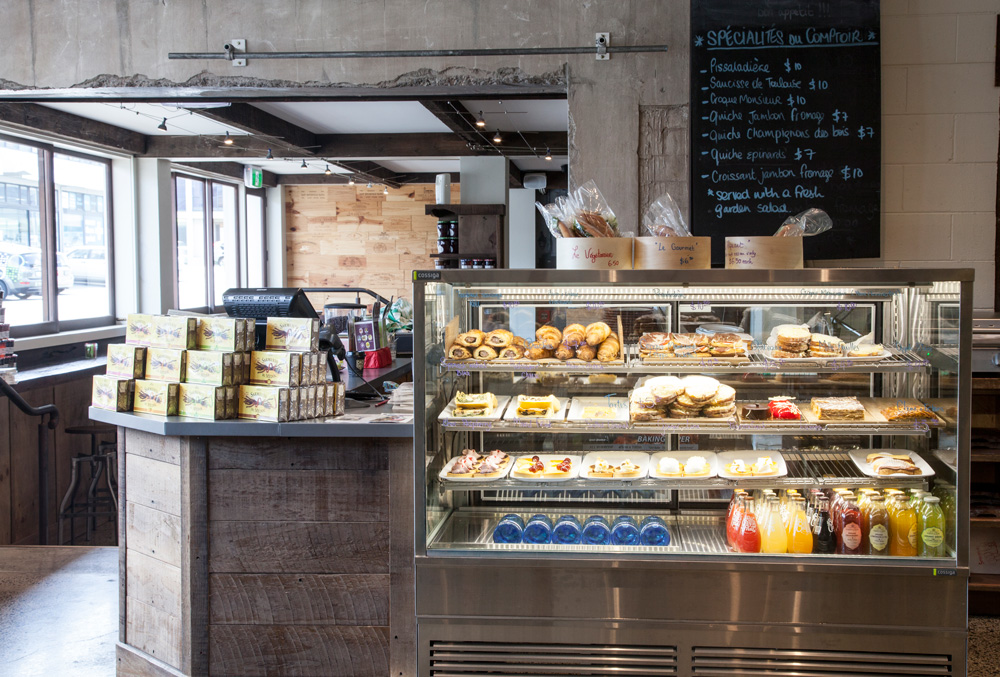 L'Atelier du Fromage
3-5 McColl St, Newmarket
How charming, to sit in the back streets of Newmarket and feel like you're in Provence, to linger over your terrine while watching great wheels of camembert age in the cheese room. Renovations have allowed additional seating in this charcuterie, fromagerie and cafe, and there's a new menu by chef Gilles Papst.
Must-try: Salade des jeunes légumes & fromage chèvre.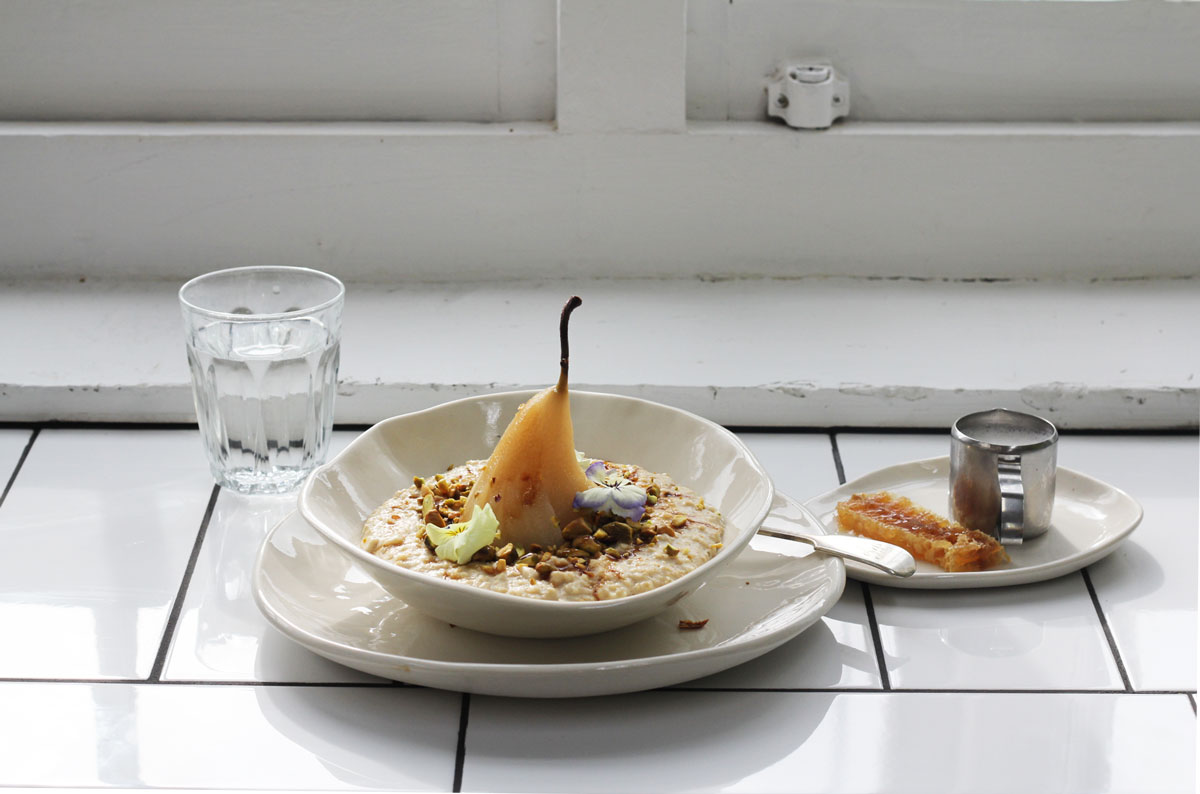 Little & Friday
42 Douglas St, Ponsonby
This roomy cafe opened in July in the former home of Coffee Supreme's Good One, meaning there are now four city outposts for Kim Evans' "oops, I ate the whole thing" jam doughnuts. Alongside a bountiful cabinet of baked treats is a short daytime menu designed by ex-River Cafe chef Sophie Beck, comprising seasonal takes on breakfast and lunch classics. Also in Belmont, Newmarket and Durham Lane.
Must-try: Toasted crumpets with whipped butter & blackberry compote.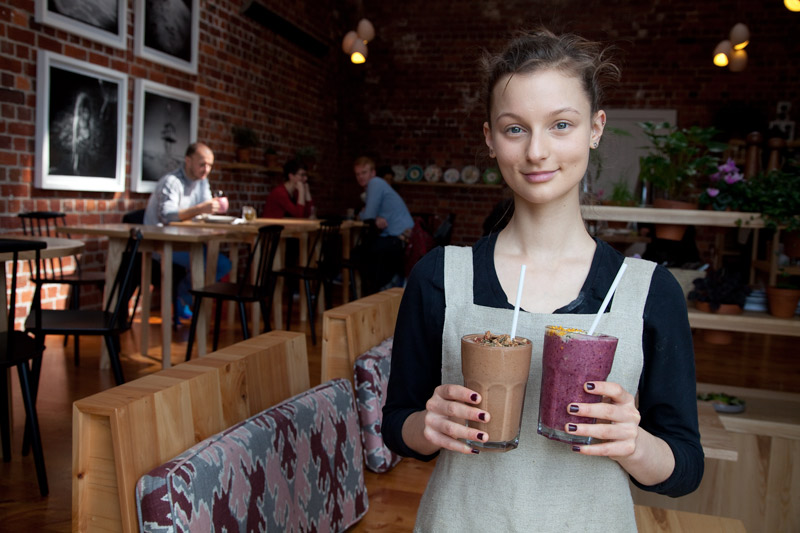 Little Bird Unbakery
1a Summer St, Ponsonby
The originators of the "unbaking" trend in Auckland, Megan May and Jeremy Barnett, are the real (raw, unprocessed, organic) deal. Until they started turning nuts into all manner of substitutes for dairy- and gluten-riddled meals, it was hard to believe food could taste as good as it made you feel afterwards. With a drinks menu that reads like a witch doctor's inventory, and oxymoronic decadent raw cheesecakes, it's easy to feel virtuous here, even if you're a bit hungover.
Also in Kingsland.
Must-try: Seasonal bird bowl: salad of vegetables, seeds & nut
Little Sister
91 Central Park Drive, Henderson
The counter here is one of the finest in the city, letting the eyes feast before the tastebuds get their turn. It's the handiwork of baking queen Fran Carson. Staff are lovely and obliging to those of us who get caught in a meringue-induced trance while attempting to order. The menu has a Southeast Asian influence from Fran's time living in Bali, and there are plenty of luscious salads.
Must-try: Doughnuts with strawberry balsamic compote & whipped cream.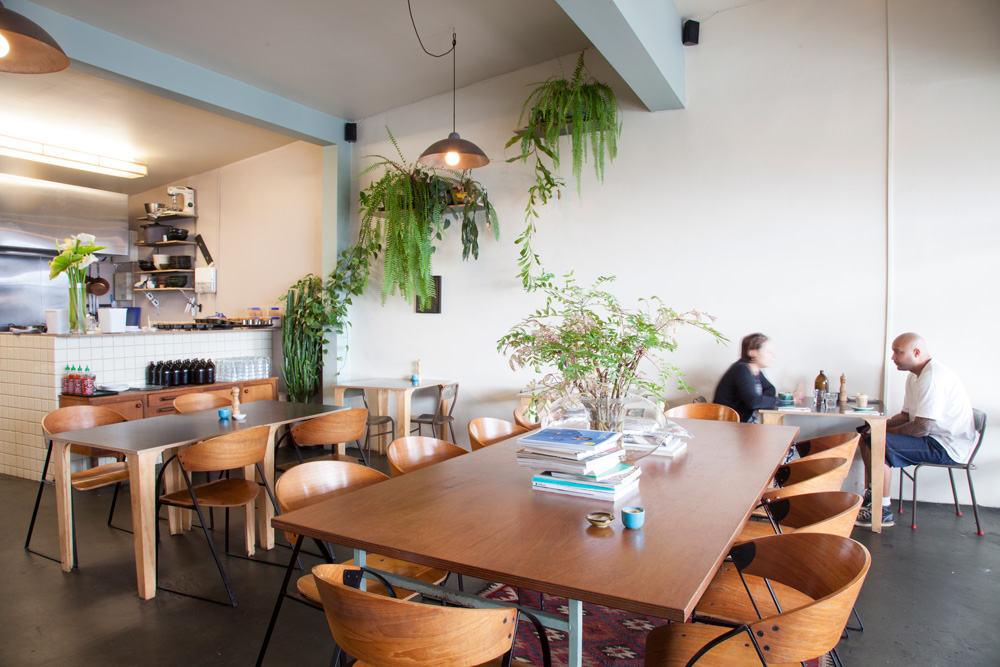 L'Oeuf
4a Owairaka Ave, Mt Albert
You can't make an omelet without breaking eggs, but L'Oeuf proves you can make an astonishingly good crumbed boiled egg. The neighbourhood cafe justifies its fancy French name (as do the l'oeufly puns that ensue) with a menu that hasn't changed much in the two years since it opened because it hasn't needed to. Each dish is intriguingly named ("The Russian", "The Nest", "The Hunter"), with an accompanying fairytale-like backstory, exemplifying the thought that French chef brothers Jasper and Ludo Maignot and Kiwi co-owner Celeste Thornley have put into every element of this near-perfect cafe.
Must-try: The Cambodian: black rice & salted coconut cream with lychee & kiwifruit.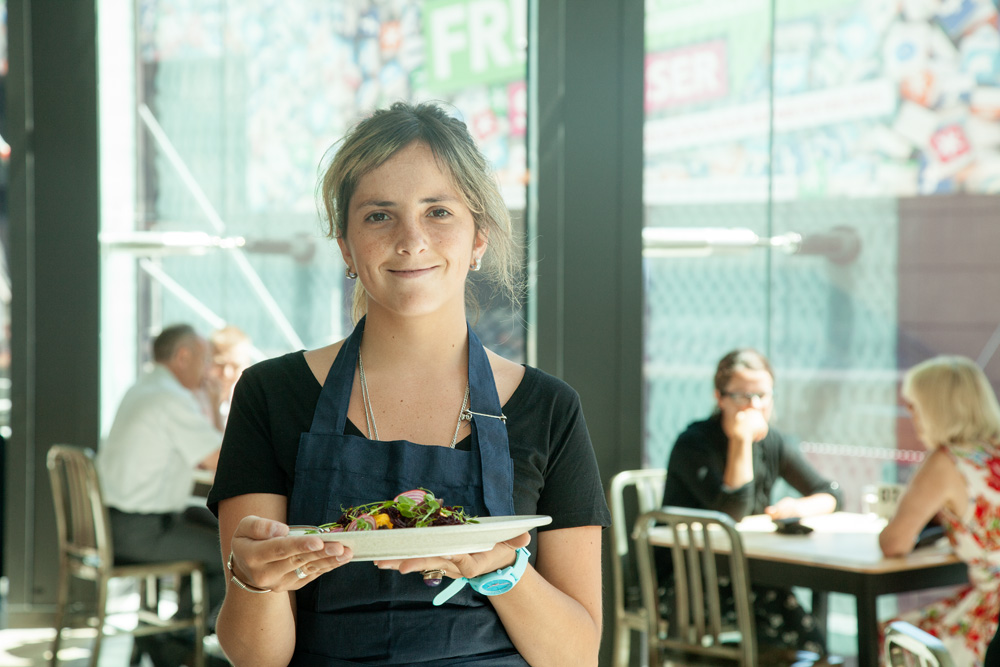 The Lunchroom
Level 1, 45 Queen St, central city
Floor-to-ceiling windows look down onto chaotic Britomart, but wooden furniture, marble floors and an open kitchen help this corporate cafe to feel luminous, calm and friendly. It's a perfect spot to work in, not least because the Kokako coffee is worthy of a hearts-for-eyes emoji. Considered, restaurant-quality dishes are created using local ingredients by chef and owner J.J. Holland. Open weekdays only.
Must-try: Gnocchi with mushroom, smashed eggs, parmesan & truffle oil.

Mary's
13 St Marys Rd, st marys bay
With a lineage that stretches back through the Shore Rd Cafe to Jaffa and Benediction, Tim Tohill has a most honourable name in the Auckland cafe scene. His newest offering is in the premises formerly known as Soto, now lighter and opened more fully to the lovely courtyard at the back, where he serves cafe classics (the eggs, the salads, the baking) to a very high standard. It's child-friendly, and very smart.
Must-try: Power salad with poached egg.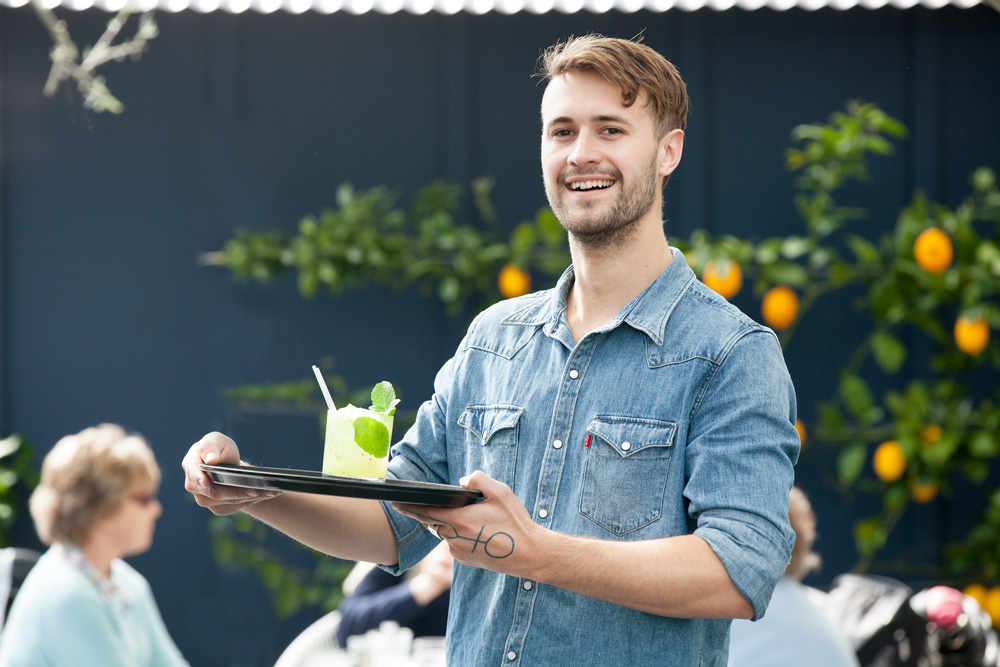 Meadow
20 St Johns Rd, Meadowbank
Owners Dana Johnston and J.P. Schmidt have an 8ha farm in Clevedon, and
new head chef Stephen Smith's first order of business was to plant it with summer produce, which now supplies Meadow's kitchen and drives the seasonal menu. The coffee is Allpress and it's well made, the service is attentive, and the locals clearly love a Wagyu burger, at any time of day.
Must-try: 64-degree eggs & soldiers with dukkah, pomegranate, yoghurt & pide.
460 Lake Rd, Takapuna
How to feel all warm and fuzzy: find a corner here and kick back with a colourful, vegetable-filled lunch, a Kokako coffee and a copy of Monocle. Owned by Japanese expat Mayumi Abe, Mimosa has a few home-country nods on the menu, including the cult-favourite curry, and everything is vegetarian, fair trade, and organic where possible, with lots of vegan options. (Mimosa is one of just a handful of Conscious Consumers-accredited cafes in the country.) The smoothies are excellent.
Must-try: Coconut french toast.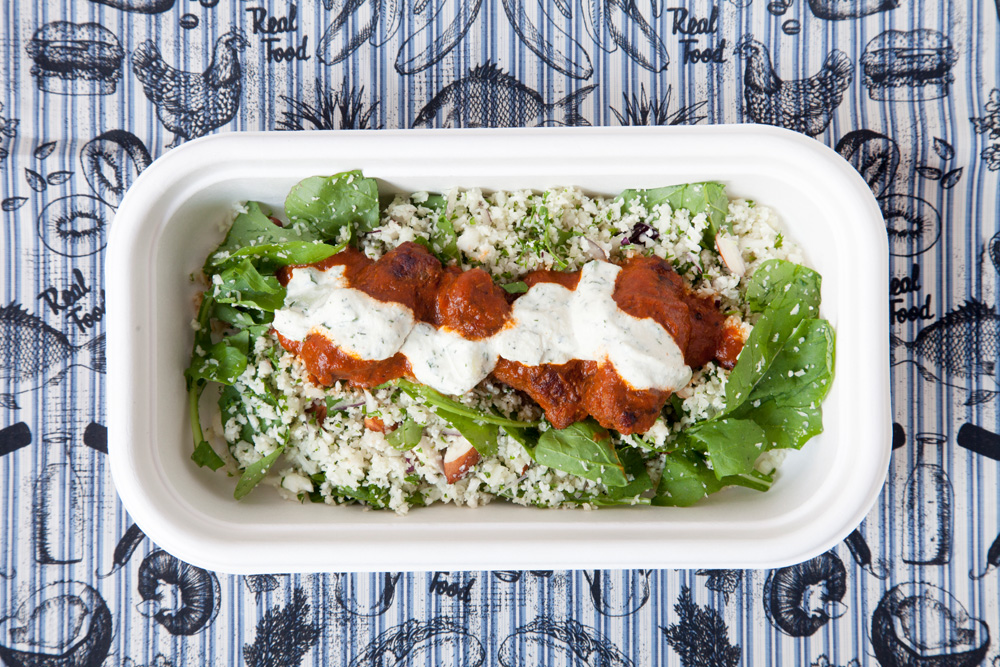 Misters
12 Wyndham St, city
Misters offers healthy dishes and caters to every imaginable dietary restriction, but that's not why we love it. We go back because the flavours are punchy and surprising and the eco-warrior ethos of the place is so genuine. They make coffee using Merito Espresso beans served with a selection of nut "milks", and the team have such evident enthusiasm for what they do that it's infectious.
Must-try: Crispy tofu.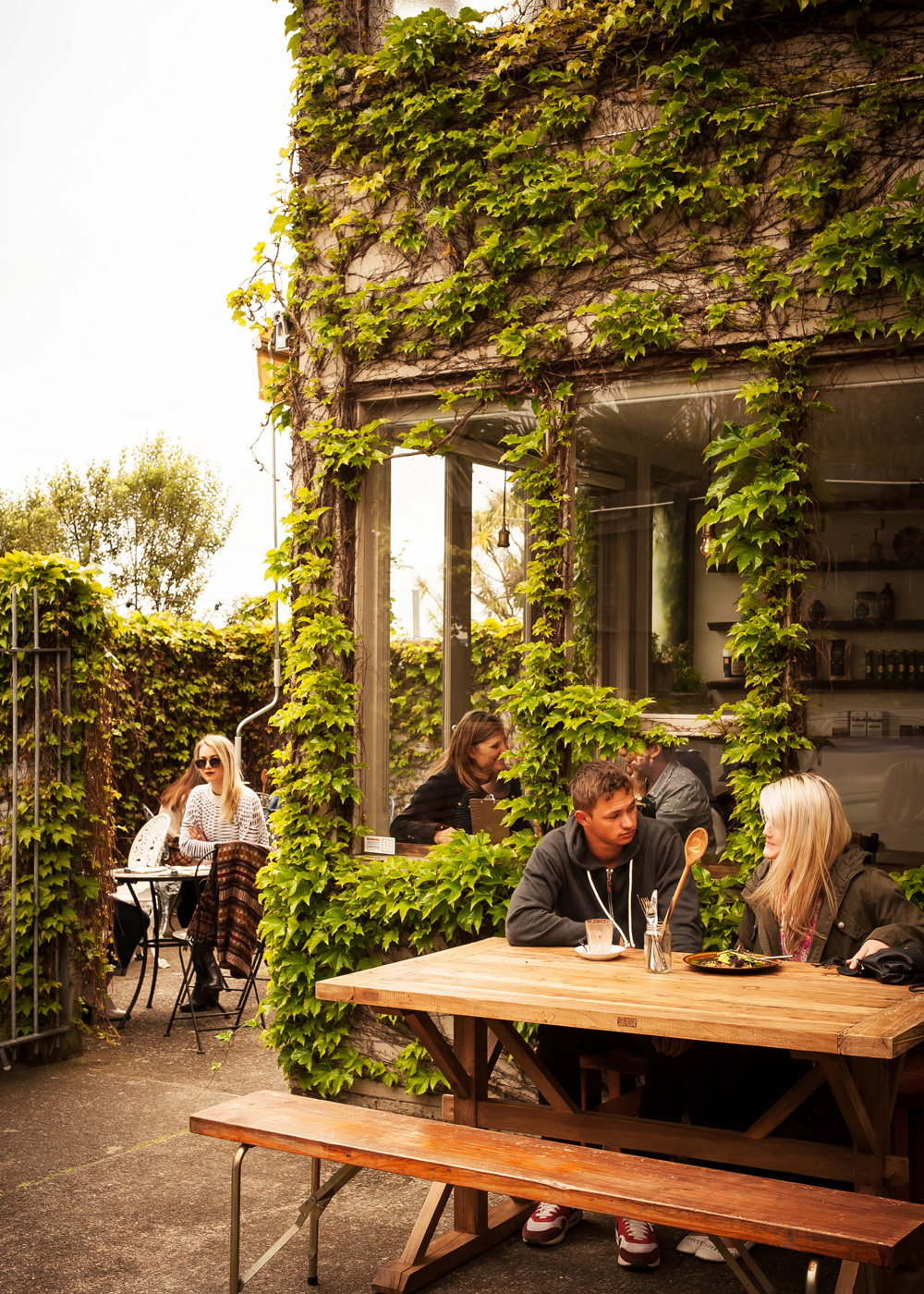 Mondays
503 New North Rd, Kingsland
Wholefood aficionados, bloggers and caterers Eleanor Ozich and Hannah Horton brought a decidedly non-pub vibe to Kingsland when they opened this little cafe, down a driveway by the main shops. The cakes and cereals and salads are all exquisitely presented, and strongly focused on health, but real pride of place probably goes to the smoothies: big, thick and super-tasty, they're practically meals all on their own.
Must-try: Buckwheat waffles with coconut yoghurt.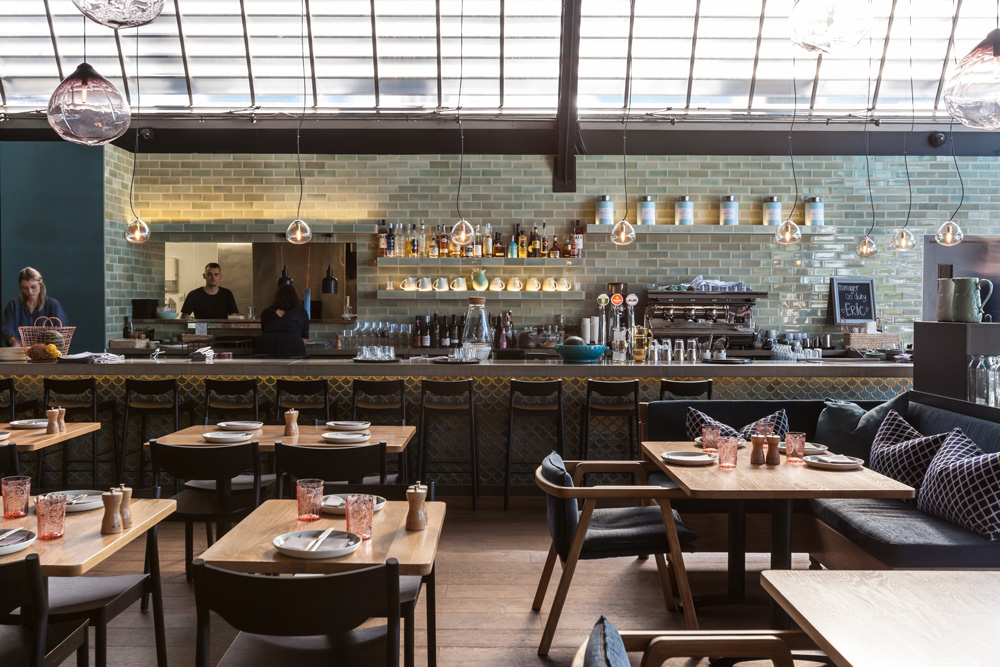 Odettes
City Works Depot, 90 Wellesley St, city
It's beautiful, isn't it? The former bus garage at City Works Depot has soaring steel beams and high windows and it always seems flooded with light; there are built-in booths and blond timber and subtle tiles. Breakfast is really good here — the jack mackerel omelette is a particular highlight — and so is lunch.
Must-try: Slow-cooked lamb shoulder.
Olaf's Artisan Bakery & Cafe
1 Stokes Rd, Mt Eden
Olaf Blanke is one of the finest bread bakers in the city, and this cafe holds the proof. But you don't come here just for the bread. The room is a delight, with an enticing view of Mt Eden out the window, the counter displays are full of tempting items, and the service, under the eye of Oranna Blanke, is smart and assured.
Must-try: Crumbed duck eggs with crushed potato & mustard, spinach & smoked eel.
Onehunga Cafe
259 Onehunga Mall, Onehunga
Lord knows Onehunga needed it. For years, the mall was awash with cafes yet not a good coffee to drink, so we're happy to report this newbie to the list wears its great neighbourhood-cafe mantle well. You order at the counter but there are elements of table service, with waitstaff seating you and bringing sparkling water. There's a Southern States lean here, with savoury and sweet waffle dishes and po' boys. Coffee is Supreme.
Must-try: Pulled-pork po' boy with green apple slaw.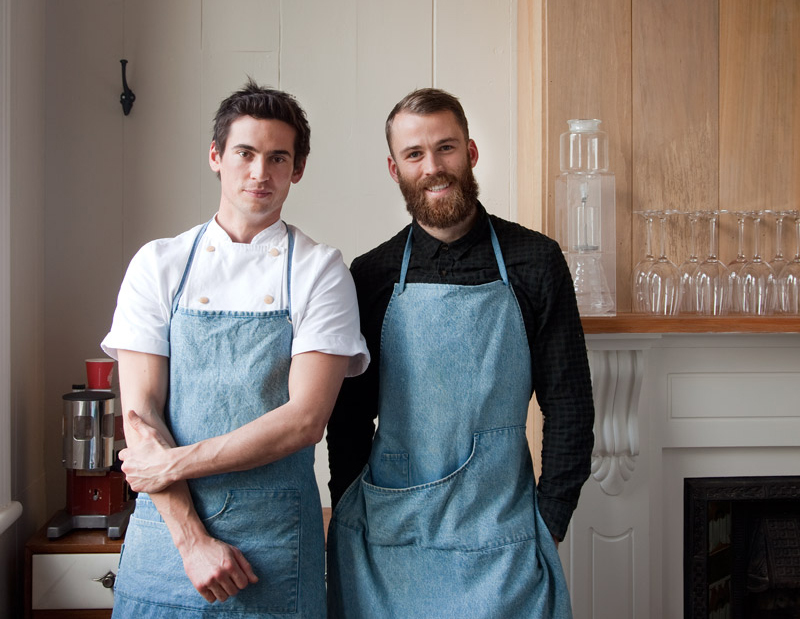 Orphans Kitchen , Auckland" width="598" height="463" data-mce-src="https://www.metromag.co.nz/images/uploads/810cae67-50f8-4c4a-9ef6-03ef9cc50b86-Orphans-Kitchen-1_crop.jpg">
Orphans Kitchen

118 Ponsonby Rd, Ponsonby
There's no place we'd rather be on a Saturday morning than perched at one of Orphans Kitchen's macrocarpa tables with a menu in our hands. This is a restaurant by night, yes, but for five days a week, Orphans Kitchen transforms into the best cafe in Auckland.
It has everything going for it, starting with a romantic backstory. New Zealand owners Josh Helm and Tom Hishon first talked about opening a restaurant together over an orphans Christmas when the pair were living in London. Inspired by the bond-forming power of good food and informed by Hishon's experience in foraging and fine dining, Orphans Kitchen opened on Ponsonby Rd in 2013.
Last year, it became an all-day eatery, and with sunlight came the most original brunch menu in the city. Each dish contains elements that could have been lifted from the nice part of a Grimm fairy-tale — crumpets, burnt butter, honey, duck eggs, birch water, buffalo milk — all presented with thoughtful simplicity.
The crumpets are homemade, chewy and just the right density to soak up lashings of Orphans' rooftop honey (the bees feast on the finest Ponsonby gardens). The duck eggs are caramelised at the edges and topped with just the right amount of chilli, served on a pile of al-dente broccolini in spring. The buffalo milk is steamed and imbibed with house-infused truffle oil and white chocolate — a silky, dessert of a drink. Order the wagyu brisket with kumara, black garlic and pickled cabbage on days when appetite competes with ropeyness — it's comforting, generous and just another example of Hishon's ability to weave straw into gold.
The service is exceptional; staff have clearly been chosen for their warm personalities as well as their Kinfolky dress sense. On summer weekends, a DJ spins vintage vinyl, providing a nostalgic, crackly soundtrack that invites you to stay for a "Little Somethin Somethin" (vermouth, lemon and soda) or a cold drip negroni.
The beauty of the place as a cafe, though, is its laid-back inclusivity. Dogs are given bowls of water by the bench out front (and a kindly pat), large groups and families can spread out in the covered courtyard out back, today's newspapers are heaped in a familial pile by the door. Washing your hands in a tin sink with a view of the beehives from the upstairs bathroom, it feels like you're at a cool friend's house, not a Ponsonby Rd business.
It's a home away from home, albeit one with better coffee (Supreme, Ethiopian single-origin, filter or espresso), exquisite food and a much higher chance of bumping into Lorde. We always want to be there.

Must-try: Crumpets, burnt butter and honey.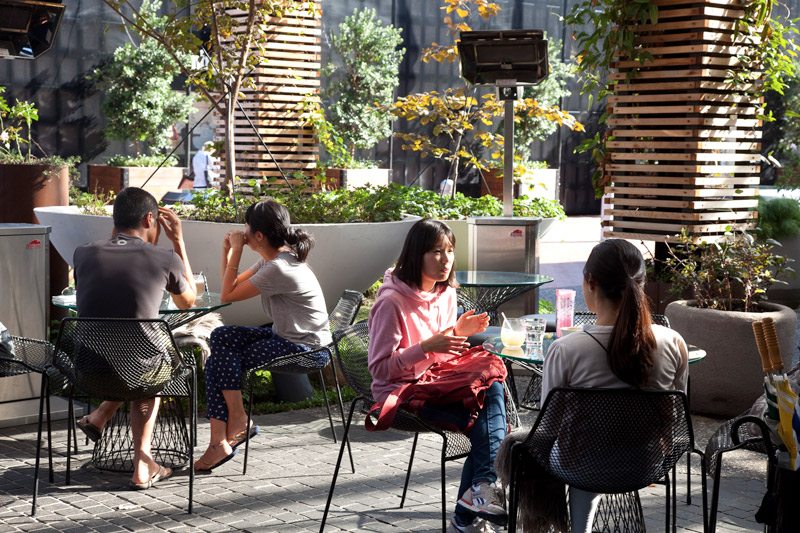 Ortolana
The Pavilions, 31 Tyler St, Britomart
Ortolana is a lovely light-filled pavilion with high plywood ceilings and wooden tables with soft linen banquette seating, stone floors and rugs outside for your knees if you get cold. The menu is inventive — breakfast gnocchi, say — and lunch is too, but only because it is so fresh, so seasonal, so food-like: much of the produce comes from the Hip Group's farm in Kumeu. You will want to eat everything here, but don't worry: it's all very, very good.
Must-try: Chicken cotoletta with lemon & kale.
Petit Bocal
117 Sandringham Rd, Sandringham
Start with a heavenly pastry, stay for sophisticated breakfast dishes that lead into a long lunch that invites you to consider dinner… yes, you could stay here all day and eat very well. Dinner options are French classics such as plat du jour or beef bourguignon. The fries are thick-cut and rosemary salted with house-made aioli. The wine list is eminently imbibable.
Must-try: Mushrooms on sourdough toast.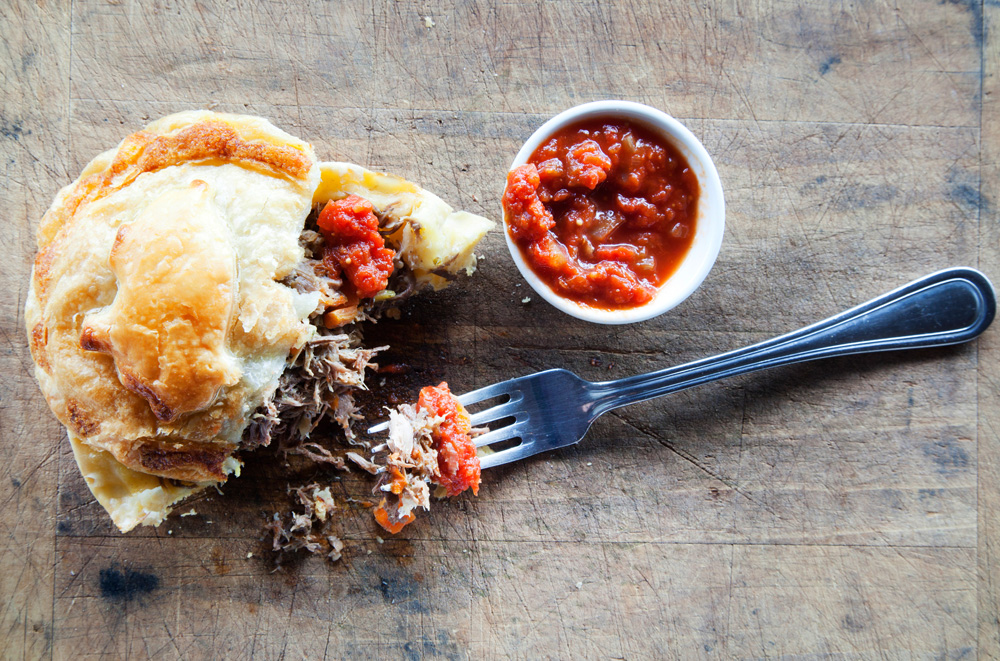 Raven & Cook
565 Manukau Rd, Epsom
We love the way this old butcher's shop has been sympathetically converted into a small but perfect cafe, with original small tiles on the walls, a brown paper roll announcing the menu and the chain curtain separating the kitchen echoing a butcher's glove. Chef Mark Nicholson has been at it for decades and he cleverly works contra with a few regulars, scoring things like the quinces and rabbit that are used to make one of the best pies in the city.
Must-try: Smoked-fish kedgeree.
Reslau
Elliott stables, 39 Elliott St, city
Elliott Stables is still one of the more delightful places to take the weight off in the middle of town, and Reslau is its gem. The food's good, the coffee (Allpress) is splendid and the service superb, but almost more than all that we love the options the place itself offers: you can sit inside, where it's very smart; or in the rustic cobbled lane of the Stables; or outside under the trees. Something for everyone.
Must-try: Fruit cake.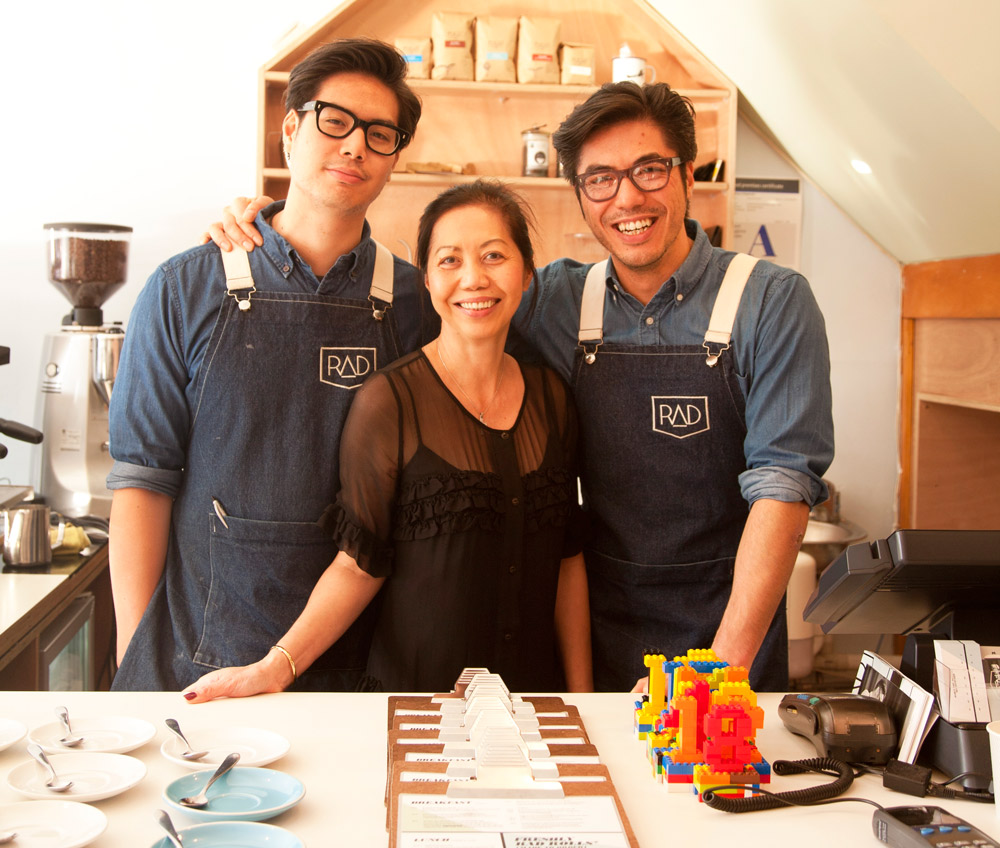 The Return of Rad
397 Mt Eden Rd, Mt Eden
Heavingly busy at any time of day, on any day of the week: Mt Edenites have clearly taken to this little slip of a cafe, with its brick walls and plywood furniture and stools. Small wonder: the espresso is their own house blend and the "fancy" filters are from guest roasters, and there is a good counter with slices and baking. Then there are the sandwiches: Grandma's pork banh mi is a sandwich of excellence.
Must-try: Must try: Grandma's pork banh mi.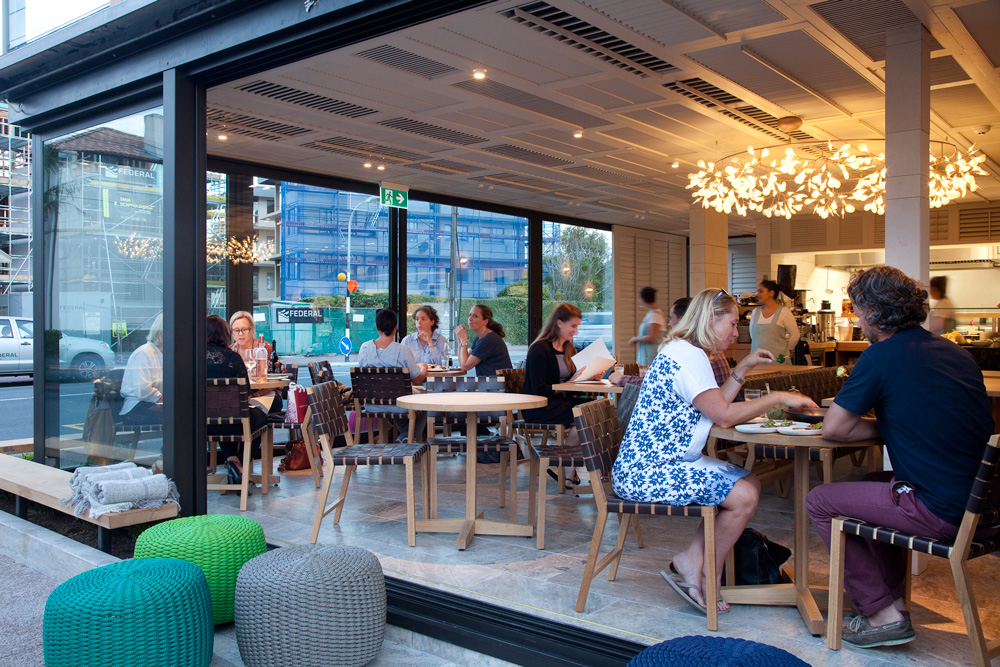 Rosie , Parnell, Auckland" width="607" height="405" data-mce-src="https://www.metromag.co.nz/images/uploads/871856a7-6fbc-4c17-86a5-1106d6ac4701-MT1114_Rosie1.jpg">
Rosie
82 Gladstone Rd, Parnell
Ponytail skirmishes aside, Rosie is the cafe you wish every suburb in Auckland had. The space is all timber and stone and it opens out completely onto the street; it runs from morning until late with comforting yet creative food, though you can just sit there with a coffee if you want. We recently ate a perfect omelette, thick with whitebait and topped with fennel and radish and capers: it was light, airy and yet deeply sophisticated.
Must-try: Ox tongue with bone marrow, salsa verde & crostini.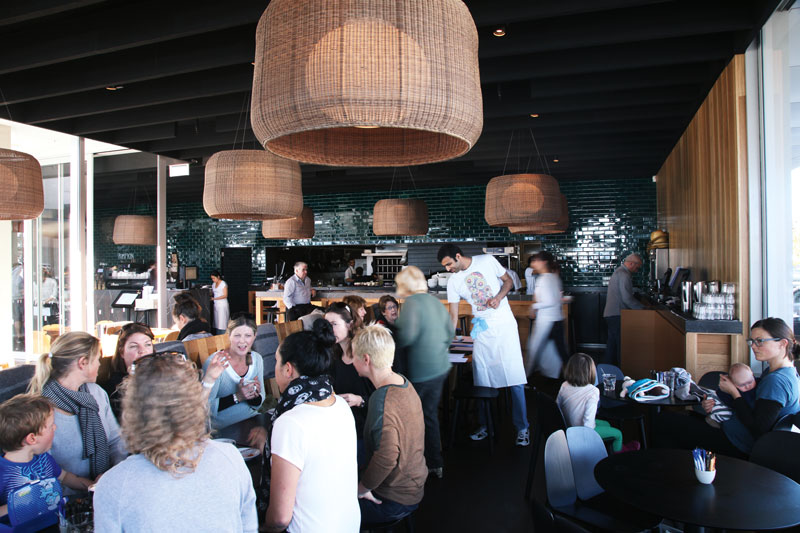 St Heliers Bay Cafe & Bistro
387 Tamaki Drive, St Heliers
It is one of the most beautiful cafes in town, with an open kitchen hidden amidst a wall of sea-green tiles and great light fittings such as upended baskets floating above diners' heads. As with all Hip Group cafes, the menu is seasonal and the dishes stunning. If the wait for a seat is too long, there's always the option of award-winning ice cream and a walk along the beach.
Must-try: Pizzetta with smoked trevally, chilli & lime.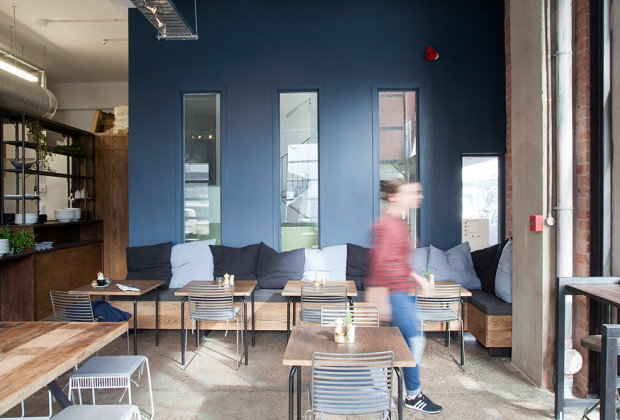 Scratch Headquarters
5 Graham St, central city
They make pies. And what pies they are: rabbit, pork belly, smoked fish… all of them big and rich and astonishingly satisfying. They do coffee, with a deep commitment to getting it right. They do cakes and other counter food, including custardy things that are almost without peer. This new cafe and bakery has grown out of the merger of Steve and Sarah Vanderput's cafe empire and Jonny McKessar's Three Beans coffee roastery, and is a bigger, better version of the little Scratch Bakers outlet that used to be in City Works Depot.
Must-try: Pork belly & apple cider pie.
22 The Promenade, Takapuna
It's got the best spot on the water's edge in all of Auckland and it serves some of the best food, too. If you're looking for that special place in which to love this city in the morning, this is it. Of course, you won't be alone. Take your walking shoes and your togs: you'll be tempted, one way or the other.
Must try: Smoked trevally salad with tomato, avocado & poached egg.
Must-try: Smoked trevally salad with tomato, avocado & poached egg.
Vaniye
21/7 Windsor St, Parnell
Sonia and Laurent Haumonté moved to Auckland from Paris four years ago, and brought a little piece of the city with them in the form of this beautiful pâtisserie. Sonia is a French-trained pastry chef, but her signature desserts are influenced both by her Thai heritage and New Zealand seasonal produce. Every morning, Laurent bakes the baguettes before heading to his city office job, while Sonia makes croissants that are some of the best in town.
Must-try: Millefeuille with vanilla.
Wai Kitchen
1/149 Oceanview Rd, Oneroa
Where to go for breakfast on Waiheke? Here. It's on the seaward side of the road looking directly onto Oneroa Beach (ie, location: perfect), the service is smart and the food delightful.
Must-try: Crumpets, avocado, citrus, ricotta & seeds.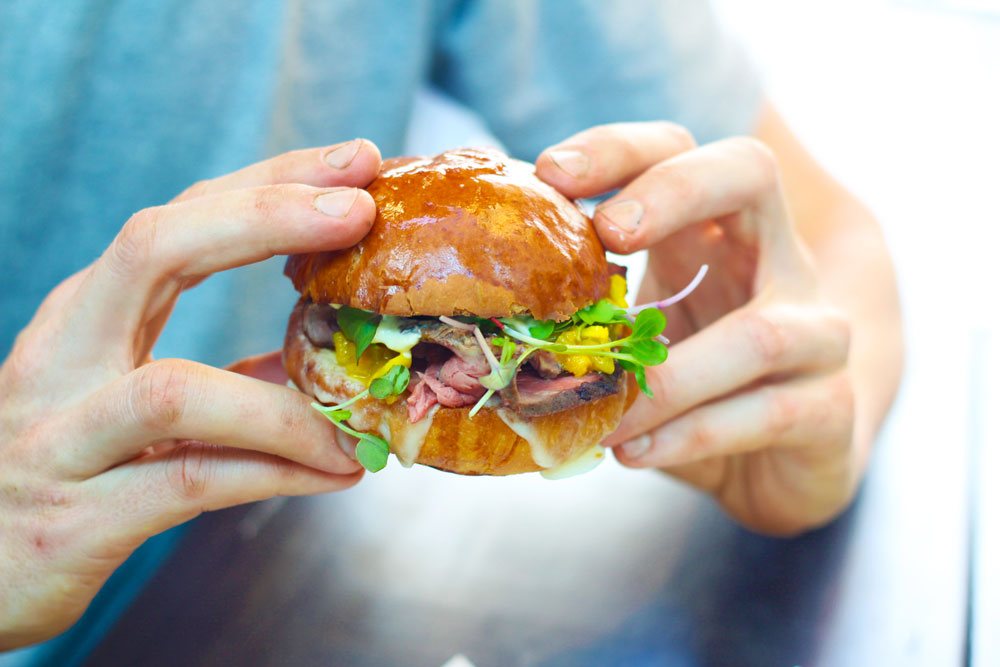 Weirdough & Tuck
City Works Depot, 90 Wellesley St, city
Formerly the original Scratch Bakers (which has now moved to Graham St), Weirdough & Tuck makes the most of a pre-existing kitchen with a made-to-order sandwich menu based around Scratch's long rolls and brioche buns. Tuck shop-style cones of chips, simple salads and house-made sodas make this an easy-going lunchroom for city workers.
Must-try: Brioche bun with beef, horseradish, provolone & pickles.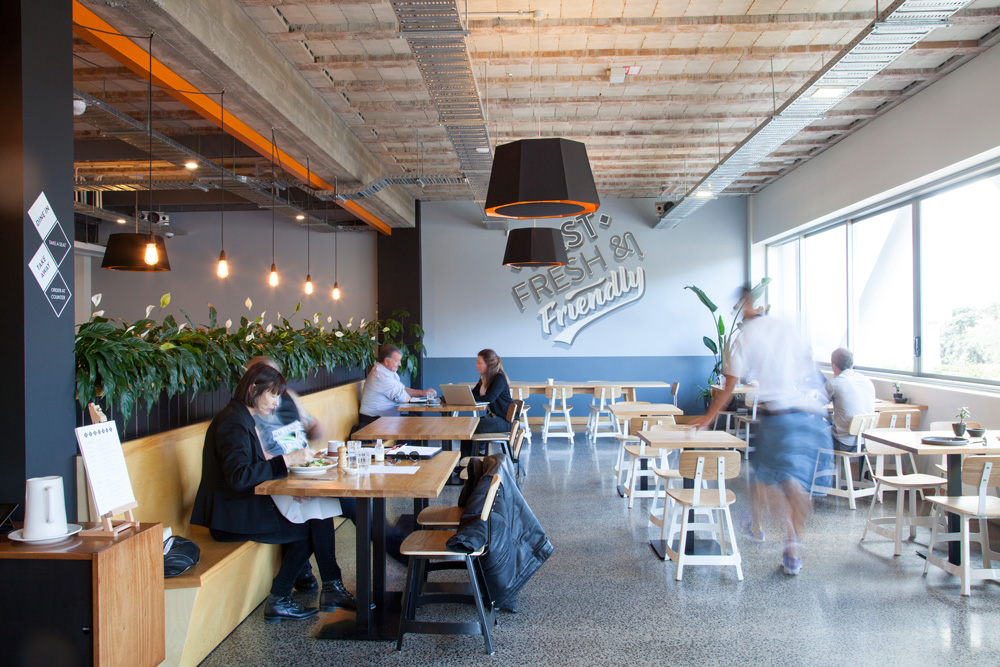 Welcome Eatery
181 Grafton Rd, Grafton
It's spacious and crisp, clean and cool, all of which is unexpected because Welcome is tucked away in a corporate building on a traffic-heavy street corner. The menu changes regularly and always manages to combine the innovative with the comforting. There is an impressive cabinet offering, the coffee is Supreme and owners Johnny Hartnett and Ralph Jenner are true geeks about it. Open weekdays only.
Must-try: Lamb salad with lentils, cauliflower, sultanas & almonds.
Were Bros Ltd
480 Richmond Rd, Grey Lynn
The sign outside says "no fluffy coffees", though Carter Were will make you something single origin in a vintage mug. Her tiny bakery shares space with Muck Floral: there's a changing arrangement of foraged flowers and lumpy handmade ceramics, along with a shared table in the window where you can eat sprouted sourdough, toasted and topped with the likes of smashed pea and goats' cheese. Charming.
Must-try: Ham & cheese toastie.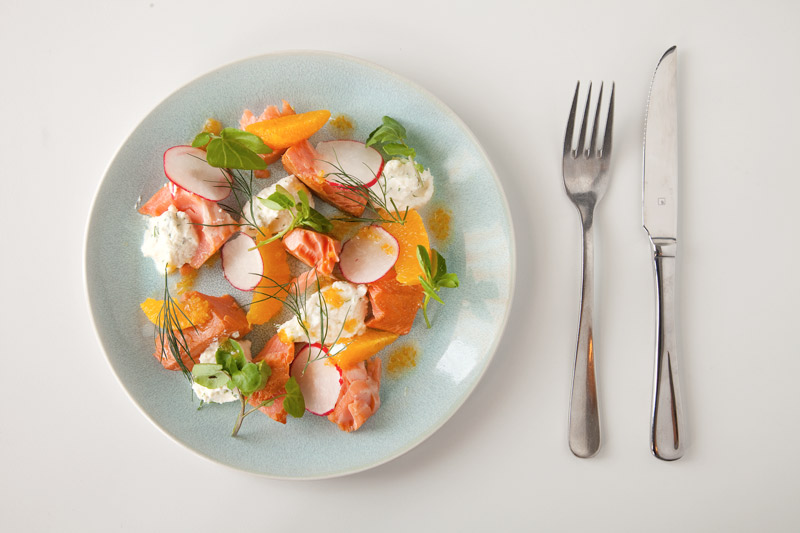 Zomer
4 The Strand, Takapuna
Takapuna is on the rise, cafe-wise, but some of the places that have been there a little while are still out in front of the newcomers. Zomer is a splendid example. With a view through big pohutukawa trees to the Waitemata and Rangitoto beyond, it's got one of the best terraces around, and the service is friendly and attentive. Best of all, because it's the creation of Clare and Joost van den Berg (see also Odettes), it's not surprising that the food is very fine indeed.
Must-try: Granola with pear, strawberry & mascarpone.