Jun 28, 2019 Cafes
Metro Recommends is a regular recommendation of food we love, whether it's an unsung hero we want to share with the world, or a crowd favourite we can't help but sing the praises of.
READ MORE: Kingsland Bakery's Steak and Pepper pie?
Every Tuesday my colleague Jean Teng meticulously puts together a weekly food guide highlighting events on around the city in the coming days.
I appreciate that she does this because while I like to read about events which are on, I do not enjoy collating lists of things and would be very sad if this were my job. So anyway, there was a photo of a sandwich leading this week's story and I just couldn't get out of my head.
The Fort Greene cheese-steak. Every time I looked at it my mouth watered. The chargrilled edges of succulent pastrami peeking out from two enormous slabs of home-made bread, covered in melted cheese, little bits all crispy on the sides. I had to have one.
So, Jean and I caught a taxi up to K Rd because we're very lazy, and ordered two absolutely enormous sandwiches, because we were very hungry. I ate all of mine and then I ate what was left of Jean's reuben, because Fort Greene is just that good.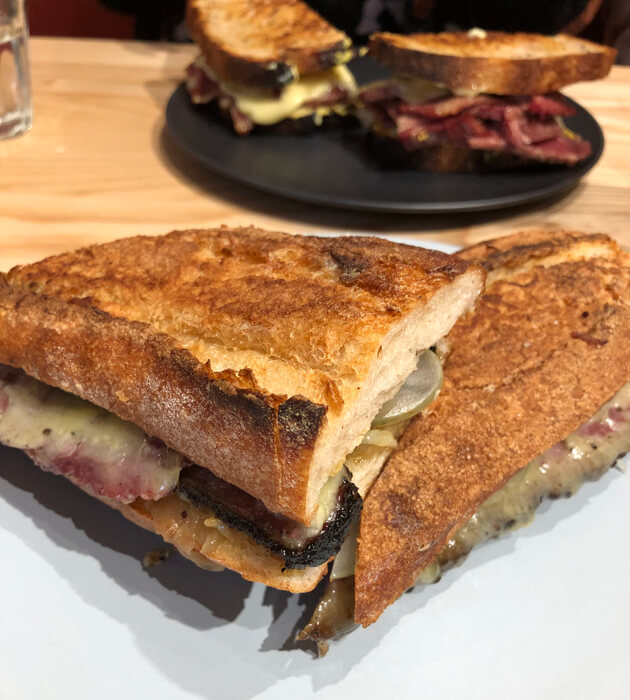 READ MORE: Is this the best vegetarian laksa in Auckland?
READ MORE: The best $5 lunch in the CBD
Look, their sandwiches are not cheap. The cheese-steak is 50 cents shy of $20, and it's not even the most expensive one on the menu. When I think about handing over a $20 note to pay for a sandwich and getting 50 cents change, suddenly this seems way too expensive. Luckily money is different (less valuable) when you pay by card so as long as you just enter your pin and don't look too hard at the screen it's kind of like it was free! Anyway, I digress, because this sandwich is honestly amazing and you have to pay for quality etc etc. I ate so much sandwich I felt sick and yet writing this my mouth is watering all over again, that's how yum it was.
The pastrami is so very tender and I want to say slightly smoky. It's thick-cut and covered in a house made onion jam (everything at Fort Greene is house made, including the bread) which is sweet but sharp, and perfectly pairs with the melted cheese and pickles. The bread is so fresh you can tell even though the sandwich has been toasted, and it all just blends together to make the heartiest lunch which will keep you full through to dinner time as well. I burned my mouth eating it too quick, which is always a sign something is extremely tasty.
Fort Greene also do a mean almond croissant, so if you find yourself at a loose end wandering along K Rd with a rumbly tum, swing by and check them out.
You can find them here: https://www.fortgreene.co.nz/
And on Instagram.