Jun 25, 2019 What's On
Metro brings you a round up of the best of what Auckland has to offer for the coming week in our city's diverse and exciting food scene.
New openings
Mizu Bread + at Kazuya
As the announcement of Mizu Bread+'s opening tells, Mizu is the Japanese word for water. They've named their bakery Mizu because they believe that the most important factors in making bread ("Fermentation processes, extracting umami, or expressing various texture from ingredients") are all to do with how the baker handles water. The little bakery opened on the 18th and for now, numbers of bread, sandwiches, rolls and treats are limited. Tuesday-Thursday only, 11am-1pm or until sold out.
193 Symonds Street, Newton, Auckland
Chinoiserie
Mt Albert's Asian fusion eatery Chinoiserie (or as my dad likes to call it, Chinwaggerie) is opening a second set of doors in Manukau City – but don't worry, the old one will still be there!
26 June | 613-615 Great South Rd
---
Bottle Stop Beer's Raw, Wild & Uncut tasting
This "Evening of Wild Fermented Beer, Lo-Fi Wine & Cheese" is led by Lee-Ann & Michael of Craftwork Brewery, Jules van Costello of Te Aro & Cult Wine, and James Thomas from NZ Cheese, so it's educational and you're bettering yourself by going. The tasting involves four beers, four wines and four cheeses – all with an element of rawness, wildness or less processed-ness. Spaces are limited to 20.
25 June | Bottle Stop Beer Shop, Grey Lynn
Five Boroughs Burger popup
Fans of Wellington's American diner rejoice! Five Boroughs is taking over Ponsonby Social Club for two nights. They're keeping it classic with an 8 item menu of burgers, fried chicken southern style or truffle fried (wipe your mouth, you're drooling) and sides.
25-29 June | Ponsonby Social Club
Great New Zealand Toastie Takeover
Last year, cheese toastie mania swept the nation (or just intensified for a while) with the first ever Great New Zealand Toastie Takeover. The nationwide celebration saw 20 eateries compete with their own version of one of this country's favourite humble food heroes. This August more than 50 eateries are participating, with judging by Kerry Tyack and his team of 19 judges beginning on June 22nd and the finalists announced August 1st. Finally, Joe McClure from McClure's Pickles in Detroit will travel to Auckland to choose the winner of the title Best New Zealand Toastie. The guidelines are that "each toastie must be sandwiched between two slices of bread and be able to be eaten by hand if necessary. The toasties must also contain cheese, pickles from McClure's delicious range." The toasties are judged on "set criteria, including presentation, effectiveness of preparation technique, eatability, taste, innovation and originality."
Auckland participants include Al's Deli, Fed Deli, Fort Greene , Hero Sandwich House , Lowbrow, The Grange, Jack Tar and more. For the full list, click here.
Dry July
At the time this article was written, 4,629 people had already signed up to go alcohol free this July. Between them, they've already raised $177,587 to improve treatment environments and provide services to New Zealanders affected by cancer. To join in, you sign up, give up alcohol all through July (which will save you money too!) and ask friends and family to sponsor you.
Sid at The French Café and Seedlip join forces for Dry July
If you were just thinking "oh Dry July sounds cool and I would love to do it but what would I sip with my dinner?" Sid at The French Café and Seedlip Gin have got you covered. To help Dry July participants, restaurant manager Simon Benoit has designed three cocktails to pair with specific menu items. To give you an idea of the pairings, the dry aged duck, celeriac, almond and coffee is matched with a Seedlip Spice cocktail infused with cascara and grapefruit. Sid at The French Café isn't alone on this though, with a Mango Sour from Cassia , the Seedlip Garden Granita from Han, an Otaku Mule from Azabu , and a Green Placebo from Depot – all booze-free Dry July nods. So you can still sip till your hearts content.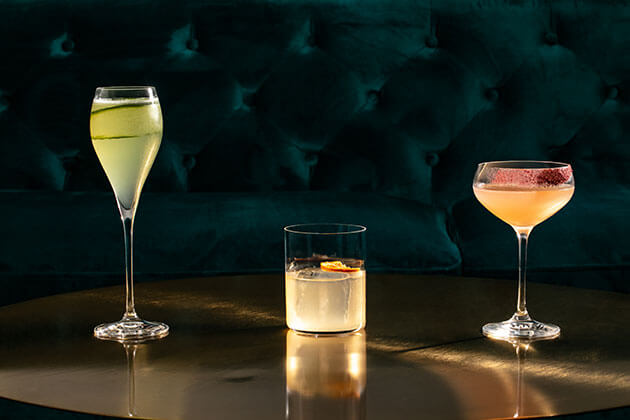 ---
What We Ate This Week
Jean Teng and Alex Blackwood
Pain au chocolat from La Voie Française
Dainty, flaky and so light I was worried it was going to float away. It didn't because I wolfed this chocolatey delight down very, very fast. – AB
Chef Rasa Sayang
Most Cantonese and Malaysian restaurants will have a tofu called in English "homemade tofu" which is deep-fried, eggy, and served with a side of soy sauce which I pour directly into its centre. It's my favourite tofu in the world, so don't be shy to ask for it. Chef Rasa Sayang's version is quite good, and you can ask for half a portion if you're sharing amongst other dishes. – JT
Wood ear mushrooms foraged from the park near my house
I can already hear Jean scoffing at this because she thinks foraging is "so 2014" but I am studying for the apocalypse and learning how to eat nature. Plus they were free with an interesting bouncy texture and made a rich broth. Obviously, you can't just eat any mushrooms though. Use books, the internet and people who know their shit to positively identify foraged food and check that it is actually edible. (Sorry, Jean.) Note from Jean: Everyone wants to be Rene Redzepi.
Jami
Their kimchi and pork soup is filled with chunks of soft, sweet cabbage and a broth that'll make you wanna slurp the whole bowl down. And I did. – JT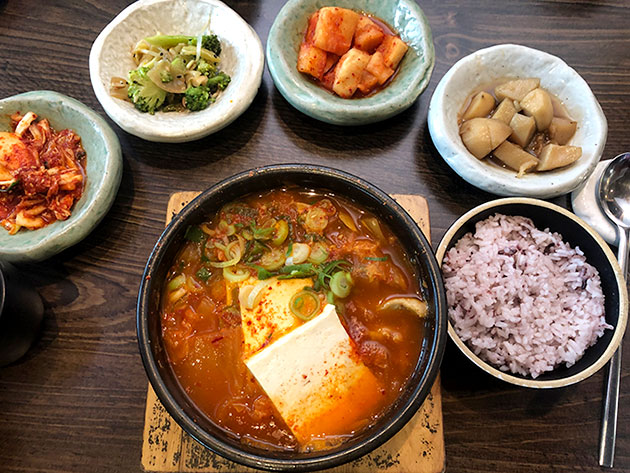 Love exposure pork bao
This was quite yum (in the way that most things that contain crispy pork belly are) but the ratio of bao to sauce to pork to veges was all wrong. Too much bun, not enough filling and not nearly enough sauce made for a stodgier experience than if the ingredients had been arranged in a more considered way. – AB