Jun 21, 2019 Food
Metro Recommends is a regular recommendation of food we love, whether it's an unsung hero we want to share with the world, or a crowd favourite we can't help but sing the praises of.
Such a simple pleasure is the pie. Humble and yet mighty. They're a dependable national icon, available at all good dairys and petrol stations. Hand in hand with a can of V, they're the heart of a builder's breakfast. Star of the "It's not gay unless it's gay" ad where the guy drops his pie. The foodstuff responsible for the saying which has, improbably, eked out years of national enjoyment: "Always blow on the pie". They're partially responsible for our penchant for putting tomato sauce on just bloody everything (calm the farm with the t sauce, guys).
When the ancient Greeks, Romans and Egyptians made the first ever pies, the crust was not meant to be eaten. The crust, made of barley, wheat, rye or ground oats was purely to store and hold the filling of cheese, honey, eggs, meat or small birds.
READ MORE: Is this the best vegetarian laksa in Auckland?
READ MORE: The best $5 lunch in the CBD
Whenever I bite into a pie, I pause* and spend a moment mourning for all those pie lovers who never got a chance to enjoy the miracle that is meat encased in pastry.
*That is a barefaced lie. I have never once waited so much as a second before inhaling my pie.
But the monarch of all pies, is certainly the original, most excellent meat pie. Consider its heavy savouriness, the sweet tang of the sauce and the light, crispy delicate crust. I know many a vegetarian to have broken their meat-free vows for a mince and cheese pie. I won't tell anyone, Daniel. I don't blame you.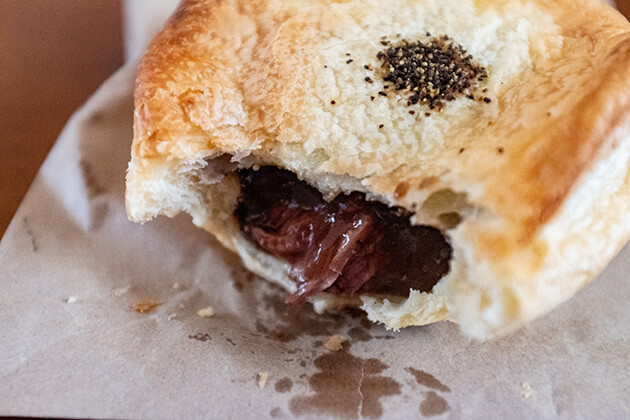 Though a fancy cafe pie does the trick, and a gas station pie is pretty good too, the best place for a good, cheap pie is a classic, unpretentious bakery. If they have a Coca Cola or V sign somewhere on the exterior, and a custard tart that holds its shape without its pastry, you're in the right place. The inside should have a maximum of four seats. Anything you order should be given to you in a paper bag. Kingsland Bakery, tucked by the bridge on the way down to the train station, is one such bastion of pastry simplicity.
The steak and pepper pie is one of their best. Spicy, meaty and substantial with pastry so delicately flaky that you will absolutely make a huge mess all over the passenger seat of your mate's Subaru Impreza. The kind of pie you find yourself craving when someone says the word pie, when you see a picture of a pie, or when no one says anything, you haven't seen anything, your body is just protesting the fact that you are not eating a pie. It's perfect in its simplicity; I am pretty sure that in Plato's Realm of Forms, this is the pie that dictates the concept of "pie".
They aren't fancy. But if you're looking for fancy, you're missing the point. A pie can cure hunger, a hangover and even a bad day.
As long as you remember to always blow on it first.
Follow Metro on Twitter, Facebook, Instagram and sign up to our weekly email