Feb 18, 2020 What's On
We've got a couple of festivals for ya, a couple of special one-off events, and a couple of yarns on where to eat.
One long table, five courses of food. Dress code? Orange and white, of course – the dinner's in partnership with Aperol Spritz, after all. $99pp.
Friday 21 February | Le Chef
Enjoy kottu roti and other Sri Lankan dishes, including drinks and traditional sweets. There will be face painting and henna too.
Saturday 22 February | Mt Albert War Memorial Hall
Enjoy the tail-end of summer with this completely free day of family-friendly entertainment and activities (think pony rides, face painting and stencil tattoos), plus plenty of food options from local eateries and beyond.
Saturday 22 February | Onehunga Bay Reserve
Filipino food goes beyond chicken adobo and sisig (well, Luntian NZ have sisig too, but it's made with mushroom and tofu). Luntian NZ showcases Filipino culture through all-vegan ingredients, with this pop-up focusing on the country's capital, Manila.
Saturday 22 February | LOT23
The Häagen-Dazs ice cream truck will be travelling around the suburbs on weekdays after 7pm delivering pints of ice cream to work-weary adults for free. You just have to register on their website and wait and see if they pick your street. What a dream.
Monday 24 February-3 April
National Barbecue day
Is this a real thing or is this cooked up by a PR company? To be honest, it's the latter, for Best Foods mayonnaise, but we'll still be putting an apron on the flattie who best knows his way around a steak and cracking a beer. Let's not begrudge them a pat on the back for a great idea. There's only a wee while of BBQ weather left.
READ MORE: The top 10 best Cheap Eats in Auckland
READ MORE: Support your local: Business in Auckland's Chinese restaurants down 60% over coronavirus fears
What we ate this week
Jean Teng and Alex Blackwood
Apple IPA from MorningCider
Dry, tart and refreshing. I had a tasting board of cider, and this was my pick. – AB
Bo's dumplings spicy beef
First off, Bo's actual dumplings are delightful. They're firm, juicy and flavourful (and they even have a vegan option!). I had those too, but I don't need to convince you that dumplings are yum. While you're there though, please, please, please try the spicy beef. It's spicy, yes, but also rich and umami warm. It melts in your mouth and leaves a Szechuan numbness behind. Coriander-phobes need not apply because it is eeeeeverywhere on this. – AB
14-18 Morningside Rd
Eden Noodle vegetarian noodles – chopped
I have stopped putting it in the food news when I eat here because I'd be putting in three entries a week. I have switched my go-to order from dan dan to vegetarian noodles and I cannot pick a favourite, both are strong, spicy, sour and full of flavour. But one thing I urge you to do is to give up the skinny noodle life. Go for the chopped, broad, flat noodles. They hold sauce chunks better and they take longer to absorb all the soup so you can eat in slow, unrushed peace. There's more opportunity to taste the dough. Make the switch and thank me later. – AB
105 Dominion Rd
Daily Bread kumara pie from The Greenhouse
The softest, flakiest, most buttery pastry I ever did sink my teeth into. The warm roasted kumara in the middle is dreamy also. – AB
?16 Williamson Ave
Me: Latte art is dead, right?
Fields in Albany: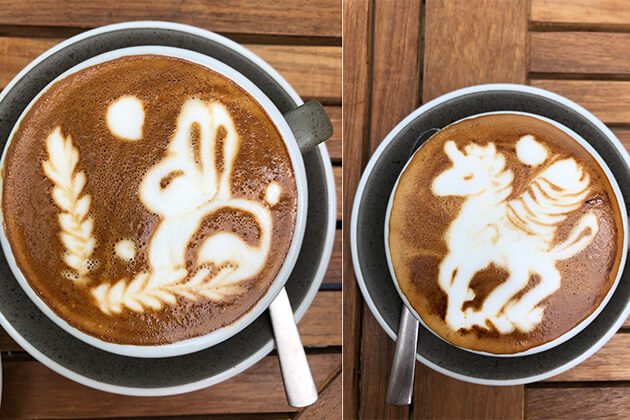 – JT
Moo Deung San
The absolute best meat at Korean BBQ is unmarinated pork belly, or samgyeopsal, and no one can tell me different. This is one of those semi-rundown places in Northcote without fancy extractor fans, so your hair and clothes will stink of glowing charcoal and the kimchi is not quite fermented enough, but, you know. Pork belly. – JT
0627/23 Pearn Place, Northcote