Aug 6, 2019 What's On
Metro brings you a round up of the best of what Auckland has to offer for the coming week in our city's diverse and exciting food scene.
Daily Bread pop-up at The Greenhouse
Lucky for residents of Ponsonby (Ponsonbians? Ponsonbinites?), the famous Daily Bread are popping up at a special little project by Ockham Residential just beside the Williamson Ave Countdown. You can now take away fresh baked-on-site sourdough and sip on brews from Coffee Supreme from 7am-3pm daily, convening on long shared tables which barely make a dent in the mammoth space. This is only temporary, but we're told this pop-up will be around a wee while – and definitely all through summer. Afterwards, the building will be knocked down to make way for premium apartments by Ockham Residential, so watch that space for more info. In the meantime, though, it's a treat to see shelves upon shelves stocked with that bready goodness, along with a killer green glazed-brick counter.
16 Williamson Ave, Ponsonby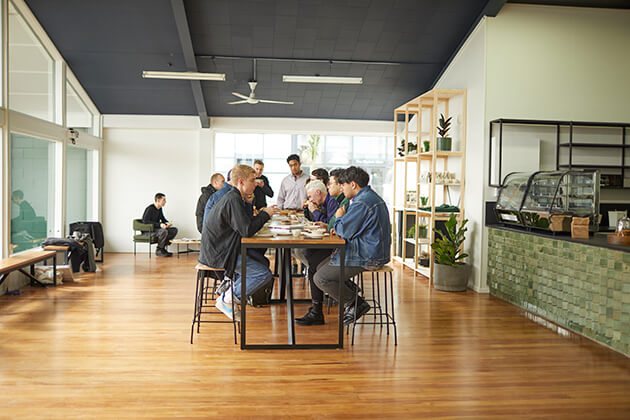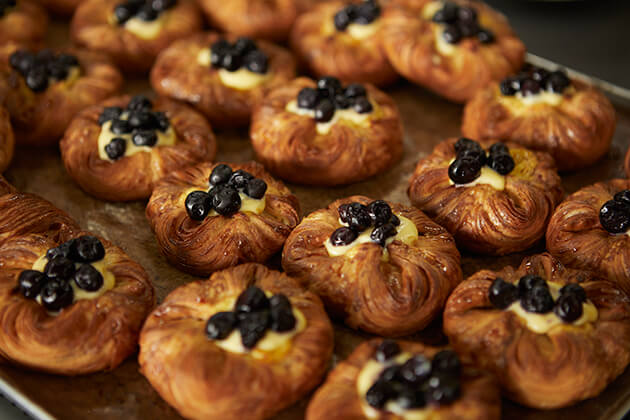 American Express Restaurant Month
Yet another week of set menu deals at restaurants across the heart of the city – click here for the full list. We've got our eye on the $25 menu at Pocha (which does banging fried chicken) and Gusto at the Grand's two-course bruschetta and pappardelle plus wine; the $40 menu at Culprit (go for the roast pig face) and three courses of vegan food at Cafe Hanoi; plus $55 for five courses at Hello Beasty.
On the event front, there's Our Culture with Cassia (11 August), with staff across Sidart and Cassia taking the reins in Cassia's kitchen for a six-course sharing style menu. The theme is Indian street food – but, of course, with a twist. $90pp.
Winemaker Dinner: Valli at Lillius | Reserve table
Top 50 Restaurant Lillius are hosting winemaker Jen Parr of Valli wine for a five-course wine match. Just a few tickets left, so get in quick.
Wednesday 7 August | 19 Khyber Pass Rd
Urbanaut x La Fuente
Fried chicken and fresh beer – what an iconic duo. Every Saturday in August, mosey on down to Snickel Lane for a curated match of La Fuente's spicy wings with a selection of Urbanaut beer.
Every Saturday in August | La Fuente Wine & Mezcal
Burger Burger Takapuna Masterclass
A month-long winter burger fest, with Burger Burger deals every day in August. This week, you could head along to Burgers, Beers & Banter Masterclass with Sawmill Brewery, exploring the hops with a little burger/beer match. $30pp.
40 Hurstmere Rd
Kokako Tasty Tuesdays
Kokako are opening their doors for a public cupping of some Papa New Guinea coffee, teaching you to develop your palate. It's very odd if you're not used to it, and it can be initially intimidating watching caffeine aficionados stick their nose into cups of dry grinds. Newbies are completely welcome, though, and we're sure the team at Kokako will be excellent guides.
Tuesday 13 August | 9 Charles St
The Vegetarian Tsar
The second progressive dinner as part of food festival Eat Drink Love Ponsonby, The Vegetarian Tsar is fully meat-free and flits down Ponsonby Rd from Fitzroy Lounge Bar to Saan to Vodka Room. $66.50pp.
Wednesday 14 August
---
What We Ate This Week
Jean Teng and Alex Blackwood
Roti canai with curry chicken at Uncle Man's Express
I whole-heartedly endorse the roti canai at Uncle Man's, flaky and a bit doughy and the closest I can find to the roti canai in Malaysia. My favourite accompaniment to roti is always the curry chicken, on the bone, or sometimes dahl when I'm after a lighter lunch. I wish they would sell these frozen to take-home. – JT
291 Queen St
Sunday afternoon Dim Sum & Dumpling House
I am not organised enough to make it to Yum Char at a reasonable hour let alone get a headcount of friends who would go and booking several days in advance. So when I found that Dim Sum & Dumpling was open and serving all the bite sized dim sum I crave after all the other yum char places have closed, I was very quickly content and full of dumplings. It's basic of me to say, but my favourites were the Pork Shao Mai and the Xiu Long Bao. – AB
3/8 Rocklands Ave, Mt Eden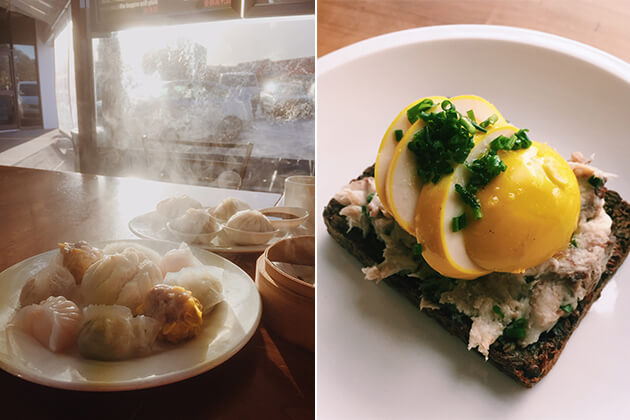 Green curry at Thai Street
One night, I had a three-hour break in between NZIFF films down at Wynyard Quarter and desperately needed to fill the time. It was also freezing, and I was very stupid and sat an hour out in the cold on my laptop, uploading something for work via the personal hotspot on my phone. It must be said, all the restaurants down that way are absolutely shit to dine alone at, except for maybe Thai Street, which seemed like it'd be the least judgemental of all my options. I had the green curry ("hot, please") and sadly missed that fiery spice I associate with Thai food; it was mild at best, with a generous shake of chilli flakes on top, when I wish they'd added small red chillies instead. Just more flavour all around, please. – JT
12 Jellicoe St, Wynyard Quarter
Tiger Sugar Magic Strawberry bread
So this was yum and the strawberries were amazing for not being in season and the custard cream (oh my GOD the custard cream) was silky and light and just the way you want custard cream to be. But I opted to "have here" and they insisted on removing the self-service tray and giving it to me in a paper bag anyway, squashing my treat. "Oh no, I wanted it to have here, please," I said to the girl. "Yep. Have here," she said, apparently oblivious that plates exist. Next time, I will bring my own bloody plate. – AB
3/88 Broadway, Newmarket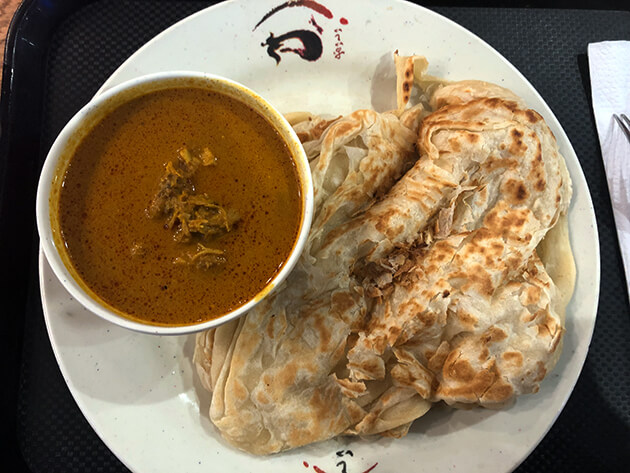 Tiramisu at Baduzzi | Reserve table
I am a big fan of tiramisu, and this one was rich, rich, rich. Too sweet on top and too bitter on the bottom, it was tasty but a struggle to get through. Love all the crunches, though. – JT
10-26 Jellicoe St, Wynyard Quarter

Buffet at Haru no Yume
The buffet here is $57 for adults, and depending on how much you like raw fish, has the potential to be real bang-for-your-buck. Pretty much as soon you take your seat, they bring out this platter of fresh sashimi, and afterwards a shabu shabu (hot-pot). There's a buffet spread in addition: an eat-as-you-please selection of tempura and sushi and sashimi. The battered food was decidedly not good: cold, flavourless tempura prawns and unidentifiable fish. I filled up on sashimi and nigiri (that was of less quality that the initial platter) and called it a day after my fourth plate of raw salmon. – JT
3 Vernon St, Freemans Bay'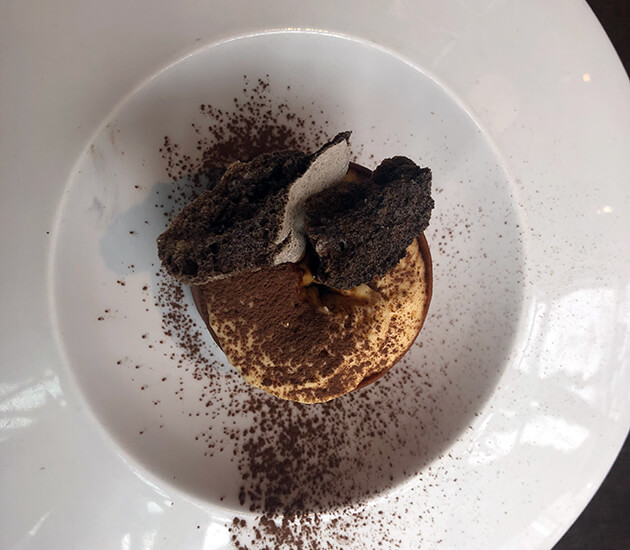 Orphan's Kitchen smoked fish on toast with a pickled egg
While my friend sat next to me waxing lyrical about the slow cooked eggs, I ate my breakfast food-envy-free. The very smoky fish is tempered by the creaminess of the egg and the slightly piquant pickled flavour. Of course, their toast is properly thick and full of grainy goodness. I want another. – AB
118 Ponsonby Rd