Jul 2, 2019 What's On
Metro brings you a round up of the best of what Auckland has to offer for the coming week in our city's diverse and exciting food scene.
Bottomless Fried Chicken at Fantail & Turtle
For $40 a pop, get to eat all the buttermilk fried chicken your little heart desires, followed by swigs of Gunnery lager.
6 July | Goodside, Takpuna
Cazador x Garage Project
Bookings are essential for this event: six Garage Project beer tasting stations followed by a slow-cooked spit-roast lunch by Cazador. Tickets are $85.
7 July | Machine Ltd, Takapuna
Kelly Washington Winemakers Dinner
Tamra from Kelly Washington Wines is hosting a five-course wine-matched dinner at Williams Eatery , pairing organic wine with dishes which showcase Auckland's seasonal produce. Tickets are $90.
10 July | Williams Eatery
Saint Alice Express Menu
Treat your team to a sun-kissed lunch break down at the Viaduct, perched on the balcony and overlooking the harbour. Chef Maia Atvar has whipped up an express menu with $19 meals, inspired by what the staff enjoy cooking and eating themselves. There's an indulgent Croque Monsieur, Caesar with chicken crackling, fish tacos and more.
Level 1/204 Quay Street
FISH restaurant's new menu
Winter and seafood have an uneasy relationship in my mind but FISH has reconfigured the pairing with a menu that makes it look right. "Our new menu brings out the best of our local catch while treating diners to a unique twist on favourite dishes," says Chef Wallace Mua. He's shaken up traditional cold-weather fare in a cosy way; Lobster Roll with kimchi, lemon, herbs, pancetta chips and smoked hollandaise or Paua Gratin with taro, vermicelli and fresh ginger for example. The new menu is available for lunch and dinner daily for the rest of winter.
Shed 21/147 Quay Street
Cafe Hanoi 's New Canteen Lunch Menu
Look no further, Cafe Hanoi has your next team lunch covered. For $25 you get Pho Bo (traditional Vietnamese beef noodle soup), a traditional Crispy Coconut Pancake and a Bun Rice Noodle Bowl. To wash it all down, there are also house made sodas (Fresh pineapple, crushed ginger & kaffir lime leaf; Watermelon & mint; and Mango, toasted cinnamon & burnt coconut) or Sua Da – iced Viet coffee.
Britomart
The Midnight Baker's new menu
Owner Yeshe Dawa has given new chef Freya de Beer Smith free reign for a new winter menu, Smith creating dishes inspired by the seasonal produce of cooler months, some of which is sourced from the local gardens OMG. You'll see dishes like the Potato Waffle topped with radish cream, apple kraut, smoked golden beetroot and seasonal fresh greens, or Smoky Beans with crunchy fried kumara balls, house-made almond feta, fermented carrot and slices of Freedom Loaf.
READ MORE: New winter festival Elemental AKL kicks off, and what else to do in Auckland this week
---
What Metro Ate This Week
Jean Teng & Alex Blackwood
Panda Town
What I was most impressed by at Panda Town was admittedly the speed at which you receive your food. You get it immediately which is a massive boon for a city lunch location. You pick each piece so you can have as much or as little as you need, there's a sauce station and the buns all have the texture of a cloud lovechild of fresh bread and marshmallows. The little hedgehog Taro bun is particularly fluffy and lovely but for a substantial lunch treat, go for a selection featuring the pork bun and a couple of prawn dumplings. Go hard on the sauce because life is short. – AB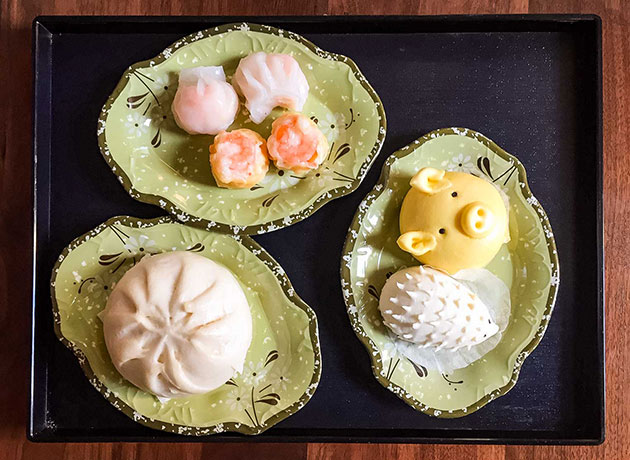 Nanam
When a menu has tapas, tapas is the way to go, as long as you keep a mental tally in your head of how much everything is adding up to. But I can never pass up the opportunity to taste as many things as possible. Between the two of us we ate six tapas, most of which were delicious, especially the spicy pork and prawn dry curry cradled in cups of lettuce, and the flavour-punch of smoked eggplant on a rice cracker. Two desserts topped off the meal, half each between us, and the ube mousse in the halo-halo… mmm. – JT
Electric Chicken Sandwich
Believe me when I tell you; ooft this is worth a visit. Yum. Crispy chicken, soft white bread, bit of lettuce and a bit of sauce is always a winning combo but wow do Electric Chicken get it right. – AB
Fort Greene
How dare this Reuben sandwich be so expensive and so good. – JT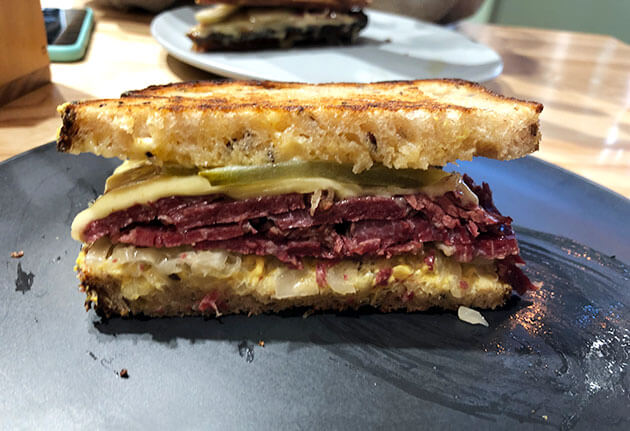 READ MORE: Metro Recommends: Fort Greene's cheese-steak sandwich
Pocha fried chicken
RIP my arteries with all the fried chicken I have eaten this week because I had both Dak Gang Jung and Ban Ban Fried Chicken from Pocha and it was 1000% worth it. Sweet, spicy and that greasy oiliness that you need after a night out. Next week I hope to report that I have eaten lots of vegetables and gone for a run but that might not happen because fried chicken is addictive. – AB
Orphans Kitchen
Here's the trouble with listing all the elements of a dish in print on the menu, and then proceeding to relay them out loud once it reaches the table: the diner actually wants to taste them. The flavours got a bit lost on the plate in my $35 Matariki set menu. Sticky feijoa lamb ribs with horopito and swordfish with creamed kumara and kawakawa was too subtle to appreciate. – JT
Belly Worship
Lychee pork tasted simply like sweet and sour, and what a waste of pork belly if it actually was pork belly. The hero of the table was the "churitos" (Chinese burrito), flaky pancake topped with cumin-spiced duck. We're intrigued by the spicy sliced potatoes topping: carbs on carbs on carbs. – JT
The Kimchi Project
This place is absolutely bustling on a Sunday afternoon, filled to the brim with families and groups of university students. Whether or not that's down to the fact you can use your Zomato Gold 1+1 here, I don't know. It is a lovely ambience, especially in the courtyard. I had the kimchi spaghetti, over-creamy with not enough kimchi flavour for my taste. But those who like carbonara, this one is all you. – JT