Mar 12, 2020 Travel
We know it's a serious global health concern, and people's safety is the top priority, but for those who's travel plans have been disrupted by the Covid-19 outbreak it's also ok to admit that's a bit of a bummer. In part three of our mini-series Pretend Cities, Sue Lees pays London a visit, via Mt Eden.
Read part one, New York and part two, Rome
There are more eccentrics per capita in London, than any city in the world, OK, I made that up but come on, it has to be true, so you should fit in nicely. Entry to London's magic travel portal is of course through literature. What did you think, I was going to produce a Tardis! Time Out in Mt Eden will do nicely. I have it on very good authority that the five floored Hatchards, Piccadilly (est. 1787, the oldest bookstore in the UK) was a huge influence, and Time Out has turned out to be a perfectly formed abridged edition.
You can be forgiven for thinking you've already been transported to 1930's London when Manager Jenna Todd arrives on her bicycle. Don't be beguiled by her sweet nature and the fact she looks like a Chaplin heroine. Take Jenna on in a literary duel at your peril, her knowledge is as sharp as Tybalt's sword. She and owner Wendy Tighe-Umbers have pulled together a brilliant team of passionate bookies, no, not the cockney betting type.
Jenna asks you to place your hands upon a copy of Peter Pan. "To believe is to have wings." (J. M. Barrie). You blink, for a moment, she appears as Tinkerbell and Wendy, as well, Wendy. They lead you to the door "Second star to the right, and straight on 'til morning" (J.M. Barrie).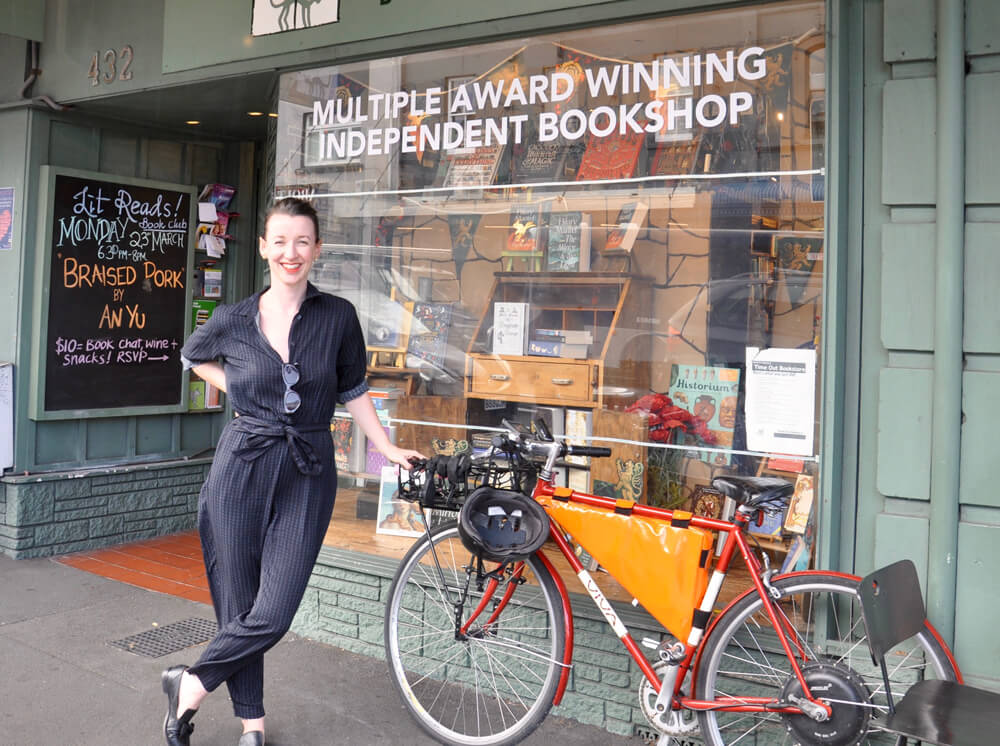 Strange, for a committed coffee drinker you suddenly have a desperate need of a pot of tea. You forgo the opulence of Fortnum and Mason's next door for the rosy vibe of Chapter Book and Tea Shop, purveyors of tea and romance since 2005. Dame Barbara Cartland would have adored your meaningful Brief Encounter with a charming stranger over your pot of strong Lapsang. Then owner Frances Loo taps her watch, time for your Number 127H bus.
Upstairs on the red (oh all right, blue) double-decker bus, the city whirls past you. Alighting near the University, you spy the ivy-clad Northern Club, surely this literary fairy dust will be enough to finally gain you entry, but alas the answer is still no. A dejected Nigella no mates, you mirror Queen Victoria's stiff upper lip, captured forever in bronze mourning for her love in Albert Park. Parks are the lungs of a city according to Charles Dickens, so you take a big breath and move on.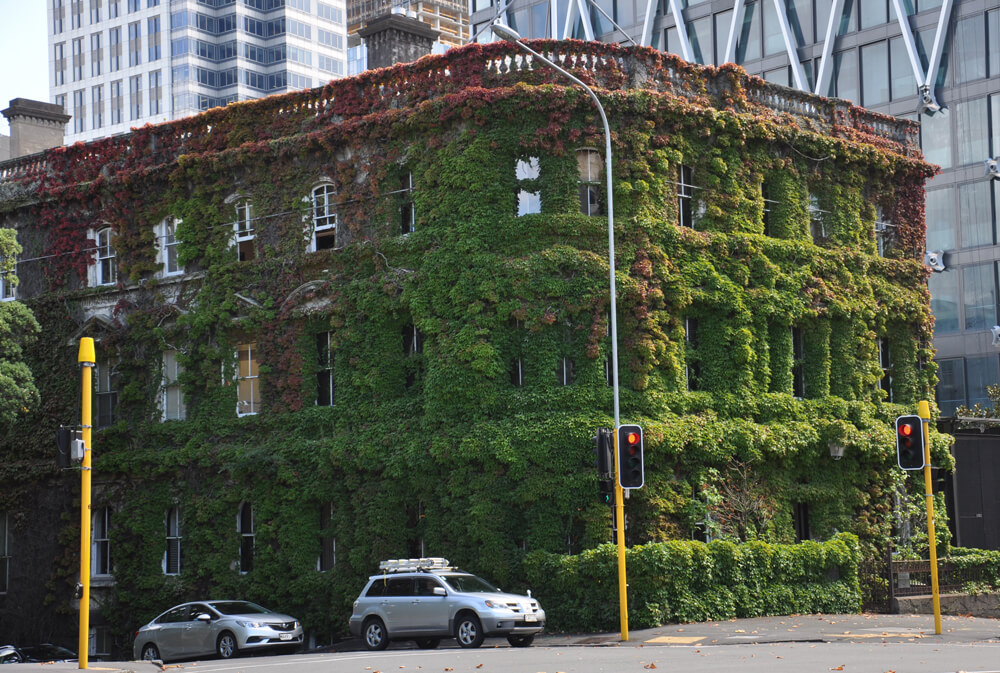 The British (aka the Central Auckland) Library is a marvellous yet under-utilised resource of fabulous escapism. On the second floor in the Sir George Grey Special Collections Reading Room you can ask to see the rarest of books. Overseen by a wonderful statue of Shakespeare holding us mere human in a globe, these treasures are lovingly cared for by Georgia Prince and the team. Unlike some clubs (still smarting) this free experience is open to all. Laid out in front of you are the earliest editions of William Shakespeare, William Blake and an illuminated, medieval manuscript from France, the gold and turquoise still glowing out from the pages six centuries on.
Then in the tradition of the great British adventurers like Ranulph Fiennes (speaking in Auckland 22 May at the Townhall) you go exploring. Beg, borrow or steal a bike because unless you are the British Royalty you are not allowed your horse to ride around Hyde (Cornwall) Park.
Suffolk sheep graze below the oaks, which, unseasonal for March in London, have leaves turning to gold. This gift of a park is the true treasure of the city and your ride all around it has you exhilarated. The Cornwell Park Bistro reminds you of the Orangery at Kensington Gardens, where you indulge in a sumptuous high tea and champagne. Cycle back via Hard to Find Second Hand Bookstore in St Benedicts Street and buy an early edition of Jacob's Room by Virginia Woolf. Dinner, of course, has to be a pub, so it's across Symonds Street to Galbraith's Ale House (Mt Eden Rd). Hidden in a booth with Bangers, Mash, Sticky Peas and a pint, you devour your new book.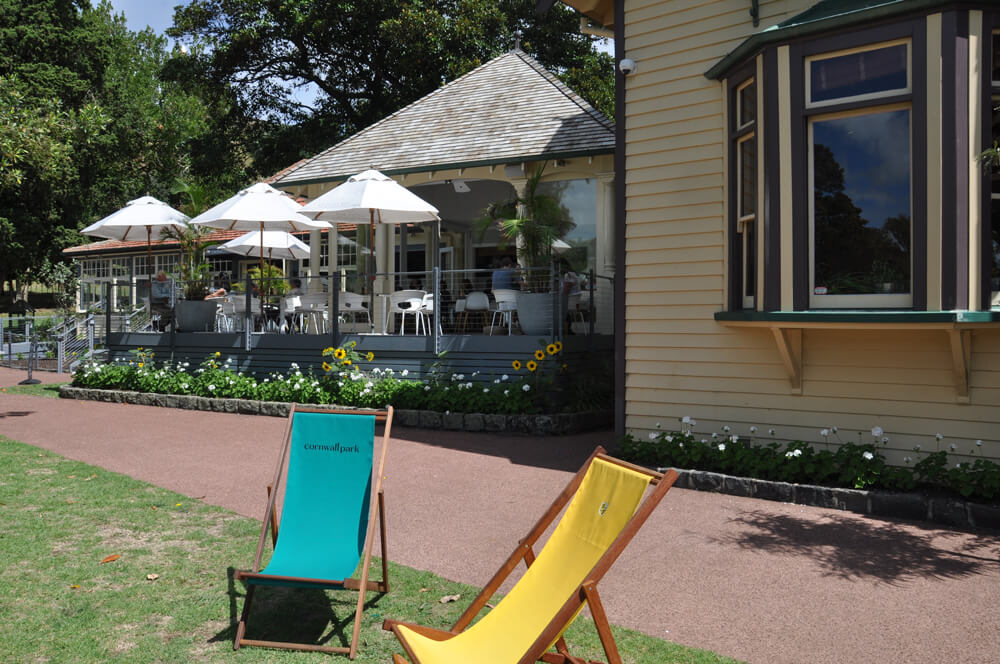 You are so lucky to get tickets to this the very last week for the ingenious Pop Up Globe Theatre and very little imagination is required to transport you to Shakespearean London. Emilia is the celebrated play (three Olivier nominations last week) about the uncelebrated poet and female contemporary of Shakespeare, Emilia Bassano Lanier. Emilia may well have the dark love of his sonnets. This muse gains a voice and it is triumphantly heard. You exit into the dark London night and attempt to hail a cab. The same intriguing stranger from the tearooms steps out of the fog and asks if you'd mind sharing. You hesitate, then the queen of the Bloomsbury Set, Virginia Woolf echoes in your head. "The streets of London have their map, but our passions are uncharted. What are you going to meet if you turn this corner?" And you nod.
Sue Lees is the founder of Time Out Bookstore, and a reviewer, travel addict and screenwriter.
Next Tuesday: Andalusian Auckland.