Mar 10, 2020 Travel
In the second instalment of the Metro mini-series Pretend Cities, a response to the travel bans put in place in response to Covid-19, travel writer Sue Lees shows how to enjoy the best of Italy in Auckland.
UPDATE: The whole of Italy has been put into lockdown due to the Coronavirus. Show your support for Italian business owners here by popping in for a coffee, drink or bite.
Read last week's instalment of Pretend Cities: How to feel like you're in New York without leaving Auckland
A note from the author as Italy introduces travel bans due to the spread of Covid-19, and as the virus' toll rises: Growing up in a family business in Auckland that represented Italian products was a blessing. It has meant a lifetime of travel to Italy and Italian friendships that have lasted a lifetime. And now we also have Kiwi/Italian family. In researching this little celebration of all things Italian, I was reminded just how simpatico (likeable and charming) Italians are and how very much their culture has enriched our own. We are thinking of Italy and sending amore.

Ready? Andiamo! No wait, jandals! Madonna! Has watching everything Francesco da Mosto ever made on Italy taught you nothing? It's all about style.
Your Vespa S125 (red, of course) is ready and waiting at Scootling Hire. They too look disdainfully at your jandals. You weave through the back streets of Ponso(nby), hammering your horn at the idiots driving on the wrong side! After two majestic circuits of the Pantheon (aka the Auckland War Memorial Museum) you park and enter.
Your jandals twang against the polished marble as you marvel at the Russell Statues, classical reproductions from the workshop of Domenico Brucciani. Commissioned in the Victorian era and so, modestly rock fig leaves. As you leave you take a caffe and lean laconically against a column before you head to Parnell(o).
Rome is midpoint in Italy, the centurion between the very diverse North and South. The culture of Parnello is more typical of the North, where to enjoy the favourite Italian pastime of seeing and being seen, you need to be looking your best. So, on the Via Parnello you park your Vespa in front of Esque. Cliff Sauni is an expert in sartorial styling. He kits you out in Italian linen but you stick to the jandals, declining the Italian leather loafers which are worth more than your first car.
Cars in Parnello are worth many, many pairs of Italian loafers and the most expensive are often parked outside Non Solo and Osteria. Gently lulled by fountains and dappled light in the enclosed courtyard, you are able to enjoy the longest of Italian lunches in any weather. Dishes from the length of Italia are matched with vino from the original owners' Capri-esque Waiheke estate.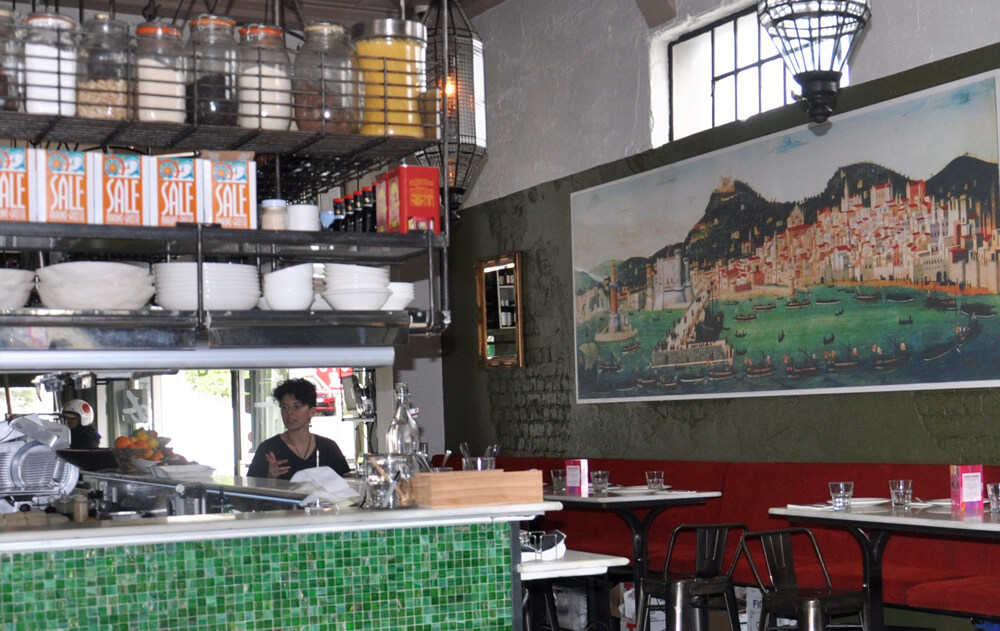 A little digestivo stroll with time to lust after the Ferrari of coffee machines at La Marzocco Showroom on Via Parnello. Before returning the Vespa, you speed along the waterfront. Renato Carsone blares out Tu Vuo fa L'Americano from your phone. At that moment you ARE Dickie Greenleaf, well in the good part before Ripley killed him. In Mission Bay, you buy a gelato. Fellini's Sylvia is not in the fountain today so instead you toss a coin in and wish she will be there next time you visit Roma.
Your evening belongs to Ponso(nby), the beating Neapolitan heart of Auckland. Many good Italian eateries like Gusto spill out onto Via Ponso but pure and simple as the name suggests, Farina, meaning flour, is the one that capture the essence of Napoli.
Farina is the place that your Italian friends return to again and again. La dolce vita is a seafood linguine, seated on a red velvet banquette under a sublime medieval painting of the coastline of Naples. The relaxed banter between Italian staff and the good-humoured, tender glances between owners Eleanora and Sergio creates something here is that is truly transportive. You are now in the soul of Italy, where food, friendship and family rule. They don't give a fig about your jandals. You are no longer pretending and you ARE in Italy and it is beautiful. That's amore!
Sue Lees is the founder Time Out Bookstore, and a reviewer, travel addict and screenwriter.