Aug 1, 2019 Bars
Fancy a drink? With our up-to-the-minute guide, you'll find the perfect venue, whatever the occasion. 
Metro's Top 50 best bars in Auckland 2019
View bars by suburb: Central city | Devonport | Eden Terrace | Grey Lynn | Herne Bay | K'Rd Precinct | Kingsland | Leigh/Matakana | Morningside | Mt Albert | Mt Eden | Northcote | Ponsonby | Remuera | Sandringham | Waiheke Island
Central city
60 Federal St, central city
We're partial to the food at this moody midtown Indian joint, but slipping in for pre-show drinks and snacks on the comfy brown couches in the bar appeals, too. Cocktail whizz Sahil Patel spends up to five hours prepping syrups, garnishes and infusions for his drinks each day. Try a gin and tonic made using barrel-aged, tea-infused gins matched with complimentary tonic waters.
Go for—a bespoke cocktail, and a plate of curry-covered fries.
Basement Theatre Bar
Lower Greys Ave, central city
One of the best places in Auckland to see local theatre and performance, the Basement bar is an inviting spot for a drink or two while you wait for a show or dissect it afterwards. Slip onto a vintage couch or perch at a table out front. The wine list is a little safe, but the beer selection makes up for it.
Go for—a craft beer and a show.
38 Roukai Lane, Britomart
Head down the stairs to the dark cavern beyond, where the rattle of cocktail shakers signals good things are on the way. They take their craft seriously here: tell the hosts your preferred spirit and tastes and they'll create a bespoke drink for you. Pop in for a late nightcap — it's open till 3am every day.
Go for—a custom cocktail.
Coley & Punch
Shed 22, Princes Wharf, waterfront
Dark, moody and bejewelled with candles, green velvet and crystal whisky-decanter lampshades, Coley & Punch has an underground vibe in stark contrast to the sea views and old boats moored outside. The whisky offering is far-reaching and sophisticated, and the spiffy barstaff make classic cocktails well — try the Old Fashioned.
Go for—whisky lounge vibes by the sea.
Dr Rudi's Rooftop Brewing Co.
Cnr Quay and Hobson Sts, Viaduct Harbour
Dr Rudi's balcony is one of the best spots in the city to enjoy a beer on a summer evening. If you can't get a seat with a view, try the tenpin bowling while you wait. If it's too busy for bowling, come back another day, but earlier. We recommend Dr Rudi's own lager from the tap — crisp, bright, and quenching.
Go for—an unmistakably Auckland view.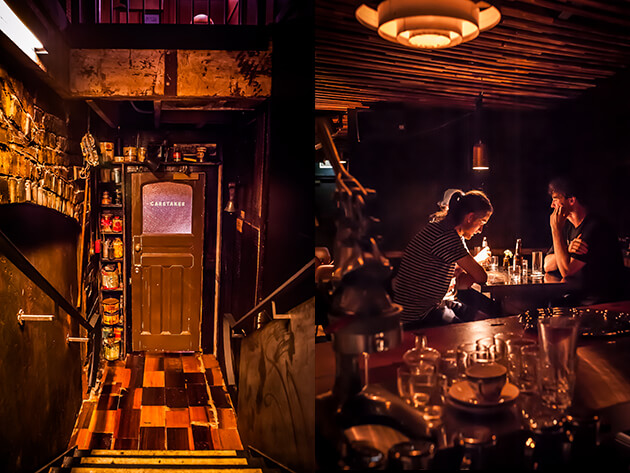 Fukuko
43 Tyler St, Britomart
The Japanese spirit shochu is having a bit of a moment, and Fukuko is right on trend with its selection of expertly made cocktails starring shochu infused with the likes of rhubarb, earl grey and ginger. There's also a huge selection of Japanese whiskies, some sake and umeshu options, and interesting Japanese-leaning bar snacks. DJs regularly liven up this little spot, but the vibe remains chilled and unpretentious — a rare thing in this part of town.
Go for—classy cocktails with a twist.
The Gin Room
12 Vulcan Lane, central city
A G&T is a beautiful thing, but not all are created equal. You'd hope a bar called The Gin Room would nail it, and with two pages of gin, nine tonics and nine garnishes to choose from, the chances of success are high. If that sounds a tad stressful, bar staff can advise on promising combos, and the cocktails are equally alluring. Add the characterful premises — the upper storey of one of Auckland's oldest pubs — and you've got yourself a top-notch spot for a nightcap.
Go for—a low-key late-night cocktail.
Holey Moley
204 Quay St, Viaduct Harbour
Even if neon lights, blaring early 2000s bangers and wacky décor make you feel slightly disorientated, how could you not have fun playing mini golf while tipsy? And that's before you consider the friendly group rivalry that inevitably develops during play. Drinks are so bad they're good, like a vodka-based "Sugar Caddy" cocktail which comes adorned with a lolly kebab. Weekends get busy, so book a timeslot online.
Go for—the sheer novelty of it all.
Housebar — Hotel DeBrett
2 High St, central city
DeBrett's upstairs bar has an upscale homeliness, with its fine art-deco details balanced by an overwhelming sense of comfort. The drinks follow suit — cocktails that delight but don't reinvent, and a wine list by the bottle to suit a breadth of tastes and bank accounts. If you're looking for an after-work pint, head for the corner bar downstairs.
Go for—the opulent comfort.
87 Federal St, central city
It's worth dressing up to visit this sumptuous SkyCity bar with its extensive wine list and premium spirits, because the interior is as flashy as the drinks list, which features a $375 glass of cognac, as well as rare Japanese whisky and a bespoke baijiu (Chinese spirit). Also on offer are exclusive Emerson's-brewed tap beer, and one of the most extensive wine selections in the city.
Go for—an important celebration.
9 Durham St East, central city
We never tire of claiming the couch at the far end of this long, lovely room and settling in for a lazy weekend afternoon or pre-show drinks and tapas. On a summer's day, the bar is bathed in an alluring light, while come evening, low lighting and candles on the tables extend a cosier invitation. The drinks list encompasses Spanish and New Zealand wines, sangria and sherries. The tasty tapas and mezze offerings are similarly expansive,
and unchanged in recent memory. It's the consistency of this city stalwart that pleases — after all, why would you mess with such a good thing?
Go for—the afternoon.
Mo's
5 Federal St, central city
The sweetest tiny bar in town, Mo's is best for a private conversation for two or to be taken over by a group. Go for well-made, well-known cocktails without an artisanal twist in sight. Oh, and cigars, if that's your thing. Easily walkable to or from most central-city restaurants, Mo's is an ideal place to start or end an evening.
Go for—privacy or an unofficial private party.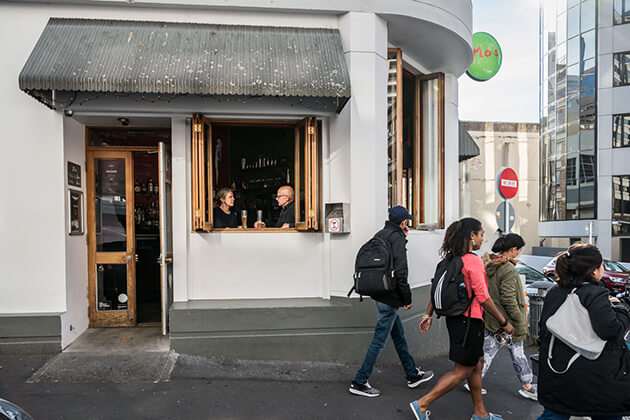 Outside Mo's. (Photo: Rebekah Robinson)
The Sugar Club
Sky Tower, cnr Federal and Victoria Sts, central city
In the past, you could ascend to the upper levels of the Sky Tower only if you were willing either to shell out $30 for a ticket to the viewing deck or book in for a rather expensive meal at The Sugar Club. But the restaurant has recently opened its swish cocktail bar to those who wish simply to partake in a beverage and take in the view. The wine list and cocktails are excellent and there's a nifty little bar-snack menu to boot.
Go for—wooing a date or impressing an out-of-towner.
Talulah
52 Tyler St, Britomart
Perched above its older, more sensible sibling The Chamberlain, Talulah is a tiki bar nestled in what used to be the outdoor balcony area of the Tyler Street Garage. It's weird and fun, retro and futurist; quirky Pacifica with hallucinogenic lighting. Like the atmosphere, the cocktails are busy, fruity and fun.
Go for—a cocktail you'd otherwise drink at an island resort.
23B Westhaven Drive, central city
We've got a soft spot for this so-bad-it's-good old sea dog, its low wooden rafters crammed with flags, golf clubs, surfboards and many, many old licence plates (no, we don't know why either). Barnacled on to the side of the thrillingly kitsch seafood restaurant of the same name, Swashies' bar is just as hokey and equally as popular: weeknights can be a high-vis crush as labourers wind down with after-work beers. As you'd expect, the beer selection is madly mainstream, and the bar is festooned with dad-joke signs; "if you drink to forget, pay in advance" is a favourite.
Go for—no-frills fun times.
Vultures' Lane
10 Vulcan Lane, central city
Vultures' Lane could be your classic Kiwi pub, if it wasn't for the fact it has one of the best beer selections in the city. Twenty-two rotating taps and an ample fridge selection will satisfy even the fussiest of beer drinkers, but non-beer-nerds will feel at home, too — it's unpretentious, fun and at times rowdy. A word of warning: the "old-school Kiwi pub" thing extends to the gender balance, but we have a feeling that will change as the craft beer movement continues its move mainstream.
Go for—Kiwi pub vibes with great beer.
Cnr Galway and Commerce Sts, central City
Stepping into the jungle-like courtyard at Xuxu is a pleasant escape from downtown chaos — although it can get pretty busy in here, too. Monopolise a table with a few friends and order rounds of authentic handmade dumplings to go with the inventive, seasonally driven cocktails. We love the chicken and water chestnut wontons in a numbing drunken sauce paired with something from the "firm, bold and fruity" section on the perfectly formed wine list.
Go for—baskets of handmade dumplings matched with local wines.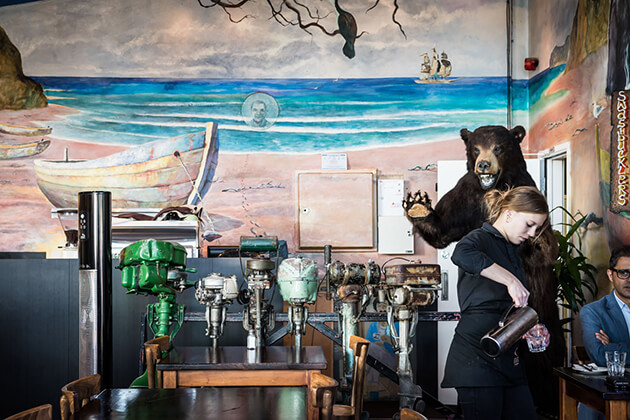 ---
Devonport

5 Clarence St, Devonport
Devonport's a funny old place — so much potential but a bit limited on the dining and drinking front. Thank god, then, for Tiny Triumphs, a humble little spot tucked away off the main drag that locals flock to. A couple of couches, an outdoor area, simple pizzas and a very good selection of craft beers, plus a few wines and green bottles for the traditionalists. Plus, it's kid and dog friendly. What's not to like?
Go for—feeling like you're at a mate's house, but with better beer.
---
Eden Terrace

Beer Jerk Bunker
224 Symonds St, Eden Terrace
Beer Jerk is an online beer subscription service with a focus on rare and interesting brews. In October, the pair behind it opened a bar — an intimate, atmospheric space underneath Uptown Freehouse on Symonds St. Naturally, the focus is intriguing beers, and there are more than 100 to choose from. Whether you fancy a kölsch from Yorkshire, a sour from Sweden or a barley wine from Upper Hutt — or simply a palatable pale ale from who cares where — you'll be well looked after.
Go for—diving into the world of beer. 
2 Mt Eden Rd, Eden Terrace
Beer-focused drinking establishments are not the rarity they once were in Auckland, but there's still nowhere quite like Galbraith's. It's the closest thing we have to a real English pub, but there's nothing kitschy or contrived about it. From the glorious heritage building to the vast array of beers — largely English and European-style and with rotating guest taps as well as on-site-made brews — to the comforting pub food on offer, it's a soul-nourishing afternoon pit-stop.
Go for—a trip to Blighty without leaving town.
---
Grey Lynn
440 Richmond Rd, Grey Lynn
Freida's feels like it's been at the heart of the West Lynn shops for ever, but actually, it's been only half a decade. Housed in a former corner-shop butchery, it's cosy and popular, so you might end up making new friends whether you like it or not. Choose a wine, beer or cocktail from the thoughtfully compiled options, perhaps grab a pizza and hope the owner decides to tickle the ivories at the end of the night.
Go for—chill neighbourhood vibes.
Pocket Bar & Kitchen
592 Great North Rd, Grey Lynn
Pocket Bar is Grey Lynn's communal living room where everybody is welcome, from rowdy pre-rugby goers, to babies and tiny dogs who share the sandpit in the courtyard. Inside is lush with hanging plants, and the sun shines brightly through the glass roof, making this an ideal all-weather local for gathering with friends over some lazy snacks and drinks.
Go for—a beer in the sunny courtyard with your friends, baby or dog.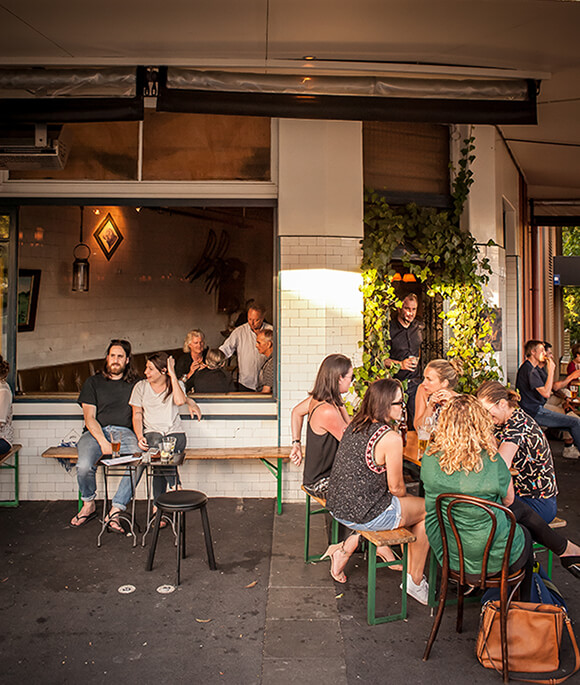 ---
Herne Bay

198 Jervois Rd, Herne Bay
A well-loved leather armchair of a neighbourhood bar, The Elbow Room is dark, comfortable and worn in. The wine list is well chosen, the cocktails are classic, and the bar snacks are simple and satisfying. But it's the atmosphere that's the attraction, bustling on a sunny afternoon, quiet and dimly lit in the evening.
Go for—red wine and intimate conversation.
Jervois Rd Wine Bar & Kitchen
170 Jervois Rd, Herne Bay
The novella of a wine list here is designed to make its reader try something new — with a focus on diverse, organic and rare wines — and the small team are well informed on every inch of the offering. There are abundant platters and a decent burger to keep you sated while you order another glass, a very good tap-beer selection, and live music if your timing is right.
Go for—a lazy glass that turns in to a bottle, and some dinner in the street-front courtyard.
---
K'Rd Precinct

Acho's
St Kevin's Arcade, 183 Karangahape Rd, K' Rd Precinct
Grab a spot at one of Acho's high tables and watch the world go by over jugs of Orion and top-notch Japanese bar snacks. There's a good selection of sake, shochu and plum wine, and if you're in the mood for exploring, ask to see the whisky list — you'll be handed a mysterious-looking little book filled with page after page of Japanese whiskies, priced from $10 to $100-plus per glass, each with quirky tasting notes.
Go for—K' Rd-meets-Tokyo vibes.
280 Karangahape Rd, K' Rd Precinct
Four years on from opening, Apéro is more bustling than ever. Leslie Hottiaux and Mo Koski can no longer operate their hole-in-the-wall wine bar alone, but it still feels homely and intimate, thanks to its attentive, laid-back and charming staff. With an evolving and adventurous list, a drink here is a lesson in good wine, one that is accompanied by moreish French fare ranging from bite-sized goat-cheese croquettes, to a rib eye that feeds a crowd — and that sausage is still the most satisfying bar snack in town.
Go for—a glass of something you've never tried before, and some sausage.
For more great videos, check out our Youtube Channel.
376 Karangahape Rd, K' Rd Precinct
Not just one of Auckland's perennial best dinner spots, Coco's is home to what is probably the best happy hours (5-7 pm). Share a jug of sangria (in summer) or a couple of bargain-priced glasses of prosecco (anytime) and a bowl of the pasta special. You'll be happy as anything.
Go for—happy hour at an outside table.
GG x Flamingo
271 Karangahape Rd, K' Rd Precinct
The air here is spiked with spices and mischief. Maybe it's the shots the bartender shares with you as you pay your bill; the naughty hospo crowd that gathers here nightly; or the fact the interior — hessian sacks, hand-painted recycled wood and cheap neon lights — feels like it might catch fire at any second. Whatever it is, we like it. Let the bartenders recommend a drink; they know what they are doing and will likely introduce you to your new favourite tipple.
Go for—strong cocktails and banging playlists.
Lovebucket
309 Karangahape Rd, K' Rd Precinct
Down the back of K' Rd's Food Workshop, Lovebucket is one of those bars you don't just wind up at. It's a destination, and its wine, beer and cocktail lists live up to expectation. Focusing on off-beat "natural-leaning" wine, the more experimental end of craft beer, and adventurous cocktails (some of which come on tap), Lovebucket is worth the search.
Go for—the best natural wine list in Auckland.
490 Karangahape Rd, K' Rd Precinct
A streetside table at this small, op-shop-chic bar and restaurant is one of our favourite spots to watch the world go by. Inside is intimately cramped — this is perhaps not the place for the most private of conversations — but usually filled with fun-loving diners and drinkers alike. The drinks list ranges from cheap cans of equally cheap beer to inventive and fun cocktails, often with a herbaceous twist.
Go for—people watching and a pisco sour.
352 Karangahape Rd, K' Rd Precinct
K' Rd drinkers are spoilt for choice these days, but Peach Pit remains one of our faves. Get there early for happy hour and to nab an outdoor spot, or grab the table by the window inside and watch the weird old world go by. The drinks are great, of course — nice natural wine and craft beer options — and the quality of the bar food belies the casual vibes. Think thoughtfully prepared seasonal vege-focused sharing plates, such as asparagus, nasturtium, Sichuan pepper and quail eggs.
Go for—good drinks, good food, good times.
183 Karangahape Rd, K' Rd Precinct
If you want to drink at a cool flat but no longer get invited, the Wine Cellar is always there for you. The drinks are interesting — the owner's family vineyard provides the wine and some liquor — but the music is better. Whether listening to jazz on the bar stereo or watching a live performance in the back room — anything from Nadia Reid to the debut performance of an improvisational homemade synthesizer trio — there's no better place in Auckland to hear great music.
Go for—lo-fi-music and lo-fi ambience
---
Kingsland

Garage Project Kingsland Cellar Door
357 New North Rd, Kingsland
Don't come here intending to settle in for a few pints of something non-challenging and be on your way — it has a tasting licence only, so there's no choice but to dive into a paddle of the Wellington brewing superstar's bar-raising, ever-changing beers. Seating is limited, but cheese toasties and good vibes — paired, of course, with those glorious brews — mean standing doesn't seem a hindrance. Keep an eye out for the regular special events, where guest food trucks often park up out front.
Go for—expanding your hoppy horizons.
NextDoor bar & lounge
469 New North Rd, Kingsland
If you've spent even 10 minutes queuing for one of Umu's woodfired pizzas this year, you'll be as excited as owner Simon Murphy is about their expansion — there's now a neon-lit cocktail bar where you can wait. Drinks are strong and the music is loud and they're open until 2am some nights. As well as being a fun holding pen for the restaurant, this is the perfect place to grab a beer and a feed before the game at Eden Park… if you can get a seat, that is.
Go for—a pre-pizza cocktail.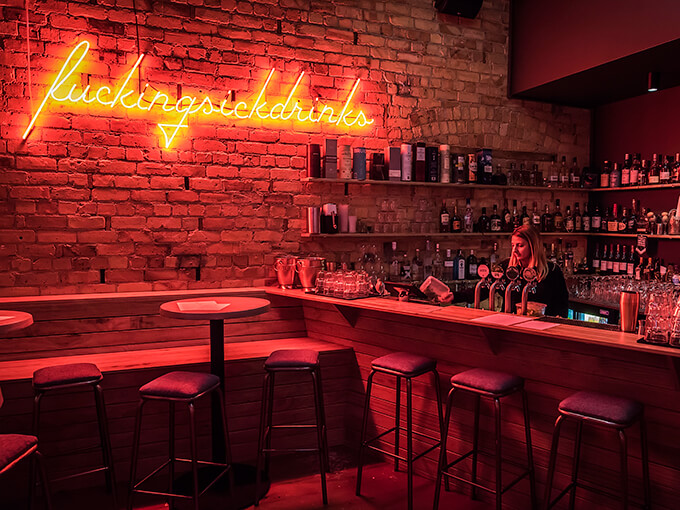 ---
Leigh/Matakana

Leigh Sawmill
142 Pakiri Rd, Leigh
If you're in the area, don't miss the chance to stop in for a woodfired pizza and a Warkworth-brewed pilsner under the roses in the garden. If it's not beach weather, head up for one of the frequent touring musicians who play among the salvaged milling equipment.
Go for—a relaxed afternoon after the beach.
Sawmill Brewery
1004 Leigh Rd, Matakana

No trip to the northern beaches is complete without stopping at Sawmill for a quenching brew straight from the source. Part-farmhouse, part-bach, there's plenty of room in the sprawling outdoor area where you can nab a comfy corner seat, a bar leaner, or just sprawl on the grass. While their core range of beers are undoubtedly the crowd pleasers, try the seasonal releases that allow the brewers to experiment with new flavours and styles.
Go for—a post-swim Sawmill Pilsner, as refreshing as it gets.
---
Morningside

Flight 605 [RENAMED TO 605]
605 New North Rd, Morningside
A great beer selection and free popcorn — need we say more? How about the fact it's tucked away in Morningside, is subtly aviation-themed (it's run by a former flight attendant) and offers a range of "fries of the world" with toppings inspired by different nations. Thursday is quiz night, there's regular live music and the staff treat everyone like old mates. Trust us, you'll want to make this place your local.
Go for—feeling like everybody knows your name.
2B Western Springs Rd, Morningside
Make yourself at home on leather couches or bar stools as the malty aroma of a working brewery fills your nostrils. Urbanaut has a tasting licence only, but the beer flights are generous and you've got 10-plus taps to choose from — the brewery now makes Yeastie Boys' New Zealand offerings as well as its own beers. Pair your beer with a bag of Proper Crisps and you can't go wrong.
Go for—interesting beers straight from the source.
---
Mt Albert
Chinoiserie
4 Owairaka Ave, Mt Albert
Asian-fusion joints with catchy names and bold interiors come and go, but Chinoiserie has stood the test of time, for good reason. A beacon of fun on an unassuming suburban corner, it's always busy, packed with happy locals tucking into flavoursome, well-priced drinks and snacks — think steamed buns and fries with wasabi mayo. There's a nice selection of craft beers and an interesting little wine list, plus some fun cocktails, and service is friendly and efficient.
Go for—baos and beers in the 'burbs.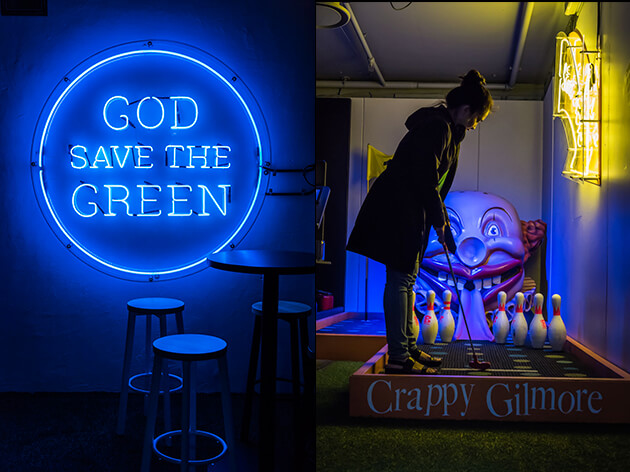 ---
Mt Eden

Brothers Brewery & Juke Joint | Reserve table
5 Akiraho St, Mt Eden
Brothers' Mt Eden flagship is the best bar in town for people with children. It's big, it's busy and it's loud enough for the kids not to ruin anyone else's time. Plus, there's an out-of-commission van to entertain and contain them. The beer made on the premises goes down as easy as the tater tots.
Go for—a beer and barbecue with kids.
---
54 Northcote Rd, Northcote
Hidden down a driveway, this pumping no-frills garage space is all about the beer. It's furnished with old couches and a scattering of mismatched tables and chairs, and staff have been known to fashion a table out of old kegs and wooden pallets when it's standing room only, which it quite often is. With 40 local beers on tap, the team will let you taste-test before designing your own flight. Food comes from a rotating cast of trucks parked outside, such as Peach's hot chicken and the White Lady.
Go for—beer from New Zealand's best brewers, all in one place.
---
Ponsonby
277 Ponsonby Rd, Three Lamps, Ponsonby
It's timely that Annabel's opens at 3pm, when the circular booth at the front of the bar is drenched in afternoon sun and begging for some pals to catch up over a drink and a few plates of top-quality meat and cheese. The wine and beer list is succinct, but we come mostly for a negroni or a spritz. The sexy, deep-blue banquettes and tables for two make this the perfect spot for rubbing knees with a lover or sharing whispers with your bestie.
Go for—a negroni and a round of meat and cheese, or two.
26 Ponsonby Rd, Ponsonby
Enter this playful bar through the graffiti-splashed carpark out the back of Azabu, where you'll find the music is loud and the lights are dim enough to take the edge off any awkward first date. Like the food served here, the cocktails blend elements of Japanese and South American flavours. There's mezcal, pisco and Cuban Rum; but also yuzu sake, plum liqueur and shochu.
Go for—snacks from the raw bar with cocktails to match.
Conch Kitchen & Bar
115A Ponsonby Rd, Ponsonby
It was a slow transition from record store to full-blown bar and kitchen, but the community surrounding Conch's musical roots are what makes it the genuine and welcoming place it is — and with some of the city's best DJs being part of the family, the music is always on point. We love a quenching hand-pressed sugar-cane mojito in the courtyard, a happy-hour Hallertau beer in the afternoon sun, or a wine from the classy little list to accompany something from the South American kitchen.
Go for—kerb-side happy hour.
45 Ponsonby Rd, Ponsonby
The pair behind Caretaker, Heather Garland and Alastair Walker, have listened to their impatient wait-listed customers and opened a Ponsonby Rd sibling. With no menu and no prices, you order by chatting with your server about your desired flavours and effects. The process can feel fastidious, but the resulting cocktails — often as antique as the interior — are some of the best we've had.
Go for—your new favourite cocktail.
Mea Culpa [NOW CLOSED]
3/175 Ponsonby Rd, Ponsonby
Gone are the waistcoats of a couple of years ago — Mea Culpa has evolved into a more relaxed, almost-dive bar without losing its attention to detail when it comes to cocktail-making — think specially ordered ice and as many glass shapes as you can imagine. We're particularly keen on the frothy New Orleans cocktail that rises slowly above the rim like a soufflé.
Go for—whatever the bartender feels like making.
Vodka Room
5 Rose Rd, Ponsonby
Plush velvet seats, gold walls, chandeliers… subtle it's not, but in this age of cookie-cutter Scandi-chic interiors, this Russian bar/restaurant's unashamed maximalism is almost refreshing. The name's not just for show — there's an impressive array of vodka to choose from. Let the knowledgeable waitstaff talk you through a tasting flight (all price points are catered for) and pair it with some hearty Russian bar snacks before you head upstairs to one of the karaoke rooms.
Go for—over-the-top fun, Moscow style.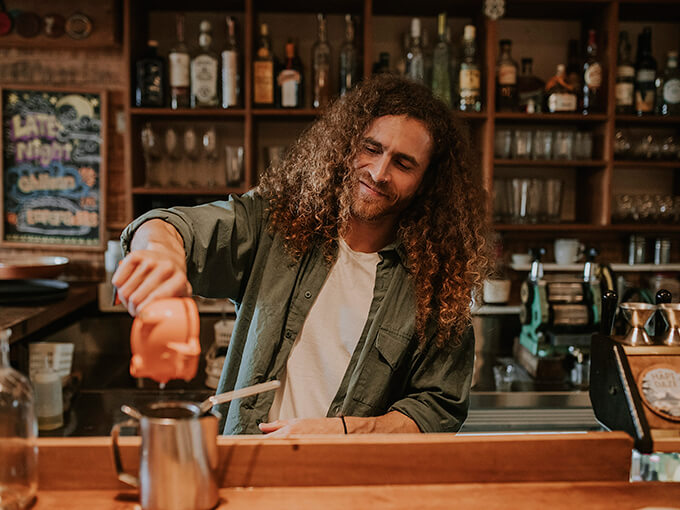 ---
Remuera
Banque Oyster Bar & Eatery
311 Remuera Rd, Remuera
Here's to neighbourhood bars that also serve freshly shucked oysters. Last time we visited, Banque welcomed everybody from a couple settling in for a romantic meal, to a father and son on a beer and lemonade pitstop while walking the dog. Banque has something for everyone, but especially oyster lovers.
Go for—oysters and a dry riesling.
---
Sandringham
Satya Spice and Chai Shop | Reserve table
515A Sandringham Rd, Sandringham
Head on down a narrow alleyway with hundreds of empty craft-beer cans floating just above your head to a room lined with canvas sacks and fitted with salvaged crates for seats and old wooden spools for tables. Help yourself from the extensive craft beer selection in the fridge, waving your bottle to the staff as you return to your spool. Eat rounds of fragrant, spicy Indian tapas. And don't overlook the chai tea.
Go for—spicy chicken and a sour beer.
---
Waiheke Island
Alibi Brewer's Lounge
70-72 Onetangi Rd, Waiheke Island
Hidden beneath Tantalus winery, the vaulted brick ceiling and cool leather booths at this working brewery provide a welcome respite from the scorching sun outside. The handful of seasonal beers made here are as fresh as it gets and the food is made to match them, with pretzel bites, buffalo wings and a cracking Reuben sandwich on house-made rye bread. There are well-crafted cocktails, Tantalus wines and a takeaway window to grab a pack of cans and head to the beach.
Go for—a tasting paddle with vineyard views.
---
Best Bars by A-Z
1947 eatery | Reserve table
Acho's
Alibi Brewer's Lounge
Annabel's | Reserve table
Apero
Azabu (Roji Bar) | Reserve table
Banque Oyster Bar & Eatery
Basement Theatre Bar
Beer Jerk Bunker
The Beer Spot
Brothers Brewery & Juke Joint | Reserve table
Caretaker
Chinoiserie
Coco's Cantina
Coley & Punch
Conch Kitchen & Bar
Deadshot
Dr Rudi's Rooftop Brewing Co.
The Elbow Room
Flight 605 [now 605]
Freida Margolis
Fukuko
Galbraith's Alehouse
Garage Project Kingsland Cellar Door
GG x Flamingo
The Gin Room
Holey Moley
Housebar – Hotel DeBrett
Huami Bar
Jervois Rd Wine Bar & Kitchen
Leigh Sawmill
Lovebucket
Madame George
Mea Culpa [now closed]
Mezze Bar
Mo's
NextDoor Bar & Lounge
Peach Pit
Pocket Bar & Kitchen
Satya Spice and Chai Shop | Reserve table
Sawmill Brewery
The Sugar Club
Swashbucklers
Talulah
Tiny Triumphs
Urbanaut Brewing Co Cellar Door
Vodka Room
Vultures' Lane
Wine Cellar
Xuxu Dumpling Bar | Reserve table

Judges: Leisha Jones; Alice Neville; Henry Oliver; Kate Richards; Jean Teng; Susannah Walker