May 31, 2019 Art
Homelessness is a growing problem both internationally and in New Zealand. Too many of us assume rough sleepers have little to offer – an exhibition of works by international artists affected by homelessness challenges that assumption.
It was cold on Wednesday night – the unseasonably warm weather Auckland had been enjoying this May giving way to rain. Cold nights hit the homeless hard, and many rough sleepers in the CBD could be seen lying under sleeping bags for warmth.
Inside Merge Cafe on K Rd, a different side of homelessness. Artwork by international artists lined the cafe wall. All of them have spent time living on the street.
This is Where I Live is an international art exchange featuring artists from New York, London, Mumbai, Tanzania, Berlin – and Aotearoa. Lifewise, who run Merge, have teamed up with Auckland's City Mission to exhibit international artist's work from now until mid-June, liaising with London initiative Cafe Art to make it happen. Meanwhile, Kiwi artist's work is being exhibited overseas, raising the public's awareness about the international issue of homelessness. All the works are for sale and all proceeds go directly to the artists themselves.
The cafe was busy for the exhibition's opening, with several artworks marked 'sold' not long after the doors opened. The pieces were stunning. One, a canvas coloured with vibrant hatchings of abstract color on paper was particularly lovely, like a post-modern interpretation of the inside of a paua shell. It was drawn by Native American artist Roger Jones, who spent decades in and out of Bellevue Hospital in New York, and living on the streets. The piece reminded me of the similarly bright and patterned works of Japanese Artist Yayoi Kusama, who used art to help her deal with lifelong hallucinations.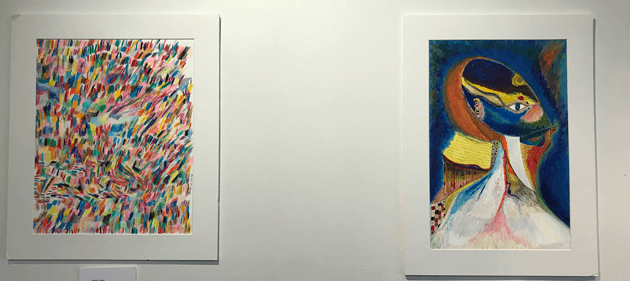 Most artists are nowhere near as famous as Kusama, but many find art does the same for them – helps them heal. Local artist Martin Rawiri is one of them. Rawiri is a softly spoken man of few words and he doesn't want to get into what life on the streets was like. But he remembers he felt when he was asked by the City Mission to come join their arts program. "You feel wanted, because no one else wants to know those sort of people [the homeless]. It lifts your spirits."
Rawiri and Tiare Tuatahi, who mentors homeless artists and teaches art to people in prison, together painted an enormous mural out the back of Merge Cafe, which was unveiled on Wednesday at the exhibition's opening. It features the stars of Matariki, and along the top runs a line of moons showing each stage of the lunar cycle. "We thought we might be able to use the wall to share Maori history folklore, history, tikanga, whatever you want to call it," Tuatahi says. I ask him what he thinks art offers homeless people. "Healing, girl. Solace. Respite. Sense of connection. Sense of contribution too. They feel they've got nothing to offer until you hand them a paintbrush, or a canvas, or a chisel. We're not going to change the world – but as long as I help one person, I'm happy."
Art is a vessel for transformation, agrees Clare Caldwell, who runs the City Mission's art program. "It's as much about the healing and transformative potential of doing art or being creative as it is about the fine arts. Everybody's got that beautiful inner spark, and if you can ignite it, they can start feel noticed. Then they can slowly build their self-esteem." It's a slow and gentle process building from the inside out.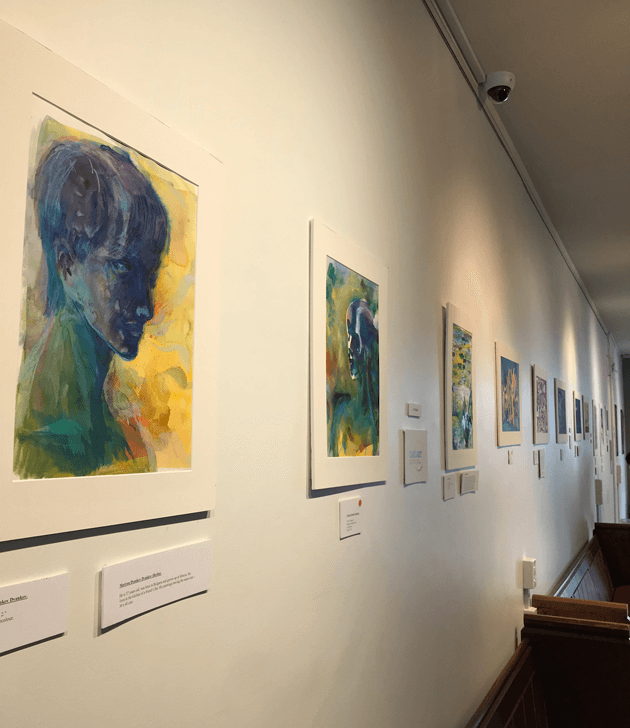 Caldwell's daughter is based in London and works with Cafe Art, which exhibits the works of homeless artists. "I just thought it was such a cool idea," Caldwell says. She was instrumental to bringing This is Where I Live to Auckland. "It's giving them a voice, because they're very voiceless," she says. "My guys, you should have seen them strutting around 'oh, I'm exhibiting in New York and London', how cool is that?"
The general public needs more humility and compassion around the issue of homelessness Caldwell says, and she hopes that art is a way to remind people that homelessness does not mean someone has nothing to offer. "Talent and intelligence is indiscriminate where it lands."
This is Where I Live is on now, running until June 14 at Merge Cafe, 453 Karangahape Rd.
Merge Cafe opening hours: Mon – Fri. 7am – 2pm. Closed weekends.