Feb 17, 2015 Art
At first glance and around every curve of Titirangi's new gallery, there are startling visual treats.
This story was first published in the January/February 2014 issue of Metro. Photos by Patrick Reynolds.
"We quite like the green not being bush green, but a green that nobody could quite cope with," says David Mitchell. We're looking at the aluminium sheathing of Te Uru Waitakere Contemporary Gallery in Titirangi, beside the landmark Lopdell House. The green is quite startling. Mitchell likes serving up "a little awkwardness, a little sort of grittiness" with his architecture.
The turquoise on the aluminium does a good impersonation of the patina of oxidised copper that was originally specified. For several reasons, including cost savings, it wasn't to be. Mitchell isn't bothered. "We kind of like its tinniness. Mind you, we wouldn't mind if it was aluminium."
A silver box glinting amidst a Waitakere bush-clad hillside. That might have been even more spectacular. But the green Te Uru, standing defiantly apart from the refurbished and seismically strengthened Spanish mission-style Lopdell House, built in 1930 as Hotel Titirangi (aka "the pub with no beer"), immediately establishes its own powerful presence.
From Titirangi Rd, a gently curved wall brings pedestrians to Te Uru's glass door and indented entrance, currently framed in galvanised steel but shortly to be painted reddish brown in place of the originally specified rusty steel.
Ahead, a slightly angled wall leads to the first of five gallery spaces; to the left, the building's first of many architectural statements — a resplendently yellow, ovoid-spiral stair. "It's rather fruity, isn't it?" says Mitchell. "A bit Frida Kahlo." The shape references the gorgeous spiral stair at the front of Lopdell House; the colour is a nod to Finnish architect Alvar Aalto's 1933 Paimio Sanatorium in Finland, which sports a canary-yellow staircase.
Peer down into the rugby ball-shaped void that the stair spirals around and you get an indication of just how big the new gallery is — a six-storey complex of exhibition and education spaces. Below are two floors of workshops and back-of-house rooms, plus a car park. Looking up, an oval skylight offset from the centre rains light into the stairwell, connecting to three levels of gallery spaces.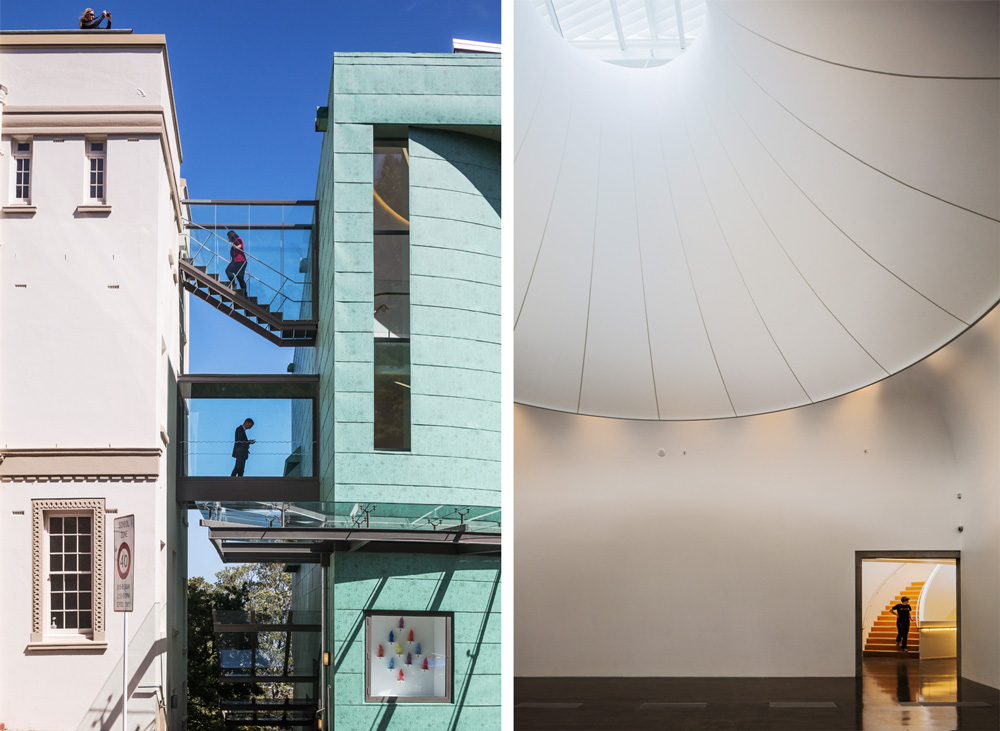 Mitchell & Stout Architects has some experience in art galleries — in 2007, the Tauranga Art Gallery and in 1995, Auckland's New Contemporary Gallery, both existing building makeovers. Here the practice, clearly relishing building from the ground up, has designed with an insistence on natural daylight infiltrating from above or from the side and the use of diffused light through fabric or clouded glass.
"And a general tendency to not rely on melodrama," adds Mitchell. He's not a fan of highly theatrical effects, preferring gallery spaces to remain backgrounds for art. He's also keen on unpainted concrete walls. "We think you can put art on walls like this," he says, running his hand across the surface.
"Gallery people think that an immaculate white fibrous plaster surface, behind which is a layer of plywood into which you put your screws, is the only way to do it."
The first gallery has standard white walls, but ticks off the other Mitchell & Stout requirements: stretched fabric over fluorescent ceiling lights, plus light filtering down through clouded glass from a slot cut into the space above. Vertical connections between floors — slots, slashes and triangular cuts — are a recurring theme.
"It has a lot to do with awareness of other people, what we think of as the choreography of the building," says Mitchell. He begins to talk about the body moving through space, but quickly stops lest it sounds pretentious. "It's very simple — people like looking at one another."
In the far corner of the first gallery, there are a couple of stairs and a peculiar narrow horizontal cut in the wall at floor level. "This is a bit of a signal: 'Come on over and take a look around the corner,'" says Mitchell. What you see is slightly scary. Visitors step outside the gallery box to ascend another yellow stair — a long raking path rising across the unpainted concrete face of the building. The outer side of the stair is a wall of vertigo-inducing glass, its steel mullions unnervingly slanted at right angles to the slope.
The Waitakere vista it provides across bush-clad hills to the Manukau Harbour is breathtaking. "We think it is fairly important to set people off on a trip."
At the top landing, another signal: a vertical mirror on the doorjamb suggests it may be worth going inside. Here is Te Uru's pièce de résistance — Gallery 2, featuring a plastered cornice-like curve between wall and ceiling, leading to a square central skylight and huge circular hanging fabric structure diffusing the light. Mitchell calls it "the lantern".
Technically it's a hyperboloid, like a power station cooling tower, but more splayed — a giant bell-shaped lampshade. They drew it old school, by hand, using French curves "until it looked right", then modelled it in Rhino 3D computer graphics software.
Made of fireproof fabric by Balloon Blitz, whose work mostly involves those promotional inflatables you see at car yards and sports games, the lantern floats. It's shaped by gravity in a sea of white that makes the corners of the room disappear. "The bottom ring hangs from the top ring. It's definitely no hands," says Mitchell.
There's much to admire in Te Uru beyond the art, especially at the upper level, which provides a bridge to a reinstated roof deck on Lopdell House for sculpture displays, plus stunning views across the Waitakere Ranges. Throughout the building are surprising nooks and crannies for staging art.
But to really appreciate Te Uru, it's worth descending the outside stair between the two buildings to see the refurbished 1920s Treasure House with its temple-like portico. Then look up to Te Uru's huge southern face. Here, the jutting diagonal grid stair and sculptural composition offer another signal: Te Uru's skilful carving of space, fine architecture and a master at work.
Chris Barton is the Canon Media Awards 2014 Reviewer of the Year.