Jun 15, 2018 Art
Pacific Sisters: Cut from the same cloth
In March, Te Papa opened its new Toi Art gallery. Among the first exhibitions is a retrospective by Pacific Sisters, the Auckland collective that has been pushing Maori and Pacific creativity to centre stage since the early 90s.
They've described themselves as the Polynesian version of Andy Warhol's Factory — an evolving collective of artists creating art, music, fashion and film, who hung out together in Auckland in the 1990s and did cool things.
Now they're coming from the fringes of the art world to its institutional centre, Te Papa. As they prepared for their big show in Te Papa's new Warren & Mahoney-designed art gallery, Metro asked them how the group got together and shook things up.
Suzanne Tamaki: It started with Selina [Forsyth] and me in a warehouse on Nelson St in the early 90s. Selina had scored this place and I'd just had a baby and left my partner. We were looking around and all we could see were white models and white stories — it was really hard trying to get our stuff into anything. Selina was making these customised suits and puletasi [traditional dresses] and they were just beautiful and so clever and really forward, and I said to her, "Why don't we have a fashion show and show off your stuff?" I was making hats and jewellery and all kinds of stuff, playing around. I said, "Come on, let's do it!" Niwhai [Tupaea] ended up in our crowd. She came to stay with us in the warehouse and she was a genius — she was really tribal and her stuff was fearless; she was this gorgeous boy transitioning into a woman and we were there helping to make it a safe space.
Ani O'Neill: Rosanna Raymond and Feeonaa Wall approached me on Queen St while I was crossing the road with a friend. We'd met them before; we'd seen them around at different clubs; we were all club kids. They were heading to the Chase Plaza and then Rosanna just came up and asked if we wanted to be in a Pacific fashion show casting. Me and my friend looked at each other, like, should we? That's how I fell in as a model to begin with. It was so refreshing to find people with really similar experiences to mine. We were cut from the same cloth — we were all city-based and we all had that "half-something and half-something-else" thing going on. We were out there doing stuff and making a point.
Lisa Reihana: I was hanging out a lot with Selina Forsyth — she was a seamstress for Mercury Theatre — along with Suzanne and Niwhai; the three of them were the original members who started Pacific Sisters. I remember going to a dance party and Selina told me to come and meet her mate. It was Suzanne, and this was back in the day of pointy bras and that whole Madonna style of dress. Everything was sexy, crazy and hardcore!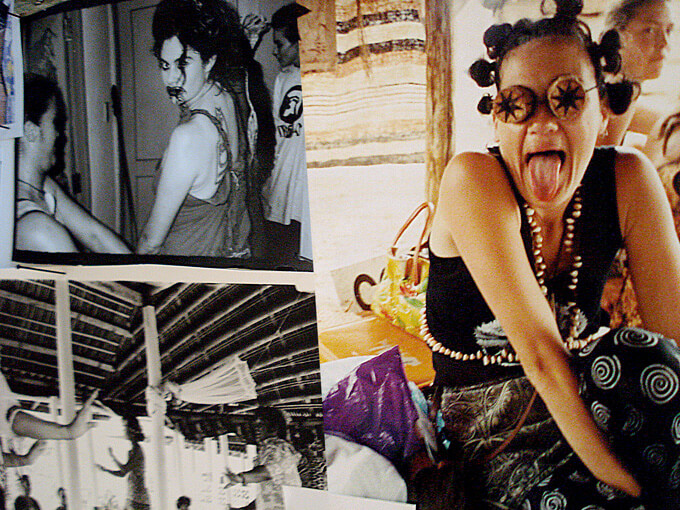 Feeonaa Wall: I had this idea as a kid that I wanted to grow up and put on shows, but I didn't know how I was going to make that happen. A friend told me about Rosanna and I arranged to meet her. When I turned up, Rosanna had just gotten off the phone to the council — they'd asked her to put on a Pacific fashion show and she wondered how she was going to do it, and then there I was! That was how our journey started.
Jaunnie 'Ilolahia: I come from film and TV. I was introduced to Rosanna and she asked me to be in one of her shoots for Planet magazine so I was, like, "Yeah, cool!" Like any other organic process, more people come and ask you to do more projects. The shows got bigger and bigger, and as Pacific women and as artists, we never wanted to say no.
Henry Ah-Foo Taripo: I was singing in a talent show out west organised by Philip Fuemana back in the day. It was called Street Soul and the girls saw me sing. I'd written a jazz piece especially. Ani being my niece, well, she introduced me to the Sisters. It's hard to explain what the energy was like in the beginning. Either they'd heard of you or they'd seen you or you had something special to bring to the collective. The minute I see them, my mind is thinking, "Right, what am I going to bring?"
Rosanna Raymond: Nobody knew what to do with us. Our own Pacific people would ask, "What are you?" One time, at an event, Reverend Mua [Strickson-Pua] stood there saying, "These are your children!" They didn't want to know anything about us. They weren't ready to accept we had anything to do with Pacific Island culture, as we stood there dressed in leathers and feathers, in coconut-shell bras with "legalise marijuana" and "tino rangatiratanga" as some of our main messages, and "Pride" and "kill the possums, save the trees", "honour the treaty". We were highly politicised. Back then, there wasn't urban Pasifika. You were either an Islander or an other. Our own people — the way they treated the New Zealand-born community, they really disregarded us.
Suzanne Tamaki: Selina and I started having warehouse parties to pay the rent. We'd invite our friends to come and perform — Upper Hutt Posse, Twelve Tribes of Israel, Che Fu, DLT, Dean [Hapeta] and Roger Perry, so many good people. Sometimes the parties would be heaving — we could fit a couple of hundred people in. We were so young, they were such good times — everybody could feel there was a change coming. Our collective is massive; the shows would grow and then pull back to the core members. We might need a cast of hundreds, pulling all sorts of people together, and then there were the people behind the scenes — so many technicians, and our partners; those poor bastards, they've been great, ha! This is why it works: the Sisters isn't a fad, we don't make things just because they're pretty. We live this; it's in everything we do.
Ani O'Neill: I think I was the straightest Pacific Sister, I was never Posh or Scary, if you think of us as Spice Girls. Maybe I was Baby? I suppose I was a bit different because I'd come through Elam. I was still rough around the edges but I was a good Island girl brought up by my grandparents. Rosanna's place was compared to Andy Warhol's Factory — it was that kind of vibe. People would drop into her place to talk. After the fashion shows were over, we would keep doing projects, and it would be like, "Do you know this and that story?" We would share our own cultural versions of myths and legends.
<!– –>
Lisa Reihana: We were sharing knowledge between ourselves. Someone would say, "Oh, I want to share this story" — Ina and Tuna or Sina or Hina or Hine or Maui — and everyone would come back and say, "Oh well, you know from a Tongan perspective it's like this, or from a Maori perspective it's like this", and we would just share and talk about cultural differences and ask ourselves, "Okay, well, if we're going to tell this story, how are we going to tell it — whose perspective is it from or do we mash it all together?" Just being able to think about it and critique and go away and do research and then come back together again, it really was great.
Feeonaa Wall: The children of the Island immigrants wanted to rediscover their roots, and it wasn't just us, it was in music, theatre, it was everywhere — Che Fu, Dam Native, King Kapisi, the film-makers — and we brought the fashion expression in a contemporary environment. We were searching, exploring our culture, and we were really on the edge of that as well. We got in trouble, we learned the hard way, people told us off, told us to cover our bodies, but we were like, no, we're going way back past that cultural norm. Why are we covering our bodies? There's no use standing there with your flag if you don't understand the context or understand the people who have put that flag in your hand and allowed you to wave it. You better understand why you're waving it and what you want to say.
Jaunnie 'Ilolahia: I feel overwhelmed by all of this [the exhibition at Te Papa]. The weight on your shoulders, you know, like, can I represent Planet Tonga perfectly? Generations from now… from this show at Te Papa, our great-great-great-granddaughters will hopefully look at the photos and be, like, "Oh, wow, it's okay to be wahine toa, it's okay to break out in a pukana, this is the history of where Urban Pacific comes from."
Rosanna Raymond: After seeing the space, now it's real. Shit just got real! The space is ridiculous. It's so tino flash — the true enormity has hit us. Everything will have a lot of space around it. The recognition is just, wow! So much of our history from the 90s was pre-internet; we weren't all taking selfies. We reached new levels of crazy, so it's amazing now to be honoured like this. Nina, our curator, touched me by saying, "It's a New Zealand story", but really we were just doing our thing. Now, we can reflect — but at that time we were just in it.
Pacific Sisters: Fashion Activists, Toi Art, Te Papa, from March 17 to July 15.