Dec 11, 2014 Art
Simon Denny is inspired by Andy Warhol and Bob Dylan and he calls himself an "authentic brand founder". And right now he's the biggest name in New Zealand art.
First published in Metro, November 2014. Portrait by Grant Maiden.
I met Simon Denny about 10 years ago. He made sculptures full of rope and wood and dirt and debris. The first time I saw one I had a nightmare about it. He was in his last year of art school and possessed a manic work ethic and a magnetic energy. We rode on his scooter to a party of the Auckland art establishment: artists, curators, gallerists. While I was happy to drink their wine, I didn't understand why he dragged us, in our early 20s, to a middle-aged garden party. I didn't understand that he was working. That he was always working. His studio was work. A conversation was work. A party was work. And when the party was over, he went back to his studio and continued to work.
In the intervening decade, Denny has become New Zealand's most successful contemporary artist. He exhibits at some of the world's most prestigious galleries and museums. And according to Artfacts.net, a website that quantifies the attention artists receive at exhibitions and auctions, Denny is ranked 546 among all artists, living or dead. Number one is Andy Warhol. Number two, Pablo Picasso.
No other New Zealander is close. Francis Upritchard is 1525, Michael Parekowhai 4088 and Billy Apple 5613. Colin McCahon is 8041. While Artfact's metrics are geared towards the market visibility of an artist rather than the quality of their work, Denny's ranking is unprecedented for a New Zealand artist.
Robert Leonard, senior curator of the Wellington City Gallery, says that although some may quibble with the metric, it's hard to deny his unique position. "I don't think we've ever seen what's happening with Denny now," Leonard tells me by email after mentioning the importance of such luminaries as Boyd Webb, Len Lye and Frances Hodgkins.
Last year, Denny became the first New Zealander to have his work included in the curated section of the Venice Biennale. On a recent trip to Germany, Jim and Mary Barr — Wellington-based collectors, curators and bloggers — attended the opening of his exhibition New Management at the Portikus gallery in Frankfurt. Jim Barr recalls the opening: "I was amazed by the seriousness he was taken with and how people were very interested to know what he was going to do next. It's the first time I've seen any New Zealand artist where people felt they had a position, that Simon was doing something important."
Denny is highly respected in the New Zealand art world too. He was a finalist for the Walters Prize this year and in 2012, and his major exhibition The Personal Effects of Kim Dotcom is showing now at Wellington's Adam Art Gallery. Next year, he will represent New Zealand with a new show at the 2015 Venice Biennale.
Simon Denny is 32 years old.
Denny's medium is the installation. Although he does make individual paintings and sculptures, his focus is cohesive, content-driven exhibitions which investigate the cultural phenomena of our lives.
"I don't aim to obfuscate. I hope not to have too many unproductive mysteries for an audience."
The work is deeply researched, almost journalistic in style. And it's meant to be experienced directly, although it does typically contain allusions to obscure art movements and conventions — for those who want to look for them. Denny insists he wants his work to engage a viewing public beyond the art world. He likes "wide audiences" and finds an exclusive focus on avant-garde conversations "boring".
"I don't aim to obfuscate. I hope not to have too many unproductive mysteries for an audience. I have an idea that my exhibitions could communicate things to all sorts of people and certainly not just art audiences," he tells me via Skype from his Berlin studio.
"But I don't think that means you need to say something accessible. I don't think you need to make a lot of compromises for that, you just need to be really clear about what you're doing."
The installations are grand in scale, bold in colour and precisely produced. A recurring motif is the re-creation of objects. He makes copies of objects that already exist, and he makes objects to represent ideas and other non-tangible "products". The Dotcom exhibition, for example, consists of 110 canvases showing Denny's graphic representation of everything taken from Kim Dotcom's mansion in the police raid of January 2012, plus objects representing the confiscated possessions: a jetski, a motorbike, bags and bags of shredded money…
Manufacture of the objects is often outsourced to technicians and trades­people, some of whom make the real objects he is replicating.
The translation of digital content to "in real life" objects can be aesthetically challenging. The design of Apple's iOS 6 user-interface may have looked beautiful when backlit in the palm of your hand, but when the same design logic is used to present unfamiliar information, blown up and printed on a large canvas, something you've looked at every day can suddenly seem foreign and uncomfortable.
Robert Leonard thinks this discomfort is deliberate. Despite Denny's proclaimed lack of interest in the avant-garde, Leonard places him squarely in that tradition because of the way he challenges prevailing ideas of beauty and art.
"Modern art is full of breakthrough moments, when things are introduced that are so new that, at first, people fail to understand them as art," he says. "I think of Manet's Olympia or Duchamp's Fountain. Denny is doing something similar."
For his part, Denny says he likes doing installations because exhibitions of all kinds, not just in contemporary art, are having a renaissance in the digital age. "I think it's something to do with people wanting to do other things and see things that they can't see at home. They want to have extraordinary experiences."
It can also be a lucrative way to work.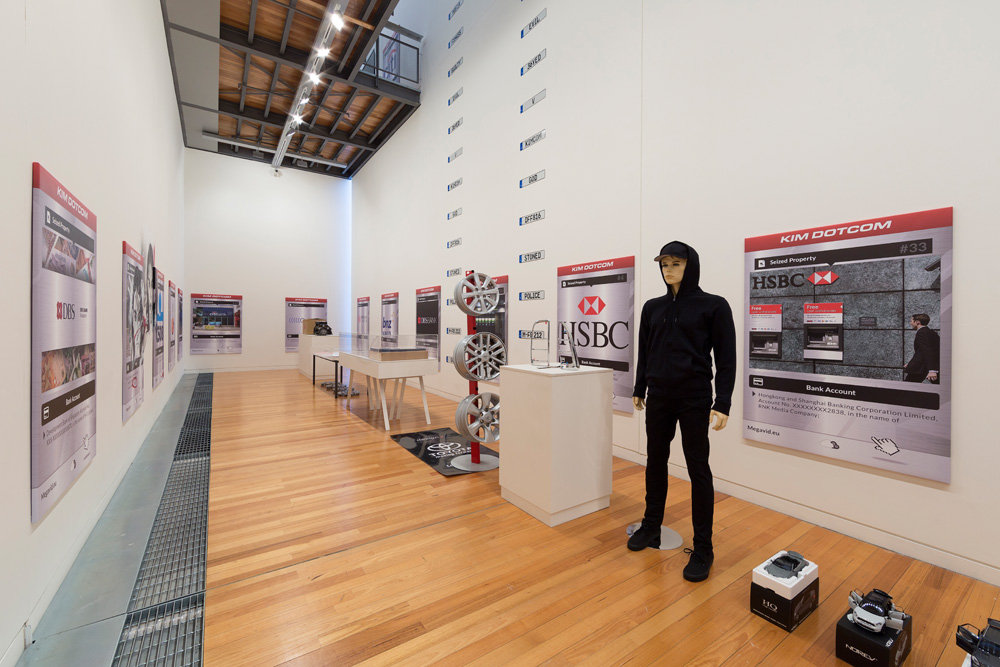 Being successful for an artist like Simon Denny means not only working in the studio but working the room: personality and social contacts really matter.
"The artist can be seen as the key product," Denny says. "The rest of it is part of the dream, but you yourself stand for the key product. Which can be annoying, but true. That's what audiences want, that's what curators want. An authentic brand founder."
Denny is a great brand. He walks, talks and acts like a young professional artist. "He plays the game," Barr says. "He's aware of the game, he understands it. He's very self-aware. He doesn't look at the commercial world as some evil beast that has to be tamed or avoided. He sees it as part of his world. He's lucky; he may not have it inside him, but he exudes confidence. People like that. People like energy, they like confidence, they like good humour and Simon's got a good dollop of most of those things."
Denny doesn't play the brand game cynically. He's not in it just for fame and fortune, or to critique the systems he investigates and borrows from. He really does want to be part of the cultural conversation on a large scale, and he knows that being rich and famous as an artist enables that.
The slacker artists of Gen X have given way to the entrepreneurial urges of millennials.
It's one of the reasons he's so interested in digital technology: Silicon Valley is the biggest cultural force of our time. "It's a particularly poignant moment for tech," he says. "It's a new moment, where the world is experiencing exactly how much power Silicon Valley has. I think it's an important moment to look at the contribution of the tech world culturally also, from an art perspective. They have this suddenly incredible cultural influence, and that material hasn't been processed in the art world in the way that I think it could be."
The slacker artists of Gen X have given way to the entrepreneurial urges of millennials. Andy Warhol is a dominant influence. "Being good in business is the most fascinating kind of art," Warhol said. "During the hippie era, people put down the idea of business. They'd say 'money is bad' and 'working is bad'. But making money is art, and working is art — and good business is the best art."
There's no better symbol of business art today than Jeff Koons, the Wall St broker-turned-sculptor whose works — gigantic shiny "balloon" animals, for example — can cost millions to produce and have bankrupted at least three galleries, but they can sell for millions more.
Where Koons is blue-chip, Simon Denny is a start-up. He talks about his "product", "investment", "budgets", "risk", "upskilling", "added value", "R&D". Business practices inform his art as both subject matter and as an operational model; money doesn't just make you wealthy, but opens more possibilities for the work, and makes the work better.
"A great project has a power of its own," he says. "If you do something great, which people love, then money comes, somehow. Because attention comes. It's like a great business. If you do a thing that has real traction, it's easy to sell because people want it. If you do something that sucks, forget about it, you'll never recoup any costs.
"The most important thing is to make the show awesome because if it's not awesome, then you lose everything. If the show's awesome and you don't sell immediately, you've still got a great product. Even if it doesn't mean money back, it's at least advertising. The most important thing is to do something great because that's where the power to move everything else comes from. That's when opportunities come, that's when money comes.
"That's also when cultural meaning comes. Which is, of course, my ultimate ambition, to really produce culture. And nothing does that unless it's exceptional. You have to go in trying to produce an exceptional project."
Finding inspiration in banality: Simon Wilson on Denny's Walters Prize entry, All You Need is Data
Growing up in a household of high-culture and modest means, full of books and Beethoven, Simon Denny went to Auckland Grammar and, he says, became involved in art as a refuge from the "perfect neolib education".
But when he arrived at the University of Auckland's Elam art school, he immediately started to rethink what it meant to be an artist: "I had wanted to be this bohème painter," he says. "What was great for me about art school was it was clear to me that it was more of a holistic skill I had to develop. That included entrepreneurship, an intense level of competition, personal political skills, social skills. All of these things that I now count as my skill set… were introduced to me at that time and were much better suited to my personality than what I thought I would be entering at an art school."
In his first year, Denny made a beeline for Michael Parekowhai, then a lecturer and now a professor at Elam. "I went straight to him and we immediately connected," he says. "He has a history where he takes on some students in a more intense way, and I really wanted to get involved in that."
Parekowhai became a model for Denny's ambition. "He was always like, 'I want to be the best. There's other people that are more talented than me but I'm still going to be the best.' I took that very seriously."
Denny also impressed Michael Lett, a young gallerist who, a couple of years earlier, had controversially left Gow Langsford Gallery with Parekowhai as his flagship artist. The two became fast friends. Denny impressed Lett with his knowledge of the international art scene; Lett impressed Denny with his professionalism and generosity.
"He had this special idea of what the dealer should be," Denny says. "He wanted to be this kind of involved manager and I was just totally ready to work with someone like that, so that was a match made in heaven. I went to restaurants for the first time that I didn't know existed. It was like a whirlwind of fun."
Denny gravitates to others. At Elam, he and fellow student Tahi Moore were inseparable and made a number of shows together, even collaborating on school-assessed work. Later, Denny became closely connected to Nick Austin, a couple of years his senior, who made work with a distinctive use of materials and a sly sense of humour.
Like many successful people at a formative age, Denny was a sponge. He absorbed as much as he could from any given situation, internalised the aspect that interested him most, then searched for more. He was like Bob Dylan in 1961 Greenwich Village, going to every show, learning every song that caught his ear.
"I think learning from people is really important," he says. "I'm a fan of art before I'm a maker. I think that anybody that does anything good is a fan before they're a producer. Also, business is like that too. You have to have models and you have to understand what made those interesting and compelling before you can do them. So the closer you get to the source of information, the better information you're going to have about what that process is."
But, he adds, that's not to say he was being either consciously strategic or callous. "At that time, I was just following what I was attracted to. I'm just like, 'Okay, this guy is doing the best stuff. I love what he's doing. I love him as a person. I want to know more.' Then you kind of go there and you're like, 'Wow, wow, wow!', and you're like, 'That guy is doing something really interesting too.' And, 'Oh, I really want to get to know that.' And that's part of my process still."
Nick Austin tells me over Skype: "He loves to work with people because he loves sharing ideas. And that's where it's coming from. He wants to know stuff and he wants to think through things and he does that by working off someone or working with someone. But there's nothing cynical about it."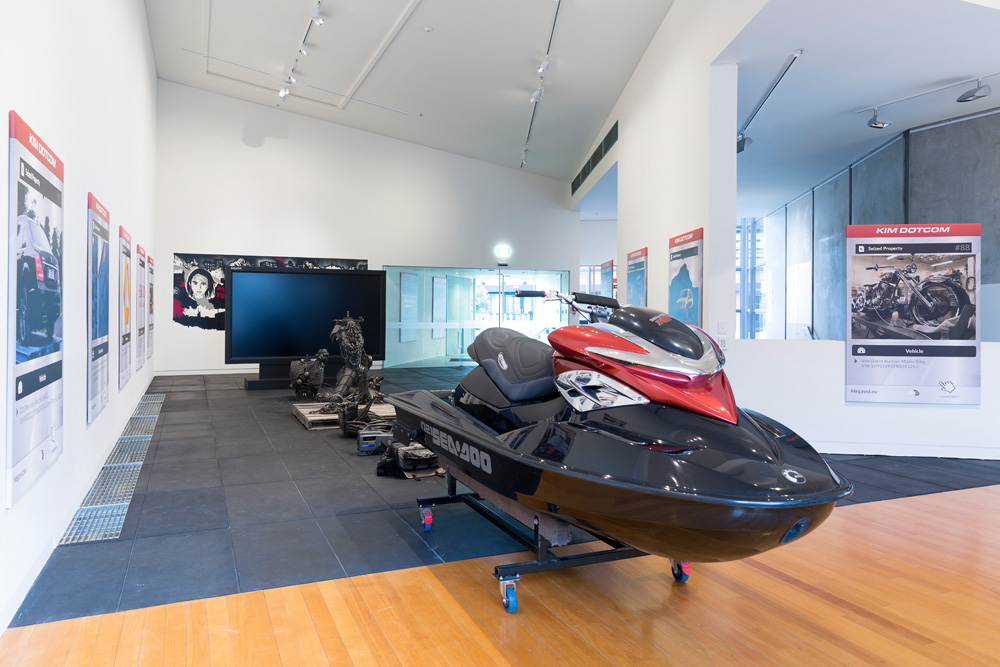 Michael Lett had high hopes for Denny from the start, and in 2006 took him to Liste, a companion fair to Art Basel for younger artists and galleries. They sold one piece.
"I was kind of scared by that first fair experience," Denny says. "It was pretty difficult. I was just like, 'Okay, this is what a different art world looks like. I am completely insignificant in this other system.' It was this complete wake-up call."
"Städelschule is like finishing school for artists. They make art stars there."
Returning to New Zealand, Denny looked for a way out. He found one in Nicolaus Schafhausen, a German curator who came to New Zealand for a speaking tour, saw Denny's show at New Plymouth's Govett-Brewster Gallery and bought it on the spot.
When he told Schafhausen he was hoping to leave, Schafhausen suggested he continue his study at Städelschule, an art school in Frankfurt. Denny travelled to Germany and met Städelschule Professor Willem de Rooij, who told him he could stay.
"Städelschule is like finishing school for artists," says Sarah Hopkinson, co-owner of the Hopkinson Mossman gallery. "They make art stars there. There's nowhere that has a better network, there's nowhere where you can have access to as many people who are very powerful in one place."
Since graduating in 2009, Denny has used that platform to establish his practice from his new base in Berlin. He has exhibited constantly, with solo exhibitions across Europe and the United States, and he has dealers in Auckland, New York, Berlin and Rome.
In 2012, Denny returned to Basel with Lett, exhibiting at Art Statements, a section of Art Basel, where selected young artists exhibit and compete for the Bâloise Art Prize. Six years after making a single sale in Basel, Denny won the award for Channel Document, which addressed changes in the media landscape through the demise of TVNZ 7, a short-lived news and information channel.
The main component was purchased by Rubell Family Contemporary Arts Foundation, one of the world's largest privately owned contemporary art collections.
"Before the award was even announced, people were powering it to the booth, and we were completely sold out within 10 or 20 minutes, with some people seriously angry that they'd missed out," Lett remembers.
"The very next day, the award was given out, and we found ourselves in the centre of this other amazing moment. I was beyond proud. Never before had a New Zealand artist been at the epicentre of the world's most influential art fair. It really felt like we'd achieved something that week."
Living in Berlin, Denny used a website called Megaupload to watch English language TV and transfer large files as part of his art production. When the service suddenly went down, he read about the site's owner, Kim Dotcom, a German living in New Zealand, whose mansion had been raided by the New Zealand police on behalf of the US government.
Reading everything he could, he found a link to the US government's indictment against Dotcom, which included a list of Dotcom's seized assets. Denny immediately saw the sculptural potential of the seized property: cash, cars, bank accounts, URLs, artwork, televisions.
Jenny Gibbs, a long-standing arts patron, has withdrawn her support for the Biennale project.
He also saw the metaphorical potential of the collection, where the assets become symbols for the legal and cultural questions repeatedly brought up by the internet and digital culture. "Who has access to what, what it means to own something, what it means to circulate something. Also, the values in those objects strangely echoes the value system of the material he was distributing. So that's a great irony about the whole thing as well.
"Like, he had this Predator, the statue which was not an official Predator statue. But the values of Hollywood remain somehow, like awesomeness and ballerness and dudeness — all this stuff is tied up with the tech world and the entrepreneur world and post-gamer world and all these subcultures that he embodies one extreme end of."
Denny began work on The Personal Effects of Kim Dotcom in 2012, and it debuted at the Mumok museum in Vienna in July 2013.
He was unaware of the impact Dotcom would have on New Zealand culture, but decided anyway against involving Dotcom in the work. He wasn't interested in Dotcom's values as such. Instead, he was exploring the real and symbolic values of the objects — the way they represented the digital world and the symbolism of physical objects being confiscated in retribution for distribution of non-physical goods.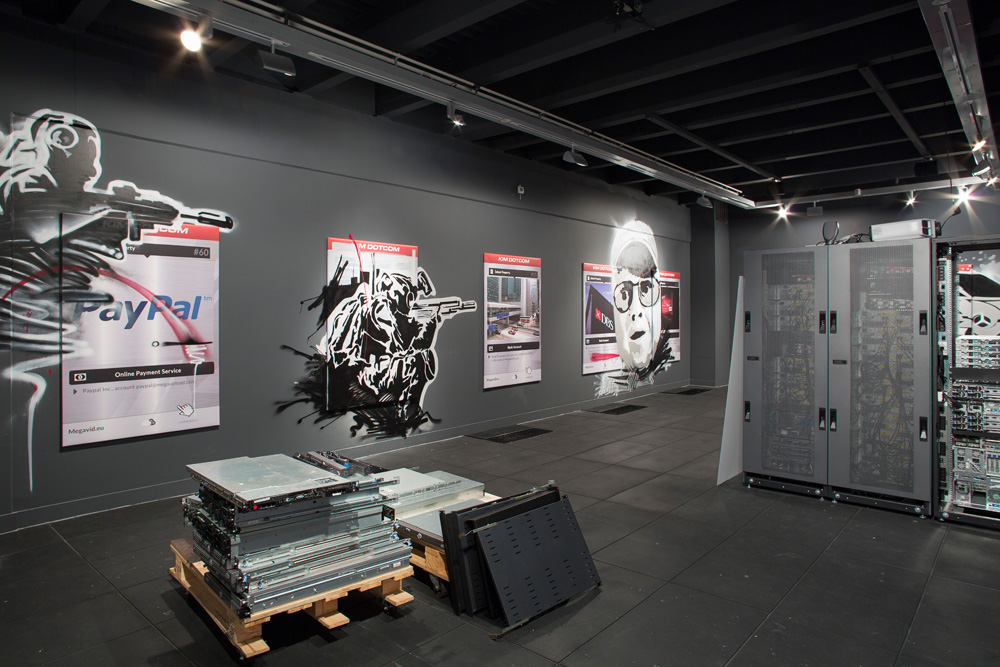 Another person Denny became involved with before the cultural meaning of that involvement altered significantly is Nicky Hager. Denny's exhibition at next year's Venice Biennale, Secret Power, will include allusions to the Five Eyes intelligence network between New Zealand, Australia, Canada, the United Kingdom and the United States.
The exhibition will partly draw on source material from the Edward Snowden leaks as well as Nicky Hager's 1996 book of the same name. Hager is a consultant on the project and acts as Denny's guide through what is often complicated material. "He knows this stuff backwards," curator Robert Leonard says. "He's the best adviser we could have."
After Dirty Politics, Denny says Hager's involvement has "completely changed how everything reads in New Zealand".
It has also politicised Denny's work in a way he hadn't anticipated. Jenny Gibbs, honoured with a damehood for her services to the arts, is a long-standing patron of New Zealand's participation in the Biennale and also a major financial contributor to the Act Party — and she has withdrawn her support for the 2015 Biennale project.
The Friedlander family, also prominent arts patrons, have done the same.
Is there more to come? This year's Walters Prize inspired very little of the "Why are my tax dollars supporting art I don't understand?" argument. But that may change if the question becomes, "Why are my tax dollars sending a left-wing conspiracist to Italy to help an artist criticise the government?"
Such criticisms misunderstand how Denny approaches his subjects. Hager is useful for Denny's exhibition not because of his politics, but because of his information. And while many people object to Hager's politics, few have seriously questioned the veracity of his information.
For Denny, the Five Eyes surveillance network is a cultural phenomenon like a tech conference or Samsung or Kim Dotcom. He's not interested because he thinks it's either good or bad, but because it has a cultural significance worth investigating though art. He's interested in what it does to our thinking and values, how it shapes us, not what we should do about it.
Denny puts it like this. "What's great about art is that it can have ambiguity in it," he says. "I have lots of different feelings, sometimes contradictory, about the same subject all the time. And to communicate that as part of an exhibition is doing justice to what it's like to think through issues. It's not that I don't have a position. I do have a position; it changes at certain times and it changes with my proximity to the material."
"I'm not out to change the world, I'm out to figure out what it is."
And, he adds, "I'm an acceptor of the world as it is. I'm not out to change the world, I'm out to figure out what it is. Critique is a difficult word because it means different things in different spaces, but I'm not out to be critical of these subjects. I'm not out to point out bad things that happen in the world. I'm not out to say, 'That's a problem, we need to fix that.'
"That's not how I feel personally about the world and it's not what the motivation for making the work is. It's more like, 'This is an amazing, sometimes strange, sometimes alien, sometimes exciting, sometimes boring, context. What is it all about?' That's my modus operandi for the world and me, and that's the attitude which I hope carries across in the projects."
Now that he's flying high, what keeps him up there? "An important motivator for me is always to have goals which I can see a way to achieving," he says. "My long, long, long-term goal is to try to make the best contribution to a cultural conversation that I can make. That might be a goal that never shifts. The mini-goals of where I'm going next, they have to be more tangible for me.
"My goals for me are to be involved in projects which challenge me on a content level and an audience level. But you can't drum up these opportunities, they have to come to you. So goals can never include specific destinations for my work, but of course some venues and situations are very appealing, and I would like a chance to be able to work with great art brands like the MoMA. There's so much to engage with there."
Soon after I finished interviewing Denny, he was offered a solo exhibition at MoMA PS1, an annex of the Metropolitan Museum of Modern Art in Queens, New York, dedicated to contemporary art.
A month later, five days after losing the Walters Prize, Denny sold five works to MoMA, including a railing of three canvases from his Walters nominated show. It was, they thought, their first acquisition of a New Zealand artist since Len Lye.