Feb 27, 2016 Art
Is painting still at the heart of art? How good are our best contemporary painters?
Debates about painting's contemporary status tend to get bogged down in clunky arguments about whether it's a "dead" medium or not. Far more interesting, to me, is the question of what we actually talk about when we talk about "painting".
Elaine de Kooning once said: "A painting to me is primarily a verb, not a noun, an event first and only secondarily an image." It's a good summation of why it remains such a complex thing to understand — whether we consider it a process or an outcome, a verb or a noun.
In 2015, several shows in Auckland put this question to the test. In February, Martin Basher's excellent Jizzy Velvet at Starkwhite combined hard-edged abstractions with macho interior decoration to create a total environment that was part minimalism, part American Psycho.
In the same month, Judy Millar's The Model World at Te Uru was a masterclass in theatrical installation and painterly play. Meanwhile, her concurrent Proof of Heaven at Gow Langsford showed her extraordinary understanding of the connections among process, colour, image and space — with influences as diverse as 16th-century mannerism, contemporary comic books and abstract expressionism.
There were excellent historical shows, too. In June, Gow Langsford's Colin McCahon exhibition reminded viewers of the transformation the artist underwent from dreary second-hand cubist to one of the 20th century's most idiosyncratic and weirdly significant painters. And in late September, Starkwhite presented a beautiful survey of Gordon Walters' gouaches from the 1950s, curated by Laurence Simmons. Pre-dating the koru paintings, they were remarkable for their nascent geometric plays, which defined his later work.
The year finished with the opening of Auckland Art Gallery's major exhibition, Necessary Distraction: A Painting Show, which, on a much grander scale, sets itself the task of gauging the temperature and current wellbeing of New Zealand painting. Curated by Natasha Conland and including 20 painters, it does exactly what a good contemporary survey should, introducing the wider public to a number of artists who've started to make waves in the art world.
It also takes risks with the way their work is displayed. In many cases, Conland decided to leave the internal structures of temporary walls exposed, or their surfaces unpainted. This often pays off, creating a dynamic course through the show while avoiding, for the most part, the cliché of presenting paintings as precious jewels on pristine white walls.
Which is not to say there are no diamonds. Julian Hooper and Saskia Leek's paintings hover delicately between figuration and abstraction. Andrew Barber's enormous sewn canvas, which riffs on his own "tennis court" paintings and Picasso's seminal Les Demoiselles D'Avignon, is both imposing and (deliberately) ridiculous. And there's a very good collaboration between Kirstin Carlin and Emma Fitts, which responds to paintings from AAG's collection, including works by Louise Henderson.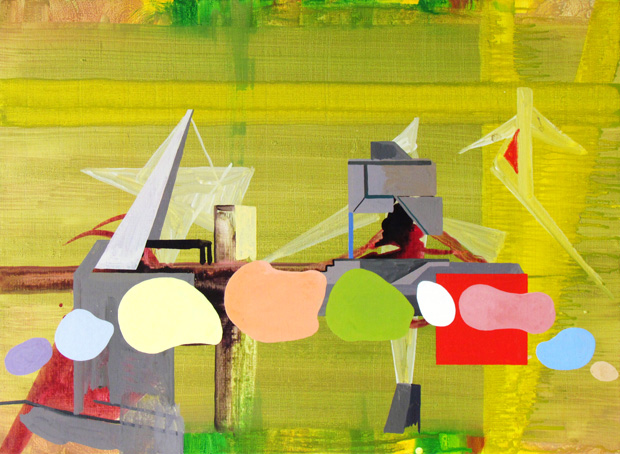 There's also renewed energy from seasoned campaigners. Simon Ingram has been building "painting machines" for years, but the one he's used here packs new punch — its slightly demented grey brushmarks, generated by artificial intelligence software, showing no respect for the borders of the cardboard mounts he's put up for it to work on.
Kim Pieters has created a beautiful series of powdery, subtle surfaces on crappy bits of board, onto which she's then "doodled". And James Cousins' layered canvases, which start from found botanical images, are some of the show's highlights.
Not everyone fares so well. Nick Austin is a really interesting artist, but he's not an interesting painter. The room that pairs Anoushka Akel and Milli Jannides lets the air out of their work, their paintings clinging to the gallery walls in the most traditional hang of the show. And Stella Corkery comes a little unstuck, her pop-expressive paintings seeming pretty quiet and conventional against more medium-bending works nearby.
These weak spots point to one of the show's limitations. With the exception of Ingram's machine and Jeena Shin's wall work, there's a consistent deference to painting's "thingness" — its flatness, its materiality. For the most part here, painting is a noun, and a painting is a rectangle. The paint almost never gets off the walls.
That said, there's a lot to like about Conland's take, which is built around artists who, if not always pushing the medium forward, are certainly trying to understand its histories and legacies. It's a confident assembly, almost abrasively so in its considered selection.
One of the most notable exclusions is Imogen Taylor. Taylor's work splits the art world. It isn't always pretty — painted thickly on hessian, with references to orphism, New Zealand cubism, Tony Fomison and Philip Clairmont. It can also be loud and rough around the edges.
But as Body Language, her recent solo exhibition at Artspace, showed, Taylor's amorphous abstractions operate in a space where the physicality of the material — its fluidity, its stickiness, its thickness — collides with the physicality of her content. Among her abstract folds, lumps and forms are discernible body parts — breasts and bums, fingers. Red circles can double as nipples, which can triple as burning cigarette ends.
Then there are the titles — Bumping Ugly, Pillow Biter, Beast With Two Backs. Taylor completely understands how abstraction can also be a form of caricature; she's as influenced by Robert Crumb and Philip Guston as she is by Sonia Delaunay.
Several of her Artspace paintings hung from ropes around a sloping, central platform. That was either a level of theatricality they didn't need or it didn't go far enough — it didn't move the whole wonky scenario close enough to collapse. But it did show a forceful desire to get away from the walls.
Taylor, to me, is the real deal — confrontational, funny and immensely talented. I have no doubt she will play a big part in the future of New Zealand painting. It was also nice to know that when things got a little polite at AAG, you could walk uptown and listen to Taylor's work yelling, a little worse for wear, in a lonely room on K' Rd.
Necessary Distraction, Auckland Art Gallery, to April 4.
Main image: Work by Simon Ingram in Necessary Distraction: a Painting show. Auckland Art Gallery Toi o Tamaki.