Jul 17, 2013 Art
The Fantastic World of Hye Rim Lee
is on at TSB Bank Wallace Arts Centre, until July 28. Get along tonight for a special talk by artist Hye Rim Lee and a screening of the documentary
TOKI Does New York
, in which Lee prepares for a make or break show at New York's Max Lang gallery.
Frances Morton spoke to Hye Rim Lee for the March 2013 issue of Metro when the artist returned to Auckland from New York to be visiting fellow at AUT's art and design school.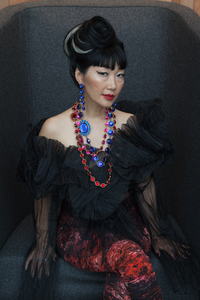 Searching for paradise is the concept behind Hye Rim Lee's latest art work and the reason she first ventured from her homeland, Korea, to Auckland 20 years ago. Traumatised by the early deaths of her father (a director) and mother (opera singer), ill health and an unhappy marriage, Lee escaped to a place that she chose for its otherness.
Yet while the seasons were opposite and the culture completely different, the lush environment conjured happy memories. "When I hit New Zealand, just from the airport, I thought, 'This is the place. It's like my childhood garden,'" says Lee.
Echoes of that thought are present in her work Strawberry Garden, the first instalment of a wide-ranging digital art project entitled Lucid Dream, which will be on show at the opening of AUT's shiny new $100 million building on March 22.
Designed by Jasmax, the Sir Paul Reeves Building on the corner of Mayoral Drive and Governor Fitzroy Place is the high-tech home of the university's communications school. It has a media centre with a radio station, motion capture, animation and television studios, plus lecture theatres, communal areas and lobbies linking through to other areas of the campus. The Reeves building provides a gateway for the public into the university and is a welcome facility for downtown Auckland.
It is also Lee's workplace for the semester, as AUT's first visiting fellow in the art and design school. She returned from New York, where she has lived for the past five years, to take up the fellowship in February.
As well as mentoring students and working on Lucid Dream, Lee will present open lectures and public workshops. Perhaps most importantly, she brings her experience of how to excel in the competitive international art world. Since the move to New York, Lee has had 170 exhibitions around the world from Venice to Shanghai, Basel to Seoul.
"In New York you have to promote yourself," says Lee. "I wasn't good at it because I was so Kiwi. New York people are like robots, they carry their work and wherever they go they talk about themselves. It took five years to become like that. Now I know how."
Those familiar with Lee's work will recognise Toki in Strawberry Garden, the female cyborg who inhabits her fantastical animations. Previously, Lee has used Toki to comment on social issues, questioning the manipulation and perception of female sexual identity and exploring the meaning of the individual within society.
In the new work, Toki represents a more personal journey as Lee traces her own quest for happiness.
She's packed a lot into that journey already. Going to New York on an artist residency in 2007 allowed her to be closer to her sister, who was dying of cancer in Boston. Then the 2008 recession hit and the art market collapsed. But Lee is a survivor. A Korean fortune teller told her she had experienced in 40 years what most people do in 70, and the future, according to Korean astrology, is bright.
"I have a fate to be a queen, but I'm not a queen so I have to go through these obstacles," says Lee.
"Now I'm going to be better and better."
Look out for queens appearing in her work soon.