Mar 7, 2013 Art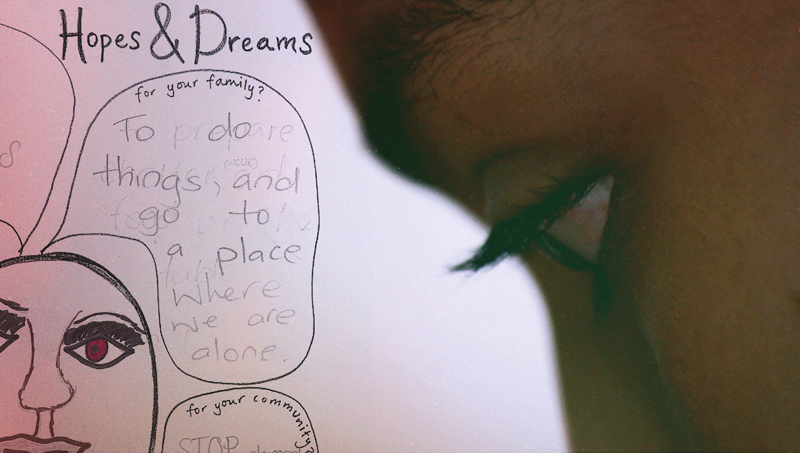 By Frances Morton. Photographed by Robert George.
"I've had eight-year-old kids coming up to me asking, 'What's a hope, miss?' Is our society so focused on reality that we're not allowing our children to dream?" That's the question artist Tiffany Singh has unexpectedly been grappling with as she works with thousands of schoolchildren making flags that represent their hopes and dreams. The 5000 coloured flags are destined to fly over Aotea Square during the Auckland Arts Festival.
The effect will be visually spectacular, but it's the process behind Fly Me Up To Where You Are that Singh sees as the real artwork.
She's done similar projects with children in Indian slums who had no access to higher education yet dreamed of becoming pilots, astronauts, teachers and lawyers — and was surprised to find many Auckland children have much more modest ambitions.
"If they ever think about money, it's winning Lotto. A lot of it is, 'I want to be safe and warm,' or 'I wish my family would stay together.' It's very basic-needs stuff and I find it very amazing that in a place where those high-reaching goals can become a reality, the kids aren't reaching for them."
The flag-making will continue during the festival at Artstation in Ponsonby, where members of the public can paint their own colourful additions for Aotea Square. Artstation will also house an exhibition by Robert George of photographs and film documenting the project.
Another of Singh's participatory works, May the Rainbow Always Touch Your Shoulder, is on show at the Auckland Art Gallery's creative learning centre until the end of the year.
Fly Me Up To Where You Are, Tiffany Singh: Aotea Square, March 6-24.  Fly Me Up To Where You Are — Te Waharoa, Tiffany Singh and Robert George: Artstation, March 2-24.
More Festival Shows Kids Will Love
Urban / Circolombia  Graduates of Circa Para Todos, Circus For All — a professional circus school for disadvantaged youth — bring the volatile streets of Cali, Colombia, to the stage through explosive circus acts infused with Latin hip-hop and reggae.
Leo / Circle of Eleven Who needs words when you can defy gravity? German dancer/acrobat/trampolinist/actor Tobias Wegner literally dances on the ceiling in this enthralling one-man show.
The Man Who Planted Trees / Puppet State Theatre Company Puppets! Plus theatrical magic that you can smell and touch in this Scottish company's imaginative interpretation of a classic French tale.
First published in Metro, January 2013.