Onemata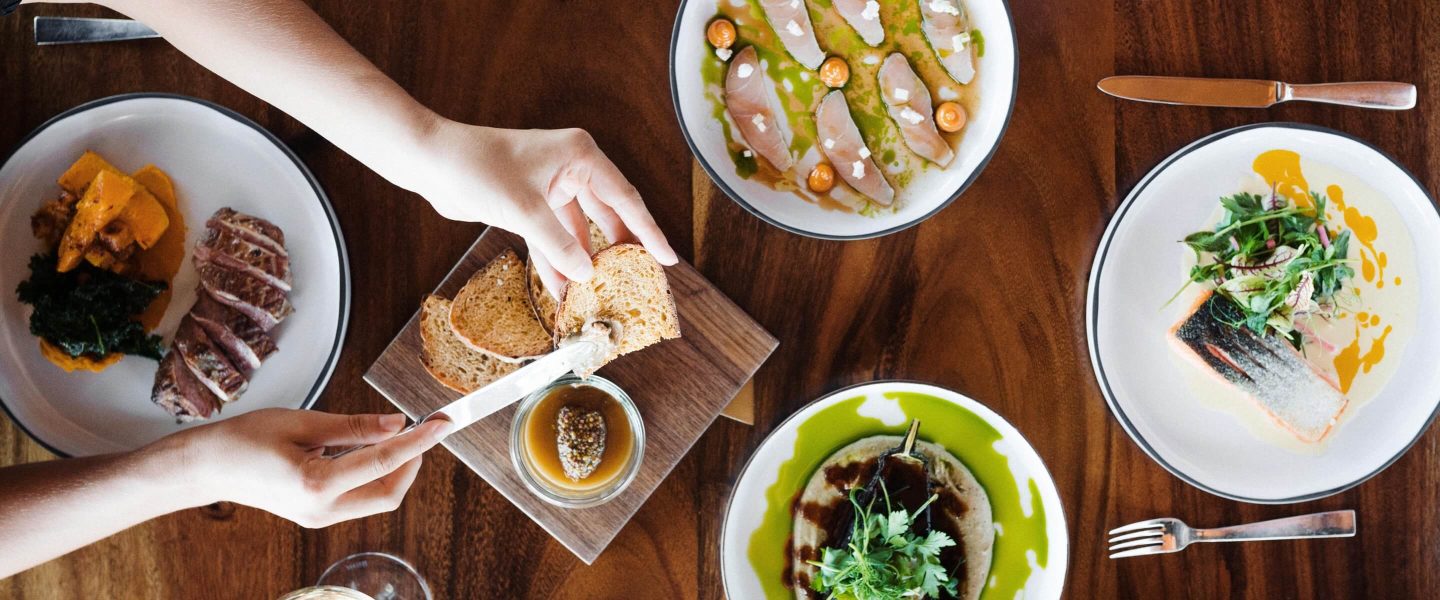 Onemata
Park Hyatt, 99 Halsey St, Central city
Closes 12:00am

Mon

Closed

Tue

5.30pm-9.30pm

Wed

5.30pm-9.30pm

Thu

5.30pm-9.30pm

Fri

5.30pm-9.30pm

Sat

7am-11am, 12pm-3pm, 5.30pm-9.30pm

Sun

7am-11am, 12pm-3pm, 5.30pm-9.30pm
Onemata is a beautiful hotel restaurant that also delivers on the food – plus killer dessert.
There was a time when, and it feels relatively recently, the only sage travel advice you could universally give to anyone was don't eat in your hotel restaurant – traditionally these places were stagnant pools of mediocrity born of a total lack of interest, spending half its time churning out bland club sandwiches for room service. Feel joy (and/or) jealousy then for the guests at the new Wynyard Quarter Park Hyatt who get to stroll through their lobby and into one of the city's best new restaurants.

Firstly the space – a still-new feeling, richly coloured with honeyed-wood floors and ceilings with marble surfaces, leather booths, gold detailing and floor-to-ceiling windows facing out into the Viaduct. The open design is a nice change to Auckland's normally cloistered kitchens, and you can easily imagine weary travellers sitting comfortably to watch the chefs at work (we once spent 10 minutes here watching a cauliflower get flayed and roasted).

The food is made from mostly local ingredients – fresh vegetables and tender meats. The mains are a little finicky so, for once, pay attention when the waiter asks if you've dined there before – you need to pick a protein, then a sauce. If you get a little overwhelmed we recommend the Pamu farms venison with truffle béarnaise, and the coastal spring lamb with mint and caper salsa verde. Both came in surprisingly generous portions so don't overdo it on the starters and try to save room for dessert – the pastry chef, Callum Liddicoat is excellent and it would be a waste of a visit if you didn't sample his work.

Special mention also to the wine list – it is breathtaking in its scope, with a focus on French wines that makes a nice change from the norm. If you get lost and the sommelier, Suraj, is on, you will be in  good hands.
Near Onemata
Filters
Metro Top 50

Restaurant

Bar

Cafe

Eats under $25
Avondale

2

Balmoral

2

Blockhouse Bay

1

Britomart

5

Burswood

1

Central city

47

Devonport

2

Eastern Beach

1

Eden Terrace

9

Ellerslie

1

Epsom

1

Freemans Bay

1

Glen Eden

2

Grafton

1

Greenlane

1

Grey Lynn

8

Henderson

4

Herne Bay

2

Highland Park

1

Hillcrest

1

Hobsonville

1

Howick

1

Karangahape Rd Precinct

23

Kingsland

3

Manuwera

1

Morningside

3

Mt Albert

5

Mt Eden

22

Mt Roskill

6

New Lynn

2

New Windsor

1

Newmarket

8

North Shore

8

Northcote

2

Northcote Point

1

Onehunga

4

Ōrākei

2

Ōtara

1

Ōtāhuhu

2

Panmure

3

Parnell

6

Penrose

1

Ponsonby

17

Pt Chevalier

1

Remuera

1

Riverhead

1

Rosedale

1

Sandringham

5

Takapuna

4

Te Atatū Peninsula

1

Waiheke

7

Waterfront

4

Westhaven

1

Westmere

2

Wynyard Quarter

1
A la carte

61

Afghani

1

All-day eatery

6

Allpress coffee

21

Altezano Brothers coffee

2

Ark coffee

1

Asian Fusion

2

Atomic coffee

5

Bakery

13

Bar

59

Be Specialty coffee

7

Breakfast

16

Brew Bar

7

Burgers

6

Cabinet food

90

Cakes

5

Camper coffee

2

Casual

69

Charcuterie

1

Cheap Eats

101

Cheese

3

Chef counter dining

1

Chinese

35

Coffee Supreme

15

Cook Island

1

Courtyard

2

Degustation

1

Degustation dining

12

Deli

5

Dine-in menu

63

Dine-menu

2

Dinner

7

Eightthirty coffee

9

Espresso Workshop coffee

2

Filipino

4

Fine dining

13

Fixed-price meals

1

Flight coffee

10

French

8

Game meat

1

Good for dogs

8

Good for kids

36

Good seating outside

18

Guilin

4

Gujarati

1

Handpicked coffee

1

Himalayan

2

Indian

11

Indonesian

4

Italian

15

Jamaican

2

Japanese

23

Jiangsu

2

Korean

17

Kōkako coffee

9

L'affare coffee

3

Lanzhou

2

Lebanese

3

Licensed

4

Malaysian

13

Malaysian-Indian

2

Mediterranean

2

Mexican

3

Middle Eastern

3

Nashville

1

Neighbourhood

7

Neo-bistro

2

Nikkei

2

Odettes blend

2

Open Late

4

Open Mondays

31

Opens Mondays

2

Outdoor dining

27

Ozone Coffee

4

Pacific

1

Pacific Island

1

Pastries only

4

Peoples coffee

4

Peruvian

2

Pies

2

Private dining area

3

Private room

16

Ramen

7

Raw

2

Red Rabbit coffee

2

Rich coffee

1

Rocket coffee

5

Rotating guest filter brews

3

Sandwiches

7

Sashimi

1

Set menu

33

Shaanxi

2

Shanghainese

2

Shared-plate options

82

Sichuan

8

Sicilian

1

Smart

29

Society coffee

2

South Indian

1

Spanish

4

Specialty coffee

10

Sri Lankan

1

Sunday lunch

4

Taiwanese

1

Takes large bookings

26

Takes large groups

49

Thai

5

Turkish

2

Udon

1

Under25

94

Uyghur

1

Vegan

4

Vegan friendly

18

Vegan menu available

2

Vegetarian

7

Vegetarian menu

2

Vietnamese

8

Vineyard

2

Vivace coffee

1

Wi-Fi

15

Wifi

7

Wine bar

14

Yum cha

3


Load More