Sep 8, 2023 Metro Eats
Kia ora,
I was briefly invigorated by the couple of early spring days we experienced earlier this week, but that has all come crashing down. On Saturday, I was YouTube searching "salads that taste good" because I was so convinced by the sun's potency that I could finally enter my salad era (an eating phase that has so far eluded me), and by Wednesday night I was having yakitori in Chancery Square and telling my flatmate at Paradise to get me a takeaway curry so I can eat it for dinner the next day. I guess I'll never be a Salad Girl now.
A short introduction from me this week, because there are a lot of words to get through below, especially if you are interested in our monthly column on fast food. If you are anti-fast food, I highly recommend stopping at "Novelty Items" and pretending that bit doesn't exist. 
– Jean
Stella Artois and Metro present
The return of the reigning ramen ruler of Wellington,
Townhouse Ramen!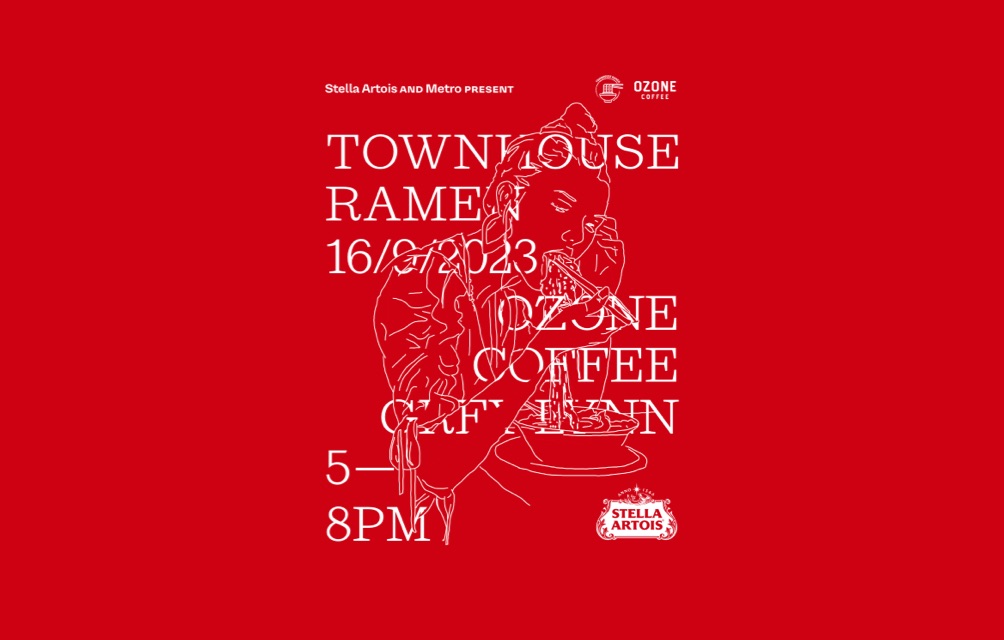 Saturday September 16
Ozone Coffee Roasters
1/18 Westmoreland St W, Grey Lynn
5pm, 6pm, 7pm and 8pm!
Townhouse Ramen, the undisputed heavyweight champion of the Wellington ramen scene returns to Auckland for one night only. Yep, we're bringing Kevin back, who serves up a very good bowl of ramen (we can personally attest!): soothing, hearty, tasty, and laser-targeted to blow the edges off your winter seasonal affective disorder and vitamin D deficiency (maybe).
Tickets are split over four sittings and strictly limited. They will be quickly snapped up, so grab yours now at the Metro store for $35.
Kevin will be preparing Miso Ramen in chicken and vegetarian options — please specify which one you'd like in the notes for your order!
What's happening
The Strawberry Pig x Long Table are collaborating this Saturday 9 September, serving up Filipino food in the kitchen at Harlan Pepper until sold out. 
Join Campari to celebrate the 11th anniversary of Negroni Week, which starts from 18 September. They'll be launching at its Campari Bar at the Rooftop at QT – enjoy exclusive offers until 29 October.
P.S. It's Fort Greene 's birthday today! With specials. Free flat whites or long blacks this morning 8am-9am with purchase of a donut.
What's good
I had ramen from Ramen Do for the first time in a while recently. They've scaled down the operation: you have to order for yourself on a digital screen; the menu is reduced; and if you're a party of more than three people you have to call ahead. It is, however, still a pretty good bowl of ramen – I had the Paitan Salt one, where the broth was good but chashu lacking – although these days I am partial to Ajisen.
I was invited to try out vegetarian restaurant East's new yum cha offering, which is fully vegan and are plant-based takes on traditional yum cha dishes: char siu bao with jackfruit instead of pork, dumplings with lotus-root or water chestnut and wood-ear mushroom fillings, lo mai gai with tofu. My favourites were the "char siu bao", which was a nice fluffy steamed bun and soy saucey filling; the spring onion pancake, with its crispy seaweed; and the fried lotus root wontons. I think a couple of the dishes that were supposed to emulate its meat counterparts fell short – the "xiao long bao" for example weren't actually drooping in soup – but, you know, comparison is the thief of joy and yada yada. If you're vegetarian and have taken deep disappointed sighs when your friends suggest yum cha, I'd definitely check this out so you can have better access to the yum cha experience.
The Metro team was also invited along to Vulcan Lane's Melba, a cafe that many in Tāmaki have fond feelings for, on account of its longevity and also place in the city. The lane, we rediscovered, is also a lovely place to start your morning: we do like to romanticise tucked away laneways but, you know, it is quite romantic. My favourite of the three things we ate was probably the Turkish Cilbir eggs, because I just really like that dish in general, but the Huevos Carne was something a little bit different for breakfast: more savoury and hearty. We also had the Smash, which is a take on the avo smash; the Melba version is topped with feta, tomatoes and olives. If it's a nice day, sit outside. 
What's new
A new ramen bar (that I mentioned a couple newsletters ago), Zero Ramen, has opened in Browns Bay in soft opening stages, and opens for real on the 10 September. At the moment it's running a limited menu and only serving tonkotsu and paitan.
I recently saw on Instagram that wine distributor Bare Wine has started doing Thursday and Friday sessions, where you can do a little tasting flight of what it offers, plus have some tasty wine bar food to share at 49 Brown St in Grey Lynn. Not sure if this is completely new, but I did see Apéro sharing it saying it is "delicious", so it probably is!
Novelty Items – This month in fast food.
By Simon
The big news this month is the return of the greatest fast food promotion of all, McDonalds Monopoly. Now, as you are probably well aware, the app-ification of this has somewhat diminished it from the straight collector trade frenzy of years long past, but they seem to have slightly shifted the mechanic to get some of the sweetness back. Now you get two chances to play, with extra entries if you use the app.
As always, it's important to make sure what you are ordering is a participating item so study the menu carefully before you commit to anything – you'll want to lean into double ticket items (which are now quadruple ticket items with the app). 
The best value double ticket items when considering actual food seem to be: Large fries, large drinks, any McFlurry and the 20 pack of nuggets which is sitting there offering 4(8!) tickets and which I will be dining on exclusively until the competition ends next month. As always the prize pool is large and peppered with crap you are unlikely to really want, but there are a couple of standouts, including a big ute. 
If you really want to get into the weeds on the odds, the Terms and Conditions lay it all out in a handy chart here.
McDonald's are also once again proving themselves to be eagle-eyed trend watchers with a Lotus Biscoff McFlurry, which I will be getting as soon as I can. Also the As Seen on TV/Movies campaign they are running at the moment has to be the best food brand campaigns I've seen in a long, long time.
–
Elsewhere, KFC is still shilling Hot & Spicy but stop your grinnin' and drop your linen because the Gimme 5 is back once again – for those unacquainted, five pieces of original recipe and a regular chips for $11.99 (promo code PLU12, in store only). 
Also this month, The Wicked 6: six Wicked Wings and a regular chips (PLU388, in store). 
WARNING — both of these options involve consuming a huge amount of salt and drinks are NOT included. 
–
Burger King is still running with the Yum burgers, and the Bacon Mayo Burger (not good). I'm assuming a menu refresh will come next month — they do currently offer the amazingly titled: Mini Frozen Sour Fizz Tingle Fanta which looks quite bad for you but would be fun to order. 
I returned to Burger King recently to get a Creamy Mayo Cheeseburger and met face to face with the true horror of post-covid inflation: the once pleasing snack-of-the-people at $2.50 is now a painful tool-of-the-oppressor at $4.50. 
On a less bummery note, the new fit out for the restaurant at the Roskill end of Dominion Road has a really nice combination of clean, retro (but not in a bad way) graphics and proper modern takeaway design, dealing with the reality of the uberverse as well as understanding that the roadside appearance of a chain drive-through is it's main form of advertising. Also retains the killer two inward-bound driveways to the site so right after you tell yourself you aren't going in, then regret it, there's another entrance right there to sweep you up. This month the value pick for Royal Perks members has to be the two cheeseburgers for $6.50, while amongst the Kings Coupons are two salad burgers and a large fries for $15 (promo code B20). There are no Kings Coupons under $10 which does not seem right or good, and possibly signals a move to try and get bargain hunters into the more database-driven Royal Perks programme.
–
Wendy's is extending the apparently popular Baconator range this month with Teriyaki Bacon/Chickenator and Baconator Fries. They have pulled out the Japanese-looking font for this which I thought we had agreed to stop doing but there it is nonetheless. 
At Pizza Hut, Jean had the Korean Pizza mentioned last month and it was apparently pretty good and is still on the menu, so if you're looking for a third random pizza to make up a three pizza deal it's worth considering. There doesn't seem to be any major new items launched this month but The One Box —  a small personal pizza and chips for $5.99 is still a great unhealthy pick-up lunch option if your are spending your days near a Pizza Hut and is pleasantly reminiscent of the 90s pizza wars between Pizza Hut, Dial a Dinos and Eagle Boys in its wild, loss-leading price. 
Dominos is also doing its bit to keep the war footing alive with the More Choice box — a personal pizza with any two sides for $10 pick up/$15 delivered. In the new products department the have four new pizzas: The Lot — which seems to have every topping available on it, the Funky Chicken with a creme fraiche base, which if you are familiar with Dominos history with white sauces, you will understand has a high possibility of not being that nice, BBQ Chicken and Pineapple (does not seems super appealing) and a Spicy Lovers with pepperoni, jalapeños, chilli flakes and red onions which sounds to be a good assembly of non-exotic (thus somewhat foolproof) flavours, which is where Dominos should be playing.
At Taco Bell – I'm not close to one of these, so still coming to terms with the rhythms of their menu – they are currently promoting the Double Crunchwrap Supreme, which looks like two mince crispy tacos wrapped in a soft taco with salad and a lot of cheese and thus quite intimidating; the Ultimate Chalupa Taco which has an average-looking picture and does not appear to be very Ultimate at all; and the Chipotle Crunch Burrito which looks like a regular burrito with chipotle sauce but with the added textural element of a bunch of crunched up nacho chips in it. Deal wise, they are currently offering a quesadilla and chips and a taco and chips, both for $7.90 which is again a pretty good sub-$10 lunch/snack option.
Carl's Jnr has added onion rings to the Jim Beam Bourbon Big Angus and the Memphis BBQ Big Angus burgers and also come to the promo code table with a free add-on sundae (code FREESUNDAE) and hamburger (FREEHAM) with any Big Angus combo. Insanely, you can also mention the code COOLASICE and get 4 milkshakes for $18. I do not believe anyone will get this. 
–
Metro Eats! delivers free to the finest emailboxes of Auckland every week(ish)!
Sign up to get it here