Sep 4, 2019 Food
Lisa Chappell appears in Auckland Theatre Company's Kensington Swan season of Rosencrantz & Guildenstern Are Dead (an inside-out comedy version of Hamlet), playing 11-26 September at the ASB Waterfront Theatre. Here's what she eats to fuel her through rehearsals.
Monday
Breakfast at home today was my standard smoothie which consists of a large cup of frozen mixed berries, a banana, 2 lumps of frozen spinach, a scoop of Balance plant protein vanilla flavour, and a teaspoon each of; LSA, coconut oil and cacao nibs. It's a pretty awesome combo which fills me up and makes me happy.
Bruce Phillips (fellow Rosencrantz & Guildenstern cast member) and I had both forgotten our lunches today, we'd made them and left them sitting in the fridge…. don't you hate that? So we went across the road from Auckland Theatre Company rehearsal rooms to McDonalds and I had a salad burger, fries and a coke.
Dinner was one of my stir-fry jars I make for the week with some tofu and roasted salted cashew nuts and brown rice. I toss everything in the pan with some sesame oil, lime juice, tamari and sweet chilli sauce, and top it off with fresh mint and coriander. It's quick and easy, filling and nutritious.
READ MORE: An artery-clogging week with comedian James Roque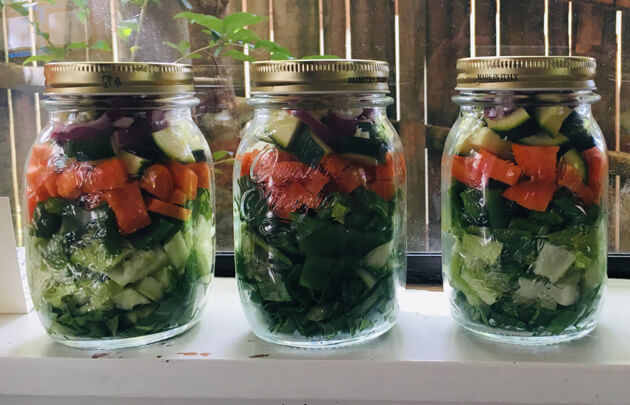 Tuesday
Breakfast on the run to rehearsal. I did my favourite detour to La Voie Francaise bakery in Mount Roskill and picked up two light, buttery, flakey croissants. Their food is all fabulous, great sandwiches, tarts and beautiful loaves of bread.
Lunch was a shared affair at Auckland Theatre Company, an organisation I always connect with eating and cake. Food is a big deal at ATC and the kitchen is the hub of the building where we all catch up and swop recipes and ogle and try each others food. Today's smorgasbord was yummy and as usual cake heavy as it was Joe Witkowski's birthday. Whenever I work with ATC I tell the costume designer to allow an extra inch on the waist so I can fit in all the cake.
I have no qualms about eating a full meal at 10 or 11 at night because if I'm hungry I won't sleep. So my post show dinner tonight was a home-made burger with some oven fries. Mmm. The burger is healthy though, loads of veges, a kumara rosti, mushroom, carrot, beetroot, lettuce, tomato, fried onions, pineapple and fried egg… it's impossible to eat without a bib.
Wednesday
Had a giant porridge today with wholemeal oats, berries, prunes, pumpkin seeds, almonds, protein powder, cacao nibs and brown sugar. It was really good and stuck to my ribs all day.
I just ate a boiled egg and a carrot before the show but at the intermission ate a Whittaker's Creamy Milk thick and chunky chocolate bar and drank a cup of green tea.
Post show dinner which was a home-made whole meal pizza with spicy relish on the base and laden down with roast kumara, stir-fried mushrooms, courgettes, red onion and finely diced silverbeet with oregano. Topped with olives, sundried tomatoes and some lovely tasty cheese. And a glass of my favourite Italian red. And a few Queen Anne salted hard caramel chocolates. Please don't buy them (they're at Countdown) you will regret it. Because once you've tasted them… there's no hope for you.
Thursday and Friday
Rinse and repeat for these two days; smoothie and cashew butter on toast for brekky, egg sandwich and an apple for lunch and stir-fry jar for dinner.
Saturday
Brunch was with my friend Adam at our favourite café Dizengoff in Ponsonby. I can't go past their half and half of scrambled eggs and mushrooms done in some secret sauce which is so yummy and completely impossible to work out. It's got to have cream in it, that's why it tastes so good, but what's the savory element? Adam's latest conjecture was marmite. We should just ask the chef but it's too much fun guessing.
I skipped lunch because I was still full from brunch and I knew I was going out for my friend's birthday which took me to one of my favourite restaurants Amano down at Britomart. I partook of some delicious Italian red wine and the potato and mushroom ravioli which was divine. Their sides are always so interesting and tasty that we grabbed most of them as well. I have to say the roasted beetroot with feta, mint and pine nuts was inspirational. I'm going to try to make that one at home. We finished the night off with a selection of desserts and many forks, they were all yummy so it's hard to pick my favourite but if I had a gun to my head, I would have to say the chocolate budino with a hint of orange and hazelnut.
Sunday
Slept through breakfast and got up in time for lunch with the folks. Mum made some gorgeous roast kumara soup, with cumin and nutmeg, finished off with some coconut cream. She'd also made my absolute all time favourites – cheese muffins, which I devoured warm from the oven and slathered in butter. And even though I'm full she makes me eat some fruit which happened to be an exquisite mandarin. Why does fruit taste so much better at Mum's?
Dinner was a bowl of wholemeal penne pasta in a tomato, garlic and mushroom sauce, with loads of olive oil, Grana Padano cheese and a generous seasoning of rock salt and ground black pepper. Super simple and easy and lovely comfort food to finish the week off with. I may have had a glass of – you guessed it – Italian red with it. I'll even tell you the name of it since we've come this far together – Giordano Primitivo di Manduria Riserva. Try it, you'll thank me.