Jun 19, 2023 Drinks
I'm still not entirely sure how it happens. Every time we sit down as a panel to taste the wines submitted to us, a nagging doubt assails me. I begin to wonder if, out of nowhere, the team is going to go crazy for budget-priced pinot gris and I'm going to have to pass off a top 10 list of competent but ultimately mediocre wines. 
But no. Once again, we have a phenomenal list of bottles spanning a range of grapes, styles, varieties, and I'm still none the wiser as to how we got there. This list takes in everything, from pét-nat to Aussie cabernet sauvignon to sweet wines to fantastic Marlborough bubbles to supermarket gems to wines from small producers punching way above their weight (and capex budget). 
The key, perhaps — and I have no firm hold on this — is to look for individuality in the wines we taste. We taste all wines blind, but we're still looking for personality. That hasn't changed since we revamped the top 50 format four years ago. Of course, 'personality' means different things to different people, and with a reasonably diverse panel, I think we cover a broad range of peoples' attitudes and preferences. Not everyone wants to drink natural wines and not everyone wants to drink old-school, heavily oaked chardonnay.
We've got you covered. Seriously, go take a look.
This year, pétillant naturel (or 'pét-nat', as it is more commonly known) breaks through into the top 50. Pét-nat is a sparkling wine produced quite simply by bottling and capping the wine prior to the end of fermentation, which gives you a very basic and enjoyable form of bubbles. If it suffers by comparison to some wines, that's because it can often seem shorter on length of flavour than more standard, Champenois-style bubbles. However, like a lot of natural wine styles, I don't think pét-nats should be judged by the same criteria as the nec plus ultra (Champagne, arguably). The drink is meant to be sparkling, fresh and enjoyable; I think we're at a stage now where such a style can be recognised just for that. We're also at a point in time where producers of pét-nat have a better handle on making it.
As for more classic bubbles, the rosé category shone this year and a bona fide bottle of Champagne even got a look-in, although it'll have to fight damn hard to keep Nautilus Brut out of the shopping basket — and that's on price alone. But, while the white and rosé bracket did show some great bottles, I'd been hoping for a few more stellar examples in the Champenois style from our home shores. Maybe next time?
Alternative white varieties continue to be a mixed bag. I enjoyed the chenin blancs (for me, Colere's 2021 was a standout, alongside Esk Valley's top 50 showing), although there was dissent among the panel. In the words of Edmundo Farrera, there was "not much exciting, not much bad".

I'd also readily apply that assessment to the albariños, which — and I found myself wondering this a lot — may suffer from the winemaker's curse of being over-polished in the winery. It's okay for albariño to be austere and spiky, just as it's okay for viognier to be oleaginous or punchy. Always pursuing 'balance' (a trick New Zealand winemakers have perfected in the production of sauvignon blanc), even when it's not naturally there, is certainly not a recipe for individuality, let alone success.
The pinot blancs this year were stellar but under-represented. Meanwhile, more aromatic varieties such as viognier or gewürztraminer struggled to put on a good show. I'm mindful of how tricky it is to produce these wines (and how wine judges rarely give them the leeway they deserve), not least if thoughts of the end drinker crowd out other intentions. There needs to be more awareness, understanding and acceptance of these varieties on everyone's part. This tasting wasn't the right place to kick-start that conversation, I'm afraid, although Trinity Hill's marsanne-viognier is a gem.
Meanwhile, on better-trodden grounds there were a few take-home messages. First, from Angela Allan and it's very simple: "Spend money on chardonnay." While chardonnay across the board was pretty darn good, if you want the really good stuff, you need to fork out for it. We're not talking astronomical prices — top 10s Helio, Neudorf and Te Kairanga all sit on or below $50 — but this year's tasting shows the pricey stuff is worth it.
The second, perhaps more surprising, takeaway came from the mid-range pinot noirs. This covered all kinds of wineries, from small producers and minimum intervention or natural wines, to some bigger, more commercial (for want of a better word) names. The wines sat between roughly $40 and $50 — not cheap, but far from the high end of the spectrum — and they were delicious. The oak was very much in check, the fruit could sing and the results were delightful.
Also impressive was syrah (perhaps due to the vintages under consideration: 2020 and 2021). Even at the under-$40 end of the scale, there was "a consistently good standard", said Pete Connell.
Rosé was a surprisingly good and enjoyable category. "It's a drink for socialising," said Farrera. "Rosé doesn't need to be spectacular." But it needs to be good — and, in the main, the wines we tasted were. In terms of colour, everyone seemed to be on the Provençal bandwagon, with very light-coloured wines. I'm not complaining, but it would be nice to have just a little more diversity rather than everyone clumping en masse in the same colour swatch.
Notable overall mentions include Martinborough's Te Kairanga, which scored two wines in the top 10, and Church Road, Pyramid Valley and Decibel (which also runs the labels Testify and Giunta), who each notched up three wines in the top 50. (In fact, Decibel came whisper-close to getting a fourth with its 2021 Testify Chardonnay.) This is a particularly impressive showing by the Hawke's Bay-adopted, Philadelphia expat winemaker Dan Brennan (his Decibel label references both his initials and his former life in the music industry), knocking out some blockbuster wines against stiff and established competition.
In fact, a lot of small, 'young' or new names — Three Fates, Dan Brennan, Helio, Saorsa, Brood Fermentation, Jenny Dobson — got into the top 50 and top 10 this year. They've produced fantastic wines which I wholeheartedly recommend you go out and try or buy. It's both heartening and sobering that such small outfits can produce wines that outperform weighty brands and well-financed wineries with huge resources at their disposal. I cannot underscore enough how impressive that is.
Normally, this closing section is where I berate my fellow judges for not aligning with me in my favourite wines (as I proceed to list them), but this year we've got a rundown of every judge's top five wines. So the last honourable mention goes to Church Road's 1 Malbec. Not a budget-friendly wine by any means (it clocks in at an eye-watering RRP of $120) but, across the panel of judges, this wine takes home the (unofficial) Metro Judges' Consensus Award for garnering a raft of scores (all decent, I should state) all within 1.5 points of each other.
This is another fabulous list of wines to suit all tastes and curiosities. Cheers.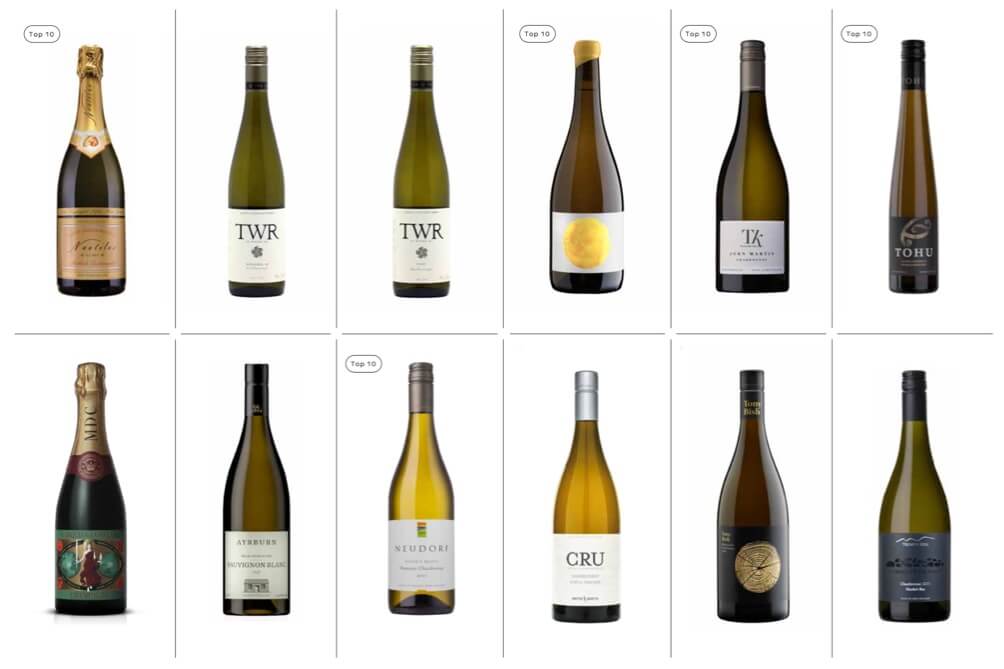 ENERGETIC WHITES
Nautilus Cuvée Marlborough Brut NV
$50 / TOP 10
Classic autolysis (fancy word for dead yeast) aromas of biscuit, brioche and croissant. Hints too of lemon, white flowers, gin and tonic and maple on the nose. Lovely, creamy, fresh and pretty on the palate, all alongside a good mousse (fancy word for nice bubbles) — everything you want a glass of sparkling wine (dare I say Champagne?) to be.
Giunta Hawke's Bay Riesling 2021
$27 / TOP 10
Over-egged by wine critics, under-appreciated by wine drinkers, riesling doesn't have the widespread appeal it deserves. This is a shame because off-dry (slightly sweet) examples of the grape are classic expressions — not least in Germany. The key is balancing the residual sugar in the wine against the naturally high levels of acidity in riesling. This makes for a lip-smacking white wine full of lemon and lime aromas — much like this example. There are also notes of creaming soda, petrol, honeysuckle, lime cordial and pears. Off-dry, well balanced, classy and pure, this wowed many of the judges. Worth seeking out.
Rock Ferry Orchard Vineyard Marlborough Pinot Blanc 2018
$30 / Certified Organic
Pinot blanc often gets a bad rap as an innocuous white wine variety but in this year's showing (and when crafted with care), it really shines. Two pinot blancs made the cut — both from the South Island and both under $40. This one had some beautiful aromatics with citrus, chalk, white pepper and floral notes. Well made and very pretty. A lovely white wine and a perfect match for a warm quiche Lorraine, suggested Kawahara.
Te Whare Ra M Marlborough Riesling 2022
$31 / Certified Organic
Not a top-10 entry this year for the medium (M) riesling from Marlborough's organic evangelists, this nonetheless remains a top-notch bottle of wine. Ignore the haters: riesling can be sweet, but it has to have freshness to counteract it. The key is in the balance, and Te Whare Ra seems to nail this on a regular basis. With lemon and limes, Golden Delicious apples, hints of talcum powder on the nose, the palate is clearly medium-sweet but it's incredibly succulent and really very long on aftertaste. "Really expressive," said Hawkins. Indeed.
Decibel Pétillant Naturel Hawke's Bay 2022
$38 / Certified Organic
It's great to see a pét-nat on the list this year. The winemaking method is remarkably straightforward: bottle a wine just before it has finished fermenting and it'll complete the process in-bottle, resulting in a (sometimes unpredictable) bottle of bubbly. This example showed a lovely, creamy, lemonade, beeswax, even savoury, nose with pear and quince notes as well. Foamy, bright, with a touch of texture on the palate, it is a great example of the style. "That's the kind of pét-nat I want to drink!" said Farrera.
Esk Valley Artisanal Chenin Blanc 2021
$30
Winemaker Gordon Russell gets heaps of press for his red wines, not least for the high-priced and justifiably praised Terraces red blends he's made over his three decades at the winery. I think that he crafts fantastic and compelling white wines too. (Esk Valley's verdelho is a personal favourite.) This is one of those whites, with a lovely smokiness to the nose and notes of green apple. On the palate, that green apple edge pushes through with focused acidity, a little phenolic texture and rounded palate-weight.
Te Whare Ra Toru Marlborough 2022
$31 / Certified Organic
Produced by Marlborough-based organic stalwarts Te Whare Ra, Toru is a blend of, well, three varieties that traditionally hail from the aromatic Alsace region of northeastern France. Gewürztraminer, riesling and pinot gris are picked together, pressed and fermented together to produce this delicious number. Two of the judges said it best: "Coriander, sea spray, Hugo Boss, lovely apple-skin crunch to it. Classy," wrote Dale. "Muscaty, elderflower — drink under the sun with your favourite charcuterie," said Kawahara.
Carrick Bannockburn Central Otago Pinot Blanc 2020
$36 / Certified Organic
One of two pinot blancs to make the cut this year, this wine is produced by the well-regarded (if not slightly culty) Central Otago low-intervention pioneers, Carrick. Winemaker Rosie Menzies (who replaced the much-lauded Francis Hutt in 2019) crafts fantastic wines, and this is no exception. An intense white wine, with violet and white flower aromas as well as hints of stone fruits and spices, this seals the deal on the palate, with a beautiful, textural mouthfeel and length.
Rock Ferry Blanc de Blancs Marlborough 2016
$50 / Certified Organic
Produced from chardonnay grown in Rock Ferry's Corner Vineyard in Rapaura, Marlborough, this was one of several stand-out wines in the sparkling wines category. It's a vinous sparkling wine in that its aroma profile would be just as at home in a dry white wine tasting as in a sparkling wine line-up. Indeed, the winemaking prior to secondary fermentation is almost straightforward chardonnay with even some time in new oak. It's quite a wine, with a complex nose of oak, toffee apple, hazelnut, citrus and zesty lime. The palate really came in to bat, too, showing power and a very savoury finish.
Marquis de Conflans (MDC) Champagne, Non-Vintage, France
$70
Produced — as best we can discern — by the Duval-Leroy Champagne house for Constellation Brands here in New Zealand, Marquis de Conflans is produced from entirely hand-picked fruit although the exact varietal composition is hard to discover (we'll assume it's a classic Champagne blend of chardonnay, pinot noir and pinot meunier). Provenance aside, this is a lovely Champagne showing notes of baked apple, pancake batter, brioche and bosc pear. Good fruit weight on the palate, with complexity, balance and great freshness.
Giunta Hawke's Bay Chenin Blanc 2021
$32 / Organic
Our second top-50 chenin blanc, out of a number of impressive wines from the variety. As well as notes of almond, peach, pear and even nettle, this wine has a smoky, flinty aspect that can be very beguiling in the variety, reminding Kawahara of a post-firework breeze and editor Henry Oliver of "thermal pools — but delicious". And this is it: it was the palate that impressed most. Very intense, with a chalky, fresh acidity and fantastic length of flavour — it really stood out in a hotly contested and much-loved set of wines. 
Abel Tasman Nelson Chardonnay 2020
$29
This is a focused, fruit-forward, fresh chardonnay with apple, floral, peach, lemon — even graphite — notes. It's sometimes tricky to remember this is the variety that people associate with toasty oak and buttery lemons, especially if you're used to tasting fuller, more oaky and buttery examples of the variety. The panel hopes that more chardonnays will be made like this — minimal oak and in more of a fruit-driven style, making a wine that's fresh, with driving acidity, textured and balanced. It's hard to keep the winemaker out of the equation when it comes to chardonnay — even this is a full-solids (made without settling), wild fermentation — but it is nice to see other styles of a wine too easily pigeonholed on our shores.
Neudorf Rosie's Block Amphora Nelson Chardonnay 2021
$50 / Certified Organic
"Interesting wine," wrote Connell — not 'interesting' in a disparaging sense, but a genuinely thought-provoking bottle. The aromas combine classic chardonnay notes with the less obvious. "Lemon curd, garrigue," wrote Kawahara. "Shortbread, sourdough," wrote Dale. Several tasters noted herbal elements to the nose, with fennel and thyme cropping up. There's texture and vibrancy, too. Another testament to this wine's individuality was the combination of objective and reactive ways the panel described the palate, with Connell ending on "line and length" (the sign of a fresh, well-made wine) and Weir noting "happy in itself". Again, very much an interesting wine.
Ayrburn Marlborough Sauvignon Blanc 2022
$34
Thiols are the group of aroma compounds behind Marlborough sauvignon blanc's recognisable nose (they're also sulphides, which means they're regularly brought to the fore in winemaking that excludes oxygen from the fermenting juice). They can vary a lot, with some people getting aromas of body odour, some finding blackcurrant leaf, others passionfruit. Thiols can vary as much from wine to wine as the reactions they provoke. In the main, our group loved what the thiols were doing in this example, noting a complex nose of passionfruit, guava, lemon and even some herbs. A cracking Marlborough sav.
Sheild Marlborough Albariño 2022
$24
"Salty goodness, crisp — like a trip to the seaside," wrote Weir. Albariño, with its home in Galicia on the northwestern Spanish coast, is indeed an essential seaside wine and it seems to have a home in New Zealand, too, performing well all along the East Coast (it has even been planted in North Canterbury) from Gisborne. This is a great example: citrusy, dry, fresh and crisp with hints of pear, peaches, yellow flowers and apricots. We had a great showing from the variety — it's a shame more didn't make it into the top 50.
RICH WHITES
Neudorf Rosie's Block Moutere Chardonnay 2021
$50 / TOP 10 / Certified Organic
If you were going to list some of Aotearoa's top wine producers, Neudorf would be in there. So it's good to know the plaudits are deserved. This, according to Kawahara, is "the chardonnay you must try". And it is a great chardonnay, with complex aroma notes of lemons, lemonade, peach, earthiness, lime and butter. On that palate, too, it's full-bodied but it doesn't overwhelm and remains taut and well-integrated. Delicate, yet opulent, with amazing balance. 
Helio Hawke's Bay Chardonnay 2021
$35 / TOP 10
Helio is produced by Hawke's Bay-based husband-and-wife winemaking team Matt Kirby and Sarah Little. The pair craft a small range (a chardonnay, pinot noir, syrah and rosé are currently produced) from their base in coastal Hawke's Bay. (Kirby's day job is down the road as winemaker for Clearview Estate.) This is a cracking chardonnay that really builds on their impressive inaugural and sophomore releases. Light-bodied but graceful and elegant, this is fresh, clear and crisp, with notes of lime zest and anise. Very well rounded overall, with some light phenolics on the palate — delicious.
Te Kairanga John Martin Martinborough Chardonnay 2020
$41 / TOP 10
Two top-10 showings for Martinborough's Te Kairanga winery — a regional stalwart but a producer that has never really got the attention it deserves. It boasts some great vineyard land in a long-oversubscribed corner of Aotearoa (in terms of space and high-profile brand names). 'TK', as it is better known, was snapped up by US wine entrepreneur Bill Foley in 2011 and winemaker John Kavanagh was coaxed from Neudorf to make the wines. This is a cracking chardonnay with citrus pith, hazelnut and pear on the nose. There's some gentle oak notes, too, and great freshness and supple mouthfeel on the palate and overall. Very approachable.
Tohu Raiha Reserve Noble Marlborough Riesling 2016
$29 / TOP 10
A second riesling in the top 10 and this one from Māori-owned and -operated Tohu, with vineyards in Marlborough and Nelson. This is an unashamedly sweet, dessert-wine style of riesling, produced from late harvested, nominally 'noble rot'-affected grapes (basically the mould on the grapes dehydrates them, concentrating sugars but not compromising the juice). Marmalade and honey notes on the nose with a lovely, raisiny, fruity palate and aftertaste. A number of tasting notes basically repeated the word 'yum'. If you're looking for a sweet white wine, look no further.
Smith & Sheth CRU Howell Vineyard Hawke's Bay Chardonnay 2020
$60
While making headlines for acquiring the cult Pyramid Valley site, Smith & Sheth's home base remains in Hawke's Bay where they are producing some very neat wines. This is no exception, with a good perfume of refined oak, lemons and limes (an "oak piña colada", wrote Hawkins) on the nose and very refined, focused palate. It's something of a statement chardonnay but numerous judges embraced it. "Chardonnay with quality," wrote Farrera.
Trinity Hill Gimblett Gravels Hawke's Bay Marsanne-Viognier 2020
$35
Marsanne-viognier is something of a classic southeastern French combination — something Hawke's Bay should perhaps try more of, on this showing at least. Another classy effort from Warren Gibson, Damian Fischer and the team at Trinity Hill. This has it all, with a beautiful, aromatic, spicy nose alongside a fresh, focused, textured palate. "Crunchy Granny Smith apple with a flinty note — just perfect," said Kawahara.
Pyramid Valley North Canterbury Chardonnay 2020
$40
Pyramid Valley is poised at the beginning of a new chapter. It's impossible to reference the vineyard without mentioning founders Claudia and (the late) Mike Weersing, whose wines gained something like cult status in the wine world. Now, with a multi-million-dollar investment through owners Smith & Sheth, reactions to the 'new' wines can be polarising. What has happened here, though, is three wines in the top 50 which, at the very least, is testament to estate manager and winemaker Huw Kinch's abilities. Pretty, nutty, mealy with citrus fruit notes, there's texture, concentration and focus on the palate. "Bright and deep," wrote Dale, "like a cold, dark pool on a tropical island."
Bilancia Trelinnoe Hawke's Bay Chardonnay 2021
$55
Bilancia is Hawke's Bay-based husband-and-wife team Lorraine Leheny and Warren Gibson — a winemaking power couple who grow and make some of the region's top red wines. Their whites aren't too shabby either. This is from their impressive hillside vineyard on Roy's Hill (a site to match Esk Valley's Terraces vineyard closer to the coast) and is handpicked, whole-bunch pressed and has had no additives other than sulphur. This is a sharp wine. Focused on the palate, with great length, deliciousness and precision, there's also an enticing nose of bright lemon — even lemonade — and a touch of spicy, toasty oak. 
Novum Marlborough Chardonnay 2021
$49
Another top 50 showing for Novum (the 2020 chardonnay was in the top 10 last year), whose bottles, understated labels, wax seals and cork are all, it seems, pitched at the classier end of the scale. It's a look it would be easy to throw a cynical glance at if the wines weren't so excellent. Crafted by industry insiders William Hoare and Rachel Jackson-Hoare, this is a really fine chardonnay that manages to exude both concentration and lightness-of-foot — "rich but fresh", wrote Connell. A lovely, refined nose of nougat and hazelnut gives way to a rich palate with a lovely line of freshness. Very impressive. Again. 
Church Road 1 Hawke's Bay Chardonnay 2021
$100
This is a big bottle of wine, with a big price tag, and it's heartening to know there's some wallop for your wallet. Crafted from the company's Terraces vineyard, just outside Havelock North (it overlooks that Hawke's Bay doyen, Te Mata Estate), this is a punchy yet complex chardonnay. Aroma notes from the team say it all: spices, anchovy, lemon rind, carrot cake, brioche, cooked quince, gun flint, peach — it was all there. There's a fair note of toasty oak, too, but the fruit is not overwhelmed. It's also fresh, textured, complex and long-lasting on the palate.
Tony Bish Heartwood Hawke's Bay Chardonnay 2021
$38
Former Sacred Hill winemaker Tony Bish set up under his own name in 2013, following up four years later with his own winemaking and cellar door space at the Urban Winery in Napier's portside Ahuriri suburb. He's known for his range of chardonnay wines, with this number showing a touch of reduction and green apple on the nose with further oatmeal, lemon and lime aromas. Opulent, rich, with clean fruit, this was "chardonnay with delicacy", according to Kawahara.
Trinity Hill Gimblett Gravels Hawke's Bay Chardonnay 2021
$40
This is a sophisticated chardonnay. It'll likely deliver additional complexity (and round out the oak profile) with a few more years of ageing — if you're that way inclined — but it's showing impressively now. This is an oaky chardonnay but the oak is very fine and already well integrated with mealy and creamy notes, golden peaches, flowers (Kawahara noted verbena) and pears on the nose. Fresh and driven, well made. Although the Gimblett Gravels subregion is better known for its reds, it can produce superlative white wines.
Lawson's Dry Hills The Pioneer Marlborough Gewürztraminer 2020
$30
Gewürztraminer can be a tricky customer. It is very aromatic with notes of lychee and rosewater but it's also very phenolic (the palate can get a touch bitter). To counteract this, it is often made in a lightly sweet style, which compounds its naturally low acidity and can then make it cloying. But that's its identity and it's a shame people don't give it a chance (as an aside, it often matches really well with fragrant, spicy Asian dishes). Some certainly loved this typical example. "Go to the BYO Thai restaurant with this wine," said Kawahara. "Finesse, lightly perfumed, spiced — not pungent — happy to be your friend," added Weir.
Tohu Whenua Matua Single Vineyard Upper Moutere Chardonnay 2020
$33
This is on the reductive side of chardonnay winemaking, with "canned corn and tire fire" on the nose, as Hawkins noted, along with barrel notes (which often compound/enhance the smoky notes on the nose), hazelnut, pear and even hay. It'll depend on whether or not you like the toasty style of chardonnay but most judges loved it. Fresh acidity, mineral and well made. "What oaky chardonnay should be," wrote Kawahara, "you can find craftsmanship and philosophy easily. Just fantastic."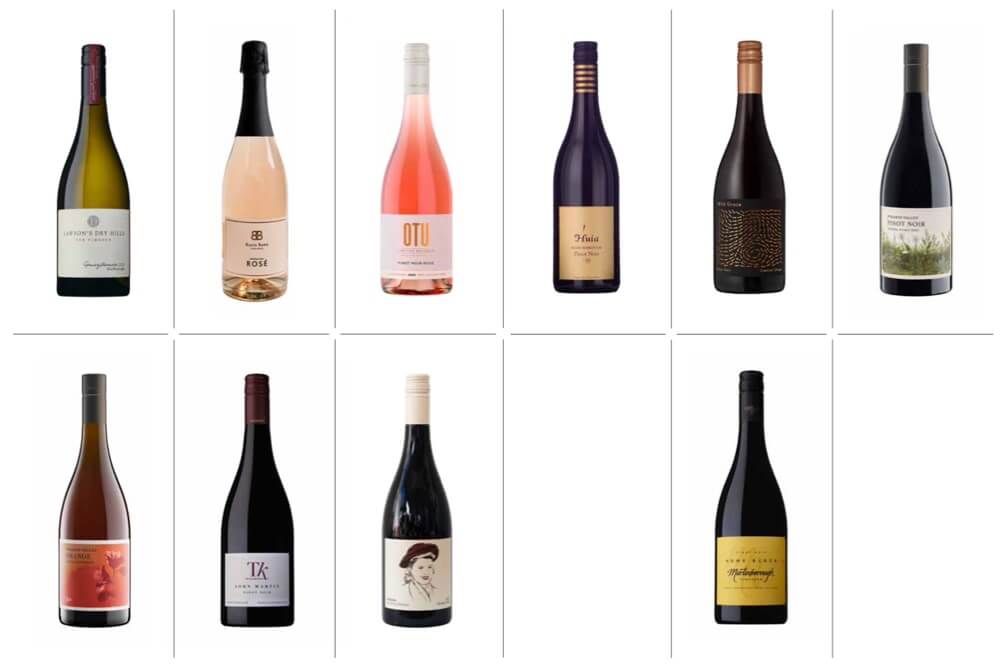 ROSÉS/ORANGES/SKINS
Mumm Marlborough Rosé NV
$46 / TOP 10
Rosé bubbles should be joy squared, combining two categories of wine that are almost synonymous with pleasure. This is one of those wines that ticked all the boxes. Complex, vinous with flinty, bright-red fruit, yellow plum, peach skin and savoury notes on the nose alongside strong autolysis aromas (brioche and toast). Impressive already for a rosé bubbles but it also follows through on the palate: rounded, well balanced, well made, pure and clean, fresh and focused. "This is happiness," said Dale.
Black Barn Vineyards Hawke's Bay Sparkling Rosé NV
$36
Another great wine from Black Barn and another (off-dry) sparkling rosé in the top 50. A gorgeous, perfumed wine with aromatic notes of talc, peach fuzz and apricot kernel — "kind of cotton candy, in a good way," wrote Farrera. It also sang on the palate with a delicate, plush but fresh profile. "Strawberries and cream — like an outing to Wimbledon," wrote Weir.
Otu Limited Release Marlborough Pinot Rosé 2022
$24
Marlborough-based Otu Wines (run via Auckland-based Marlborough Wine Estates) took two top-50 spots this year. This one, a light copper-coloured rosé with aromas of berry desserts (pavlova, Eton mess, take your pick…), strawberries, cardamom, plums and herbs. A wine that scored well across the whole panel, this is everything you want from this category — "a gentle and easy afternoon rosé," wrote Connell.
Pyramid Valley North Canterbury Orange 2022
$40
It's a shame we didn't get to see more orange wines. There's no doubt that, as a category, it can be polarising, but where else do you find aromatic notes of honey, tonic, pine, rose petal, lemon confit, apricot, yellow clover, savoury orange marmalade, even "spiced orange cake for Christmas", as one judge mentioned. The key, though, is how the palate functions with the rest, as orange wines are often fermented on their skins to extract colour, aroma and (willingly or not) tannin. Here, a sweet fruit body and a supple mouthfeel combined with tea-like tannins to make an impressive wine. 
LIGHTER REDS
Te Kairanga John Martin Martinborough Pinot Noir 2021
$46 / TOP 10
The second of the 'TK' wines in the top 10, the winery's often below-the-radar presence in New Zealand is partly due to its ties with US-based owner Foley Family Wines, for the wines often end up stateside. That's a shame as, even prior to the Foley takeover over a decade ago, the winery was remarkably underrated. This is a great pinot noir, showing classic notes of cherry fruit and cranberry but there's also a typical Martinborough pinot autumn leaf, or herbaceous character, that really sets the Wairarapa apart from the likes of Central Otago. Bright, with a fruity but mineral and firm palate, this is a delicious pinot noir. It's also a great price for a delicious Martinborough pinot noir.
Wine by Jenny Dobson Francie Hawke's Bay Cabernet Franc 2020
$42 / TOP 10 / Organic
I don't think it is possible to heap too much praise on Jenny Dobson. In fact, I'd suggest her career profile alone should make her the most revered winemaker on our shores, with experience and skills to outplay any pretender. Few can claim to have made wine at a major Bordeaux estate in the 1980s, all while bringing up small children — and that's just the start. Today, she boasts several consultant winemaker roles but Francie is one of her own-label range. It's a doozy: dense with blue and black fruit and licorice on the nose. Lush, delicious and incredibly long-lasting on the palate, this is a dark and pure-fruited, supple, serious but eminently enjoyable wine. "A dark dungeon and leather whips — yes, please," said Dale.
Huia Marlborough Pinot Noir 2019
$45 / Certified Organic
Huia is one of those labels (and there are a few) whose wines never quite shine as they should in blind tastings, so it's really heartening to see this great wine making the cut — and doing so again (their 2017 effort made the top 50 last year too). This one is more of a robust number with deep colour and broody fruit and oaky notes on the nose. Palate-wise, there are layers of flavour — it's bold and firm with chewy tannins. Full of character. Enjoy it now, or give it a few years to mellow.
Brood Fermentation Sedure Nelson Pinot Noir 2021
$38
Brood Fermentation are the Nelson-based, low-intervention, organic wine- and beermakers Jim Brown and Lauren Yap. This one is produced from high-elevation (200 metres) Nelson fruit producing, in the words of Metro editor Henry Oliver, "a live-wire pinot noir". The wine has real personality, with a deep, violet, dense nose of berries and stewed fruit. A lively palate that's taut, wiry, fresh and zippy backs it up. A "back seat romance" wine, to quote Allan.
Wild Grace Central Otago Pinot Noir 2021
$28
Given the price, this is an outstanding effort from Kim Crawford/Constellation Brands' offshoot label Wild Grace. There's something about Central Otago fruit, in that it often seems to display more plummy, blue- and black-fruit depth compared to other parts of the country. This is evident here, with notes of stewed plums, blackberries, leather, cured beef and Darjeeling tea on the nose. The palate is plush, too, with a fleshy core, toasty tannins and a long and lingering finish.
Akitu A2 Central Otago Pinot Noir 2020
$45
Wānaka-based Akitu ('summit' or 'peak' in te reo) was founded by local boy Andrew Donaldson, who returned to his hometown after 30 years in the financial world, predominantly in the United Kingdom. Akitu does pinot noir (A2 is the white label, A1 the black, and there is a 'blanc' made from pinot too). So good was this wine that Allan's tasting note is practically unprintable due to the expletive emphasis she used to describe the nose. This is a finger-light-handled pinot noir, which both shows the depth of fruit (and there is oak evident, too) in the wine yet remains light-footed with dusty tannins across the palate. In the best pinot tradition, this can be maddening (you might even call it 'ethereal', if you're that way inclined).
Three Fates Hawke's Bay Cabernet Franc 2021
$33
The Three Fates are Holly Girven Russell, Hester Nesbitt and Casey Motley — three winemaking friends who got together to produce their own wines after several years working harvests across the globe. This wine, from their inaugural vintage, comes from fruit grown in the Noetzli vineyard in Maraekakaho, Hawke's Bay. It's a fantastic bottle of cabernet franc, with aromatic notes of red fruits, cedar, tea leaf and tomato leaf. The fruit is pure, bright, inviting, ripe and delicious. In fact, deliciousness cropped up a lot in the tasting notes ("yum," wrote Dale), while Connell praised the wine's density and tension.
Pyramid Valley Central Otago Pinot Noir 2020
$50
This wine comes from the former Lowburn Ferry vineyard (acquired by Pyramid Valley's owners, Smith & Sheth, along with Pyramid Valley itself in 2017), of which viticulturist Steve Smith MW — the one in the company
name — has much to say about the impressively high soil pH. Maybe that's what's at work here? The wine shows a lot of bright red fruits (raspberry, cranberry) with even some candied notes. The palate is very bright and lively, chewy and fresh. Most judges believed this wine could do with a little time to develop, but it's still a lovely bottle of pinot noir right now.
Martinborough Vineyards Home Block Martinborough Pinot Noir 2019
$65
Martinborough Vineyards is one of Martinborough's founding wineries. It's had its ups and downs in fortunes over the decades but through it all has produced some really smart, individual and memorable wines. This wine is no exception, with layers of fruit, spice, earth, flowers, cherry, patchouli and strawberries. That's quite the noseful and there's a lovely, vibrant palate that finishes with soft tannins, sweet cherry and tension. You don't need much more from a pinot noir.
Vavasour Papa Marlborough Pinot Noir 2021
$45
Though this isn't quite your typical Marlborough pinot noir, the judges found it had an individuality that charmed the panel. There's a matchstick note of reduction on the nose ("reductive, sly," began Allan, which does a good job of summing up the aroma profile) but also some dark, berry fruit — "blueberry and dark cherry," wrote Connell — with a dense and structured palate. It's quite something — a leap from the typical, often more red-fruit-forward styles of pinot encountered in Marlborough — almost closer to syrah.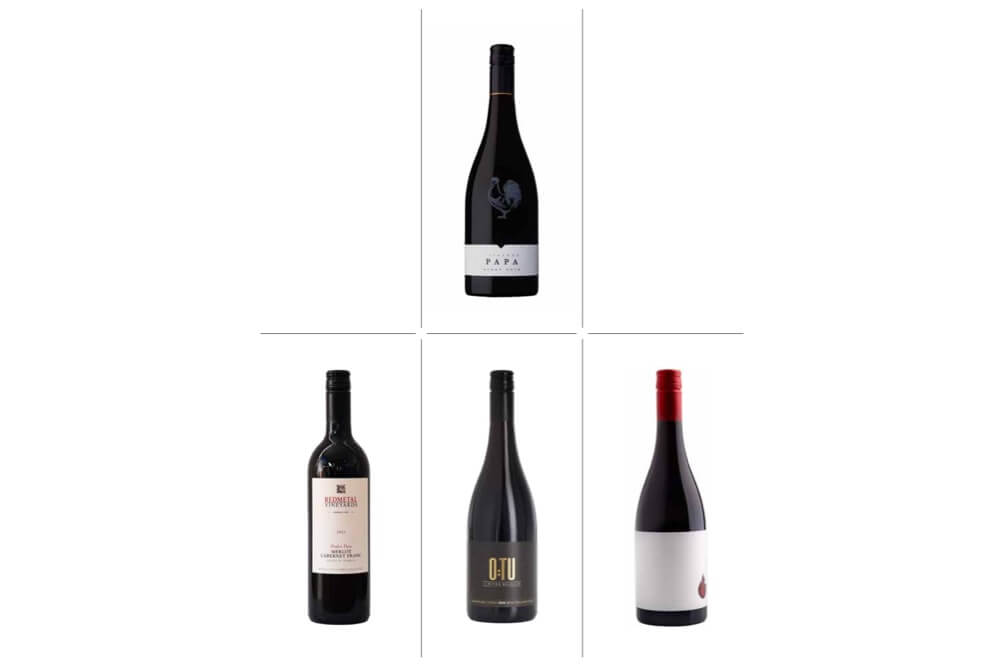 BIGGER REDS
Orlando Jacaranda Ridge Coonawarra Cabernet Sauvignon 2016
$75 / TOP 10
An interloper from the western island, there's no messing about here. Dense fruit, amped-up, warm, with cassis fruit on the nose. The age helps to round out the aromas, though, and there are notes of espresso, graphite and pencil shavings. The palate gives the game away a fair amount — this is a big, warm red wine and no mistake. It shows a good mix of very sweet fruit and a hint of dusty library books. "A sexy librarian telling you to be quiet," said Allan.
Black Barn Vineyards Hawke's Bay Syrah 2020
$39
Black Barn remains somewhat understated amid the big-name jostling in Hawke's Bay. Only just outside the urban sprawl of Havelock North, the combination vineyard, cellar door, restaurant and accommodation complex is impressive but, perhaps because production volumes are quite small, the wines rarely make headlines outside dedicated wine publications. This is a great syrah (it had to be: it was in a flight of other very impressive wines) showing a combination of floral red and berry fruit, inky black fruits, and black pepper (quite the fruit mix), with a fresh but soft palate. "Like sucking on a velvet curtain," said Dale.
Redmetal Vineyards Basket Press Hawke's Bay Merlot-Cabernet Franc 2021
$48
Redmetal Vineyards is spearheaded by Hawke's Bay and Bridge Pā doyen Grant Edmonds. The name references the Bridge Pā region's so-called red metal gravels which here, combined with some alluvial clay lenses, produce very plush red wines. The region and the winemaker are working in tandem here, as 2021 was not an easy vintage. The wine shows fragrance and freshness with a gorgeous red berry aroma and oak notes. Elegant, bright and textured on the palate, this is all the more impressive given the calibre of the wines it was judged against.
Church Road 1 Hawke's Bay Merlot 2020
$120
Wine lovers love to hate Merlot but it's a variety that can really shine when you give it time and effort in the vineyard and winery. This wine is testament to that. Furthermore, I suspect that in this instance the sometime austerity encountered in Gimblett Gravels wines perfectly counterbalances merlot's naturally soft and rounded fruit profile. A wine showing toasty oak, black fruits, plums and blueberries with a beautiful, focused palate. "Lovely structure," wrote Hawkins, "floral and warm."
Otu Limited Release Hawke's Bay Syrah 2018
$36
Five years old now, this wine nonetheless scored well across all judges. Maybe a bit of age has helped to soften and round the wine? In any case, there are some soft-footed notes of broody black fruits, spicy sausage and cured meats — a good balance of spiciness and gameyness. The palate, too, is engaging, with great balance, richness and fruity freshness. Juicy and packed with flavour.
Church Road Grand Reserve Hawke's Bay Syrah 2020
$40
This wine is predominantly sourced from Church Road vineyards in the Bridge Pā subregion of Hawke's Bay, an area known for producing wines that are more plush than their sometimes more austere (but well-regarded) neighbours in the Gimblett Gravels (although a quarter of the fruit for this wine comes from Church Road's Gimblett vineyard). This all shows, I think, as there is a lovely sweet fruit core to the wine (2020 was also a very benign year, climatically, in the vineyards). There's also a touch of sweet oak on the nose; deep, dark fruit; and pepper. A very rich and textured wine.
Saorsa Hawke's Bay Syrah 2021
$36
Alex Hendry and Hana Montaperto-Hendry are Saorsa wines ('saorsa' is Scottish Gaelic for freedom, salvation) and they craft tiny volumes of syrah and viognier, including rosé and sweet versions, from their base in coastal Hawke's Bay. We tasted all three (syrah, viognier and rosé) but it was the syrah that really shone, with perfumed notes of leather, spice, smoke and florals. "Skinny jeans in a sweaty rodeo," wrote Dale — positively. On the palate, too, the wine was very impressive, with lovely, chewy, rounded spicy notes and a delicious finish. Well-balanced and not overworked, noted Connell. Production volumes are small, and this has been compounded by the recent damage in the Hawke's Bay floods. If you can get hold of a bottle, do so. If not, get on their mailing list.
THE JUDGES AND THEIR TOP FIVES
Angela Allan, sommelier
Trinity Hill Gimblett Gravels Marsanne Viognier 2020
Smith & Sheth CRU Omahu Syrah 2020
Mt Difficulty Ghost Town Bendigo Syrah 2019
Giunta Crispy White 2021
Valli Waitaki Vineyard Pinot Noir 2021
Diana Hawkins, wine writer and winemaker at McBride Sisters and Responsible Hedonist
Black Barn Vineyards Sparkling Rose NV
Unkel Life's a Beach Orange Nelson 2022
Tohu Raiha Reserve Noble Riesling 2016
Te Whare Ra Riesling M 2022
Redmetal Vineyards 'Sur Lie' Albarino 2022
Pete Connell, sommelier and wine retailer, By The Bottle
Testify Chardonnay 2021
Te Kairanga John Martin Pinot Noir 2021
Trinity Hill Single Vineyard 125 Gimblett Chardonnay 2021
Valli Bendigo Vineyard Pinot Noir 2021
Bilancia Syrah Hawke's Bay 2020
Henry Oliver, Metro editor
Helio Chardonnay 2021
Orlando Jacaranda Ridge Cabernet Sauvignon 2016
Redmetal Vineyards Basket Press Merlot/Cabernet Franc 2021
Novum Chardonnay 2021
Huia Pinot Noir 2019 
Hiro Kawahara, sommelier and owner of Somm Cellar
Tettonica Wines Organic Syrah Rosé, 2022
Tohu Whenua Matua Single Vineyard Chardonnay 2020
Neudorf Rosie's Block Moutere Chardonnay 2021
Swift Chenin Blanc 2022
Nautilus Cuvée Marlborough Brut NV
Nikki Weir, sommelier and wine specialist at wine-searcher.com
Decibel Pinot Noir 2020
Sheild Albariño 2022
Te Whare Ra Pinot Noir 2017
Tettonica Wines Organic Pinot Nouveau 2022
Giunta Riesling 2021
Renée Dale, owner and winemaker at Moi Wines
Mumm Marlborough Rosé NV
Esk Valley Artisanal Albariño 2022
Wine by Jenny Dobson Francie Hawke's Bay Cabernet Franc 2020
Palliser Estate Rosé 2022
The Hunting Lodge Seasonal Collection Albariño 2022
Edmundo Farrera, owner La Fuente Wine and Mezcal Shoppe and Bar
October 30 Syrah 2020
Smith & Sheth CRU Omahu Cantera 2020
Decibel Pétillant Naturel 2022
Equilibrium Makers Pinot Noir Martinborough 2021
Orlando Jacaranda Ridge Cabernet Sauvignon 2016
Oliver Styles, wine writer and winemaker at Halcyon Days
Novum Chardonnay 2021
Mumm Marlborough Rosé NV
Brood Fermentation 2021 Pollen Chardonnay Riesling
Tohu Raiha Reserve Noble Riesling 2016
Tettonica Wines 2022 Pét Nat
This story was published in Metro N°438.
Available here.