Jan 21, 2020 Food
Someone had to do it. Simon Farrell-Green – with help from some crunchy-loving assistants – puts the best peanut butters to the test.
Remember when you didn't ask what brand a peanut butter was, but just had to decide whether you'd like crunchy or smooth? When you opened it, it sat there like a flat, cold, dead thing. It tasted sweet and unremarkable, with very little of that glorious roastedness. For years, true peanut-butter obsessives fought back, even going as far as making their own or visiting bulk-bin shops where they could grind their nuts to bespoke perfection.
No longer! If you've spent any time browsing in the supermarket of late, you might have noticed the category has "spread" across rather a lot more space than it used to occupy, and in any number of variants; alongside peanut butter, you can find all manner of other nut butters, from almond to cashew, and a range of added extras, including chocolate. (We're not sold on this.)
We got to talking around the office and realised everyone had an opinion on what was the best peanut butter, but no one could agree. And so we set out to taste them. Writer Jean Teng and I conducted a tasting of nine crunchy peanut butters, both with and without toast (Vogel's, toast cut, no butter, if it makes any difference).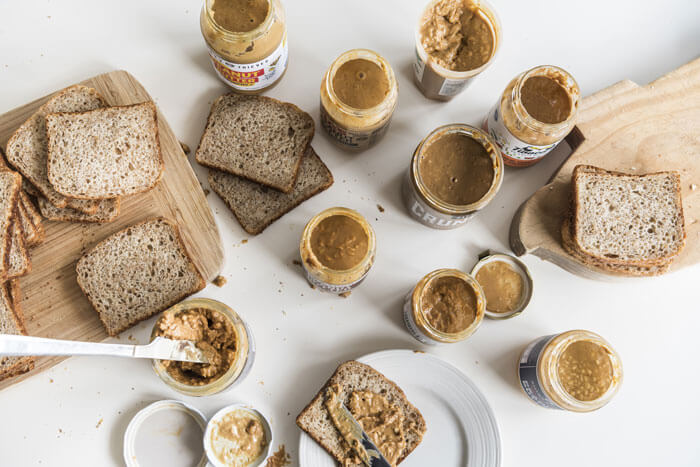 We'll get to the rationale for crunchy in a moment, but I can report that eating peanut butter directly from the jar is both useful in a tasting and a little difficult – although apparently people do it all the time. It's not very pleasant, but it does give you immediate insight into a butter's texture, which in this experiment ranged from sticky – even glutinous – to loose.
Part of that discussion is the oiliness. Ever noticed how "proper" peanut butter tends to separate over time? That's a good thing: it means there are no emulsifiers holding it together. We like that too, and so we looked carefully for the oiliness of the butters we tasted – we didn't want the texture to be overly oily, but we did want a good level of natural oil to it.
The key point here is spreadability. You don't want to have to convince the peanut butter across the bread, especially as you get to the bottom of the jar – but you also don't want it to flow straight over the bread's edges.
Then there's taste. We were looking for a balanced flavour, with an essence of nuttiness and a good dash of salt; all the elements held in balance. We didn't want something too nutty, we didn't want something too toasty or bitter, and we didn't want it over-salted. (We quite like a bit of natural sweetness too.)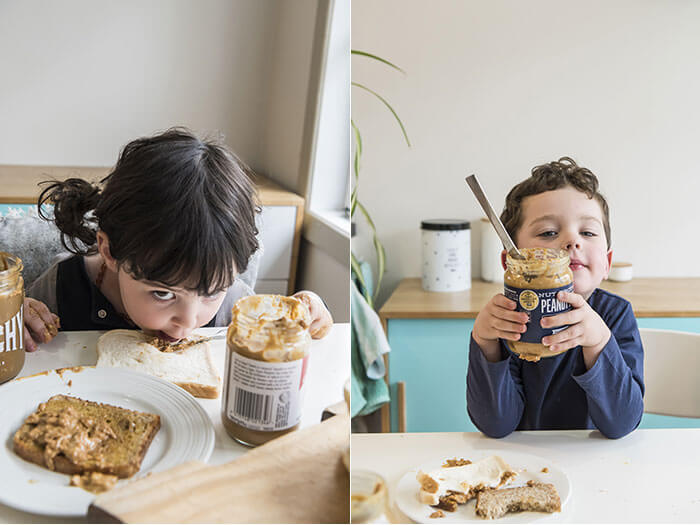 READ MORE: New Zealand's instant coffees, ranked
One of the oddities of the peanut butter obsession is that most of the new brands play in what you might call "artisanal" space: nice labels, glass jars, promises of purity, authenticity and New Zealand-ness. Yet the peanuts, in the main, come from Argentina, China or Australia; we've even heard unsubstantiated talk that some brands are importing roasted nuts. Suffice to say, we reckon the taste bears this out.
Oh, and why did we decide to review only crunchy peanut butter? Mainly, because that's what both Jean and I prefer, so it seemed the fairest option. More particularly, smooth is for beginners, right?
Read on for a summary of our tasting notes, with butters listed from our most favourite to least.
Nut Brothers Super Crunchy
Hailing from the renowned peanut-producing region of Parnell, Auckland, Nut Brothers' Super Crunchy peanut butter just nipped into first place. A handsome label and practical, wide-necked jar introduce a lovely, darkish peanut butter with distinct, fresh flavours – it captures the essence of a roasted peanut, and goes very well with toast. Good straight from the jar, it holds together without sticking to your throat; excellent spreadability. That's basically what peanut butter is all about.
Fix & Fogg Super Crunchy
We're expecting hate mail on cult roaster Fix & Fogg's second placing, so it has to be said it was very close to the top. F&F used to roast from a tiny window on an alley in Wellington; they're a little bigger now but the handmade feeling remains – this is a butter with a really loose grind, and a firm, solid crunch of peanuts. You know you're eating peanut butter: it's almost pourable out of the jar, with an integrated, pure flavour and just the right amount of salt.
Bay Road Crunchy
Dunedin's Bay Road is a charming operation – they roast in a small shop in the port district – and (full disclosure) our jar was apparently batch-roasted specially for us, which may or may not have boosted their ranking. Thick with peanuts, this is a serious-minded peanut butter, with a very fine grain and very little oil on top (probably because it was made to order). A light, sweet flavour balance with a good level of roastiness. Not super sticky.
Forty Thieves Crunchy
Stanmore Bay's Forty Thieves, based north of Auckland on the Whangaparaoa Peninsula, produces a wide range of butter. Their crunchy peanut butter has a light colour, with plenty of oil on top and a loose grind. The sweetest in this tasting but not overly so, it integrated with the peanutness nicely. A complete peanut butter that went very well with toast.
Ceres
Our jar came with quite the oil slick when opened, and a mid-dark caramel colour. It was very, very sticky, with a good amount of peanut chunks. A solid effort, though we have to admit we're much more partial to the Hemp & Cacao (see further below).
Pic's Crunchy
Full credit to Pic's for starting the peanut revolution: back when Pic's began roasting in Nelson more than a decade ago, peanut butter was sticky, sweet and kind of solid – the ultimate mass-produced version of a very fine thing. The jar we tasted was overtly roasted in flavour, with a very light colour, and salty to boot. Still a pantry favourite, but has Pic's been overtaken by the competition?
Twocan Crunchy with Salt
There was a very small grain to this peanut butter, which we found slightly undersalted, and even bland.
Small Batch Crunchy
A most unusual peanut butter, and probably an acquired taste – the least roasted we tasted, with perky, bright pieces of peanut butter that seemed not entirely integrated. The flavour was good; we're just not convinced of it as a butter.
Mother Earth Crunchy
Points off for plastic packaging and a foil lid, which stood out in a field filled with glass jars and jar-return programmes. Very pureed, verging on a paste, this was reasonably sweet, and otherwise unremarkable.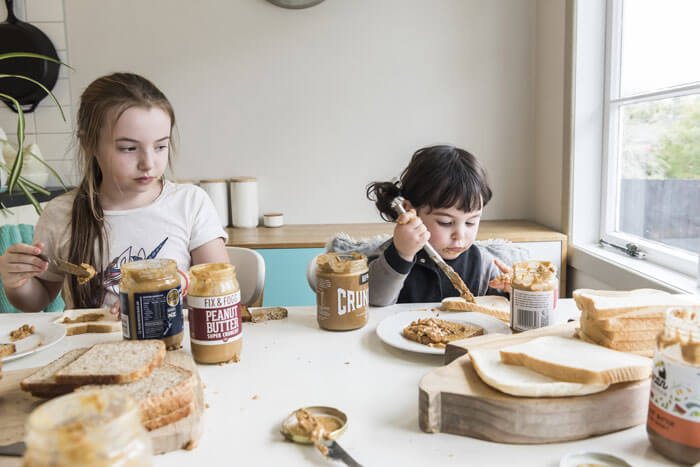 The Weird and the Wonderful
One of the delightful things about the butter scene is the recent expansion of the category, even into chocolate peanut butters – though this is where we draw the line, especially when they contain emulsifiers. Here are some recent favourites.
Less a breakfast spread, more a dessert, Nut Brothers Salted Caramel Peanut Butter combines their gooey crunchy peanut butter with chunks of salted caramel. It verges on sickeningly sweet, but you'll find yourself going back for more.
Alongside its renowned peanut butter, Pic's takes the same approach with its Almond Butter and Cashew Butter. The former is silky smooth, almost creamy, with a distinctly roasted-almond flavour – it's basically like a plate of bar snacks in a jar. The latter has the essence of cashew, sweet and sticky. Very lovely.
Ceres, meanwhile, make a particularly moreish Hemp & Cacao peanut butter, to which we have recently developed an addiction. It's barely a butter, more of a goo, with a dark, tarry flavour. Particularly good on a cracker (or several).
Small Batch Super Butter combines classic crunchy peanut butter with almond, cashew and brazil nuts, plus flax and chia. It's loosely gooey, with black bits of chia, and a gently nutty sort of flavour in which each nut is vaguely present. We like it a lot.
We shan't discuss Fix & Fogg's Coffee & Maple (except to say you'd be better to have a coffee, and some peanut butter on toast). But we do love Smoke & Fire, which takes their fabulous crunchy peanut butter and adds natural manuka smoke and sweet paprika. It's surprisingly hot, deliciously smoky – and wonderfully child-proof. A cult item that may see you eating it straight from the jar; also surprisingly good on ice cream.
This article first appeared on Noted.co.nz and has been shared with permission.