Nov 26, 2019 Drinks
A blind taste test of 12 instant coffees? Sure, why not?
We usually think about coffee in two extremes: fancy and non-fancy. Fancy is the type extracted through espresso machines at the local cafe with all those lush plants. It's probably packaged up in a sealed-in bag with pleasing sans-serif font on the front. Non-fancy is our Nescafés, Moccona (heft meer mmmm) and the supermarkets' home brands, pitched as a necessity rather than something you can enjoy. It's the type many of us relegate to "not real coffee".
But instant coffee is in our DNA. David Strang, a New Zealander from Invercargill, invented the stuff in 1889 and applied for a patent for his "soluble coffee powder". And compared to the USA, whose instant coffee consumption is around 6% of the total coffee market, we simply can't get enough of it. New Zealand is the number-one country worldwide for instant coffee consumption per capita, and around 70% of coffee drunk here is instant. A 2015 survey by Southern Cross revealed 46% of us actually prefer instant coffee.
READ MORE: Every kombucha in New Zealand, ranked
We set out to get some insight into why New Zealanders love it so, and the answers that emerged were blindingly obvious: it's convenient and it's familiar. We drink instant at baches, on planes, in hospital waiting rooms, while camping. It's there for us in the best of times (the birth of our children) and the worst of times (a death in the family). We make hasty cups at 3pm in the office and offer it to guests who didn't bother to call ahead. The packets get all battered and crinkly, shoved to the back of the pantry or dutifully unrolled every morning, and we are blissfully carefree about air getting in (instant coffee doesn't go off… right?).
For Al Keating, CEO of Coffee Supreme, trying to get a slice of that market was just good business sense. Although in the Auckland bubble our appetite for new cafe openings is ever-expanding, Keating reminds me it's a different scene altogether in the regions.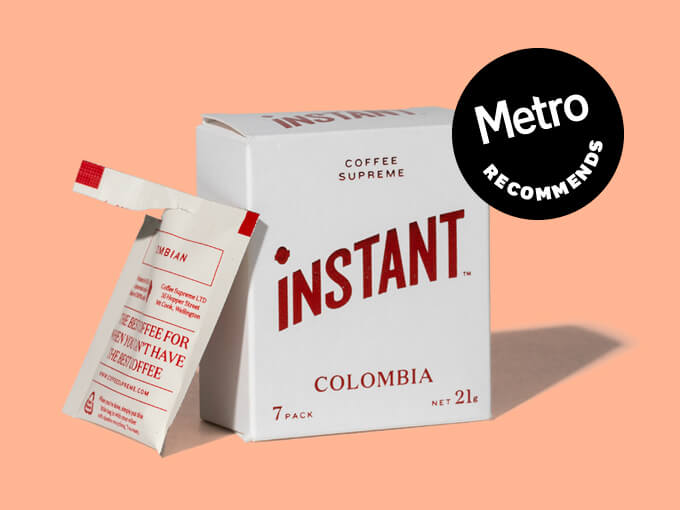 The branding of its new product, Coffee Supreme Instant, acknowledges instant's place in the hierarchy of coffee. "The Next Best Thing." That's the thing about instant coffee and its weird, maligned status in the world of coffee elitism. No one is saying instant is better than espresso or filter — but just like espresso varies from filter, instant coffee is simply a different drink. It needn't be a clandestine affair, or something shameful. Sometimes it's just good time management.
One of our judges noted the Coffee Supreme Instant "tastes like filter". It tastes like filter, Keating explains, because that's exactly what it once was before it was freeze-dried. That's not the case for all instant coffee, some of which is brewed by passing extremely hot water through ground coffee, then removing most of the water and leaving behind a concentrated liquid. The concentrated liquid is then dried, either by spray-drying, where it's sprayed onto a very fine mist and blown down as powder, or by freeze-drying. A lot of flavour can be removed in that process.
At Metro, contrary to any Auckland-induced snobbery, we discovered that some of it is actually pretty good. For this blind taste test (ranked from best to worst), we visited the two supermarkets nearest our office and chose one representative from each of 12 major instant coffee brands, across a range of price points. (Disclaimer for instant coffee purists: This is not an exhaustive list.)
Best in Show
1. Coffee Supreme Instant
$13.99 for 7-pack
Coffee Supreme reigns supreme. Very clearly the best, it's dark and bouncy and bright, courtesy of some very nice citrusy notes. One of our judges noted, "If you gave me this and told me it was pour-over, I would believe you in an… instant." At $2 a cup, this is an instant for coffee people, not a coffee for instant people.
Runner Up

2. Special Blend Powdered
$2.49 for 90g
"Tastes like… coffee?", we all wrote in our notes, as if surprised. The packaging looks like a graphic design student's first commission, but it's very charming in its own lo-fi, underdog way. And it's clearly the hero of the tasting: unassuming, not too bitter — with just a tad of that unavoidable instant sweetness — and by far the most affordable option to get some good-tasting caffeine in you.
The rest:
3. Blended Daymaker Freeze-Dried
$10.49 for 90g
"Mmmm," someone was compelled to write. This one is citrusy and floral, with an oaky fragrance. It's pleasant and easy to drink, which we can all agree are very attractive attributes in a coffee.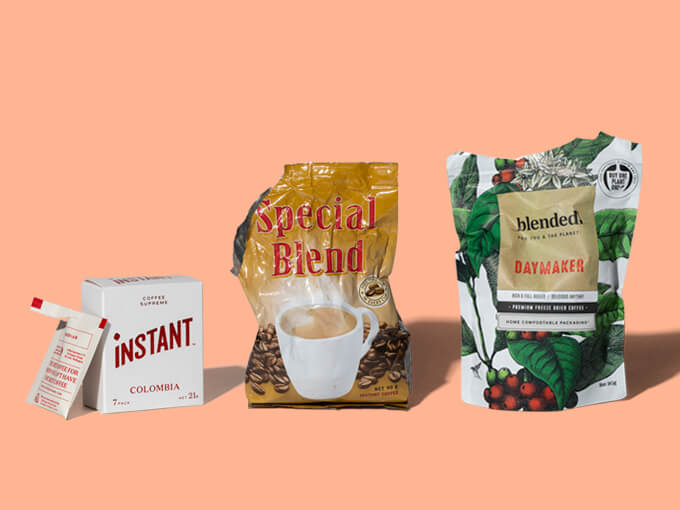 4. Jed's Coffee Co Freeze-Dried Strong
$8.00 for 100g
Cereal-y, malty, nutty. Jed's tasting notes are all of the breakfast kind, which makes it an appropriate way to start the day, no? One judge wrote, "This reminds me of every coffee I've ever had at a community hall or catered morning tea." So, hey, coffee of the people.
5. Avalanche Italian Style
Freeze-Dried
$6.99 for 90g
Full bodied, nice roasted overtones, a clean cup. Definitely an above-average, multi-dimensional instant.
6. Robert Harris Italian roast Freeze-Dried
$8.99 for 100g
"Fine." "Pleasant but bland." Robert Harris' instant is a tad muddled and dark, its hints of fruitiness too hidden. Middle-of-the-road kind of stuff.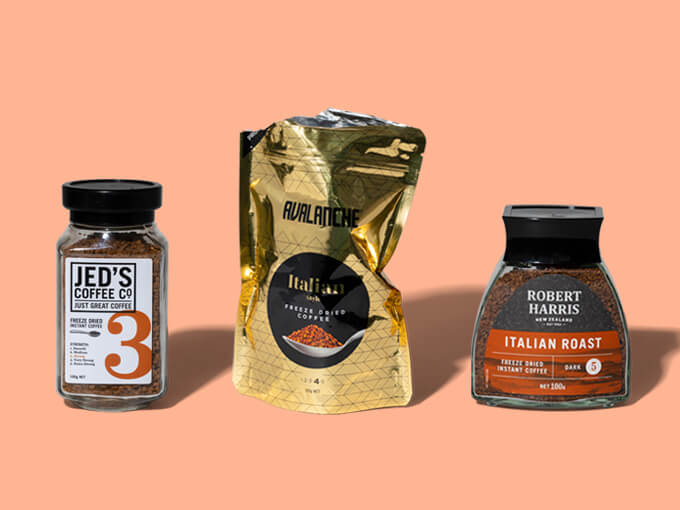 7. Gregg's Red Ribbon Roast
$10.59 for 170g
Some chocolatey and caramel undertones save the show, with a bit of acidic, lemony bite to it on top.
8. Moccona Classic Medium Roast Freeze-Dried
$10.49 for 90g
We don't think there's an office in the entire country that doesn't have a gigantic-sized container of Moccona lying around, and you could certainly do worse. The fruitier side of your average brew, and quite rich, but with an unpleasant chlorine-like aftertaste.
9. Pams Café Roast Instant
$3.19 for 100g
Does not taste like coffee. There's a weird non-food taste to this one, sharp and bitter with hints of aluminium. We'll not be reaching for this one at the next community hall meeting, that's for sure.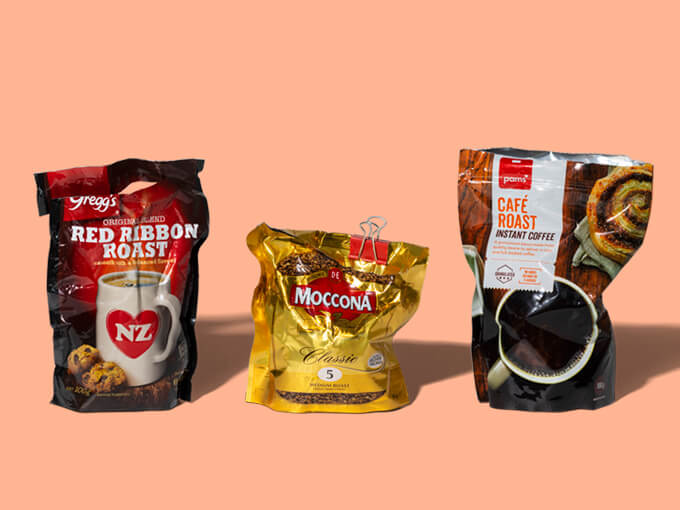 10. Value Instant Coffee Powder
$1.95 for 90g
Unfortunately Value had us comparing it to water, and there's some cardboard to it, too. The only discernible flavour is bitterness. Not good instant.
11. Nescafé Classic
$6.49 for 100g
Nescafé gives us a bit of a hospital vibe, which, you know, makes sense. We'll drink it, but we won't be happy about it.
12. Screaming Turtle Espresso Granulated
$5.00 for 100g
We were quite horrified by Screaming Turtle's name, and quietly rooting for it as a result. Unhappily, it's a bit upsetting all round. Metallic — "tastes like a scrap-metal yard", or "like when you're scooping out day-old coffee from a French press". Sad.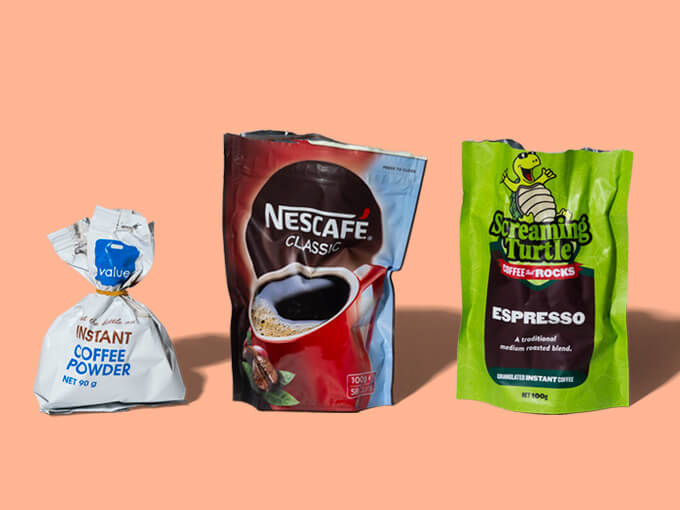 This piece originally appeared in the November-December 2019 issue of Metro magazine, with the headline "Instant gratification".
READ MORE: Every kombucha in New Zealand, ranked