Jul 25, 2019 Food
Actor Kalyani Nagarajan loves a meal out in Auckland, from the cabbage 65 at the Satya Chai Lounge to the truffle mushrooms at L'Oeuf. She's also a dab hand in the kitchen and will be cooking a meal live on stage in Mrs Krishnan's Party, returning to Auckland's Q Theatre in August. Read more in her Metro What I Ate food diary.
Being in the performing arts field, I have a huge pressure to 'look good', whatever that means. But I am a foodie true and true, so, the struggle is REAL! I have been on the keto diet for over a year now… But have recently decided pseudo keto is more my style, because I still need fries and nachos in my life.
Monday
It's one of my best friends' days off so we make it a ritual to go to Satya Chai Lounge on K' Rd. Now Satya is one of my favourite food places I have EVER been to. Yes, maybe it is because I am South Asian and Indian food satisfies my palate more than most other cuisines, but there is something about Chai Lounge and the food and drink that is so irresistible. We usually get four or five dishes. Cabbage 65, which is just heaven in the mouth, crispy tempura-style thin slices of cabbage. It doesn't sound that appealing but my golly! It changes lives. Kurryage chicken is next, which is a fusion of Japanese fried chicken, with Indian spices… need I say more? Dahi Puri, a crispy pastry-like base, with a potato curry, tamarind sauce and a gorgeous tangy yogurt. You just pop the little snack in your mouth, and it is a huge explosion of flavours. And… the pièce de résistance from Chai Lounge is the Curryflower. Now cauliflower has been the comeback vegetable of the century. You can do anything with it. I have tried to replicate the Curryflower, but it is IMPOSSIBLE. A beautiful chickpea coating, deep-fried to perfection, with intense flavour. The whole experience of Chai Lounge gets me a bit emotional, it's that good. Now the drinks… AHH! South Indian style Negronis… The gin is infused with cloves, cardamom, cinnamon, Star anise, and it is my favourite drink in Auckland City. They have such an amazing selection of local beers, and all the cocktails have an incredible Indian twist, that elevates the average cocktail into something exquisite.
Tuesday
I've already carbed up intensely at Chai Lounge. But … meh. Xian Food Bar is my next go-to usually. For some reason (probably because I have hospo hours and work weeks ingrained in my daily routine) Monday – Weds are like my weekends. Xian Food Bar is definitely not the best looking of places, but they have this cucumber salad that is doused in chilli oil and some secret ingredients (the owner will NOT tell me what it is…) The cucumber salads from most East Asian restaurants on Dominion Road will always blow your mind. And they are perfect to balance out your meal, or just have alone. When I keto hard, I usually get the cucumber salad, some beef jerky from the supermarket and some cashews… eaten all separately of course, but it is pretty yummy. If I am feeling frisky, I head to the opposite side of Dominion Road, and get the best dumplings in town at Barilla. If pork and chive dumplings aren't your go-to… you do not know what's up. OOSH I am hungry now.
Wednesday
I am definitely a dinner gal… So, thinking of lunch, I usually make something of my own. My favourite meal to eat and make is larb. Now I haven't found a larb in Auckland that I like yet, which is such a shame… But larb is a Thai meat salad – best with pork mince. It is so fresh and stunning. Drenched in fish sauce, coriander, mint, lemongrass, and chilli. It is a sublime but underrated dish that you must try to believe. If I said to you, 'Hey, want to try a pork mince salad' you're probably not going to dive deep into that. But larb is an ultimate dish that everyone needs to have in their recipe books. I also just made a scrumptious miso and mushroom soup. Caramelised onions, miso and mushroom. Blend it all together and you are in a happy place. In Auckland, you are inundated with choices for places to eat, but sometimes a beautiful home cooked meal is the thing. And the produce – not from the supermarket, but from places like the Avondale Markets (Sunday mornings) or the Sandringham Markets (Tuesday and Friday mornings) to get beautiful fresh fruit and veges and fish and eggs, so much cheaper and much better quality. Grey Lynn Butcher is also a key place for all your meats, and it makes shopping for food an exciting time. You come away knowing you did better for the environment, and you have much better products, much cheaper. Finding out these little hacks can make food pleasure not just fuel when you are cooking at home.
Thursday
Yay! I figured out lunch – L'Oeuf in Mt Albert is a stunning little French café gem, that serves superb coffee and amazing brunch dishes. The truffle mushrooms on toast is so so good. And Eggs in a Basket is so special. They make simple breakfast foods… which I am not usually a fan of anyway so it's special. And right next door Chinoiserie opens for dinner. Their Asian fusion style of cooking is to die for! Stunning bao buns, the most delectable ribs. My mouth is salivating right now. And a great atmosphere for the suburbs. I get so annoyed that I must travel into town to get a special treat. But this is tucked away in Mt Albert and it is packed every night. Atmosphere is key when you are going out to eat, and they have that on lock. Their popcorn chicken is also FAB!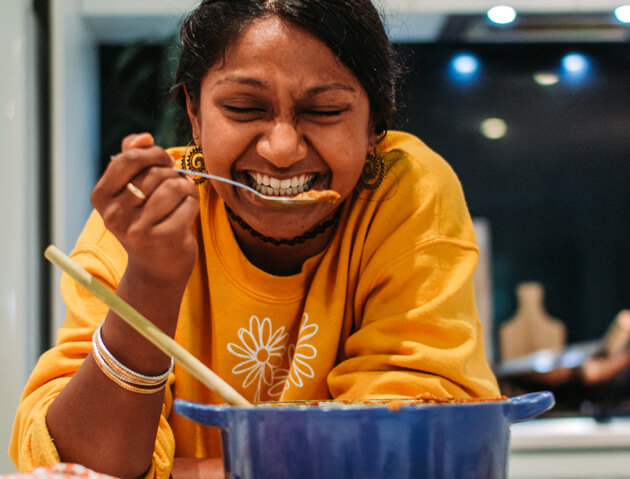 Friday
Now for me, I define a good bar by how good their espresso martini is. A good espresso (ya basic I know!) is key for me, but I don't like it to be boring – I want some excitement, some care that went into taking a classic and modernising or personalising it. And you cannot get more personal than The Caretaker . Tucked away in downtown Britomart area, is a little cellar-like bar, that does not have a menu, but has only bartenders. When you are feeling fancy, or when you are not. You head down the stairs and sit in this grungy but fancy (I don't know how they pulled that off), jazz-like bar. And tell the waiter… I feel like something with chocolate in it, but not too chocolaty, and I like rum. And off they go and bring back a concoction that is guaranteed to blow your mind. Friday night drinks, I don't like busy, loud places… this is so perfect for date night, or for singles night any night. You feel special, you feel taken care of. And they are some Boooooozy drinks most of the time.
Saturday
Saturday for me is family day. At this point of the week, I am craving mums' food. So off I head to the North Shore, to get a dosa and coconut chutney from Mum's, which is the most unbeatable food for me. If you are looking for good Indian takeaway, there is none other than Paradise … the word says it all. Paradise has taken over Sandringham, but for good reason. Now that they are so busy, quality has gone down a bit. But their Biryani is still the best, and nothing for me can beat their lamb korma and lollipop chicken. If you live in Auckland and have not gone to Paradise – go!
Sunday
I'll miss out Sunday, because I am heading off to Paradise now, because I can't stop thinking about it. But there is such an array of food selections to dip your fingers into… Ima Cuisine is a top, so is Apero, Ebisu (for Japanese) Cassia (for just the best time). I could go on. But don't settle in Auckland. Try new things, try different flavours. Picky eaters are my least favourite kind of people. Don't be that person! HA! Well do what you want… but in Auckland you can sample the world's flavours in one city… And the quality is so high here. Even Vancouver, LA, Pittsburgh, London…. Couldn't match the quality and the selection we have here in this wee city.
Xx
Kal
Kalyani Nagarajan performs in Mrs Krishnan's Party, returning to Auckland's Q Theatre after a whirlwind North American tour from August 6-18. Tickets available from qtheatre.co.nz