Aug 8, 2019 Food
Congee is a simple dish to make at home, and is a great way to use up leftover rice and stock. Metro shares Ruby White's vegetarian congee recipe — an instant winter favourite.

Ruby White's congee is a little bit non-traditional. But, really, that's the beauty of a blank canvas like congee — it encourages play. In White's version, there's artfully placed fungi, shiitake and spring onion, and a soft-boiled egg cradled in the centre. Next to it, an unusually generous mound of youtiao, ready to be torn apart by hand and dipped.
White is the former owner of Small Fry cafe at Te Tuhi and, as well as congee, makes very good kaya (coconut jam). As we hold our utensils to dig in to her congee, she says, "I'm not sure if it'll taste good." But she doesn't really seem all that nervous. Congee, she explains, usually ends up tasting different every time, depending on what she has on hand or what's been left over from yesterday. There's no real wrong way to go about it. "Lamb, beef, chicken, duck, rabbit are all a go. Salted fish and seaweed, too. And you can't overcook it."
READ MORE: Gruel gruel world: The rising popularity of congee in Auckland
Although congee is a childhood dish for many, it's not for White. Her Small Fry congee is vegetarian, and can be gluten-free and vegan. "I wanted to make it, because I hadn't seen it in many places."
It was a way to utilise her youtiao, too, which is the clear hero, and something visiting aunties would praise her for. And that, my friends, is how you know you've made it.
People may think congee is a boring dish, Ruby says, but there's something special about it. "You can really taste the flavours of the rice. And it's one of those dishes where when you really want it, nothing else will do."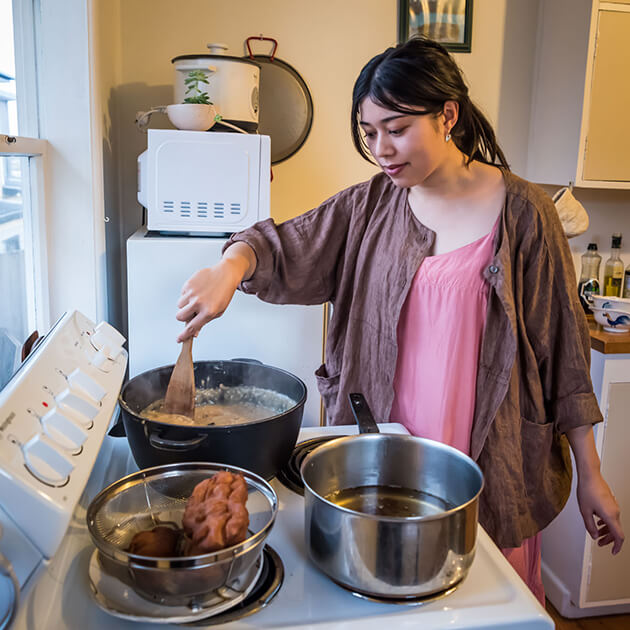 Ruby White's oolong, shiitake and miso congee
Congee ingredients
Serves four
Small handful of black fungus
Small handful of dried shiitake mushrooms
200g of fresh ginger, finely minced
2 spring onions, white part only, finely sliced — thinly slice green tops and reserve for later
1 cup of cooked rice (white, brown or whatever might be in your fridge)
1 litre of oolong tea
1 heaped Tbsp miso paste
Small handful of goji berries (also known as açai berries)
1 litre of stock (vegetable- or meat-based, or water if you have neither available)
Topping ingredients
4 eggs*
Big handful of fresh shiitake mushrooms — depending on size, cut them into half or quarters
Sliced green tops of spring onion
Light soy sauce**
Sesame oil
Truffle oil
White pepper
NB: Sometimes I toast some seaweed (korengo or nori is good) for umami and another texture
*vegan without the egg
**gluten-free without the soy sauce
Youtiao ingredients
Makes eight
200ml water
220g high-grade flour
¼ tsp instant yeast
1 tsp sugar
½ tsp baking powder
1 tsp salt
1 Tbsp vegetable oil
Flour for dusting
Oil for deep-frying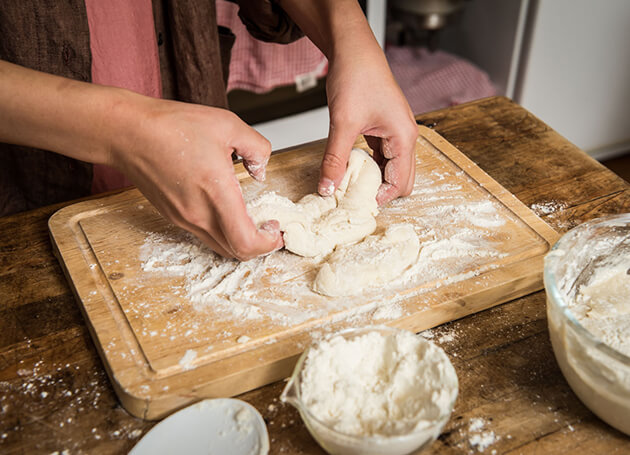 Congee
Soak the black fungus and dried shiitake in boiled water (just enough to cover) while you prep everything else.
Heat up a large pot (ideally non-stick) containing 2 tbsp of oil. Sweat ginger and spring onion until aromatic – you don't want it to colour much.
Add in the cooked rice and stir around, followed by half the oolong tea. Add the miso.
Drain the black fungus and shiitake, adding the liquid to the congee. Roughly chop the fungus and shiitake into bite-sized pieces. Add to the congee, along with the goji berries.
At this point, have the congee simmering away and keep adding the liquids over a period of 4 hours (more if you can!) as the rice absorbs it, similar to risotto. Stir regularly to make sure rice doesn't stick to the bottom. The longer it cooks, the creamier and yummier it gets. You want the congee to look like porridge — the rice should really be broken down. If it looks too dry and you've run out of oolong tea and stock, just use water. The thickness or thinness of the congee is a personal preference.
Toppings
When the congee is ready to eat, bring a small pot of water to the boil and cook your eggs for roughly 5-6 minutes for soft boiled, 1-2 minutes more for hard boiled. When the eggs are done, run them under cold water to stop the cooking.
While the eggs are boiling, heat up a fry pan or wok with 1-2 tbsp of oil — I use some chilli oil for the slightest touch of heat. Fry the shiitake, allowing them to turn golden. Toss in a pinch of salt and once they have some nice colour, take the pan off the heat and throw in the spring onions. You don't want the mushrooms too cooked.
Gently peel the eggs.
Dish out the congee. Place an egg in the centre of each bowl and nest the mushrooms around it.
Dress the bowl with approximately 1 tbsp of light soy, sesame oil, a very sparing drizzle of truffle oil and a puff of white pepper. Season to taste.
Ruby's tip: Take textures into account when choosing toppings. The black fungus in the dish adds rich, gelatinous mouthfuls, while shiitake contributes some slipperiness and meatiness.
Youtiao
Mix the first seven ingredients in a bowl and leave to sit for 30-60 minutes. You want to see it bubbling.
Heat the deep-frying oil in a pot or wok.
While the oil is heating, prepare the first youtiao. The dough is really wet, so make sure you have plenty of flour to dust your work bench and the sticky surface of the dough. I like to cut two lengths of dough that are roughly the same size: approximately 2cm wide, 1cm thick and 10-15cm long each. Place one of these pieces on top of the other, and gently press a line down the middle to connect them without splitting the dough into two.
Test the oil twice before putting the youtiao in. First, flick some flour into the oil. If it bubbles immediately, test it again by dropping a small nub of dough into the pot. You want it to float and start bubbling immediately. Take care when placing the youtiao into the oil; it should bubble furiously if the oil is the right temperature. Use a slotted spoon or metal sieve to flip the youtiao around in the oil until it is nicely golden-brown on all sides.
Let it drain in a sieve or wire tray while you cook the rest — you could drain it on paper towels too, but to keep it crispy, avoid using any surface that will capture steam.
Serve it on the side of your congee like bread and soup, or cut it up and mix it in.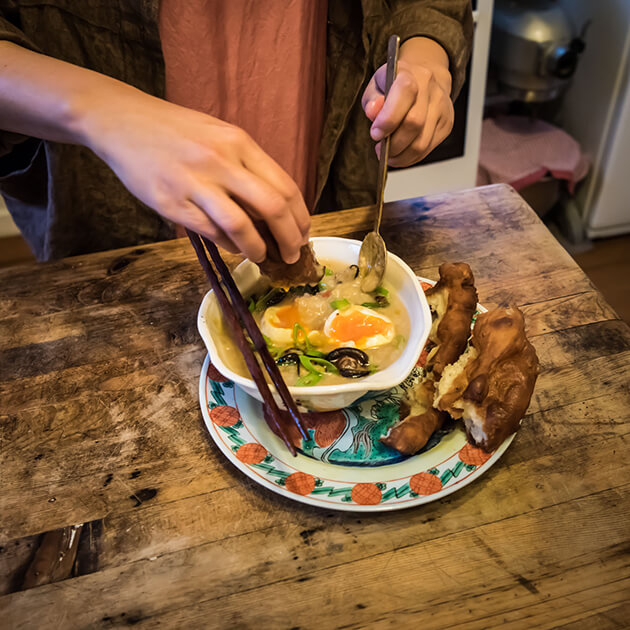 This piece originally appeared in the July-August 2019 issue of Metro magazine, with the headline "Gruel World".