Oct 17, 2019 Food
Keep an eye out on the road around Auckland for this Italian eatery with a twist – you'll be rewarded with gluten-free pasta, arancini, tiramisu and more. Via our friends at Food to Love.
It was on a trip home to Italy that Luisa Pollio and Tommaso (Tommy) Baldassarri hit on the idea of a mobile Italian kitchen. Pollio, 39, had recently discovered she was gluten intolerant, and, after many trials, her husband Baldassarri, 41, had developed a gluten-free fresh pasta which could compete with traditional pasta. Spurred on by feedback from friends, and inspired by the food truck scene in their home country, last year the duo set up
Amaranto Pasta & Cucina
, a gluten-free Italian eatery housed in a 1966 caravan.
From their base in Matakana, the couple roll around markets, eateries and festivals, Baldassarri whipping up dishes such as ricotta and spinach ravioli, gnocchi with truffle and mushroom ragu, arancini and potato croquettes and tiramisu – all deliciously gluten-free – while Pollio works front-of-house and manages reservations and social media, alongside her work as a make-up artist.
Amaranto can also be
hired for events and weddings
, catering for up to 100 guests. "Usually our guests ask for a traditional and authentic Italian meal," says Pollio, "and they are never disappointed!"
Not everyone with a gluten intolerance is lucky enough to have a personal Italian chef on hand, and Pollio is keen to share Baldassarri's creation far and wide. "He spent several months working on the perfect mix of flours to obtain a gluten-free pasta with a great taste and a texture close to the regular one," she says. "The biggest challenge is the [pasta's] low elasticity; it breaks really easily."
Before taking his job on the road, Baldassarri had worked as a chef for over 20 years. He trained in Italy and has worked in restaurants both there and here, including Auckland's Toto and Farina. However, when it came to fitting the caravan with a commercial kitchen, Baldassarri looked to the professionals. "Tommy is a great chef, but DIY is not one of his strengths!" jokes Pollio.
The couple came to New Zealand just over seven years ago, making the move north to Matakana after three years in Auckland. (They met in Italy 20 years ago, falling in love at first sight when Pollio visited Baldassarri's home town on holiday – she relocated to the area five months later.)
Naturally, pasta is their favourite food, with Pollio singling out beef ravioli with tomato sauce, or with butter, lemon and sage, while Baldassarri nominates strozzapreti with ragu. "But Italian cuisine is so wide that it is really difficult to pick something," says Pollio. "You can't beat a basic tomato and basil sauce but you need the best ingredients." That's why they opt for organic, seasonal and Italian ingredients where they can, and use free-range produce.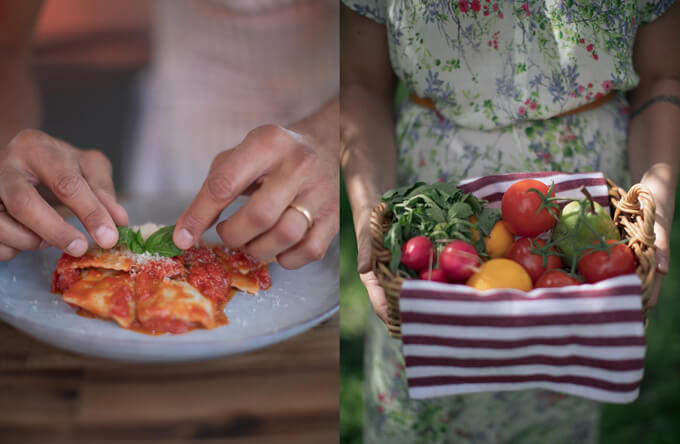 They've just returned from two months in Italy, visiting family in Le Marche and Piedmont (where Baldassarri and Pollio are from respectively). In between catching up with rellies, they sunned themselves in Sardinia, took in the sights in Abruzzo and relaxed at a yoga retreat in Stresa. But the thing Pollio and Baldassarri look forward to more than anything when they return home is "the delicious food", from salsiccia di Bra (a raw veal sausage unique to a small town in Piedmont) to all the different flavours of gelato.
"We take advantage of our travel to eat all our favourite dishes, especially the ones we can't find in New Zealand," says Pollio. They also come back with plenty of new recipe ideas.
They've always loved travelling. "Our travels have been a great source of inspiration and have helped us become better people. There is something incredible about the amount of things you can discover when you leave everything behind and live out of a backpack!"
Growing up in Italy has also been another huge influence on just about everything they do. "Our mums, dads and grandparents taught us a lot about food and life. We remember our slow Sunday lunches with the family: grandma waiting for our arrival with a tray full of fresh homemade pasta, tons of cured meats and a big roast in the oven." Back in Aotearoa, the pair are spurred on by each other and their customers' kind words. "They are so supportive and inspire us to do better each and every time."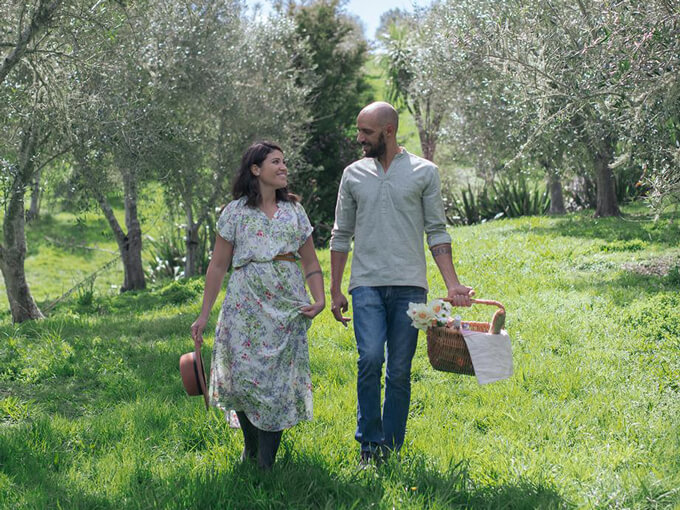 The pair love working together, and as for their slightly unusual 'location', they say they enjoy working in a kitchen on wheels. "We like the fact that we can move around and set up almost everywhere," says Pollio. The caravan does present some challenges, though. "We have learned the hard way to always check everything twice before driving off (especially that the fridge is locked) or you risk losing all your prep."
This story was first published on Food to Love, and is shared with permission.