Nov 16, 2018 etc
A new hospitality precinct will offer a variety of different food outlets on the North Shore.
Aiming to give North Shore residents a community-minded spot to gather, dine and hang out, business centre Smales Farm's new hospitality precinct,
Goodside
, is gearing up to open. With
Shake Out burger joint
, Goodness Gracious bagels, Ripe Deli, &Sushi, Fantail & Turtle, The Grange European restaurant, and Soho Thai fusion eatery, North Shore residents will have plenty to choose from. Also on the horizon is a new burger place and a dedicated pop-up space which will play host to a different eatery every month, both of which Smales Farm CEO Paul Gunn is remaining tight-lipped on.
Read more: Get a lesson in mezcal at new Snickel Lane bar La Fuente | Morningside's new food precinct opens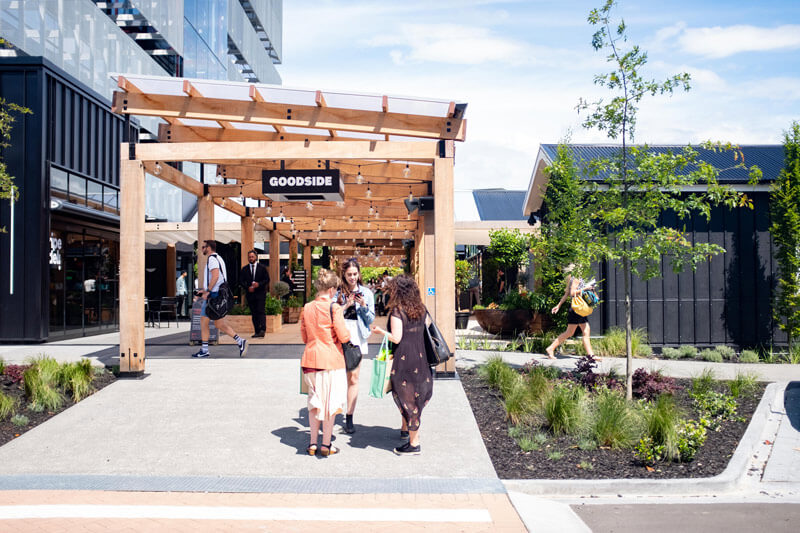 The area has been designed by Paul Izzard, the same man behind The Jefferson, Cassia and Gerome, and other well-known Auckland spots. The look is clean and monochromatic, yet adaptable – you can imagine a farmers market taking place here, as well as a cocktail party.
To complete the atmosphere, Goodside will have live music and is collaborating with Auckland DJs such as Murry Sweetpants and Bevan Keys. The music will be played through what Gunn calls the "Goodside Sound System", a network of around 150 speakers dotted around the precinct.
As well as the bars, eateries, food trucks and live music, Northsiders can look forward to private chef experiences and cooking lessons.
Opens December 1.
goodside.co.nz
72 Taharoto Rd
Takapuna