Jun 11, 2019 Drinks
Waiheke Wine Day Out is just around the corner on the 16th of June (that's this Saturday! Tickets here). Enjoy a day of wine tastings with food pairings from some of the prestigious wineries on the island. To help you get in the mood, Metro has showcased the best of what each vineyard has to offer.
READ MORE: Sip your way around Auckland's vineyards
For more great videos, check out our Youtube Channel.
Kennedy Point
Kennedy Point is the only certified organic winery on Waiheke. Having an organic certification is no easy feat – only 8% of all vineyards in New Zealand are certified, and there rigorous standards which must be upheld in order to keep the certification. Organic winegrowing refers to a more holistic sustainable approach to winemaking which doesn't use chemicals or pesticides within the vineyard. Kennedy Point's wines are fermented with wild yeast which enhances the complexities of the wine and allows for a true reflection of the terroir of their vineyard.
Most famous for its Bordeaux blends (a traditional blend usually consisting of a plethora of varieties such as cabernet sauvignon and merlot), Kennedy Point prefers to think of itself as the producer of what a "Waiheke Blend".
Casita Miro was started more than 20 years by the Bond family who still runs things to this day. Located on the slopes overlooking Onetangi, this 4.2-hectare winery doubles as both an excellent producer of high-quality syrah and as home to one of the best restaurants on Waiheke. Casita Miro has consistently been ranked in the Metro Top 50 in recent years, and for good reason. The goat cheese croquettes and harissa sauteed prawns are divine. Above the restaurant is a mosaic masterpiece called the Bond Bar. The result of seven years of work draws inspiration from Gaudi in Spain and shouldn't be missed! Be sure to try the 'Madame Rouge' which styles itself as the first truly iconic New Zealand aperitif.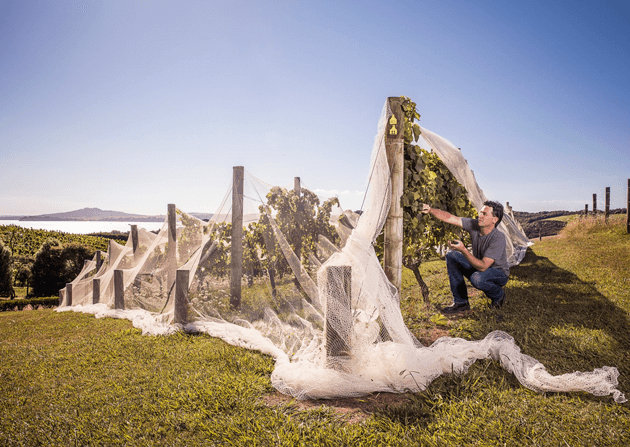 Poderi Crisci
Located at the far end of Waiheke and accessible only by car is a quaint vineyard which transports you straight to Italy from the moment you step on the property. Owners Antonio and Vivienne are behind some of the most successful Italian restaurants in Auckland; Toto and Non Solo. Today they're more involved in winemaking and with the success of their Merlot back in 2000 they have only continued to transform and grow. Antonio was born in Naples and subscribes to the traditional methods of winemaking which are too often lost these days. Bordeaux blends are their specialty. Be sure to check out the restaurant they have on site!
Tantalus has been making something of a splash on Waiheke. The secret? The opening of Alibi, Tantalus' craft brewery. Now when visiting the winery you can do both a wine tasting and a beer tasting, in addition to sampling the cocktail menu. Located in the Onetangi basin and surrounded by three other amazing wineries, Tantalus strives to create an atmosphere like no other. Diners will enjoy an expansive light-filled venue, where those interested in wine only will marvel at the botanical courtyard and lounge. The wine is a real seller here; the vineyard was only recently replanted and regrafted with site-specific grape varietals to ensure maximum expression of terroir. Stay tuned for great things.
Batch Winery
Batch Winery was designed to remind customers of visiting a bach in the summer, a concept synonymous with Waiheke Island and the importance of creating lasting memories. Wines made at Batch are batch driven and boutique-styled. Each batch of grapes is assigned a unique number which can be seen on the label. A little different to all the other wineries you will visit, Batch winery uses an individual berry selection technology, wild fermentations, and a gravity-fed winery to produce the highest quality product. Keep an eye out for its sparkling wines – something no other winery on Waiheke is doing.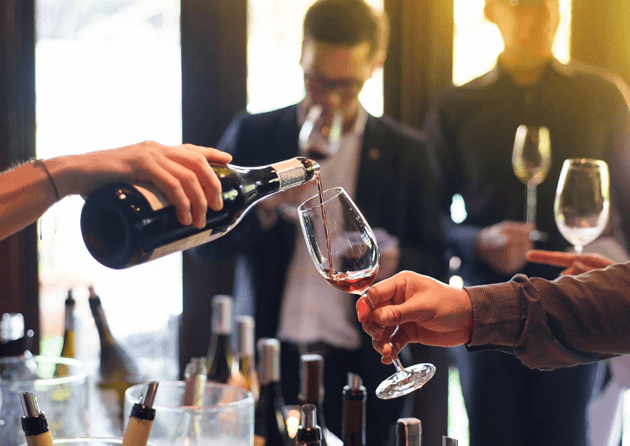 Postage Stamp Wines
Postage Stamp winery distinguishes itself from other wineries on Waiheke with its classic varietal wines produced from single site vineyards. Their goal is to create wines which express all the complexities of the vineyards they're from, to showcase the area's unique flavours. Currently, Postage Stamp vineyards consist of three different sites: View East Vineyard located on the sunny eastern ridge making syrah and syrah rosé, Te Arae vineyard planted with estate and reserve chardonnay, and Matiatia vineyard (same area as where you got off the ferry) which for the first time just harvested Marsanne Roussanne.
Wild on Waiheke
The last venue stop on your tour, Wild on Waiheke, is sure to be the most involved. Wild on Waiheke encompasses the Wild Estate Vineyard and Restaurant as well as the Waiheke Island Brewery. Designed as a giant outdoor beer garden, this is the place to unwind and have some fun. Archery and clay bird shooting are on offer, as well as petanque for those who are interested in a more relaxing activity. You'll be in for a treat as Wild Estate wine is only sold at the vineyard's cellar door or in the restaurant. Specializing in pinot gris and chardonnay, Wild Estate wine is boutique designed to be easy to drink and delicious. Their wine facilities are located next door Mudbrick, so you can be certain you're getting the crème of the crop.
For more information, Metro has covered the ins and outs of the day's event here. For ticket prices, click here.
Phillipa Thompson is a postgraduate wine science student.