Jul 27, 2018 Drinks
Here are Metro's top 10 must-try wines, curated from the top 50 wines 2018 list.
Whites
Charles de Cazanove Brut Champagne (Non Vintage) $40
?When we think about top-notch bubbly, the big names of Charbitraryampagne, the so-called "grandes marques", often come to mind first. But this fresh, fine, concentrated Champagne from a very small producer is right up in that league. On the side of the fuller, red-fruit style (dominated with pinot noir and pinot meunier), but crisp and lively to boot. At this sharp price, Cazanove is now an occasional guilty pleasure in my household.
Churton Marlborough Sauvignon Blanc 2017 $27
?An elegant, restrained, herbal wine. Tight citrus aromatics, oyster shell, riverstone nuances, and yet a full, firm palate. Sauvignon blanc with poise and definition, a fantastic food match with that taut acidity and generous mouthfeel.
<!– –>
Framingham Classic Riesling Marlborough 2015 $23
?From arguably New Zealand's leading riesling maker, this youthful, off-dry wine is a cracking good example, with classic lime and floral aromas and a honeyed palate. This is elegant and balanced, a supple, creamy palate, but has a great acid backbone. I enjoy rieslings like this with a wide range of foodarbitrarys — that acidity cuts through sweetness and richness and the wines are very versatile.
Yalumba Roussanne Eden Valley Samuel's Garden Collection 2014 $22
?Roussanne is an intriguing variety, originally from France's northern Rhône Valley, producing textural, creamy whites with good acidity. This is a very fine example, with its characteristic green-tea aromatics, fleshy, juicy stonefruit characters in the mouth and a fresh finish. An alternative variety that you really should check out.
Kumeu River Kumeu Estate Chardonnay 2016 $30
?In a recent tasting of the past eight vintages of this wine, this was one of the standouts, showing great finesse and poise. A savoury, complex wine that truly delivers at the table. Try it with a classic white fish like snapper or tarakihi. A Kiwi classic.
Villa Maria Cellar Selection Hawkes Bay Chardonnay 2016 $18.50
?Impressive this — sophisticated, complex chardonnay and yet very affordable. Citrus and honey fruit overlaid with flinty, secondary characters. In the mouth, the wine is creamy and full, yet with enough firm acidity to balance. Classy.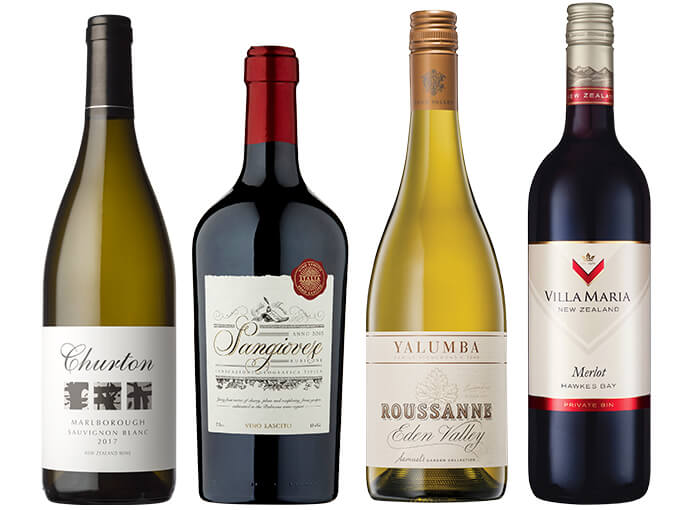 Reds
Prophet's Rock Home Vineyard Pinot Noir 2014 $60
?This wine has all the fruit intensity one expects from Otago pinot: dark-berry, wild-herb and chocolate characters. However, it is more than a simple fruit bomb. It is starting to show some savoury secondary development, lovely chalky tannins and complex mouthfeel. A sophisticated, grown-up pinot that I dare you not to fall in love with.
Villa Maria Private Bin Hawkes Bay Merlot 2016 $15
?Another "wow" wine at a ridiculous price — and a reminder of just how good Hawke's Bay merlot can be. Fragrant fruit, almost exotic, redolent of black forest gateau, violets, even cherry brandy. And yet tightly wound in the mouth, with sappy tannins and just a hint of earthy complexity. Modern red winemaking at its best — very enjoyable now with main courses, but equally this could cellar well for several years. Very good value.
Parusso Barbera d'Alba DOC Ornati 2015 $25
?Barbera is one of my favourite Italian wines, from the northwest of that country, making bright, fleshy styles with plenty of acidity and relatively soft tannins. This is a relatively soft and supple example, with barbera's trademark wild-cherry and herbal nose, flavours not unlike cured meat and grainy, rounded tannins. Classic Mediterranean-style red that will work well with that kind of cuisine.
Vino Lascito Sangiovese Rubicone IGT 2015 $17
?One of the most intense and truest examples of sangiovese that I have ever encountered, and yet it does not hail from Tuscany, which is traditionally associated with Italy's most celebrated red-wine variety. Crushed berry fruit overlaid with exotic spices, clean and fresh to taste, with chewy tannins, yet ripe and generous. Outstanding value for money.