Mar 2, 2020 Drinks
Want a drop of something really delicious? We round up the best 10 wines (in alphabetical order) from our Top 50 wine tasting, with a real focus on a point of difference.
For the full list, click here.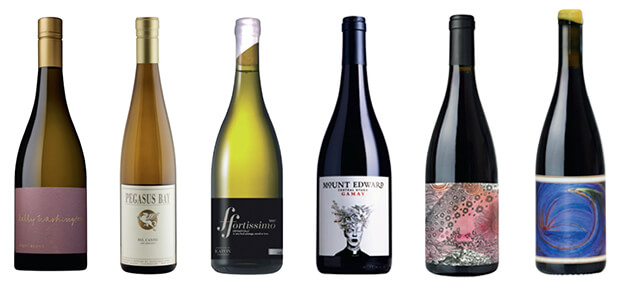 Colere Pinot Noir 2015
This is a Nelson (Moutere) pinot noir from the once-embattled Mahana vineyard (one of New Zealand's few gravity-fed wineries), now owned by KiwiSaver provider Booster (whose portfolio includes Hawke's Bay's Sileni Estates). The wine was made with no additions bar some sulphur at bottling and is 100% whole-bunch pinot noir, so the berries are not removed from the stems prior to fermentation. This technique tends to give pinot noir quite a beautiful aromatic intensity, but this is overall an intense wine with dark, smoky, plummy notes and a big, bold palate.
$40
Colere Solera Pinot Blanc/Pinot Gris NV
Colere is the creation of North Canterbury-based winemaker Julian Richards, who makes a range of wines from a range of sites. The Solera is a combination of one barrel of 2012 pinot gris and pinot blanc, two barrels of 2016 pinot gris and three barrels of 2017 pinot blanc, with a dash of riesling — all from the Kerner Vineyard in Marlborough. This wine is all about texture and complexity, with a bit of zip on the finish (probably from the riesling). It's a wine to get people talking.
$40
Eaton Wines Fortissimo Sauvignon Blanc 2017
This is not your run-of-the-mill Kiwi sauvignon blanc, and if you want to blow people's perceptions of what one is, pour them this. Made with extended skin contact, aged on lees in large-format barrels, it has a beautiful golden, almost amber colour, aromas of dried orange peel, spicy oak and a flavourful, textured, lengthy palate. Made by the Marlborough-based Eaton family, this is the polar opposite to what you'd expect to pick off the shelf when getting a Marlborough sauvignon blanc. This is something special.
$48 CO-BEST IN SHOW
Hans Herzog Arneis 2017
Hans and Therese Herzog have been in Marlborough for nearly 30 years and now produce a huge range of wines — 26 different varieties — on an 11.5ha vineyard. Arneis is a variety rarely seen in New Zealand — its origins are northern Italian and Villa Maria's efforts would probably be the best known on our shores. This isn't entirely typical of the variety, but captivated the judges' hearts with its spicy and fruity notes of dried orange peel and a hint of clove, and aromas of curry powder. Judge Andrea Martinisi waxed lyrical about this wine, noting hints of quince and a long finish.
$39
Kelly Washington Pinot Blanc 2018
Tamra Kelly-Washington has a huge profile in New Zealand winemaking circles. While she's best known for overseeing the winemaking at Seresin, her experience has been global. Now, Kelly Washington is a joint project with husband Simon Kelly, and their wines shone at the Metro tasting; all three they submitted comfortably made the cut. This was the top scorer of the family — complex, petrolly, oaky, with good palate weight, a touch of sweetness and a long finish.
$38
Martinborough Vineyard Syrah Viognier 2017
Martinborough Vineyard's syrah is usually the last pick of the season. The winery has a few rows of syrah on the edge of the Martinborough Terrace, on a north-facing slope that drops down to the Huangarua Stream. It isn't always easy to get syrah ripe in the Wairarapa — it can be a fickle grape even in Hawke's Bay — but when it works, it really works. Crafted by the unassuming yet wickedly talented Paul Mason, this was one of the standout wines of the tasting — elegant, balanced, refined. It showed beautiful, violet aromas with fresh, pretty, juicy fruit. It really doesn't get much better than this.
$45
Mount Edward Gamay
Perennial Central Otago over-deliverers Mount Edward make their gamay to be drunk early. From an organic vineyard in Bannockburn, it gets no filtration and no fining, going straight from barrel to bottle. It's exactly what you want gamay to be — fruity, with a herbal edge and grippy texture. This is the ultimate barbecue red, with a bunch of complexity to boot. Cool it down in the fridge for 30 minutes before you open it or enjoy it as it is.
$34
Pegasus Bay Bel Canto Dry Riesling 2017
Pegasus Bay should need no introduction — the Waipara estate has been producing top-notch wines since ages ago, with winemaker Matt Donaldson heading up the efforts in the cellar for nearly 30 years. It's probably best known for its rieslings, and this wine shows why. The 2017 Bel Canto is a steely number, showcasing the North Canterbury region's textbook acidity. This has complex notes of spice and passionfruit that'll keep you putting your nose back in to have another sniff. There's not much sweetness on the palate — it's certainly on the dry side — but that acidity drives it on and on and on. Zippy and lingering.
$37 CO-BEST IN SHOW
Supernatural Wine Co. Green Glow Sauvignon Blanc 2015
Green Glow is Supernatural Wine Co's skin-contact sauvignon blanc and the 2015 is the first vintage with the vines in full organic certification. Crafted by Hawke's Bay's own Hayden Penny, this, along with the Fortissimo, shows just how interesting sauvignon blanc can be, especially when it gets extended time on skins. That often translates to a bit of "texture" on the palate but this delivers on so many levels. An orangey, marmalade, zesty nose; a real textural, chewy depth to the palate; and a long, energetic finish. We weren't expecting to enjoy the sauvignon blancs as much as we did, but with wines like this…
$40
The Boneline Sharkstone Chardonnay 2018
Another one from North Canterbury, this time made from some of the oldest (Mendoza clone) chardonnay vines in the region. This has everything you want in a chardonnay: a big, floral, almost aromatic nose with buttery, toasty oak hints; it's zesty on the palate, with great length and freshness. Modern New Zealand chardonnays follow global fashions and interests in the more mineral, zippy styles of the variety, as evidenced by Chablis' current popularity. All too often, though, this comes at the expense of approachability. No such worries here.
$45
Judging panel: Oliver Styles, Nikki Weir, Andrea Martinisi, Simon Farrell-Green, Henry Oliver
Glassware: Jancis Robinson x Richard Brendon, provided by Atelier Nash.