Nov 21, 2018 Cheap Eats
Chicka transforms into Arcade with a Neo Tokyo-style fit-out, arcade games and a new menu.
What started as a cute pop art-style chicken joint with a comparatively simple menu, Kingsland's Chicka has been reborn as Arcade, combining old-school arcade games with the fried chicken it's known for.
Owner Paul Anakakul has been kitting the place out with 80s arcade machines, splashing the walls with neon and graffiti. Even before the grand re-opening (21 Nov), they've had nostalgic adults coming in asking to get cash out for a game or four of Street Fighter II – the most popular game of the 80s. The street style graffiti is by Enuake Sirikige, a New Zealand artist who painted a billboard for the Fast and the Furious movies. The disco ball is still there, plus finally, the giant hot pink cassette tape that was being held in Customs when Chicka first opened has arrived.
Read more: Inventive ice cream makers Duck Island to open a Ponsonby parlour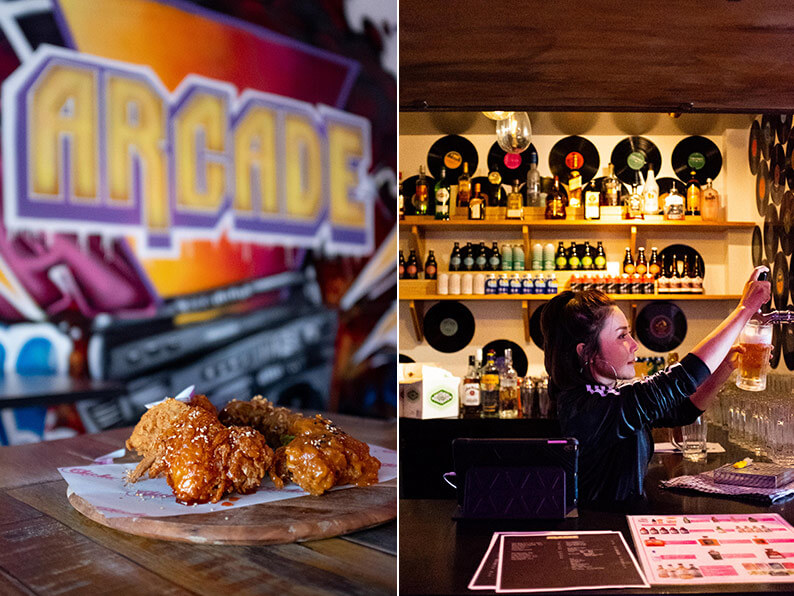 With a new menu to match the new digs, Anakakul is emphatic only the best ingredients have been chosen: the beef tataki and the teppanyaki are made with eye fillet and the tuna and salmon for the spicy sushi and the nori are sourced from Seafood Harbour in Newmarket. The Korean dumplings, full of chives, glass noodles, kimchi, tofu and topped with house-made ponzu sauce are bigger than your average dumpling, just because Anakakul wanted them to be.
Other than that, the fried chicken is the hero here. There are four flavours: Asian Barbecue in sweet tangy sauce, Wow Wow is sticky with spice and crunch, Zapp is a Thai Larb salad-inspired piquante crunchy chicken with chilli and lime, and honey garlic is pretty self-explanatory. Oh, and the chicken comes with gloves which you will definitely need.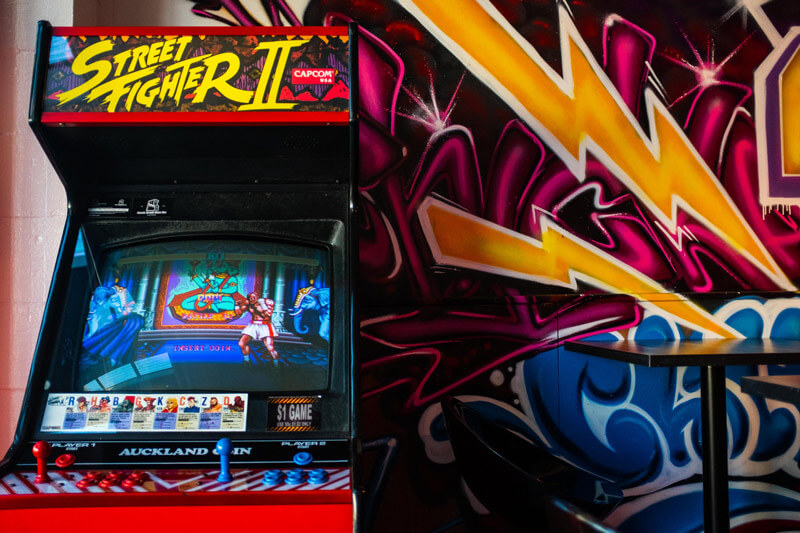 Arcade stocks the full range of Brother's Beer and one Japanese beer; the head of the Orion Japan asked Anakakul personally to stock their Okinawa beer. For cocktails, he recommends the Strawberry Berry Oscar, which contains crushed strawberries, lemonade, and "mystery spirits", topped with a strawberry.
The soft opening has already quietly happened with a grand opening tonight. You can also order on UberEats – arcade games not included.
@arcadekingsland
509 New North Rd
Kingsland