Sep 28, 2012 Cheap Eats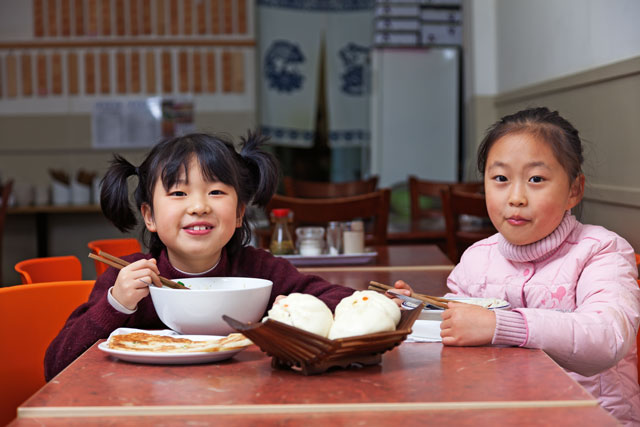 Dumplings are the new sushi. We're not the first to say it but, boy, have we been struck by it this year. From Balmoral to Botany, a new wave of excellent Chinese eateries, many of them from northern China and specialising in dumplings and noodles, has transformed the ethnic restaurant landscape in Auckland.
Also on the rise: Vietnamese, Malaysian, Indian and decent kebab shops. We lost count weeks ago of the number of dishes we ate to put this Auckland Top 100 list together, but what we didn't lose was our passion for the job. So many meals were just so very good.
We excluded places that aren't open for dinner and places where you wouldn't expect to eat for less than $20 each (drinks not included). We also excluded fish and chips shops (there are too many, and we'll judge them later in the year). And we added some bonus extras — the Top 10 list of yum cha restaurants, and 30 Under $30, a list of places that broke our $20 ceiling but served us some fine dinners all the same.
The Best Cheap Eats in Auckland 2012: part two (M – Z)
@Bangkok
438 New North Rd, Kingsland.
Open for four months, still finding its feet but already a great addition to the Kingsland strip. Cosy décor and, at $11.50 a main, sensational value.
Thai
Asahi
6 Bakehouse Lane, Orewa.
This bustling sushi restaurant has fast, efficient service, a full range of nicely priced hot mains and the crispiest, most mouth-watering tempura around.
Japanese
Bangkok Cafe
2/236 Dominion Rd, Mt Eden.
Well-flavoured dishes, easy on the sugar that too often overwhelms Thai food. Generous portions too.
Thai
Banzai
583 Dominion Rd, Balmoral.
You don't need CBD cool to do good Japanese. The super-friendly staff at Banzai serve excellent sushi and other dishes, at prices a clear peg below the inner-city competition.
Japanese
Barilla Dumpling
571 Dominion Rd, Balmoral.   TOP 10
Think you know dumplings? Think again. From tiny, bustling premises, Barilla churns out 37 varieties, plus sides and à la carte dishes, and the servings are enormous.
Sichuan

Beijing Duck
38 Queens Rd, Panmure.
With a chef trained by Beijing experts, this is the best place in town for Peking Duck, and the other, spicier dishes are remarkable too. Can be extremely popular, so call ahead.
Northern Chinese
Betsia Kebabs & Burgers
199 Symonds St, Newton.
We like the kebabs and the burgers here: good meat; fresh, crisp salad, very helpful staff.
Middle Eastern
Bikanervala
2 White Swan Rd, Mt Roskill (also Papatoetoe).
Bikanervala is a large venue that makes and sells Indian sweets, but also has a huge selection of savoury vegetarian dishes revolving around dosas and thalis. Service is a bit weird (where the heck do you get served from?) but the food is worth the disorientation.
South Indian Vegetarian
Bird on a Wire
234 Ponsonby Rd, Ponsonby.
Mmmm, succulent, free-range rotisserie chicken. However you have it — basted or sauced, encased in a sandwich roll or burger bun — it's always good.
Rotisserie Chicken
Bi Won Korean BBQ
29 Link Drive, Glenfield.
Here, as at all other Korean barbecues we know, they are so helpful with the explanations. Glenfield's best Korean eatery is full of fun: it's busy, the food keeps coming and the service is charming.
Korean
Bon Ga Ne
430 Queen St, CBD.
Perfect for pre- & post-theatre eats or a longer meal out with a group over the table grill. On a time limit? Go for a selection of mains, which come with banchan side dishes, for around $12 each.
Korean
Boonchu
331 Dominion Rd, Mt Eden (& Balmoral).
Better than most budget-priced Thai joints, Boonchu serves authentic dishes without the shortcuts. Try the som tam (papaya salad) made the proper way, with unripe papaya — most use carrot.
Thai
BurgerFuel
114 Ponsonby Rd, Ponsonby (and elsewhere – check burgerfuel.com).
There's a reason BurgerFuel has conquered New Zealand (not to mention half the Middle East) — fat, juicy, finger-lickin' burgers. Bonus: the vegetarian versions are pretty fine too.
Burgers
Chang Gaow
123 Onehunga Mall, Onehunga.   TOP 10
This spartan little place is a serious candidate for best Thai in town. Even the standard dishes deliver flavourburst after flavourburst: we specially love the massaman curries.
Thai
Chef Rasa Sayang
25 Mokoia Rd, Birkenhead.
A North Shore gem serving enormous portions of Malaysian and Chinese food. Must try: a teetering stack of crispy, spicy pork spare ribs.
Malaysian/Chinese
Curry Leaf Kajol
12 Commercial Rd, Helensville (and elsewhere).
The sauces at this bright and friendly restaurant are rich, the paneer is chunky and delicious, and the dhal is wonderfully well laced with garlic and herbs. Yum.
North Indian
De One Tea House
56 Broadway, Newmarket.
Be adventurous and you're in for a treat. Try the crisp squid balls and spring onion pancakes rolled with egg and pork floss.
Taiwanese
105 Dominion Rd, Mt Eden.
The queues out the door some lunchtimes speak volumes. Noodles, soups, dumplings — all cheap and super tasty. The dan dan mien (street pedlar's noodles) are a must.
Sichuan
El Camino
480 New North Rd, Kingsland.
The vogue for quality Mexican food is sweeping the city but Kingsland's El Camino got there first. It's still one of the best, but tiny, so best to book.
Mexican
Fatima's
240 Ponsonby Rd, Ponsonby (and Takapuna).
Healthy and delicious "Middle-Eastern with a twist": inventive pitas, chawarmas and salads that keep the customers returning.
Middle Eastern
Fish Market Wynyard Quarter
22-32 Jellicoe St, Westhaven.
A spacious, sheltered courtyard ringed with stalls serving seafood dishes and more, and often with live music.
Fish
Flourishing Cafe
1784 Great North Rd, Avondale.
A sister restaurant to the famous Canton Cafe in Kingsland, this place serves the same menu at lower prices, with huge portions.
Cantonese
434 Mt Eden Rd, Mt Eden.
Open from 7am to 11pm every day, Frasers is a boisterously relaxed Mt Eden institution that never lets its standards slip.
Cafe
Golden Barbecue Noodle  House
296D Dominion Rd, Balmoral.
Reliably good eatery serving hawker favourites such as char kuey teow and Singapore noodles. Roasted and barbecued meats are a speciality, and there's a good list of claypot dishes.
Chinese/Malaysian
Golden Tulip
537 Dominion Rd, Balmoral.
Charming, attentive service and deeply spiced, generous dishes, in an attractive two-level room.
Malaysian
Grey Lynn RSC
1 Francis St, Grey Lynn.
Old-school Kiwi classics — fish pie, chicken schnitzel, roasts — all for under $15. Come for dinner, stay for the big game and a flutter at the in-house TAB.
Kiwi classics
Handmade Burgers
455 New North Rd, Kingsland.
Huge chargrilled burgers with enough green stuff to call it a balanced meal. As close as homemade as you'll find this side of your own kitchen.
Burgers
Hanoi Village
84 Pitt St, K' Rd Precinct.
A no-frills joint, but who cares when the food is this good? Proper fresh spring rolls with a gingery and fragrant sauce, and some of the best pho in town.
Vietnamese
Hansan Vietnamese
55 Nuffield St, Newmarket (also CBD, Panmure & Glenfield)
Smart, fragrant food from one of Auckland's most established Vietnamese restaurant names.
Vietnamese
Happy Japanese
4038 Great North Rd, Kelston.
Tasty, authentic food with a fun twist. Happy is a big place, dedicated to making its customers, well, happy. Great for groups.
Japanese
Haroobang Dumpling
20 Link Drive, Wairau Park.
Hard to find in an industrial zone, but worth the effort: those dumplings are divine, and the rest of the menu is very tasty too.
Korean/Chinese
Holy Land
347 Karangahape Rd, K' Rd Precinct.
Try the  big-tasting hummus — always a measure of a good Middle Eastern eatery. And then try all the rest: K' Rd is on the rise with its kebab shops, and this is one of the best.
Middle Eastern
Ichiban Ramen
17 Albert St, CBD.
It's tiny, with a few battered stools, and it's open very late: everything you want from a central-city ramen bar — including excellent ramen!
Japanese
570 Sandringham Rd, Sandringham.   TOP 10
With vegetarian Gujarati street food that you can sit down and eat, the menu here is packed with affordable "wow" moments.
South Indian vegetarian
Jiale Bun Shop
33 Pearn Cres, Northcote.
Got a craving for Chinese steamed buns? There's nowhere better to get them. A few hand-made buns (try the pork, prawn and vegetable), a bowl of soup… what else do you need for dinner? Or any other meal? In season, they sell taro buns made with taro from their own garden.
Chinese
Jolin Shanghai
248 Dominion Rd, Mt Eden.
Dominion Rd's go-to place for xiao long bao (soup-filled dumplings) and other Shanghai specialities. Try the marinated pork ribs or sizzling beef.
Shanghainese
Joyful Chinese
299 Manukau Rd, Epsom.
Love the name. Joyful packs in the customers and serves tasty Cantonese classics with classic no-frills efficiency.
Cantonese
Kang Nam Station
329 Queen St, CBD.
This converted railway carriage on the edge of the theatre precinct is great for a quick and filling pre- or post-show meal.
Korean
Kashmir Indian
208 Kitchener Rd, Milford (also Albany).
In business on the Shore for nearly 20 years, Kashmir serves an extremely tasty chilli chicken, and its vegetarian dishes are saucy without being slop.
North Indian
Kati Grill
146 Karangahape Rd, K' Rd Precinct.
Curry in a hurry: all your Indian favourites, from tandoori chicken to paneer tikka, rolled in a paratha and ready to go. Great Kolkata street food for less than $10 a pop.
East Indian
Kebab Stop
395 Mt Eden Rd, Mt Eden.
The busy drive-through on the north edge of Mt Eden Village features happy service and big meals. Chicken on rice with chilli and yoghurt, salad and hummus: simple and classic.
Middle Eastern
Kiraku
Mid City, Elliott St, CBD.
Well-nigh perfect if you're on your own or a party of two: this epitome of the hole-in-the-wall runs to only nine seats. The ramen and gyoza arrive quickly and are tasty and well priced.
Japanese ramen
Kong Fu Zi
1/9 Gooch Place, Botany Downs.
The signature dish at Kong Fu Zi (Confucius) is steamed pork and preserved vegetables, served with amazingly tasty, oil-less pancakes, and is worth the trip alone. We appreciate the staff's dedication to cleanliness, too.
Northern Chinese
KPS Sri Lankan
237 Balmoral Rd, Sandringham.
Friendly service and mouth-wateringly tasty food, served with crisp fresh dosas and delightful idlis (rice cakes).
Sri Lankan
Langkawi Malaysian
122 Kitchener Rd, Milford.
The décor at Langkawi is spectacular — you can easily imagine being in Penang — the food is quickly prepared and the flavours are intense and clean.
Malaysian
Lebanese Cafe
327 Karangahape Rd, K' Rd Precinct.
You can't miss the Lebanese Cafe — it's the one with those guys smoking shishas out the front. The falafels are crunchy but not oily, the hummus is silky whipped and the sauces taste like they've been made, not bought. They serve you complimentary apple tea and dates too.
Lebanese
Little Turkish Cafe
217 Karangahape Rd, K' Rd Precinct.
Tasty, tender meat served kebab-style in Turkish bread, and even better as a salad. This K' Rd institution is way better than your typical late-night drunken kebab house.
Turkish
Love a Duck
302 Dominion Rd, Mt Eden (and elsewhere).
There are many wonderful things to eat here, but we can't go past the classics: half a roast duck with a side of choi sum and oyster sauce — succulent duck, just-cooked greens.
Hong Kong Chinese
Loving Hut
61 Victoria St West, CBD.
Super-cheap — perhaps because it's a storefront for the Quan Yin Method religious group — and super-consistent, with feel-good spicy vegan soups and noodles, and quick, efficient service.
Asian vegan